Bredeson Outdoor Adventures - vacations and travel
Soft Beds And Hard Hikes On The Tour Du Mont Blanc
"I wanted to send you an extra note of thanks for the great vacation.  You did an excellent job of… "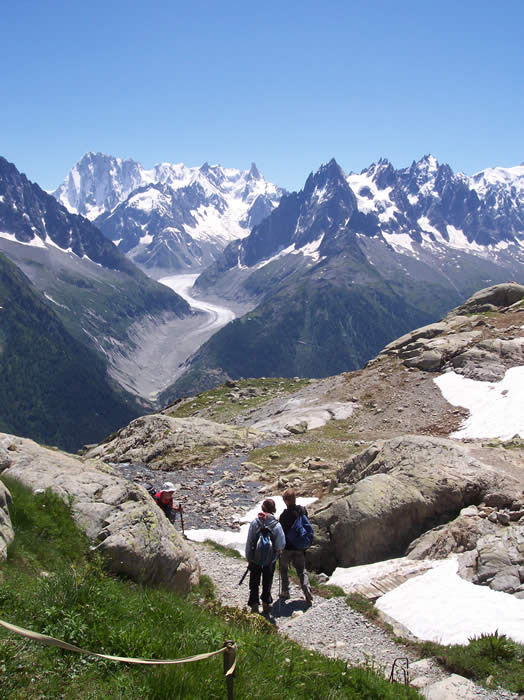 from $2,925* per person
8 Days
June-September
Comfort accommodations

Exertion level: 6

Operator:

Bredeson Outdoor Adventures

10 people max
Chamonix airport, france
Active & Adventure trips
The Tour du Mont Blanc (or TMB), a circuit hike around Mont Blanc, western Europe's highest mountain at almost 16 thousand feet, is one of the world's classic hikes. In this circuit we spend each night in a different location as we hike around the base of this white, glacier covered massif.

We travel on foot from France to Italy to Switzerland and back to France. We also journey back in time, since our base, Chamonix, is the birthplace of mountaineering in the Alps. We'll hike on well-established trails and our luggage will be shuttled to subsequent daily destinations, allowing us to enjoy the spectacular scenery with only a day pack. We combine challenging hikes with good food and the comfort of stays in charming hotels and guesthouses. Soft beds and hard hikes: it doesn't get any better than that!

Highlights

History of mountaineering and the conquest of Mount Blanc
Spectacular circuit hike around Europe's highest mountain passing through France, Italy and Switzerland
Views of glaciers
A walk on an old Roman road
Charming local guesthouses with excellent regional cuisine


Locations visited/nearby
inn to inn , hiking , mont blanc, France, Europe
1 testimonial about this trip
Reviewer:

Marilyn LaDieu

located in

Harrisburg

,

PA

USA

"I wanted to send you an extra note of thanks for the great vacation.  You did an excellent job of guiding and keeping us on schedule. The  hotels were all fantastic and different in their own way.  I came home  with some great new hiking tips, such as keeping a steady pace without stopping and  using my poles in the proper way.  Your knowledge of the places we  passed was extensive and you really do your research well."

5
Reviewer:

Kate Johnson

located in

Norwalk

,

Connecticut

USA

"Our trip to Cinque Terre was the best trip we have ever taken. The beauty of the location was certainly a factor, but, in retrospect,Deb organized and designed a week that far exceeded our expectations. Once we became part of the trip, we immediately began to receive pertinent information-"walk,bike,lift weights every day"-not quite, but she was getting us in shape for the trip that lay ahead.The detailed list of items that we would need was given to us with plenty of time to acquire them.The itinerary provided us an exact time table from landing in Europe to heading back out. Where and when we would be staying, eating, hiking, railroading,ferrying, having options-nothing was missed. Deb's attention to every detail of the organization and flow was flawless. Beyond that, Deb's knowledge of the area and her sense of humor -we would follow her anywhere. With enormous appreciation." Guided CInque Terre hiking trip


5

Reviewer:

Steve Ruggiero

located in

Bainbridge Island

,

Washington

USA

"Thank you again for your wonderful assistance and guidance before, during and after our trip through the Alps this summer. Your detailed and hands on knowledge of the locales, suitability of the intended hikes for our family and an understanding of our exact requirements were spot on. With two little boys in tow and an ambitious schedule spread out over three areas in two weeks, we needed to have the details in hand with no worries. You gave us not only what we asked for but also suitable alternatives to be able to make decisions on the fly if schedules, enthusiasm or weather changed. Your ability to listen and then tailor an appropriate schedule is the mark of a true professional who enjoys what they do. Your passion for it shows and we would have no hesitation to use your services in the future or happily endorse your services to others." Self-guided family trip in Chamonix, Zermatt and Wengen (French and Swiss Alps)




5

Reviewer:

Mary Pepper

located in

Ames

,

Iowa

USA

The gals were all absolutely delighted with the trip. I think you just blew their minds with the places you chose and the level of professionalism you displayed as our guide. We would all go anywhere you would like and I am anxious to plan more trips with you...I feel certain other of my friends and friends of all the Leaf Ladies are going to be anxious to join any trip in which you are involved as our guide/friend. I am so thankful I had the good fortune to travel with you and you were willing to take us on. You listened to what I wanted for the group and were so attentive to the needs of all of us. We got to see what the true Vermont is like through the eyes of someone who really loves it. It couldn't have been better. I heard from talking with others at the airports that they felt the same and we all really thank you for it." Guided Vermont hiking trip


5
Comments from Facebook
Special information
Self-guided (includes hotels, maps, luggage transfer, etc but no guide).
Offers some women-only departures.
Itinerary
Day 1 : Meeting in Chamonix – Optional Warm-up Hike – Trip Orientation and Welcome Dinner
Independent arrival in Chamonix. We will provide you with connecting information from the Geneva airport or other points. Tonight we have our trip orientation, and welcome drinks and dinner.
Day 2 : Les Houches to Les Contamines-Montjoie
We transfer by bus from Chamonix to Les Houches. After a short cable car ride we hike from Bellevue, cross a suspension bridge with view of the Bionnassay Glacier and then it's up and over the Col de Tricot. We descend to the summer village of Le Miage, and end our day in a comfortable small hotel in the village of Les Contamines-Monjoie. We may instead hike via Bionnassay and La Gruvaz for an attractive alternative, especially if the weather is not cooperating.
Hike: 16 km; 5-5 ½ hours; 646 m +/633m- (Gruvaz); or 18; km; 7 ½ hours; 1478m+/1318m- (Col de Tricot). Less with cable car.
Day 3 : Les Contamines – Notre Dame de la Gorge – Col de la Croix du Bonhomme - Les Chapieux
In addition to the scenery, which continues to be spectacular, a highlight of today's hike is the stretch where we walk on a path, which is believed to be part of a link with the Roman Empire from the heartland of Gaul (old France). We start today with a short bus ride to Notre Dame de la Gorge, a pilgrimage site, and then follow the Roman Road, recognizable by the huge slabs of stone and a bridge that is more than 2,000 years old. After enjoying lunch at the Col de la Croix du Bonhomme, we continue on to our charming guest house at the summer village of Les Chapieux, the southern limit of the Mont Blanc massif.
Hike: 18 km; 7- 7 ½ hours; 1316 m+/929m- (possible to shorten with a brief bus ride at the beginning)
Day 4 : Les Chapieux - Col de la Seigne – Courmayeur
It is difficult to identify the highlight is of today's adventure: crossing the Col de la Seigne from France to Italy with the backdrop of some of the best views of Mount Blanc? Walking in the footsteps of countless Roman legionnaires as we enter the Aosta region of Italy? The polenta at the Elisabetta Hut ("rifugio") where we stop for lunch? The glaciers behind the hut? Today we shuttle from Les Chapieux to the start of our hike at La Ville des Glaciers and hike up to the Italian border at Col de la Seigne and on to the Elisabetta Rifugio for lunch. After lunch we walk down from the hut to the outskirts of Courmayeur and then transfer into town. Dinner tonight will be on your own in this delightful Italian resort.
Hike: 18 km; 5 ½ - 6 hours; 1004m+/794m-
Day 5 : Courmayeur (Italy)– La Vachey – La Fouly (Switzerland) – Champex (Switzerland)
Today we hike over a continental divide between Italy and Switzerland. As we pass over the Grand Col Ferret from Italy into Switzerland we'll have views of a glacier, and, hopefully, chamois. Rain falling on the Italian side of this pass, which has been in use for several centuries, ultimately flows into the Po River and the Adriatic Sea. Rain falling on the Swiss side flows into the Rhone River and then into the Mediterranean. Our day starts with a transfer to La Vachey and then a walk down the Ferret Valley. As we cross over the Grand Col Ferret into Switzerland we have a great view of Mont Dolent, whose summit is shared by France, Switzerland and Italy. We hike to the village of La Fouly and then transfer to the charming French Swiss town of Champex.
Hike: 20 km; 6-6 ½ hours; 895m+; 1410m-
Day 6 : Champex (Switzerland) – Trient (Switzerland) via the Bovine Route
Today's hike is a stunning route past farms with great views. We walk straight from the hotel and into the woods and then follow high mountain pastures. The path curves, dips and rises over contours and in and out of indents on the hillside. There are neat meadows, patches of forest, and high alpine pastures that lead to the alp buildings of Bovine, which look down onto the old Roman city of Martigny in the Rhone Valley and across to the Bernese Alps. We then descend from the historic Forclaz Pass to the remote mountain village of Trient. We may treat ourselves to cheese fondue tonight at our inn.
Hike: Bovine Route: 16 km; 4 ½ - 5 hours; 742 m +; 682 m –
Day 7 : Trient (Switzerland) – Col de Balme – Argentiere (France)
When we return to France today the feeling of excitement will be great as we near the last stage of our adventure. After leaving Trient via a steep trail through larch forest we hike up to and over the Col Balme and cross the French/Swiss border. We start the day with views of the Trient Glacier and then have a view over the glacier to the Fenetre d'Arpette, the scene of yesterday's challenging high point. We spend the night in Argentiere, a village in a dramatic setting with views of the Mont Blanc massif. We are now back in the Chamonix Valley with the Arve River.
Hike: 13 km; 5 ½ hours; 1068 m +; 1178 M –
Day 8 : Argentiere – Lac Blanc – La Flegere – Chamonix
For our return into Chamonix and the completion of the Mont Blanc circuit we enjoy the famous Mont Blanc Massif reflection in Lac Blanc and a view of the Mer de Glace ("Sea of Ice"). We feel proud of our accomplishments as we walk back to Chamonix. Our last hike, though high in drama, is our shortest leg (about four hours), leaving us time to make connections elsewhere. Those who are staying on for another day on their own in Chamonix will have time to explore the town, perhaps visiting the Alpine Museum to admire the feats of their mountaineering predecessors.
Hike: 9 km; 4 hours; 733 m +; 257 m -
More information from Bredeson Outdoor Adventures: