Tour d'Afrique - vacations and travel
Trans Europa Amber Route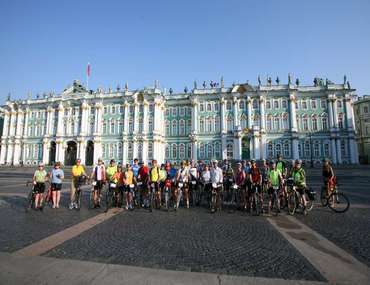 from €10,900* per person
80 Days
July
Luxury accommodations

Exertion level: 3

Operator:

Tour d'Afrique

12 people max
St. petersburg airport, russia
Active & Adventure trips
Join us on a spectacular eleven week Trans-Europa bicycle tour through twelve countries. Our itinerary initially follows the ancient amber trade route used by the Romans, from St. Petersburg, one of the world's most beautiful cities, to the Baltic states of Lithuania, Latvia, Estonia, then onwards through Poland and Slovakia, Hungary and Slovenia, before the tour reaches its half way point in glorious Venice, Italy.

After a short break of gondola rides, pasta, and Chianti, we will cycle across Southern Europe to the Atlantic Ocean. En route we will ride along the Italian and French Rivieras, visiting Genoa, Cannes and Montpellier. Then it's into Spain skirting the foothills of the towering Pyrenees to Barcelona where we will have 2 days to explore another of Europe's most impressive cities. From there we head west across the Iberian peninsula to the Spanish capital of Madrid, the medieval town of Caceres and finally the great Portuguese capital of Lisbon, from where explorers like ourselves set sail to discover the world.

Locations visited/nearby
Slovenia, Slovakia (Slovak Republic), Poland, Lithuania, Latvia, Italy, Hungary, Estonia, Europe
Comments from Facebook
Itinerary
The Trans-Europa Bicycle Expedition will provide a road through European history and culture – museums, UNESCO heritage sites, monumental castles, splendid palaces and historic cities. This great adventure will begin at the Winter Palace in St. Petersburg - Russia's window onto the west and the site of one of WWII's most important battles. Eleven weeks later the tour will arrive in the historic oceanside city of Lisbon. The Trans-Europa will provide a glimpse into Europe's past … and its future through over 6200 km on the best cycling roads Europe has to offer.
The Trans-Europa Bicycle Expedition features 62 riding days - ranging from 60 km to 145 km, with an average of 105 km or 65 miles per day, and 18 rest days. On the rest days, you will be free to create your own adventures – whether that means exploring landmark museums and cathedrals, experiencing gourmet dining, or just relaxing and sending e-mails home from the local internet cafe.
Spend a day wandering the streets of Europe's oldest baroque town in Vilnius, the capital of Lithuania. In Krakow you will have two days to explore the city, including the Rynek Glowny, one of Europe's most famous public squares. Or take a day trip 70 km west of the city and reflect on the evil that was Auschwitz-Birkenau. While in the capital of Slovenia, you can take time out to visit Ljubljana Castle – sitting atop a hill overlooking the centre of town. Take a gondola ride through the canals of Venice to St Mark's Square and the Palace of the Doges. See a movie (or movie star) in Cannes. Walk down Las Ramblas in Barcelona and visit the famous Prado Art Museum in Madrid.
More information from Tour d'Afrique: