Go Native America - vacations and travel
It'S All Indian Country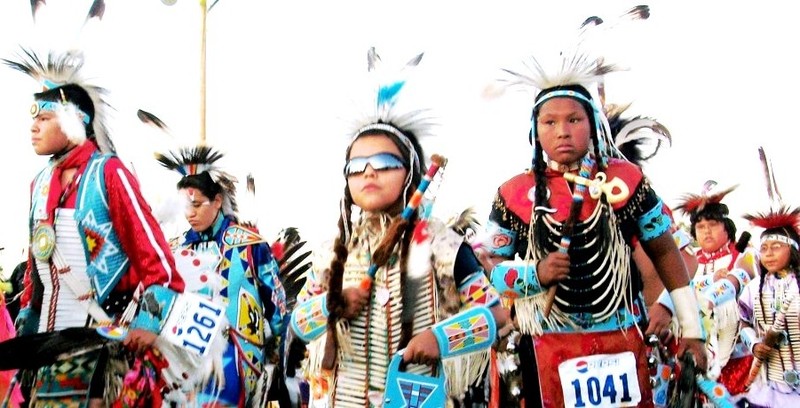 from $2,895* per person
11 Days
August
Comfort accommodations

Exertion level: 3

Operator:

Go Native America

12 people max
Rapid city airport, sd, united states
Family & Friends trips
Native America; a place full of adventure, culture, history, music, art and fun! And with Go Native America, one of America's most well-beloved tourist trails (Yellowstone to the Black Hills) is transformed from road-trip to family odyssey; America's Serengeti to the pine-studded Paha Sapa - the Sacred Black Hills.

Spend time listening for wolves, looking for bears, learn to interpret ancient messages left in stone, and enjoy hearing indigenous stories and explanations. Then gazing star-ward to the constellations, we find the map of the summer's ceremonial journey and your family is immersed in beauty, native culture and the indigenous phenomenon.

Visit reservations, hear Native flute melodies on the breeze and learn to speak some Lakota. This intertribal, intercultural journey visits the Tipi Capital of the World where the biggest powwow on the Northern Plains rages.

Enter the Circle on journey your family will never forget.

Locations visited/nearby
Montana, South Dakota, United States, North America
Comments from Facebook
Itinerary
Day 1 (Mon 13th Aug)
Arrive Cody, WY (COD) and shuttle to your hotel for a relaxed evening prior to the commencement of your journey into native cultures.
DAY 2 (Tues 14th Aug)
Yellowstone Is Indian Country: Experience the American Serengeti in ways most folks miss. As we journey into the realm of the bear on this unique tour we explore the physical and spiritual significance of the bear to the Plains Indians! The bear appears in tribal stories of ceremony and Creation where there are tribal songs that celebrate him, the People have learned about strength and healing from him and his speed and agility has taught and inspired hunters and warriors.
So we hear those stories, and entering the bear's domain we learn of his life, his power, the gifts he brings to the people. We learn how to walk in his tracks, to see his shadow and consider how the two-legged can live in ecological harmony with the Nakoh, the bear and other four-leggeds.
Stay: Pahaska, WY
Day 3 (Wed 15th Aug)
Yellowstone National Park sits atop a Super Volcano. Some say the Caldera is overdue to erupt by 40,000 years, geologists say that estimate is wildly off, but acknowledge that its presence helps sell books and movies. Undisputed however, is that in this region there are more than 10,000 geothermal features – a greater concentration than anywhere else on the planet. Today we travel south to see the famous Old Faithful and learn how and why she blows. We travel sections of the Boiling River to find why water temperatures vary by more than 40 degrees and this day offers opportunity for those who wish to join the Junior Ranger or Kids Science programs in the Park and earn their badges. This evening, you may opt to join the Chuck Wagon supper at Roosevelt; a meal and a memory you won't soon forget. You'll smell cowboy coffee percolating over a campfire and steaks sizzling over a barbecue; feast on Roosevelt baked beans, potato salad, chuck wagon corn, coleslaw, corn muffins, watermelon, and apple crisp; and, if that's not enough, this meal is accompanied by music, storytelling, wranglers, horses and wagons.
Stay Cody, WY
Day 4 (Thurs 16th Aug)
Today we enjoy the uniquely western town of Cody, Wyoming, beginning at the Plains Indian Museum the Buffalo Bill Historic Center, known as the Smithsonian of the West where we absorb the historical artistry of Plains Indian Tribes in patterns, color and exquisite craftsmanship. We take time for shopping in Cody's boutiques and western stores, then at 6pm be ready for the nightly gunfight on Cody's main street. Enjoy dinner at the famed Irma Hotel, then it's off to the Cody Nite Rodeo.
Stay Cody, WY
Day 5 (Fri 17th Aug)
Up early today to experience the thundering hooves of Wyoming's Wild Mustangs. We watch the McCullough Peak herd, hear of interactions and watch behaviors between these the descendents of the Cheyenne and Crow Pony herds of 1890. Later we experience one of the most sacred sites in the world as, ascending to nearly 10,00ft, we hike the easy trail to the Medicine Wheel in the Bighorn Mountains, learning of it's origins in Cheyenne culture.
Descending to Sheridan, Wyoming we are on the lookout for moose, black bears and elk.
Tonight is 'Powwow 101'. "Why does the music stop suddenly? What happens if a feather falls to the ground? How do the dancers know which dance to do? And why do they suddenly freeze? The audience seems to be up and down on their feet, should I be too?" This evening we explain powwow etiquette and learn about the music, dances and dancer's regalia in anticipation of our Powwow experience through the weekend.
Stay Sheridan, WY
Day 6 (Sat 18th Aug)
"The Crow country is a good country. The Great Spirit has put it exactly in the right place; everything good is to be found there," said the Crow chief Arapooish, and on this journey you will discover what he meant as you are up early to witness the Crow Nation Parade which has its roots in the ceremonial method by which The People Move The Camp and which is tribal showmanship at its best. Then on to Crow Fair, Tipi Capital of the World, where thousands of tipis line the Little Bighorn River for arguably the most exhilarating powwow on the Plains. What began as an invitation from the Crows to the Northern Cheyenne to foster better relations continues to this day as a celebration of Native culture and pride, wrapped in a cascade of colors from traditional dress, song and dance.
Stay Sheridan, WY
Day 7 (Sun 19th Aug)
With our native guide, we follow Crazy Horse and Custer, White Bull and White-Man-Runs-Him across the hallowed ground of the Little Bighorn Battlefield. This is an amazing opportunity to see the terrain as the warriors and troopers saw it on that legendary June day.
Myths and reinventions abound at this infamous site, but we stand where the warriors stood to understand both the military and Indian perspectives from the most famous battle in Western history. Was it really 'Custer's Last Stand' or were the circling warriors a product of the Hollywood imagination? Why do historians still say there were 10,000 warriors on hand to fight Custer when that was culturally impossible? This is no dry museum-style battle narrative about who was where and when, this account makes cultural sense of why this clash happened, what happened to Indian people as a result, and what lasting effects remain to this very day. Returning to Crow Fair late afternoon, we witness one of the greatest spectacles of Indian pageantry on the Northern Plains – Grand Entry at Crow Fair.
Stay Sheridan, WY
Day 8 (Mon 20th Aug)
Today we drive east toward the 1300 ft stone obelisk known in the mainstream as Devil's Tower. But there are no devils at this ancient Sun Dance site. We will meet Lakota guide - Sequoia for explanations of 'Mato Tipila', the Bear's Lodge. Your local guide is fluent in his native language, so today you have opportunity to learn to communicate in Lakota! Sequoia is an accomplished native flautist and he might even pull out his guitar and sing rap songs in his Lakota language for you. Hear his stories and explanations that tell the history and cultural connotations of the rock and its relationship to the Star Nations.
Stay Rapid City, SD
Day 9 (Tues 21st Aug)
Into the sacred Black Hills, or Paha Sapa, with your guide who will begin most appropriately at the place of the Lakota genesis – Wind Cave, in the Custer State Park. Hear the story of the Lakota Creation, then later amid the vast pine forests and grassland scented with cedar and sage, where dragonflies and butterflies dart over purple echinacea blooms, yellow sweet clover, blue spiderwort flowers, we search for buffalo as you explore this most beautiful and spirited area of the Black Hills. Hear authentic Lakota cultural and historical explanations as they have been passed through families over generations, and relax and enjoy as your guide's Native flute melodies float across the gentle He Sapa winds …just as they have for centuries.
Stay Rapid City, SD
Day 10 (Wed 22nd Aug)
When you reach the Badlands, you could just as well have reached the moon! The rugged striped terrain and lack of water led native people to call it Mako Sica (Mako means bad, Sica means land) yet still, this land became a place of refuge for those with the right survival skills and was known as the Stonghold after the 1890 Massacre at Wounded Knee. As we walk this 23-35 million year old land we have our cameras ready to discover spectacular formations dating from the late Oligocene epochs and we see fossils, ancestors of the modern day rhinoceros, horse, pig, and cat eroding out of various layers throughout the park.
So as we recap our epic journey together we understand that this land really is all Indian Country and in our discovery of natural history, ancient history, modern history and tribal history, we have added to your own family history.
Stay Rapid City, SD
Day 11 (Thurs 23rd Aug)
Depart from Rapid City Regional Airport
More information from Go Native America: