Deeper Africa - vacations and travel
Serengeti Explorer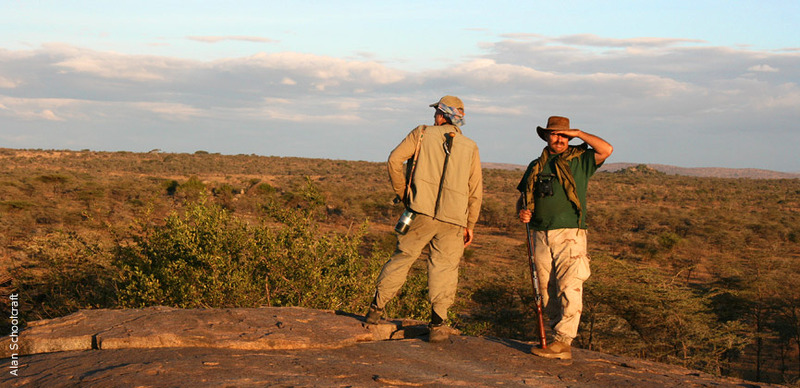 from $5,099* per person
8 Days
May-March
Comfort accommodations

Exertion level: 5

Operator:

Deeper Africa

8 people max
Kilimanjaro airport, tanzania
Active & Adventure trips
This is not the safari for everyone. This is the safari for you if you love adventure, you relish the unexpected, and you can handle a little grit. You must be willing, even excited, to walk where lions walk - and know that you just might see one.

Few people realize that within the Serengeti are large tracks of roadless wilderness area. Fewer people still will ever visit these wildlands. Until recently (2007), these areas were entirely closed to public access. Even today, these areas are restricted to low-impact camping and hiking. Much of the area has not been explored in over 50 years - if ever.

Traditional safaris involve game viewing from a car, sleeping in a lodge, and driving on well worn roads; but the Serengeti Explorer Safari is an entirely different beast. During the day you follow tracks of elephants, lions, zebras, and giraffes. You learn to track, to understand sounds, to notice scents, and to become aware of the wind's direction. At night you tend a campfire and listen for the lion's roar, or the bellicose laughter of the passing hyena. Every trek is accompanied by an armed ranger and an armed guide.

A safari this wild is no small undertaking. You'll be in good hands. In 2007 Deeper Africa's Wil Smith led the first escorted walking safari into the Serengeti with intrepid guests from Colorado and Texas. And yes, we saw lions! A select few of our Tanzanian staff is specifically trained for these expeditions. Your guides have advanced wilderness survival and rescue training and they know this environment well.

Locations visited/nearby
Tanzania
Comments from Facebook
Itinerary
Day 1 Travel Day International Flight

Day 2
Moivaro Coffee Lodge
Arusha
Arrive in Kilimanjaro Airport. Pickup at the airport after clearing customs by your Deeper Africa guide. He will have a sign with your name on it. Transport to Moivaro Coffee Lodge in Arusha with dinner at the Lodge.

Day 3
Wilderness Walking Camp
Northern Serengeti National Park
Breakfast at Moivaro Coffee Lodge. Morning bush flight to the Serengeti. Your guide and private Land Cruiser will meet you at the bush strip.

Leaving roads and tracks behind, you will head off-road into the wilderness walking areas of the Serengeti. These areas in the Serengeti have only recently been opened by the Tanzanian government and they have not been visited for nearly 50 years, except for the occasional ranger patrol. We are privileged to be one of the few companies allowed by the park service to have access to this remote area.

The area offers a unique view of the Serengeti as it was - unmarred by game viewing tracks, lodges, or minibuses. You'll drive through the bush for several hours with lunch in camp upon arrival. This afternoon is an orientation walking safari. In this area of the Serengeti we humans are the intruders and you must learn to blend in to get the full benefits of your visit. Your Deeper Africa walking guide has years of experience and professional training to be allowed to carry a firearm while walking in the national park. You'll also have an armed park service ranger hiking with you to provide you with the ultimate safety. The orientation safari is important to ensure that you become aware of safety measures you, and your guides, must use to keep you safe in the bush.

The word 'Serengeti' is derived from the Maasai language, meaning endless plain. This vast savannah grass land extends northward into the Maasai Mara in Kenya covering over five thousand square miles of land, forming one of the world's largest wildlife refuges. This is land as it was in the beginning: no fences, no settlements, just a perennial migration of wildlife. This safari allows you to experience the truly remote and untouched areas of the Serengeti. In a journey that reaches back through time, the herds of animals follow the seasonal rains, traveling from the Serengeti into the Mara instinctually moving with the seasonal rainfalls.

The annual migration is what makes the Serengeti famous. The herds gather on the Tanzanian side of the ecosystem from sometime in November or December through early July. The migration includes vast herds of wildebeest, but also zebra and Thomson's gazelle. The herds steadily move southward through April or May when the seasonal rains cause them to turn and begin the journey back northward toward the Maasai Mara. Wildebeest are well suited to harvest the short grasses that cover the semiarid plans of the Serengeti. The soils of this region have an underlying hard pan covered by a fertile layer of volcanic soil. Grass growing in this soil is highly nutritious taking up nutrients trapped by the hard pan.

Dinner and overnight at the wilderness camp. Your camp is lighter, and a bit more rugged, than a traditional safari camp. Yet it is a comfortable wilderness bush camp with all the "necessities" including dome tents, warm beds, a dining tent, an outdoor toilet tent, and a shower tent. Your cook will ensure that your meals are hot, tasty, and nutritious.

Day 4
Wilderness Walking Camp
Northern Serengeti National Park
Breakfast at camp. Today is a full day of walking and exploring. You'll set off early in the cool of the morning in search of wildlife. In the heat of the day we'll stop for lunch under a shady tree or a cool overhanging kopje or large rock outcrop. Walking in the Serengeti is not about covering huge distances, it is about moving slowly so as not to disturb the game coming over the terrain for water. It is about enjoying the simple treasures, such as learning about traditional medicinal properties of an Acacia tree and on occasion getting your heart racing as you stalk the larger, more dangerous game, such as buffalo or elephant. While you have a full day for exploring in the bush our camp staff is breaking down your wilderness camp and moving it to reestablish camp for you in a new location. This is a camp-to-camp walking safari, a true "safari" (a journey moving through the wilderness).

The Serengeti is a savanna wilderness covering 5,700 square miles. It is home to over 2 million grazers and thousands of predators, scavengers, and browsers. Somewhere on the Serengeti, the largest land migration on earth will be moving about. Whether we see it will be purely a matter of chance and weather. As a consequence of fickle weather and constant migration, the Serengeti is an ever changing space. In any given place, at any given time, one might encounter a sea of herbivores, or an empty endless plain, or just an occasional creature here and there. It is always an adventure in the Serengeti.

Breakfast, lunch, dinner and overnight at your Wilderness Walking Camp.

Day 5
Wilderness Walking Camp
Northern Serengeti National Park
Breakfast at your Wilderness Walking Camp. Another full day of walking and exploring the secrets of this magical area. We'll be following wildlife tracks to discover the spring that never dries, even at the hottest time of year, or a cave full of old bones where a porcupine lives. The Serengeti has a number of environments that we may come across. Potential habitats include hills, plains, small acacia forests, and a river environment. Our habitat choices will depend upon local conditions and the discretion of your walking guide and the park ranger.

Note that on any day there may be some driving via 4X4 if we choose to move to a different habitat for exploration purposes, or if weather conditions change.

Breakfast, lunch, dinner and overnight at your Wilderness Walking Camp.

Day 6
Walking Camp
Serengeti National Park
Breakfast at your Wilderness Walking Camp. This is your last day of walking and exploring. The first record of a European entering the Serengeti was in 1913. This northern area was set aside as a protected area in 1928 and became a national park in 1951. Prior to 1951, the area was inhabited by the Massai. Once the area became a park it was closed to humans.

As you wander among the towering rock kopjes that dot the area, we may find a spot where the elephants dig for water in the river beds, or maybe come upon a lion feeding on a kill. We'll return to camp for a final night of relaxing around the camp fire under the star studded African sky and listen to the lions doing their territorial roaring across the plains.

Breakfast, lunch, dinner and overnight at your Wilderness Walking Camp.

Day 7
Moivaro Coffee Lodge
Arusha
Day room
Breakfast at your Wilderness Walking Camp. Morning bush flight from the Serengeti back to Arusha. Say good bye to your guide at the bush strip as he will need to drive your Land Cruiser back to Arusha.

We'll have another Deeper Africa Land Cruiser and guide to pick you up at the Arusha Airport. Following lunch at the Shanga River House, enjoy shopping and a town tour of Arusha. Learn more about the great work being done by Shanga Project @ www.shanga.org. Afternoon drive to Moivaro Lodge with day room and time for packing, showering, and relaxing. Early dinner at Moivaro Lodge.

Transport to your international flight at Kilimanjaro Airport.

Day 8 Travel day International flight

CONSIDER EXTENDING YOUR SAFARI TO INCLUDE NGORONGORO CRATER AS FOLLOWS:
Day
Msigiyo Camp
Ngorongoro Conservation Area
Breakfast at Moivaro Coffee Lodge. In the morning begin the drive into the Ngorongoro Conservation Area. We will drive approximately 130 miles to camp. Most of this drive is on a paved road with interesting sights along the way. You'll arrive in the late afternoon at our Tented Camp in the Msigiyo area on the Western side of the Crater near Mt. Lemagurut. The camp is in a forest area, so there are many opportunities to spot tropical birds and an occasional monkey.

Your camp will be in a traditional safari camp with beds, chairs and an adjoining private shower. There will be a separate dining tent, and you'll be able to enjoy "sundowners" (refreshments at sundown) around the campfire.

The nomadic Maasai are the only people allowed to live in the Conservation Area. Their traditional ways, which include an aversion to hunting, have a minimal impact on the local habitat. Their warrior skills suit them as guardians of the land and wildlife. They are the eyes and ears of the Conservation Service. The Ngorongoro Conservation Area includes large tracts of land available for hiking.

Dinner and overnight at Msigiyo Tented Camp.

Day
Msigiyo Camp
Ngorongoro Conservation Area
Breakfast at camp. Today is a flexible day with hiking available. Your hikes will go out from our camp into the Ngorongoro Conservation Area. You can hike for as long, or as little, as you choose.

Activity options include hiking and bird watching. The Massai water their herds at Lemagrut's hidden springs, and there is a good view of the Eastern plains and the Serengeti from the summit. (Summit elevation 10, 275 ft.)

Dinner and overnight at Msigiyo Tented camp.

Day
Msigiyo Camp
Ngorongoro Conservation Area
Early breakfast at camp so that you can begin your morning wildlife viewing in Ngorongoro Crater. Morning is a special time in the natural world with daylight bringing lots of activity and movement. The Crater is the world's largest unbroken volcanic caldera. The Crater floor covers 100 square miles and is a natural enclosure for wildlife. The ecosystem is a microcosm of East Africa's wildlife environment containing grasslands, wetlands, acacia forest, and a soda lake. The crater floor is completely uninhabited excepting an occasional band of Massai who will carefully lead their cattle to the soda lake. Zebra, wildebeest, and gazelle mingle together, while herds of buffalo graze the long grass areas. Bull elephants and rhino are often seen feeding in green marshes and there are hyenas, jackal, warthogs and big cats. The lakes and marshes are home to hippos and exotic water fowl. The Crater also has a healthy lion population.

Dinner and overnight at Msigiyo Tented Camp.


More information from Deeper Africa: