Planeterra Foundation - vacations and travel
Brazil Community Reforestation Program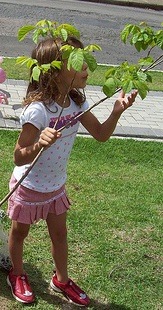 Contact provider for price
7 Days
Year-round
Comfort accommodations

Exertion level: 3

Operator:

Planeterra Foundation

12 people max
Sao paulo airport , brazil
Volunteer Vacations trips
Planeterra is working with local communities in Southern Brazil to reforest their lands. This program, which has resulted in 450,000 trees planted since 2009 provides the communities and local farmers of Guaranta, Promissão, Arco Iris, and Marília with access to training workshops and seedlings, so that they can increase food production, create natural barriers on their lands, provide shade and fodder for livestock and other animals.

Agroforestry students from the University of Londrina are working with settlement populations to help provide training to new residents of the area, who were once landless. Training manuals and videos have been developed in Portugese and are being distributed to different community groups. This program will provide not only environmental benefits but will engage local community groups in determining their own land-use practices in a move towards greater self-sufficiency.

We are working in Brazil with Trees for the Future (TFTF), a Washington DC-based organization that has been committed to reforesting areas and planting indigenous species since 1989. We have chosen to partner with Trees For The Future for their expertise in developing reforestation programs with the involvement and direction of local people and communities.

Locations visited/nearby
Brazil, South America
Comments from Facebook
Special information
This is a custom departure, meaning this trip is offered on dates that you arrange privately with the provider. Additionally, you need to form your own private group for this trip. The itinerary and price here is just a sample. Contact the provider for detailed pricing, minimum group size, and scheduling information. For most providers, the larger the group you are traveling with, the lower the per-person cost will be.
Itinerary
Why is this project needed?
Rainforests, often times called the lungs of the planet, absorb large amounts of carbon dioxide from the atmosphere. They give us clean air, clean water, are home to thousands of species of plants and animals, and keep our climate in balance, even regulating the world's rainfall. When we lose forests, not only do we lose their air and water-cleaning services, but habitat for hundreds of species, sources of food, wood and medicinal products, not to mention beautiful recreational areas that have taken hundreds and sometimes thousands of years to grow. Forest loss often impacts the world's poorest most, who depend on forests for their basic needs.
Some of the greatest losses of the world's tropical forest have taken place in Brazil. This vast nation has lost hundreds of thousands of square kilometers of Amazonian forests, an area larger than many countries. Deforestation in Brazil is largely due to clearing land for cattle ranching and other commercial agriculture as well as logging. While this news is grim, there are positive steps that can be taken to combat this cycle of forest loss including reforestation, expanding protected areas and developing methods of sustainable forestry that can be employed by local people who will benefit economically while maintaining the natural ecosystems.
DONATE to the Community Reforestation Program
Help us provide more communities with the skills and training needed to reforest their own lands.
More information from Planeterra Foundation: