Adventures in Good Company - vacations and travel
Hiking The Swiss Alps Alpine Pass Route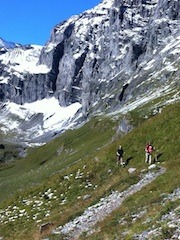 Airport near zurich, switzerland
Active & Adventure trips
Hiking across high alpine meadows and passes
Staying in lovely and varied Swiss villages
Sampling Alpkase (mountain cheese) and other local specialties
Gazing at legendary Swiss mountains, including the Breithorn, Wetterhorn, Eiger, Monch, and Jungfrau
Taking advantage of the excellent Swiss transport system

Hiking the Swiss Alps, with their jagged peaks and myriad trails, have long been a magnet for a hikers. On this trip we hike what is widely regarded as one of the most magnificent sections of the Via Alpina, also called the High Alpine Pass Route. Our traverse goes from Grindelwald to Murren, with a side trip up the wild and scenic Obersteinberg Valley, before crossing the Sefinenfurke and Hohturli Passes and ending in Kandersteg. We'll enjoy challenging hiking, diverse accommodations, hearty and delicious meals, and the opportunity to experience the Swiss Alps as few tourists do.

Locations visited/nearby
Switzerland, Europe
Comments from Facebook
Special information
Offers some women-only departures.
Itinerary
July 15 Plan to arrive Zurich not later than 11:00 on July 15. We will meet in the airport and take the train, about a 3 hour ride, to Grindelwald. We'll go through Interlaken and past the magnificent lakes of Thun and Brienz, where we change onto the mountain railroad that takes us up the Grindelwald Valley. Our hotel is near the train station and after checking in (or dropping our luggage off if it's too early), we'll have a couple of hours for a short hike or simply to explore this small town. We'll gather in the evening for a trip orientation before enjoying a four course dinner and what will likely be an early bedtime for most of us.
July 16 We plan today as an acclimatization day. You could choose to stay at the hotel and have a relaxed day, but what we highly recommend is joining your guides for one of the premiere day hikes in the area, from Schynigge Platte to First. Our intial elevation gain is done for us, as we ride the slow but very scenic cog railway up to Schynigge Platte. From here it is non-stop views, as we look down on the Brienzersee and the Thunersee, admire the Grindelwald and Lauterbrunnen valleys, and are almost always in sight of the majestic towering range of the Wetterhorn, Eiger, Monch and Jungfrau. Add in beautiful small lakes and wild scree-covered slopes, and this hike has it all. Although the hike is long, much of it is along a gradually rising ridge; and though we gain significant elevation, it is much less steep than some of our hikes later in the week. At the end (as long as we make it in time) we take the three stage gondola back from First, arriving in time to enjoy another hearty dinner. Hiking time: about 6 hours, elevation gain: 3300 feet, elevation loss 2400 feet
July 17 This morning we'll send our baggage ahead to Wengen to wait our arrival at the end of the day. Carrying only what we need for the day, we head out of Grindelwald on a road to Gletscherschlucht (glacier gorge), where we can learn about the dangers posed by glacial melting in the alps. From here the path climbs steadily and steeply for over an hour until we are right at the base of the Eiger. The path then leaves the woods and contours along the base, with less steep ups and downs, and views of the Eiger's Mittellegi Ridge above and Grindelwald Valley below. Shortly after passing a hut that belong to the Swiss Alpine Club, our path descends to Alpiglen and the welcoming Berghotel Alpiglen, where we can buy lunch or refreshments or just relax a bit.
The path leaving Alpiglen, this time much wider and less remote, climbs steadily for another 1420 feet to Kleine Scheidegg, the train station at the pass between the two valleys. It looks close but looks are deceiving, and it takes us about an hour and a half. At the top is another pleasant restaurant and time to make a decision - whether to descend to Wengen on foot (about 2500 feet) or save our knees for another day and take the train down. Whichever way we choose, we'll pick up our bags at the train station and walk to our nearby hotel for another hot and hearty dinner. Hiking time: 5 to 7 hours, elevation gain: 4150 feet, elevation loss 500 to 2500 feet
July 18 This morning we send our luggage to Murren and carry what we need for our overnight in Obersteinberg. Our path today goes down, then flat, then up. Leaving Wengen, we descend to the Lauterbrunnen Valley on a broad path that descends steadily down hill. We will mostly bypass the town on our path that follows the delightful Lutschine River. This is actually a detour from the Alpine Pass Route so that we can spend some time in the more wild and remote Obersteinberg. The trail through the Lauterbrunnen Valley, part path and part asphalt, is just spectacular, with soaring rock walls on either side that are reminiscent of Yosemite. Lauterbrunnen, which means "many fountains", derives its name from the waterfalls that cascade down the sides at frequent intervals, some over 900 feet high. Equally intriguing are the paragliders who practice their craft here, and we may even see base jumpers. Regardless, this two and a half mile walk is relaxing and pleasant.
Once we reach Stechelberg the trail changes completely. The first hour is a gradual up on wide trail that is sometimes a road, winding along the upper reaches of the Lutschine River. The path then climbs steeply for over an hour as we gain the ridge. After the first half hour the trail leaves the forest and we are treated to a breath-taking view of the upper Obersteinberg Valley, including Schmadribach waterfalls, Breithorn, Tschingelhorn, and the rock pinnacles of the Lauterbrunnen-Wetterhorn. The trail continues up through mountain meadows and then traverses across to our hotel for the night. This "Berg hotel" has one of the most isolated and beautiful settings you can imagine, and all of our effort is rewarded by a dinner whose every ingredient is local or has been brought in by mule or helicopter. Hiking time: 5 to 6 hours, elevation gain: 2850 feet, elevation loss 1580 feet.
July 19: Our destination today is Murren, and there are two ways to get there. One goes up and over a ridge, with the choice of a side trip up Tanzelboden and its 360 degree panoramic views. The price of reveling in all this alpine splendor, however, is a very steep descent that is guaranteed to cause knee twinges even in healthy knees. The alternative is a more gradual descent through the forest, followed by a longer up to regain the other side of the valley. Both paths bring us to the small town of Gimmelwald, and from there it is about another hour to the somewhat larger and car-free town of Murren, where we'll spend two nights. Our lodging is a large chalet right in the middle of town that we'll have to ourselves. Hiking time: 4 to 5 hours, elevation gain: 3460 feet, elevation loss 1950 feet
July 20: Today is a rest day. Of course, you don't need to rest if you don't want to. You can hike or take the cable car up to the summit of Schilthorn, splurge on the Jungfraujoch Express, try the Via Ferrata, or hike on the many trails around town. Or, knowing that the next 2 days are the most challenging of the trip, you could rest.
July 21: We say goodbye to our luggage this morning, sending it on to Kandersteg and carrying what we need for the next 2 nights. Our journey today is a hike up and over the Sefinfurke Pass and down to Griesalp, taking us from the very busy and developed Bernese Oberland to the much quieter Kiental - it really feels like a different part of Switzerland. After taking our bags to the train station and sending them on to Kandersteg, our trail leaves Murren. We'll pass the cable car station and some cheesemakers' huts before winding steeply up a hill for 20 minutes. From there the path is mostly flat or gently uphill to the final pass. We'll pass by the Rotstock Hut, perhaps stopping to see what baked goodies might be available. The trail up the pass switchbacks up a steep scree slope for about 20 to 30 minutes on a well-trodden path and the view at the top, with the Eiger trio behind us and the Blumisalp in front of us, is absolutely spectacular.
Today the descent is actually more challenging than the descent, because of its length. The first 10 minutes is on stairs with a cable to hold onto, not difficult for anyone who is not afraid of heights, but definitely something that takes your attention. From there the path widens as we descend through a meadow, then becomes a farm track (meaning that it is wide enough for farm vehicles but still dirt) and finally a road as we reach Steineberg and then our Berghotel for the night. The setting of this hotel, while not nearly as remote feeling as the previous one, is still spectacular and the food is first rate. Hiking time: 7 to 8 hours, elevation gain: 3200 feet, elevation loss: 3950 feet
July 22: Today is definitely the most challenging of the trek as we cross up and over Hohturli Pass, the highest pass on the entire Alpine Pass Route. Sometimes the path is through forest, sometimes over moraine, sometimes through meadows, and sometimes through rock slide and scree. But except for very, very short breaks, it goes steadily, often steeply, up. However, as is always true in the mountains, the views when you stop to take a break are just amazing. And at the top is not only a large flat spot that provides a perfect lunch break, there is also a hut with fresh baked goods and cold drinks for those who don't mind climbing a bit further.
We'll take a break here in preparation for the long descent ahead of us. While the descent is actually longer than yesterday, it is not quite as hard on the knees as it has areas of flat, non-stop spectacular scenery, and variation in the trail. Once we reach the area above Oeschinensee, a classic aquamarine glacial lake, we even have the choice to hike over to a chairlift to save us that last 1000 feet of descent. Whichever way we get there, we'll be delighted to reach the charming town of Kandersteg where we'll spend our last night at a lovely 3 star hotel. Hiking time: 7.5 to 8.5 hours, elevation gain: 4500 feet, elevation loss: 5250 feet
July 23 The trip officially ends after breakfast. There are frequent trains directly to the Zurich airport, starting about 6 am, that take about 2.5 to 3 hours. However, if you're not in a rush, Kandersteg is a lovely town to spend some additional time in.
More information from Adventures in Good Company :