Viaggi di Gusto - vacations and travel
Tuscany, Rome & The Cinque Terre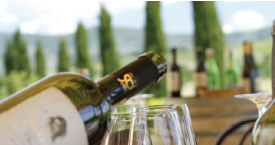 from $3,850* per person
13 Days
October
Comfort accommodations

Exertion level: 3

Operator:

Viaggi di Gusto

20 people max
Airport near florence, italy
Culinary & Wine Travel trips
Depart the USA for Florence, Italy.

Locations visited/nearby
Italy, Europe
Comments from Facebook
Itinerary
Monday, October 8
Depart the USA for Florence, Italy.
Tuesday, October 9 (Cinque Terre)
After our arrival in Florence, transfer to our hotel in the
Cinque Terre. Welcome dinner at hotel. (D)
Wednesday, october 10 (Cinque Terre)
Following breakfast at our hotel, we'll orient you to the
eclectic collection of Cinque Terre villages and the walking
paths that connect them. Spend the remainder of the day
hiking the scenic paths, enjoying the dramatic views from a
boat, or simply relaxing at a local beach. (B)
Thursday, october 11 (cinque terre)
Take the full day to venture out and discover the charms
of these adjoining villages. The day is yours to visit and
explore the seaside, sample the local cuisine and wine, and
enjoy the spectacular sunset. (B)
Friday, October 12 (cinque terre)
Spend your final day on the Italian Riveria relaxing
at the beach or exploring neighboring villages along
the Riveria, such as Santa Margherita Ligure and the
legendary Portofino. Evening on your own. (B)
Saturday, october 13 (Tuscany)
Following breakfast, travel to our medieval hotel and
winery, perched on a hilltop in the heart of the Chianti
region. On the way, we'll visit scenic Certaldo and
experience the Boccaccesca Food and Wine Festival.
Spend the day sampling pork, olive oil, bread, and other
gastronomic specialties, including award-winning wines.
After a day of feasting, get settled in our quiet Tuscan
country retreat. (B)
Sunday, october 14 (tuscany)
Following breakfast, travel to Volterra, an Etruscan hilltop
village. Later visit San Gimignano, a hilltown famous
for it's medieval architecture, towers and white wine, for
a guided tour. Spend the afternoon sampling the towns
cuisine and wine, shopping or relaxing at one of it's
outdoor cafes. (B)
Monday, october 15 (tuscany)
Following a leisurely breakfast at our hotel, travel to Siena,
a Tuscan city famous for its cuisine, art, museums and
medieval cityscape. Take a guided tour, then spend the
rest of the day exploring this beautiful city on your own.
Return to the hotel for a wine tasting and dinner. (B,D)
TUESDAY , OCTOBER 16 (TUSCANY )
Following breakfast, we'll travel south into Chianti region.
We'll explore "La Strada di Chianti" and visit some
of the Chianti region's most-noted medieval villages.
Your adventure includes a visit to Castello Verrazzano,
one of the Chianti region's oldest and most beautiful
vineyards. After a guided tour, sample the famous wines,
accompanied by a four-course meal. (B, L)
WEDNESDAY , OCTOBER 17 (TUSCANY )
Enjoy a leisurely breakfast at our hotel. Later,
behold the many sights of Florence, birthplace of the
Italian Renaissance, on a half-day tour. Wander the
Uffizi Gallery, stand in the shadow of the towering
Brunelleschi's Dome and of course, enjoy Michelangelo's
David up close. The remainder of the day is yours to
relax and explore Florence on your own. (B)
THURSDAY , OCTOBER 18 (TUSCANY )
Today, enjoy a visit to a local wine producer. Later, learn
the secrets of Tuscan cooking in an optional cooking
class. Enjoy the fruits of your labor with a lunch or
dinner. (B, L or D)
FRIDAY , OCTOBER 19 (TUSCANY )
Spend your final day relaxing poolside at the hotel,
hiking the country estate, or visiting a nearby village for
last-minute shopping. Later gather together for a farewell
dinner, specially prepared for us at our hotel. (B,D)
Saturday, october 20
Following breakfast, say a reluctant "Ciao" to Italy and
depart for your return flight from Florence. (B)
More information from Viaggi di Gusto: