Off The Map Tours - vacations and travel
Horse Riding In The Valley Of Genghis Khan 2012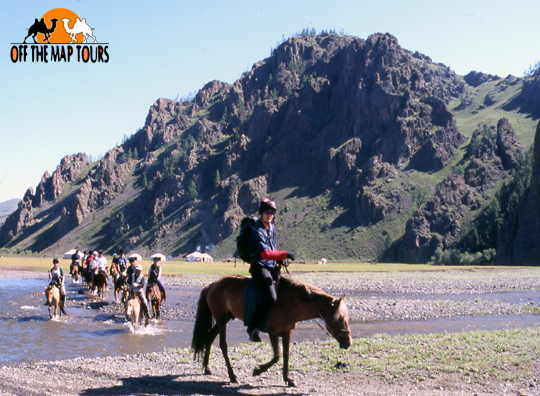 from $2,200* per person
11 Days
September
Comfort accommodations

Exertion level: 4

Operator:

Off The Map Tours

24 people max
Ulaanbaatar airport, mongolia
Active & Adventure trips
This ride of approximately 200km begins at Tsenkher village in Arkhangai Brass & silver kettle at Bogd Khan Museum ŠOTMTprovince. We ride and up into the mountains through a remote and beautiful landscape where the only inhabitants are nomadic families with their herds of horses, yaks and sheep. The scenery is quite dramatic, especially at the Orkhon waterfall. Ride over the mountains to return to Kharkhorin, site of Genghis Khan's capital in the thirteenth century. There is a large monastery here, Erdene Zuu, the original centre of Buddhism in Mongolia.

The riding distance is approximately 25km per day. You will be supplied with Russian saddles, and the local horsemen will take care of the horses. At Kharkhorin you will stay at a traditional ger camp, and all other nights will be camping in Western style dome tents.

Locations visited/nearby
Mongolia, Asia
Comments from Facebook
Itinerary
10 Sept
Arrive Ulaanbaatar.
11 Sept
Jeep to Kharkhorin. Overnight ger camp beside the Orkhon river.
12 Sept
Jeep to Tsenkher village where the horses will be waiting. Start riding across river valley.
13 Sept
Ride gradually up into the mountains and over Bogoch pass.
14 Sept
Ride up the long trail to reach Ultiin Davaa pass at nearly 2000 metres.
15 Sept
Ride in the Orkhon river valley, crossing the river many times, to reach the waterfall.
16 Sept
Ride past Battulzii village and into the hills.
17 Sept
Ride up and down the hills, along the Orkhon valley.
18 Sept
Arrive at Kharkhorin. Overnight traditional ger camp beside the Orkhon river.
19 Sept
Jeep to Ulaanbaatar.
20 Sept
Depart.
More information from Off The Map Tours: