Cape Lux Travels - vacations and travel
Girls Getaway Luxury Vietnam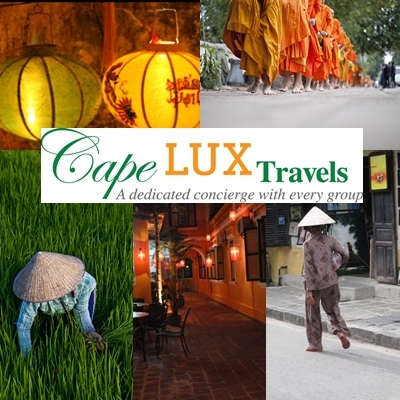 from $2,495* per person
7 Days
March
Luxury accommodations

Exertion level: 1

Operator:

Cape Lux Travels

12 people max
Vietnam, hanoi
Rest & Rejuvenation trips
9 March – 15 March'2013 Experience the old and the new Vietnam in Style!
Five star accommodation, city and beach
6 nights of total YOU time-out.. with a personal shopper/stylist!
Locations visited/nearby
Vietnam
Comments from Facebook
Itinerary
We start this amazing time out, well deserved break in Hanoi.. our accommodation is the BEST..
Metropole Sofitel in Hanoi for three nights.. oh la la!
We then fly down to experience Hoi An for three nights – here we'll call
'The Nam Hai' home for three nights!
This indeed, is a 'Celebration holiday' – it's time to celebrate you're woman!

Emma McDermott, your personal stylist/shopper will guide you through all those shopping decisions..
And its only 5 days out of work!
Small group guarantees extra attention to detail.
Interested?.. contact jeanw@thecapeclub.com TODAY to reserve your place -
Minimum 8.. Maximum 12 and we've had huge interest already!
Girls Only Getaway to Vietnam 9-15 March 2013
Hosted by Cape Lux Travels Director and your personal concierge, Jean Wethmar and accompanied by professional stylist and shopper, Emma McDermott of My Personal Stylist.
If you've ever found shopping an intimidating or overwhelming experience, then you'll love shopping with our accompanying stylist, Emma, Chief Image Maker from My Personal Stylist. Emma loves to shop. In fact some would say she lives to shop. Not only is she out there constantly scouting for trends, and bargains, and new finds, she has a natural talent for helping any woman feel confident, stylish and attractive, no matter her age, shape or her wardrobe budget!
The Secret many well styled women don't want you to know is they don't actually need to own a lot of clothes to look like you have a huge wardrobe. When you know what style flatters your shape, and what colors enhance your eyes, hair and skin tone, it's easy to look confident and stylish no matter the occasion.
Remember first in, best dressed! Pay your deposit of $500 TODAY!
Girls Getaway to Vietnam | 9-15 March 2013
Needing that special 'YOU" timeout pampering after a hard year?
Looking for that perfect gift for yourself or somebody you love?
Includes: Domestic flights; cooking class; spa treatment;
Consultation with professional stylist, Emma of My Personal Stylist; and much more!
$2495pp twin share. Single supplement $1,025. Land arrangements only.
Tour group size: max 12 people. Tour starts and ends in Hanoi.
CapeClub_StyleandShopping_Flyer March 2013
More information from Cape Lux Travels: