Story Land & Sea® - vacations and travel
Wonders Of The Amalfi Coast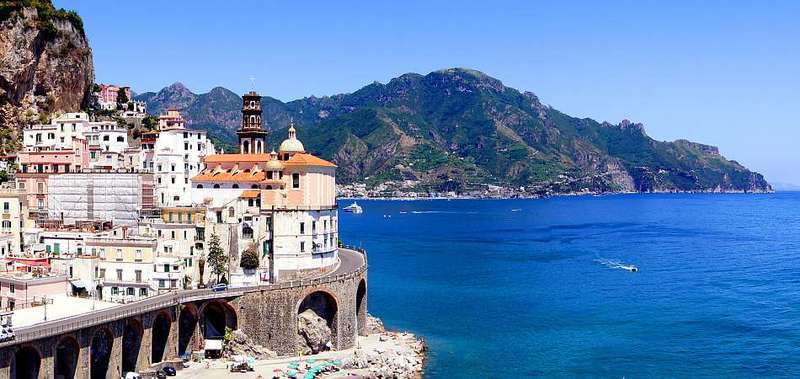 from $4,279* per person
10 Days
May-July, September, October
Luxury accommodations

Exertion level: 4

Operator:

Story Land & Sea®

16 people max
Italy
Family & Friends trips
Culinary & Wine Travel trips
Your Journey will visit: Positano, the Isle of Capri, Ravello, Amalfi, Praiano, Paestum, Herculaneum and Pompeii.
There's few places on earth that call forth passion from within the traveler's heart and soul like the "Costiera Amalfitana" does – that's why we think you will find this Story Land & Sea® True Small Group Tour irresistible.
No more than 16 travelers on a true small group itinerary, with regional-inspired dining, included premium beverages, and heart of city hotel properties.

Leave the Herd Behind.
Locations visited/nearby
Amalfi Coast, Isle of Capri, Italy Tour, Italy, Positano, Ravello, Herculaneum And Pompeii, Europe, Campania
0 testimonials about this trip.
1 testimonial about the provider, Story Land & Sea®:
Reviewer:

Laurie P

located in

Cortland

,

NY

USA

There were absolutely no financial surprises on this trip! We booked the Deluxe package and added the Amalfi Extension. We came a day early, and stayed a day late…and are super glad that we made both of those decisions. Other additions that we added were transfers to/from the airports, the Uffizi in Florence, ferry to Capri, Pompei guided tour, and our flights. All breakfasts, 1 lunch, and 6 dinners were included in our cost. On the included dining nights appetizers were ordered for the table, and then we each ordered from the menu. The wine and limoncello flowed freely all night, and I never saw any attempt to slow it down. Most nights that we did not have an included dinner our tour captain invited us to join her for dinner at our own costs. Generally we went, as did many others in our group. Mark Story, the owner of Queenslander oversees a very organized/logically planned program. All of our hotels (details later) were in the center of the action and very lovely. All luggage was moved seamlessly from place to place.




The earliest time we left in the morning was 8AM…very different from other tour companies that I had researched. A few times during our travels it rained, and Queenslander picked up the taxi cost. The tour had a great blend of included tour time, and free time to explore on our own. Generally hubby took a one hour nap every night before dinner to reenergize!!




We had a slight problem when QLT booked our flights and a spelling error occurred. It was caught immediately by Queenslander, but Air Canada would not deal with it until 72 hours before travel. (We had booked last December). 72 hours prior Ron Gholston had to end up rebooking the entire flight for a change fee of almost $400. Queenslander paid that without a question, and Ron handled everything very professionally. This was the type of customer service that we encountered every time we contacted Queenslander.




Jodie Hedrick was our Tour Captain. There were only 16 of us in the group. We all came from very diverse backgrounds and got along famously. Jodie was such a caring, knowledgeable person, and was gifted at working with many different personalities. Everyone felt very special on this trip. I feel very blessed to have had the opportunity to travel with such a travel enthusiast. Her enthusiasm was infectious.




VENICE: This was our favorite city of the trip. Private water taxi was the transfer, with a greeter to meet us at the airport. We stayed at Hotel Saturnia & International. We had a huge room. The hotel is very close to Piazza San Marco. Included tours: Grand Canal, Piazza San Marco, Basillica San Marco, Gondola Ride, Doge's Palace, Bridge of Sighs, and a water taxi to visit of the Island of Murano. In addition, we independently visited the Campanile, the Opera House, the amazing Rialto market, and walked miles and miles getting lost in Venice and loving every second of our experience!!




FLORENCE: We arrived via the Silver Bullet fasttrain. Our hotel was Helvetia & Bristol which was a quick walk to the Duomo. Included tours: Duomo, Galleria dell'Accademia (David…the most impressive thing I have ever seen!!), and the Basillica di Santa Croce. Independently we went to the Ponte Vecchio, the Uffizi and the Market.




CORTONA and the Tuscany Region: We traveled here by small bus and stopped at San Gimignano for a few hours. This is a very cute, medieval town, but it rained our entire stay. Independently we did the Church of Santa Maria. We had an included lunch at Castello della Paneretta; a winery that included wine tasting. The Cortona hotel was our favorite hotel of the trip. We stayed at the Villa Marsili. Stunningly gorgeous, and we had a very large room.




ROME: We traveled to Rome by small bus, stopping in Assisi for a few hours along the way. We visited the St. Francis Basillica. Our hotel in Rome was Grand Hotel de la Minerve. It was located 10 yards from the Basilica of Maria Sopra Minerva, and 100 yards from the Pantheon (we visited both independently) Included tours: Trevi Fountain, Spanish Steps, Piazza Navona, Campo di Fiore, Roman Forum, Colosseum, Vatican, St. Peter's Basilica, the Sistine Chapel. We also walked to see the Castel Sant'Angelo at night from the bridge. Beautiful!




SORRENTO and the Amalfi Coast: This gorgeous area of Italy was our favorite area of the trip. We loved the food in southern Italy the most, although all of the food was great throughout our vacation. We drove the Amalfi Coast Highway (the "Mama Mia" Highway-so named for its very winding curves.) Our stay here was at the beautiful Hotel BelAir which is literally cut into the cliffs, so the views are absolutely amazing. Free view of Mt. Vesuvius every morning from the balcony! We took the ferry to Capri for the day. Luckily while we were waiting for the ferry, a gentleman by the name of Salvatore Cioffi offered to guide us on the island for a fee. This was worth every penny, and without his help we would have spent a lot of time wandering aimlessly around. His private transportation took us to Anacapri so we could ride the chairlift to the top of Mount Solaro. Stunning, and one of those "Wow" experiences. I highly recommend his tour services if you want to see this island in its totality. We also spent the morning at Pompei.




Overall, we had the time of our lives on this celebrating retirement vacation. No company is perfect, but Queenslander is very close. The only discussion I heard from anyone throughout the trip was the comparison of individual hotel rooms. I believe everyone was happy with the hotels themselves, but some guests had suites, and some had smaller rooms than others, and it actually was quite simply the luck of the draw. The hotels themselves are limited in types of rooms available for groups. This really is not a Queenslander problem, but worth mentioning that guests will all have individually different rooms, and some rooms will be better than others.




Queenslander Tours are worth the money spent in my opinion. Generally you get what you pay for, and I am so happy we made the decision to book with Queenslander. I'll be happy to answer any questions about our trip.

5
Comments from Facebook
Itinerary
TRUE SMALL-GROUP® ITINERARY
Day 1 | Transatlantic Flight to Rome FCO Airport.
Inquire with our Air Service Department for a quotation for your international airfare.
Day 2 | Welcome to Italy
Upon arrival, you may make your own way to the hotel in Rome or you may opt for our Meet & Greet with our chauffeur and transfer to our beautiful aristocratic palazzo turned deluxe hotel in the very heart of Old Rome. Your preferred position allows for easy of exploration to all of the major sites.
Meet the Tour Captain for your included orientation and welcome to Rome dinner.

Your Story Begins!
Story Way® Dining: Enjoy a unique start to your tour with our special chef-hosted dinner to get things started properly. A Wow experience awaits you tonight in a very exclusive position in Rome.
Accommodation: Properties include Boscolo Exedra Roma, Autograph Collection, Grand Hotel de la Minerve, 1 Night
Day 3 | To Southern Italy & the Amalfi Coast
ROME
and on to the
AMALFI COAST
This morning after breakfast, we will take in some of the beauty that is Rome and what was the Roman Empire. Our local expert guide along with your Tour Captain and driver lay the setting for your journey back in time. We'll drive and visit many of the iconic landmarks of Rome including Piazza Navona, the Trevi Fountain, Piazza Venezia, the Spanish Steps and an included visit inside the Pantheon.
There will be time for a typical Roman lunch before we make our way to the Enchanted Amalfi Coast.
Upon arrival Naples, we board a high-speed ferry to the Isle of Capri. Upon arrival private convertible cars wait to take you to our hotel in the heart of Capri.
Story Way® Dining: A beautiful dinner awaits you tonight with your Tour Captain. Stunning.
Accommodation: Properties include Grand Hotel Quisisana, Capri Tiberio Palace, 2 Nights

Day 4 | Isle of Capri
ISLE OF CAPRI
This morning you are whisked along by our private convertible cars as you learn of the treasured famous (and infamous) history of the Isle of Capri. We will take in the village of Anacapri (meaning 'other Capri') and then on to the beautiful Villa San Michele. This villa was constructed atop the ruins of a Roman palace with stunning views of the sea. The balance of your day is at leisure. Tonight, join the Tour Captain for an optional dinner or explore at your leisure.
Day 5 | Amalfi Coast
POSITANO
This morning we board our private boat for onward journey along the Amalfi Coast. This is a leisurely morning as we view coastal villages, the Punta Campanella and the Fjord of Furore. We take in an incredible lunch in Nerano at a Two Michelin-starred restaurant (and a secret that most travelers have not discovered).
During the day we'll enjoy stops to swim and with towels and refreshments provided.
We arrive the charming, vertical village of Positano boat dock and walk to our deluxe hotel, our home for the next three evenings.
Story Way® Dining: Dinner in Positano tonight with the Tour Captain.
Accommodation: Properties include Covo Dei Saraceni, Le Agavi Hotel, Le Sirenuse Hotel, Il San Pietro di Positano, 3 Nights
Day 6 | The Amalfi Coast Drive & Villages

RAVELLO
We journey today on the spectacular Amalfi Coast drive, one of the world's most dramatic shorelines. Imagine a cliff-side road thousands of feet up in the air, with blue and emerald waters off the edge, blue skies and brightly colored houses set on towering cliffs above the sea — this is the enchantment of the Amalfi Coast.
We arrive the village of Ravello to visit the lovely gardens of Villa Rufolo. The former residence of several popes, the villa is perfectely perched for stunning views. You may want to take in the 1th-century Villa Rufolo: Originally belonging to the powerful and wealthy Rufolo family who excelled in commerce (a Landolfo Rufolo has been immortalized by Boccaccio in the Decameron), it then passed by inheritance to other owners such as the Confalone, Muscettola and d'Afflitto.
Around the middle of the nineteenth century it was sold to the Scotsman Francis Neville Reid who took care of a general restoration, resulting in today's layout.
Then if you wish, you can also visit the gardens of Villa Cimbrone.
To cap off the visit we will enjoy a specially prepared lunch (included) before returning to our home in Positano.
The balance of the day is at leisure.
Tonight, explore Positano for the perfect dining experience or join your Tour Captain.
Day 7 | Mozzarella di Bufala & Greek Temples
PAESTUM GREEK TEMPLES
The town of Battipaglia is known for the production of the world's best gourmet Mozzarella di Bufala made from buffalo milk. Its dairy products are famous worldwide for their unique taste. Then we're bound for the archaeological area of Paestum which has been recognized by UNESCO as a World Heritage Site since 1998. The Greek temples and ruins of Paestum are amazing and we get to enjoy a private visit with our Expert Guide. A beautiful walk in the archaeological site of Paestum, where the grandeur of the temples that still resist to the passing of time will leave you breathless.
Story Way® Exclusive: On our way back you are set to enjoy a culinary delight (and if you so desire, partake in the preparation, but not mandatory!) at a local agriturismo estate where you will dine on typical specialties paired with wine.
We return to Positano for the balance of the day at leisure.
Day 8 | Sorrento Peninsula
Sorrento
TO SORRENTO
After our tour, we have time for lunch before arriving Sorrento. After check-in, the balance of the day is at leisure until tonight when you may optionally join the Tour Captain for dinner or explore at leisure.

Story Way® Dining: Tonight, join the Tour Captain for an optional dinner or explore on your own.
Accommodation: Properties include Hotel Minerva Sorrento, Bellevue Syrene, La Favorita, Hilton Sorrento Palace or Similar, 2 Nights
Day 9 | Pompeii & Herculaneum
MOUNT VESUVIO LEGACY
This morning enjoy a leisurely start and then we're off to Pompeii & Herculaneum.
We are bound for Naples with Pompeii and Herculaneum this morning for a special, expertly guided tour through the towns that were completely lost to history when Mount Vesuvius erupted in 79 A.D. Our Expert Guide will orient us to the lifestyle the people of Pompeii and Herculaneum lived. We'll visit villas, shops and houses of questionable repute and discover mosaics, frescoes and gardens — it's literally walking through history!
Tonight, meet the Tour Captain for a special reception before our included farewell dinner.
Story Way® Dining: Celebrate tour time on the Amalfi Coast and Sorrento Peninsula as we enjoy our included farewell dinner.
DAY 10 | Arrividerci Day!
Arrividerci! Departure Day: Opt for our departure transfer to the Naples Airport (or inquire if you would like to return from Rome). Tour ends after breakfast. Arrividerci!

###
Call today to place your reservation at 1 (877) 865-6711!

More information from Story Land & Sea®: