Story Land & Sea® - vacations and travel
Discovering The Best Of Sicily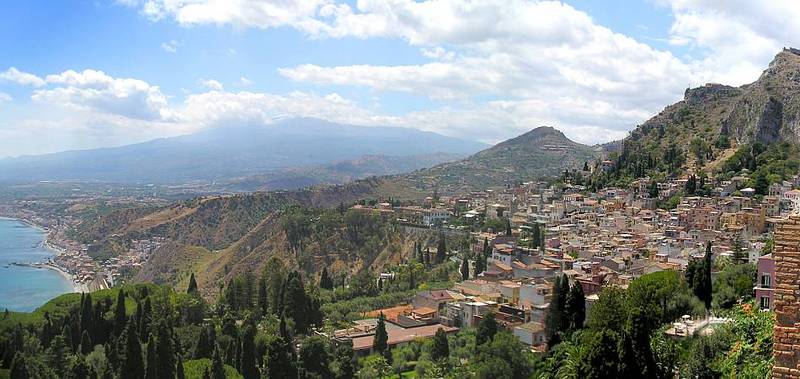 from $3,879* per person
10 Days
April-July, September, October
Luxury accommodations

Exertion level: 4

Operator:

Story Land & Sea®

16 people max
Italy
Family & Friends trips
Culinary & Wine Travel trips
This tour is the perfect balance of inclusions and free time in magical Sicily.

If you've never been to Sicily, then you're in for a real treat. If you have previously visited, then you already know you want to go back and see more. Sitting at the tip of the boot of Italy, Sicily is a place like no other on Earth. The mild Mediterranean climate and the nostalgia are things that must be experienced in person...words cannot describe.

The island is filled with wonders from the old world and panoramas not-to-be-missed, to the world-famous volcano, Mount Etna, to exotic beaches, old ruins, and sweeping vineyards and farmlands. Sicily is truly a magical place, and is sure to delight. Come see it with us!
Locations visited/nearby
Italy, Europe, Sicily - Sicilia
0 testimonials about this trip.
1 testimonial about the provider, Story Land & Sea®:
Reviewer:

Laurie P

located in

Cortland

,

NY

USA

There were absolutely no financial surprises on this trip! We booked the Deluxe package and added the Amalfi Extension. We came a day early, and stayed a day late…and are super glad that we made both of those decisions. Other additions that we added were transfers to/from the airports, the Uffizi in Florence, ferry to Capri, Pompei guided tour, and our flights. All breakfasts, 1 lunch, and 6 dinners were included in our cost. On the included dining nights appetizers were ordered for the table, and then we each ordered from the menu. The wine and limoncello flowed freely all night, and I never saw any attempt to slow it down. Most nights that we did not have an included dinner our tour captain invited us to join her for dinner at our own costs. Generally we went, as did many others in our group. Mark Story, the owner of Queenslander oversees a very organized/logically planned program. All of our hotels (details later) were in the center of the action and very lovely. All luggage was moved seamlessly from place to place.




The earliest time we left in the morning was 8AM…very different from other tour companies that I had researched. A few times during our travels it rained, and Queenslander picked up the taxi cost. The tour had a great blend of included tour time, and free time to explore on our own. Generally hubby took a one hour nap every night before dinner to reenergize!!




We had a slight problem when QLT booked our flights and a spelling error occurred. It was caught immediately by Queenslander, but Air Canada would not deal with it until 72 hours before travel. (We had booked last December). 72 hours prior Ron Gholston had to end up rebooking the entire flight for a change fee of almost $400. Queenslander paid that without a question, and Ron handled everything very professionally. This was the type of customer service that we encountered every time we contacted Queenslander.




Jodie Hedrick was our Tour Captain. There were only 16 of us in the group. We all came from very diverse backgrounds and got along famously. Jodie was such a caring, knowledgeable person, and was gifted at working with many different personalities. Everyone felt very special on this trip. I feel very blessed to have had the opportunity to travel with such a travel enthusiast. Her enthusiasm was infectious.




VENICE: This was our favorite city of the trip. Private water taxi was the transfer, with a greeter to meet us at the airport. We stayed at Hotel Saturnia & International. We had a huge room. The hotel is very close to Piazza San Marco. Included tours: Grand Canal, Piazza San Marco, Basillica San Marco, Gondola Ride, Doge's Palace, Bridge of Sighs, and a water taxi to visit of the Island of Murano. In addition, we independently visited the Campanile, the Opera House, the amazing Rialto market, and walked miles and miles getting lost in Venice and loving every second of our experience!!




FLORENCE: We arrived via the Silver Bullet fasttrain. Our hotel was Helvetia & Bristol which was a quick walk to the Duomo. Included tours: Duomo, Galleria dell'Accademia (David…the most impressive thing I have ever seen!!), and the Basillica di Santa Croce. Independently we went to the Ponte Vecchio, the Uffizi and the Market.




CORTONA and the Tuscany Region: We traveled here by small bus and stopped at San Gimignano for a few hours. This is a very cute, medieval town, but it rained our entire stay. Independently we did the Church of Santa Maria. We had an included lunch at Castello della Paneretta; a winery that included wine tasting. The Cortona hotel was our favorite hotel of the trip. We stayed at the Villa Marsili. Stunningly gorgeous, and we had a very large room.




ROME: We traveled to Rome by small bus, stopping in Assisi for a few hours along the way. We visited the St. Francis Basillica. Our hotel in Rome was Grand Hotel de la Minerve. It was located 10 yards from the Basilica of Maria Sopra Minerva, and 100 yards from the Pantheon (we visited both independently) Included tours: Trevi Fountain, Spanish Steps, Piazza Navona, Campo di Fiore, Roman Forum, Colosseum, Vatican, St. Peter's Basilica, the Sistine Chapel. We also walked to see the Castel Sant'Angelo at night from the bridge. Beautiful!




SORRENTO and the Amalfi Coast: This gorgeous area of Italy was our favorite area of the trip. We loved the food in southern Italy the most, although all of the food was great throughout our vacation. We drove the Amalfi Coast Highway (the "Mama Mia" Highway-so named for its very winding curves.) Our stay here was at the beautiful Hotel BelAir which is literally cut into the cliffs, so the views are absolutely amazing. Free view of Mt. Vesuvius every morning from the balcony! We took the ferry to Capri for the day. Luckily while we were waiting for the ferry, a gentleman by the name of Salvatore Cioffi offered to guide us on the island for a fee. This was worth every penny, and without his help we would have spent a lot of time wandering aimlessly around. His private transportation took us to Anacapri so we could ride the chairlift to the top of Mount Solaro. Stunning, and one of those "Wow" experiences. I highly recommend his tour services if you want to see this island in its totality. We also spent the morning at Pompei.




Overall, we had the time of our lives on this celebrating retirement vacation. No company is perfect, but Queenslander is very close. The only discussion I heard from anyone throughout the trip was the comparison of individual hotel rooms. I believe everyone was happy with the hotels themselves, but some guests had suites, and some had smaller rooms than others, and it actually was quite simply the luck of the draw. The hotels themselves are limited in types of rooms available for groups. This really is not a Queenslander problem, but worth mentioning that guests will all have individually different rooms, and some rooms will be better than others.




Queenslander Tours are worth the money spent in my opinion. Generally you get what you pay for, and I am so happy we made the decision to book with Queenslander. I'll be happy to answer any questions about our trip.

5
Comments from Facebook
Itinerary
Transatlantic Flight Departure Day
Day 1: Depart North America on Transatlantic flights. The flight is not included.
Can we help you with your Airfare? Yes, we can arrange your air travel from the Story Land & Sea® air service department. We'll work with you to get the absolutely lowest fare available based on your travel preferences. We utilize both our own air department and online agencies to find the best rate. At the end of the Magical Sicily Tour, you should set your flight to return from Catania.

Or if you are extending to the Amalfi Coast, then you should set your flight to return from Naples. Get an airfare quote ~ Click Here.

Remember, airfare is a completely separate arrangement from your land tour. It is your responsibility to arrive at the point of tour origination (Palermo) on time regardless of whether Story Land & Sea® has arranged your air.

We very much encourage you to consider purchasing a Travel Protection policy.
---
Day 2: Arrive Palermo Airport (PMO)
WELCOME TO THE MAGICAL SICILY TOUR
Included Dining: Welcome Dinner

Exclusive: Palermo Classic Perspective
One of Story Land & Sea®'s most popular True Small-Group® Italy tour vacations commences at 3:00PM at our featured Hotel. Located in the heart of Palermo is our deluxe hotel, where your Tour Captain meets you for the Included Orientation Walking Tour.

INCLUDED ORIENTATION WALKING TOUR: Join your Tour Captain Host for a Welcome Orientation Walk in Palermo. Find out where the major landmarks are located in relation to our hotel, the best ATM machines for Euro and exchange rates, and other helpful information for your stay in Palermo.

Walking Level: Light, Leisurely Pace; Volume: Light

Story Land & Sea® Exclusive: Tonight, join in a Story Land & Sea® original experience with our Reception & Welcome from the Tour Captain from one of our classic perspectives ~ unique vantage point to survey Palermo in the company of your fellow travelers.

Your Small Group Tour Vacation to Italy is underway! After our reception, we'll walk to our Welcome Dinner in Palermo, where you'll taste the finest cuisine and wine varietals from the region of Sicily.

INCLUDED PALERMO WELCOME DINNER TONIGHT: Join your Tour Captain for a Welcome Dinner in Palermo. Experience what can only be described as a tour of the best cuisine and vino from the region of Sicilia.

About the Story Way® of Dining
Our approach to dining is truly unique: We've collected our favorites dishes from the incredible restaurants we visit for each included dinner. No buffets here! Your Tour Captain is there to make sure your dining experience goes smoothly and will help you interpret any menu item. For the five total included dinners, your Tour Captain will select a variety of appetizers, featuring regional cuisine, and will select your vino for the evening ~ a variety of red and white wine from the region you're traveling ~ and yes, "the wine flows."


BACK TO TOP
---
Day 3: Region: Sicilia
Included Dining: Breakfast
Palermo, the capital of Sicily, is an architectural delight and gateway to an "undiscovered" part of Italy. In Palermo, you will visit the 9th Century Plazzo Reale, with its beautiful Palatine Chapel.

Before our tour concludes, you will be driven up into the Sicilian hills to visit the quaint and ancient town, Monreale. Your visit here will focus on a tour of the magnificent 12th Century Cathedral. This Cathedral has one of the largest and most beautiful displays of mosaic artwork in the world.

Following our tour, you will be returned to your beautiful, historic hotel in the heart of Palermo.

Dining through the Journey
Daily full American breakfasts are included throughout your journey. We feature select Story Land & Sea® Exclusive Wine Tasting events and several dinners also included. Enjoy Story Land & Sea®'s approach to dining with free-style ordering and premium beverages included. No set menus. No hotel buffets for dinner.

Optional Dinner
Enjoy an optional dinner tonight: Join your Tour Captain or explore on your own.


BACK TO TOP


---
Temple of Segesta and Erice
Day 4: Segesta


Included Dining: Breakfast (Deluxe & Classic) , Welcome Dinner the Story Land & Sea® Way (Deluxe Only)
This morning we drive about an hour to visit what is arguably "the best preserved Greek temple in the world" --- Segesta.

This large, magnificent Doric temple looks as if it were built just yesterday! Built before 430 B.C., the temple is about 200 feet long and 85 feet wide, with a total of 36 impressive Doric columns. Your guide will provide you all the fascinating history of this incredible well-preserved temple.

Next, we travel to the spectacular town of Erice, a spectacular, medieval city, with cobblestone streets and castles, located 2,400 feet high above sea level, in one of the most picturesque settings you can imagine. Erice overlooks the city of Trapani and the Aegadian Islands --- providing sweeping, spectacular, panoramic views from all around.

We shall make a visit to the Antique Convent Pastry Shop, in via Guarnotti, one of the most renowned Sicilian bakeries. There enjoy a taste of the fine Erician pastries first created within the convent walls, and as a special treat, sample some of the typical almond dough desserts filled with candied lemon. Afterwards, a guided walk through the quaint, narrow, cobblestone streets in this picturesque town, perched high above the Sea, with panoramic vistas everywhere.

After our guided tour of Erice, you will enjoy lunch on your own at one of the restaurants offering a breath-taking, panoramic view of the beautiful, blue Sea and the surrounding islands.

We shall return to Palermo by mid-afternoon and freshen up before heading out to enjoy a true Sicilian culinary experience.

Included Dinner in Palermo. Enjoy an authentic Sicilian dinner in Palermo with the Tour Captain.

BACK TO TOP
---
Day 5: Agrigento
Included Dining: Breakfast (Deluxe & Classic), Dinner with Tour Captain (Deluxe Only)

Exclusives: Unique Perspectives Experience


We depart Palermo and drive two hours south to Agrigento, a city on the southern coast of Sicily, overlooking the Mediterranean Sea.

Here at Agrigento you will take a guided tour of one of Sicily's most famous, historical sites --- the "Valley of the Temples" --- a "masterpiece" that stands testament to Greek art in Sicily. This archaeological park consists of not one, but eight temples (along with other remains), built between about 510 B.C. and 430 B.C.

Enjoy the balance of the day at leisure.

Included Dinner Tonight: Enjoy a dinner with your Tour Captain tonight.

Our accommodation of choice is the Hotel Villa Athena, located on the valley flloor by the Greek temples. Experience something few travelers get to see — the temples illuminated at night — wonderful.
---
Piazza Armerina, Caltagirone & Ragusa
Day 6: Ragusa
Included Dining: Welcome Dinner with Tour Captain (Deluxe Tour Only)

Exclusives: Exclusive Access: Admission and tour of Villa Romana del Casale and a Ragusano Cheese Tasting Experience
This morning we're bound for Piazza Armerina. We shall tour the famous Villa Romana del Casale, built during the 4th Century. This villa contains the richest, largest, and most complex collection of Roman mosaics in the world. In addition, this Villa is one of UNESCO's World Heritage sites. The precious and beautiful mosaics in this Villa constitute some of the best conserved anywhere in the world today.

Caltagirone
Caltagirone is one of the most lively Baroque towns in central Sicily. It's known in Italy as "The city of Sicilian ceramics" due to its thousand-year-old tradition. Enjoy time in this city before we arrive Ragusa.

About Ragusa
Ragusa has caused many a visitor's jaw to drop as they first set eyes on the the city's lower regions. Essentially Baroque, the Ragusa you will see today dates almost entirely from 1693. The town is part of the UNESCO Heritage site and is breath-taking.
Story Land & Sea® Exclusive: For our typical Italian-timed lunch, enjoy a stop at Tumino Cheese for a nice sit-down cheese tasting in a beautiful rural setting. The tour will be followed by a specially-arranged tasting of the traditional, protected denomination Ragusano cheeses.

BACK TO TOP
---
Day 7
Included Dining: Breakfast (Deluxe & Classic), Welcome Dinner with Tour Captain (Deluxe Only)


We are bound for the ancient city of Siracusa (Syracuse). Siracusa is well known for its rich Greek history --- culture, amphitheaters, architecture, and birthplace of the famous mathematician and engineer, Archimedes.

We begin our experience with a guided tour of the historic heart of Siracusa, the island ofOrtigia. After the tour, enjoy time for lunch, exploring at your leisure.
Then we continue with our exploration of Siracusa. This 2,700-year-old city is right next to the Ionian Sea. Cicero once described Siracusa as "the greatest Greek city and most beautiful of them all." The Bible mentions that Paul, the apostle, stayed here in Siracusa. In 2005, the entire city of Siracusa was listed as a World Heritage Site by UNESCO. Our sightseeing immersion includes the most-famous sites at the Neapolis Archaeological Zone in Siracusa, the historic section of Siracusa, including a visit to the 16,000 seat Greek Theatre, the Ear of Dionysius, and the Roman Amphitheatre.

Following our guided tour of Siracusa, we shall continue on to Catania for a wonderful two-night stay.


BACK TO TOP


---
Day 8: Catania
Included Dining: Breakfast

Exclusives: Sicilian Culinary School
We begin today with an included breakfast. Today's highlight is a walking tour of Catania. We begin our tour with a visit to the world-famous Catania Fish Market, which is as old as the ancient city itself. You'll never forget watching workers unload their catches onto tables full of ice --- octopuses, buckets full of snails and tiny clams, beautiful arrangements of eels and rays, and almost every other form of sea life imaginable!

From the fish market, we'll walk to Piazza Duomo, the town's historical center. We will view the unique Elephant Fountain and the Cathedral, with the Chapel of Sant'Agata, containing the saint's treasures. City Hall and Plazzo degli Elefanti are also in this square.

Castel Ursino
From Piazza Duomo we will walk to the mighty Castel Ursino built in the 13th century to protect the city. It is the only medieval building to survive the great earthquake and volcanic eruption of 1693. Originally built on a promontory overlooking the sea, today it sits at a greater distance from the sea due to the earthquake and lava flow from Mt. Etna. Throughout the centuries it has been used as a royal residence as well as a prison.

Lunch venues abound in the many piazze . . . enjoy!

Following lunch, Story Land & Sea® is proud to offer you a another unique experience, which will be one of the real "highlights" of your vacation in Sicily. We have made special arrangements for you to visit a unique Sicilian Cooking School at a 400-year-old villa/estate (built in 1609). What makes this estate especially unique is that it has been in the same family for 8 generations. Yes, you will have the opportunity to indulge in the memorable meal, which you will create and prepare. This experience is always a highlight, and will be one which you will remember for many years to come!

We shall return to our overnight accommodations.

Story Land & Sea® Exclusive: Sicilian Culinary School at a 400-year-old estate.
Don't like cooking? Sit back, relax and enjoy a glass of Sicilian vino, while dinner is prepared for you, all from the perspective of a beautiful villa with stunning views.


BACK TO TOP
---
Taormina ~ Sicily's Most Beautiful
Day 9: Mount Etna

Included Dining: Breakfast

Exclusives: Winery Tasting on the Slopes of Mount Etna
Truly Discovering the friend, Mount Etna
Following our included breakfast, we shall meet our expert guide and depart for an incredible journey to the top of beautiful Mount Etna. Enjoy the breathtaking views of the Ionian Sea, as we climb higher and higher into a stunning, otherworldly landscape. A walking tour around Etna's craters is sure to be one of the highlights of your tour. This much loved mountain is an integral part of daily life for those who live in its shadows. Mongibello, the beautiful mountain, is viewed as a benevolent, ever-present friend and giver of life and good things (grapes, wine, crops, pistachios), and they downplay the destructive force Etna can become at times.

Story Land & Sea® Exclusive: Winery Tasting on the Slopes of Mount Etna
We continue on and make our way to what is arguably Sicily's "most beautiful city" --- Taormina.

The site of the old town is about 800 feet above the sea, while a very steep, almost isolated rock, crowned by a Saracen castle, rises 500 feet higher above the Ionian Sea. The vistas from Taormina are breathtaking! Portions of the ancient wall may be traced at intervals all around the brow of the hill. By far, the most remarkable site remaining at Taormina is the "Ancient Theatre," which is one of the most famous ruins in Sicily---on account of its remarkable preservation and its beautiful location. This theatre here is the second largest of its kind in Sicily - after that in Syracuse. It is frequently used for operatic and theatrical performances and for concerts.

We then arrive at our luxurious hotel in Taormina, our home for the next two evenings. After arrival and check-in, the tour captain will give you an orientation of this town on the way to an optional dinner.

Optional Dinner
Enjoy an optional dinner with the Tour Captain, or explore on your own.

BACK TO TOP
---
Day 10: Taormina

Included Dining: Breakfast, Farewell Dinner

With gorgeous vistas everywhere, it is difficult to not "fall in love" with the magical beauty and ambiance of Taormina.

To allow you to absorb the beauty of this place, we have provided you a full "free day" to explore Taormina and the surrounding area on your own. You will enjoy strolling the picturesque streets, spending time shopping in the many shops in Taormina, or just enjoying the sights and sounds in one of the city's parks. Taormina offers one of the most breathtaking, panoramic settings in the world --- with incredible views out across the Ionian Sea, as well as the "picture-perfect" view of Mount Etna. This area of Sicily is also popular for its nearby beaches (accessible via an aerial tramway). You may wish to take a short ride via taxi or public bus to the popular seaside resort of Giardini Naxos. Tours of the Capo Sant' Andrea grottos are also available.

Included Farewell Dinner: Enjoy a special time together with your new friends, hosted by the Tour Captain.


BACK TO TOP
---
Day 11

Included Dining: Breakfast, Farewell Dinner

Optional Transfer to Catania Airport. Inquire with reservations. After your included breakfast, you will be taken to Catania, where you will be dropped off at the Catania Airport for your return flight(s).

***Tour Ends***

Call today to place your reservation at 1 (877) 865-6711.
More information from Story Land & Sea®: