Crystal Safaris Ltd - vacations and travel
19 Days Culture Safari To Uganda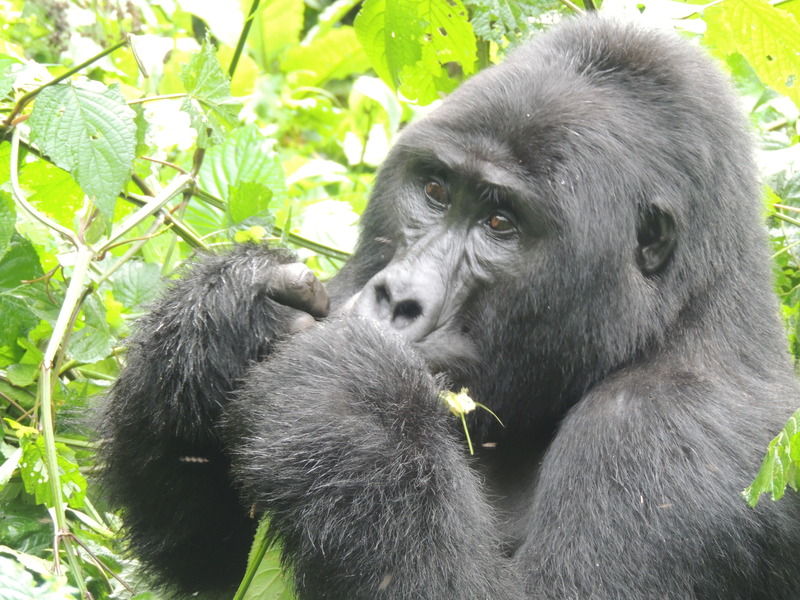 from $7,896* per person
19 Days
Year-round
Comfort accommodations

Exertion level: 3

Operator:

Crystal Safaris Ltd

2 people max
Uganda
Culture & Nature trips
Uganda 19 days grand cultural tour features a representation for all the major cultures of Uganda. The Safari does not leave out the indigenous cultures like the batwa people from the southern western uganda. It is an exciting experience to explore the Imbalu heritage of the Bagisu people, heritage of Buganda kingdom including the Kasubi Tombs and Namugongo shrines. The Safari takes you all around Uganda and generates life time Memory.

Locations visited/nearby
Uganda, Africa, Nile, Rwenzoris
Comments from Facebook
Special information
You need to form your own private group for this trip. It will be scheduled for a date you arrange with the provider. The itinerary here is just a sample.
Family oriented trip.
This trip is an independent tour: you choose the features you want included (hotels, excursions, flights, cars, etc…)
Offers some solo-only/singles departures.
Offers some women-only departures.
Itinerary
Day 1: ARRIVAL AT ENTEBBE.
Upon arrival at Entebbe International Airport you will be welcomed by our one of our driver Safari guide who will transfer you to your hotel for Dinner and overnight @RED CHILLI Kampala
Day 2 ENTEBBE-JINJA.
After breakfast drive to the eastern part of the country and drive through Mabira forest which extends more than 300km2, it is primarily composed of moist semi-deciduous forest in which more than 200 tree species have been identified, continue to Bujagali falls, watch the real sparkling white water of the Nile as it forces its way through the stones to the Mediterranean sea, receive entertainment by the Budondo cultural group, see the white water rafters, learn the mysteries that surrounds Bujagali falls lunch then proceed to the Source of the Nile and later back to the hotel .Dinner and overnight @CI'SAND HOTEL
Day 3: JINJA-NYERO ROCK PAINTINGS.
After breakfast you will travel to Mbale and continue to Kumi where you will visit Nyero Rock paintings estimated to be between 700-1000 years old rated one of the finest in East Africa. They consist of three painted caves close to each other. Paintings are in red and N white pigmentations.. The paintings are said to be the work of hunter-gatherers who lived in the region about 2000 years ago.
Overnight Mbale Resort.
Day 4: JINJA -MBALE
After breakfast, you will check out and drive to Mbale town in the eastern side of the country. The Bagisu or Gisu also known as Gishu, Bagishu, Masaba or Sokwia are people of the Bantu family who live along the slopes of Mount Elgon (also called Mount Masaba) in Mbale District eastern Uganda. A person of Bagisu tribe is called Mugisu and everything associated with the Bagisu including their culture, tradition, values and property are also known as Kigisu. As such, one can talk of Kigisu music, Kigisu dances or Kigisu culture. Further, the generic term Gisu (Gishu) has been used by scholars like Victor Turner (1969, 1973) and Suzette Heald (1982) to refer to the Bagisu people, region, language, or culture. As such, one can talk of the Gisu while referring to the Bagisu people or something that belongs to them. However, the Bagisu do not refer to themselves or what belongs to them as the Gisu (Gishu). Dinner and overnight at MBALE RESORT.
DAY 5: FULL DAY IN MBALE
After breakfast, interact with local traditional drumming known as kadodi then physically watch the male circumcision known as Imbalu, this will take you to about 3 court yards known as Lusho (time permitting). Leave the mountainous area and amazing culture for Mbale town en route; see bananas and coffee plantations on the slopes of the world's free standing mountain.Dnner and overnight @MBALE RESORT
Day 6: MBALE-KAMPALA
After breakfast you will depart for Entebbe through Kampala and visit Namugongo Martyrs shrine where the by then king of Buganda Kingdom Mwanga 11 ordered the killing of 22 Christian converts who had denounced traditional religion. You will also visit Kasubi Tombs where the kings (kabaka) of Buganda Kingdom are Buried
Overnight Emin pasha Hotel
.
Day 7: TRANSFER TO LAKE MBURO.
After breakfast you will travel to Lake Mburo National Park passing through Masaka surrounded by the pastoral community grazing the "Ankole Long Horned Cattle" a special kind of cattle endemic to this part of the World. You will enjoy a game drive in Lake Mburo National.
Overnight @Rwonyo Camp/Mantana Camp.
Day 8: LAKE MBURO-LAKE BUNYONYI.
After breakfast you will travel to Kabale where you visit a local Museum and learn about the culture and history of the people of South Western Uganda formally known as Kigezi. Later proceed to Lake Bunyonyi for Dinner and Overnight Bunyonyi over land resort
Day 9: KABALE-KISORO.
After breakfast you will visit a local blacksmith and you will be taken through the stages of how local people fabricate local tools like spears knives and other implements for use in daily life. Later travel a short distance to Kisoro. Along the way you will visit a pygmy community on the boarder of Echuya forest.
Later continue to Kisoro through a scenic countryside passing with terraced hills with beautiful scenery and breathtaking views across the valley.
Overnight @Gorilla Safari Lodge
Day 10: VISIT LOCAL PYGMY COMMUNITY
After breakfast you will go for one of the most exciting activities as you will visit Virunga Volcanic Mountains. The mountains have special plants, birds and golden monkeys and it is home to the endangered mountain gorillas. You will also visit Garama cave measuring 340m in the length and 14m deep. This is where the (Batwa) pygmies used to live more than 100 years ago. You will also have a chance of interacting with the descendants of these fabulous people recount their culture and heritage. Dinner and overnight @Gorilla Safari Lodge



Day 11: KISORO-QUEEN ELIZABETH PARK.
You will travel to Queen Elizabeth National Park through Kabale. Lunch will be in Mbarara town and later continue through an evergreen countryside with natural forests, Tea and banana plantations. You will do a game drive on the Kazinga Charnel Dinner and Overnight Marafiki Safari Lodge /Mweya Safari Lodge.
Day 12: GAME DRIVE-LAUNCH TRIP ON KAZINGA CHANNEL.
Today's activities include a game drive in the kob mating grounds and in the channel track, later a launch trip on Kazinga channel which connects Lake George and Lake Edward. You will also visit the museum at Mweya.
The museum has a collection of tools that have been used by man from about 1.5m years ago to the present day. Evening relax at the pool to recount the day's activities.
Overnight Mweya safari Lodge.
Day13: MWEYA-KIKO TEA ESTATE.
After having breakfast you will travel to Fort Portal crossing the Equator line. In Fort Portal you will visit the Royal Palace, and Fort Gerry built in 1880s for protecting the Tooro Kingdom against attacks from Bunyoro kingdom, visit a botanical garden with medicinal plants.
Overnight at Crater Safari Lodge
Day 14: VISIT TEA PLANTATION&TEA FACTORY.
Today you will have an early start. You will have an opportunity and an exciting learning experience about tea growing and processing, learn about tea husbandry practices like plucking, tipping, pruning, weeding, green leaf selling and fertilizer application. You will be moved through the stages of tea processing from fresh Greenleaf to tea itself. You will learn the technical aspects like withering, rolling, fermenting, drying and sorting tea into different grades.
Take advantage to taste factory fresh tea during the quality control process. Later travel to Hoima. Along the way you will visit Katosa Martyrs shrine a memorial to one of the victims St.Adolf who was among the 22 martyrs killed in Namugongo on orders of Kabaka Mwanga in 1886.In commemoration of St.Adolf, a catholic parish has been built at the site and a pilgrimage is held every 27th January of the year.
Close to the church are rocks with paintings and names of individual Martyrs that were killed by Kabaka Mwanga at Namugongo.You will arrive Hoima town later for night stay.
Overnight Crater Safari Lodge
Day15: HOIMA-MURCHISON FALLS N.PARK.
You will have breakfast and later visit Kabalega''s tomb at Mparo. King Kabalega was 23rd omukama of Bunyoro a powerful king and war genius whose power and wealth posed danger to the establishment of colonialism. Because of his strong will and mistrust of Europeans and their agents, Kabalega was the most hated king in the interlacustrine region by the imperialists. Inside the tomb there is a collection of items like spears, royal drums, stools, baskets, calabashes, shields, pots, animal skins and other regalia associated with Kabalenga and his times.

There is a monument outside the tombs where king Kabalega met Emin Pasha the only colonial agent who liked and respected him and was his friend." At this place the Omukama Chwa 11 Kabalega received Dr.Emin Pasha on the 22nd semptember1877" reads the inscription on a monument outside his tomb. The place is referred to as ahagasani in Runyoro.The site at one time housed Kabalenga''s palace. Later you will visit katasiha Fort, established by Kabalega and later used by colonial agent colonel Colville in 1894 after subduing king Kabalega. This was Kabalenga''s strong hold and many battles were fought around this Fort before he abandoned it.

Later continue to Murchison falls National Park through Butiaba escarpment. On a clear day you will see stunning views of Lake Albert and the Blue Mountains in Congo. You will take the chance of visiting the top of the falls. Here the whole of river Nile is forced through 7 meters gap to a depth of about 40metres.
Overnight Red chilli Camp.
Day 16: GAME DRIVE-BOAT TRIP.
Today's activities include a game drive to delta and a launch trip to the bottom of the falls. You will get spectacular views of the falls and along the way you will see Nile Crocodiles, Hippos and various bird species as you watch them coming to drink water at the river's edge.
Overnight Red chilli Camp.
Day 17: MURCHISON-SSESE ISLAND
After breakfast you will travel by ferry to Bugala Island; one of the 84 Ssese lslands found in Africa's largest fresh water lake, Lake Victoria crossing the Equator line on water. The Island has beautiful sand beaches; birdlife is prolific and colorful, palm trees, pineapple plantations and fishing villages.
Overnight Brovad Sands Lodge
Day 18: FULL DAY AT THE ISLAND
After breakfast, we will visit Fort Speke, not a Fort as such but a place where the famous European Explorer John Hannington Speke camped for a few months in 1862 on his search for the source of the Nile. Its from here that he sent emissaries to the Kabaka's court seeking permission to enter Buganda Kingdom.Later during the day we will return to the Beach hotel for lunch. In the afternoon we will visit a fishing village to see how local fishermen do their trade on Africa's largest fresh water body.
Overnight; Brovad Sands Lodge.
Day 19: TRANSFER BACK TO KAMPALA OR ENTEBBE
After breakfast,Checkout and you will be transferred to the Dock to take a ferry to Entebbe (Nakiwogo) from here you will be met by our driver who will transfer you to kampala or entebbe to board your out bound flight back home
More information from Crystal Safaris Ltd: