Tokoloshi Expeditions - vacations and travel
10 Day Wild Coast Trekking Adventure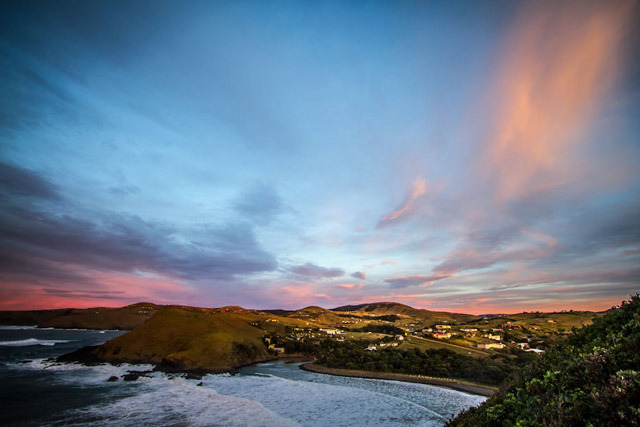 from €1,150* per person
10 Days
Year-round
Comfort accommodations

Exertion level: 5

Operator:

Tokoloshi Expeditions

7 people max
South Africa
Active & Adventure trips
Culture & Nature trips
10 DAYS/9 NIGHTS Pickup and drop-off in East London
7 Days Walking

Difficulty rating - Moderate
This tour is for hiking lovers! After exploring Coffee Bay & surrounds including the famous 'hole-in-the-wall' and Mdumbi with their unparalleled beaches we begin the walk South with the possibility of witnessing one of the wonders of the natural world of the 'sardine run', whale & dolphin watching and exploring the many shipwrecks of the wild coast...
Highlights

small groups (max 8 persons)
Exclusive hike on the wild coast with back-up logistics which carry your luggage to the next stop, leaving you to only carry day-packs.
Skills and knowledge of a qualified guide and back-up crew
High quality logistics ensuring maximum comfort
Locations visited/nearby
South Africa, Coffee Bay, Africa
0 testimonials about this trip.
Reviewer:

Lucy Edwards

located in

Adelaide

,

Australia

Tokoloshi Expeditions

After questioning what a Tokoloshi is and discovering it meant "A mischievous hairy dwarf" who is known in African folklore as something "thwarted by ladders and unable to climb" we would never have predicted the days ahead.

After meeting our wonderful guide, who was on time and greeted us with a friendly "Howzit", we were driven to a cabin in the Woody Cape Section of the Addo Elephant National Park. A couple of beers, a braai, and early to bed.

We woke early and set off on what seemed to be a gentle stroll through the beautiful Ancient Yellowwood forests. Our guide stopped to show us prints and tell us about plants. The forest which initially sheltered us from the sky, slowly opened to allow swords of light as the sun rose. Some early animal sightings kept us alert but before we knew it we went from forest to foreshore, as small wooden steps led us to the ocean.

Walking along the sand was somewhat mystic as we looked in every direction and could not see a house, a car, or even a footprint. The largest dune field in the Southern Hemisphere is sure not to disappoint. The only thing to cause us grief was the fact that the camera would not do the sights justice… the dunes were bigger, the water was clearer and the scene was more dynamic than we could ever describe.

With the beautiful view below we were told we were staying just around the corner which was technically right but it was a hell of a corner. We shifted from flat sand to slight inclines and then rocks and we hugged 'the corner' of massive dune. We knew that there were stairs to take us to the top of the dune but couldn't imagine how someone could have built stairs all the way out there. And then we saw it. A simple rope. We had to pull ourselves up, eventually hitting the wooden stairs. The top was amazing! Indescribable!

The accommodation was at least 5 stars - not that it had running water, power, or a spa but the fact that it sat under a million stars with a view of hundred dolphins. We were exhausted but somewhat reenergised by our surroundings.

The next day didn't fail to keep impressing us. Beautiful dunes to farm land and back to the forest. This is not something you can do without the help of a guide and ours at Tokoloshi Expeditions was extremely capable and thankfully neither "mischievous" nor "unable to climb ladders". If you are spending time in South Africa the Alexandria Trail is a must. Forests, fynbos, fields, foreshores… Unforgettable!


Lucy Edwards

Languages, Performing Arts, English Coordinator

Balaklava High School

Ph: (08) 88620600




5
Comments from Facebook
Special information
This is a custom departure, meaning this trip is offered on dates that you arrange privately with the provider. Additionally, you need to form your own private group for this trip. The itinerary and price here is just a sample. Contact the provider for detailed pricing, minimum group size, and scheduling information. For most providers, the larger the group you are traveling with, the lower the per-person cost will be.
Family oriented trip.
Itinerary
Day 1&2: Coffee Bay Travel - 288km (3h45)

Arrive at East London airport, welcomed by our local team. Transfer to Coffee Bay where we spend 2 nights and discover 'hole-in-the-wall' and Mbumbi beaches. Activities here include: endless walks on the beach, Drum building and playing lessons, Fishing, snorkelling, diving, surfing with lessons available as well as excellent horse riding opportunities for beginners to advanced riders.
Accommodation:

'White Clay Resort' – Camping

The resort is nestled between the cliffs with a panoramic view of the private beach / bay. The setting is unrivalled with vast, rolling hills and rocky cliffs shearing off into the ocean. Dinner prepared over the fire by the guide.
Activities:

Scenic drive to Mdumbi beach and river mouth, dolphin and whale watching, surfing, fishing, birdwatching and optional drum building with drumming lessons.
Day 3: Mpame Walking distance - +-12km

Start of hiking trail, heading South while back-up crew drives ahead, with luggage and sets up camp in advance. Today we cross the Mpako and Lubanzi as well as Mncwasa Rivers.
Deep within the Eastern Cape Coastal Homeland, nestled in the foothills of what was formally known as the Transkei Wild Coast, lies Mpame. Here you find Bull's Inn Fishing Lodge a dot on the map, but big on fishing. Based on a home from home atmosphere, which makes for a unique experience and a far cry from your day to day city life. Accompanied by remote and tranquil rural setting where live stock and ancient people live.
Accommodation

Bulls inn coastal lodge which is a six bedroom double story house. It has a large kitchen with 3 toilet/shower/bath and a lounge that leads onto a balcony with a lovely sea view. Meals prepared by the guide.
Activities:

With Mpame Beach directly in front of the Lodge perfectly safe for swimming and surfing. Delightful gullies provide opportunity for endless hours of snorkeling, and fortunately, as the law prohibits the use of motor driven sports equipment on the river, the quiet sounds of nature remain blissfully uninterrupted. With its magnificent coastal setting, neighbouring indigenous forest and sunrises and sunsets of breathtaking beauty, Bull's Inn presents an unparalleled haven for birdwatchers, solitude seekers, photographers and artists alike.
Day 4: Bulungula/Xora Walking distance - +-10km

Continuing South along the coast exploring the shipwrecks and enjoying the marine fauna as we go! Here we stay at Bulungula Lodge, which is something of a legend in ethical travel circles. Here is an eco-friendly destination in a remote and stunning setting along the Eastern Cape's Wild Coast, which is part-owned by the surrounding community. They are your hosts, and offer a Xhosa village experience you will never forget.
Accommodation:

Safari tents which are on wooden platforms in the forest (most have sea views) and have a double bed or 2 single beds with bedding and an electric light... you can watch the dolphins from your bed!
Activities:

During the day you can wander around the village – with or without a guide – or you can chill out in hammocks or on the beach. The music collection is superb and aims to introduce guests to new and old pan-African sounds as well as eclectic chillout vibes. Girls can head off with the village women for face painting, brick-making, maize stamping, traditional food preparation, beer brewing and firewood collecting. Local fishermen will show you how to catch fish with throw nets, catch crayfish and octopus by hand and to make your own fishing rod from wood and wire. Zameka will lead you on your journeys through the village and local culture. There are a lot of wise old Xhosa people in the village who have seen it all and have amazing stories to tell.
Day 5: Dwesa/Cwebe Nature Reserves Walking distance - +-12km

Entering the nature and enjoying the natural forest and unique fauna and flora in this protected area. Spanning a unique blend of coastal forest, winding rivers, open grassland and a diverse coastline, Dwesa Nature Reserve offers visitors a range of trails through lush forests and magnificent ocean views in this 3500ha reserve. Situated in the central Wild Coast, Dwesa Nature Reserve is separated by the Mbashe River and bordered by the Indian Ocean on one side, and rugged grasslands of the former Transkei on the other. This is a paradise for avid bird-watchers with 290 species recorded, including the Narina Togon and Mangrove Kingfisher. The primary purpose of the Dwesa Nature Reserve is to conserve the unique biodiversity of the coastal forests, the southern sourveld grassland type and the Marine Protected Area. It also provides a critical habitat to the survival of a number of collapsed fish stocks.
Accommodation:

'The Haven Lodge'
There are 25 "chalet style" cottages with a "fishermen's cottage" feel to them.
Activities:

You can enjoy include hiking, horse riding, mountain biking, swimming, birding, exploring, canoeing, tennis, golf, whale and dolphin-watching, snorkelling, scenic drive for sundowners
Day 6: Nqabara Walking distance - 16-18km

Continuing along the coast crossing rivers as we explore further into this coastal wonderland!
Accommodation:

Nqabara eco river lodge - which is a community owned facility, the result of a grant awarded to them by the SURUDEC, through the Eastern Cape Premier's Office by the European Union. The principal action of the grant is to establish a community-owned tourism lodge, which was to be sited on a remarkably beautiful promontory overlooking the confluence of the Nqabara and Nqabarana Rivers at their mouth, separated from the beach by a beautiful girdle of indigenous bush with the Indian Ocean beyond that.
Cottage type bungalows
Activities:

Both vast rivers are endlessly rich in entertainment with an extraordinary variety of bird-life. Take a canoe and enjoy travelling down the river, totally at peace but for the sound of a fish eagle or loerie. Spend the day angling or exploring the interesting flora on the river's edge.
Day 7: Kob Inn Walking distance - +- 20km

Wildlife mixed with cattle on the beach we trace the footsteps of the ancient coastal inhabitants of the beachcombers…
Accommodation:

Kob Inn Beach Resort is a family resort offering a perfect mix of Wild Coast hospitality, relaxation and homely cuisine. The setting is right on the sea front with a secluded swimming beach and pictureque lagoon. The lodge is right on the beachfront with lovely spacious rooms.
Activities:

Many of us have dreamt of horse riding along the beach with our hair blowing in the wind. So let Kob Inn Beach Resort bring this dream to life. They have beautiful horses and a variety of trails on which you can choose to ride.
Day 8: Wavecrest Hotel Walking distance - +- 20km

Heading closer to the border of the former 'Transkei' Wavecrest is situated on a pristine, mangrove-lined estuary, surrounded by magnificent dune forests and endless beaches and will appeal to those who appreciate an unspoilt natural environment.
Accomodation:

The hotel has a very relaxed atmosphere and prides itself in making guests feel right at home. By virtue of Wavecrest's setting; energetic guests can enjoy exciting activities, while those wishing to relax and put their feet up, can do so in a setting with spectacular views. We are the perfect destination for families, and have plenty for children to do. Wavecrest offers lovely sea- and garden-facing accommodation. There are 30 units, of different configurations, and can accommodate a maximum of 90 guests.
All units have en-suite bathrooms. The family chalets have a second bedroom, which is ideal for children to share.
Sea-facing rooms have spectacular views over the river, beach and ocean.
Activities:

Wavecrest's beaches are pristine and offer secluded and quiet spots to visit and enjoy. The beaches are safe and swimming-friendly.
Guests can relax and take a dip in the natural tidal pool, or the more adventurous can ride the dunes on boards.
Wavecrest is also home to various shipwrecks that can be visited and explored. Optional afternoon boat cruise…
Day 9: Kei mouth Walking distance - +- 12.5km

Kei Mouth is also home to the 'Pont', one of South Africa's two remaining car-transporting pontoon river ferry services. The Pont carries vehicles, passengers and livestock across the Great Kei on a daily basis and the trip is an unforgettable experience
Accommodation:

Camping at the Kei Mouth Caravan park which is centrally located in the village and is close to shops, and the beach. The campsite has beach access and there is a tennis court and a children's playground. Meals prepared by the guide
Activities:

Small craft markets for that final shopping of curios and optional township tour
Day 10: Depart - Travel 90km (1h30)

Day of departure - transfer to East London airport
More information from Tokoloshi Expeditions: