Lappet Faced Safaris - vacations and travel
7days / 6 Nights – Rongai Route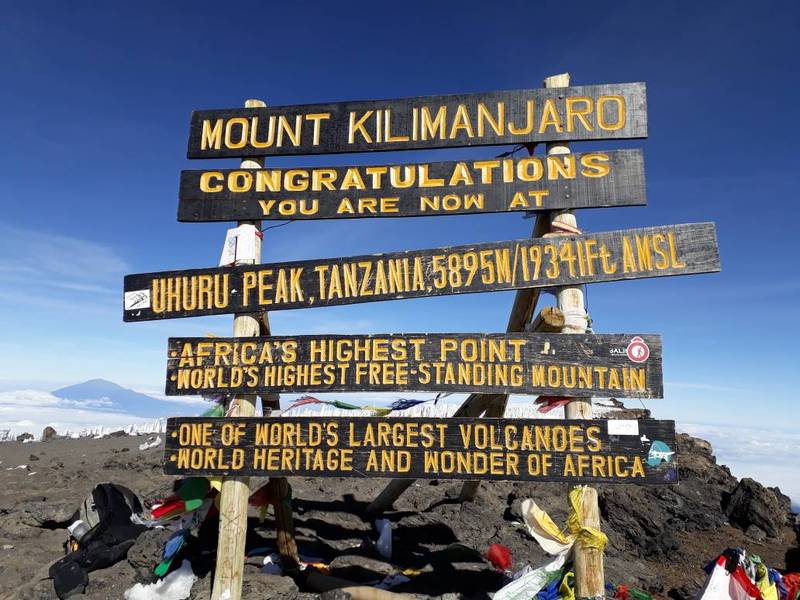 from $2,400* per person
7 Days
Year-round
Comfort accommodations

Exertion level: 7

Operator:

Lappet Faced Safaris

6 people max
Tanzania
Active & Adventure trips
This is one of Kilimanjaro's easiest routes, and it has become an increasingly popular route in recent years. This route is located on the northern side of Mount Kilimanjaro with a variety of spectacular landscapes together with different plants and animals species. The typical duration for this trip is 6 days. However, you can also add an acclimatization day and make it 7 day climb.
The Rongai Route is more scenic than the Marangu Route and easier than other camping route in climbing Kilimanjaro and the success rate on the Rongai Route is very high. Unlike the Marangu Route where you sleep in huts, on the Rongai Route you sleep in tents, the porter will have your tent pitched and waiting for you at the end of each days trek. This route starts on the north side of the mountain just south of the Kenyan border and is one of the least traveled routes. The route merges with the Marangu Route for the summit climb. The descend follows the Marangu Route on the mountain's southeast side, so you will able see Kilimanjaro from many view points.
Locations visited/nearby
Climbing tour , Kilimanjaro hike , Explore Tanzania , Trekking , Walking safari , Machame gete , Marangu gate , Kibo , Mawenzi, Tanzania, Moshi, Africa, Kilimanjaro
0 testimonials about this trip.
Reviewer:

Leigh

located in

California

United states of America

Francisco is a wonderful person, an incredible host, and the best safari guide that we have had. He is knowledgeable, eager to make your experience incredible and knows how to find the animals that we are all there to see! He is also eager to tell you about his country and the Tanzanian people. He is also interested in you. We loved every day that we spent with him

5

Reviewer:

Innozungudecent

located in

China

They prepare everything for my trip! They helped me to decide what to see and what not to see.

I'm sorry that I press five star button, I had prefer to press more than 10 stars. Anyway what I know five stars is best number that is why I decide to press all stars for Lappet Faced Safaris. My trip was awesome. It fill my trip so happy by visiting beautiful nature of Tanzania and is probably the most beautiful place on the planet, but more importantly Lappet Faced Safaris arranged my access to the country's wonders so professional.
Lappet Faced Safaris prepare everything for my trip! They helped me to decide what to see and what not to see. They arranged tours that took me behind the scenes for many of the National Parks and game reserves of Tanzania. They sent me on adventures that were beautiful, thrilling, Maasai traditional dancing and brought me at the top of Mountain Kilimanjaro. Then, after my various day-long excursions, we were able to relax in lovely hotels and eat amazing food.
How did they know my tastes so well? Maybe magic, maybe the attentiveness and time that they devoted to working with me. At the outset of our relationship, they spent several hours talking with me about what I wanted to do and then planning an itinerary. For the next few months they worked on the reservations and other arrangements for all of my requests. Most of those communications took place by email and facebook, and they were very responsive all along the way. Right before I left, I had a ask all of my questions call with them, and they presented to me with a detailed, day by day itinerary. By the time I left for my trip, I felt that everything had been taken care of, and all of my what if worries had been anticipated.
i couldn't ask for a better travel experience overall, or a better experience with a Lappet Faced Safaris Our sincere thanks to Lappet Faced Safaris and the whole his team.
I love to trip with Lappet Faced Safaris once again

5

Reviewer:

Mirrjam

located in

Dutch

I've been on a safari with lappet faced safari compagny. It was the best time I ever had. Have been to Manyara and Ngorro crater. The tourguide explained everything very well.. It was such an amazing trip to never forget. Thanks for everything and wish you the best tour safaris in the future!

5
Comments from Facebook
Special information
This is a custom departure, meaning this trip is offered on dates that you arrange privately with the provider. Additionally, you need to form your own private group for this trip. The itinerary and price here is just a sample. Contact the provider for detailed pricing, minimum group size, and scheduling information. For most providers, the larger the group you are traveling with, the lower the per-person cost will be.
May accommodate certain types of disabilities. Contact the operator for more information.
Itinerary
Day 1: Moshi to Rongai gate 1950m to Rongai Cave 2750m: 9km

Day one begins with a 4 hour drive from Moshi to the village of Nale Muru where the Rogai Route trek starts. The trail begins along a wide path that winds through fields of maize and potatoes and then enters a pine forest. The route then begins to ascend gently through the beautiful forest. The forest begins to thin out as it reaches the Rongai cave, you camp for the first night on Kilimanjaro.
Day 2: Rongai cave 2750m to Kikelewa Camp 3600m: 12km
Your morning's walk is a steady and gradually ascending trek to the Second Cave camp where you will stop of lunch. You will then leave the main trail and cross the moorland on a smaller path towards Mawenzi Peak. The Kikelewa camp is situated in a sheltered valley near the Kikelewa cave.
Day 3: Kikelewa camp 3600m to Mawenzi tarn hut 4330m: 7km

Day Three is a short, steep climb up a grassy slope, when you reach the top you will be rewarded with an amazing view of Kibo and Mawenzi Peak. The vegetation will diminish as you enter the barren alpine desert zone. Mawenzi Tarn camp is situated directly beneath the towering spires of Mawenzi Peak. The afternoon can spent relaxing in camp or exploring the area around Mawenzi.
Day 4: Acclimatization day

This is your extra day on the mountain, and you will spend two nights at Mawenzi Tarn. You will hike up towards Mawenzi for a splendid acclimatization hike. Then after return back to the camp for lunch, dinner and overnight.
Day 5: Mawenzi Tarn hut 4330m to Kibo Hut 4695m: 8km

From Mawenzi you will again cross the alpine desert zone of Kilimanjaro and the saddle between Mawenzi Peak and Kibo to reach the Kibo Huts at the bottom of Kibo's crater wall. The afternoon is for resting and preparing for the climb to the summit.
Day 6: Summit Day, Kibo Hut 4695 to Uhuru Peak descend back to Horombo Hut 3700m: 18km

Summit Night! You will be woken at around midnight, for tea and biscuits before setting off into the night. You will ascend over scree and rocks until you reach Gillman's Point at the crater rim at dawn where you will rest briefly before continuing to the summit Uhuru Peak. This is the most challenging part of the trek for most climbers with the highest chance of suffering from altitude sickness. Take in the view from the summit and ensure you have taken plenty of photographs before starting your descent to Kibo Hut where you will rest and eat. You will then trek across the saddle to Horombo Hut for your final night on Kilimanjaro.
Day 7: Horombo Huts camp 3700m to Marangu Gate 1700m

After your final breakfast pack your bags and descend through the moorland zone to the Mandara Huts. You will stop for and then continue down through the rain forest until you reach the park gate in the early afternoon. Successful climbers will receive their summit certificates. You will then drive back to your hotel in Moshi, for a celebratory drink and shower.
More information from Lappet Faced Safaris: