Large Minority - Adventure Holidays & Tuk Tuk Challenges - vacations and travel
Italy Tuk Tuk Adventure
"As a Tuk Tuk 'virgin' but an Italy 'veteran' I was really excited to join the inaugural Italy Tuk Tuk… "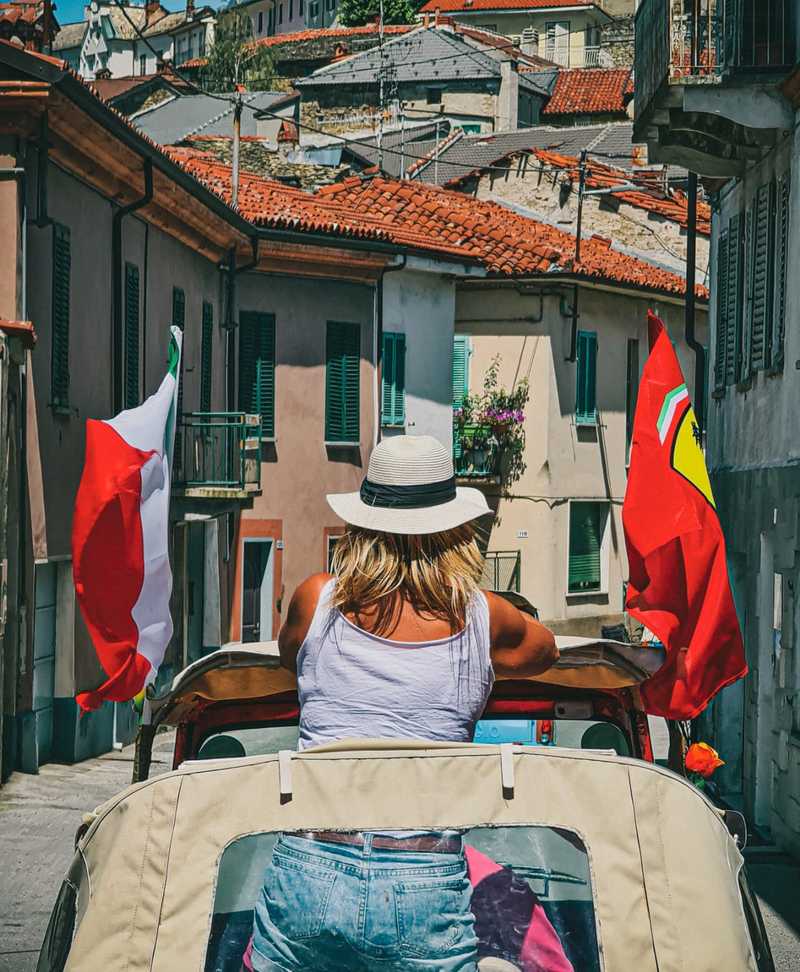 Italy
Active & Adventure trips
Welcome to our Italy Tuk-Tuk Adventure – The ultimate combination of Italian adventure and cultural immersion! Plenty of people have seen Italy. But how many people have seen Italy from behind the wheel of a traditional Italian Piaggio Ape (which, as far as we can tell, is a tuk-tuk with an Italian accent)? We don't know for sure, but we reckon it's somewhere between 'basically a few' and 'maybe not that many people'. The tuk-tuk you will be driving on his great Italian adventure will be a classic Piaggio Ape, as you might imagine, being Italian, its naturally better looking and just that tiny bit sexier than all other tuk-tuks. Are you with us so far? Good.
Anyway, on this week-long Italian tuk-tuk adventure – during which you'll drive around as part of a team or 2/3 and complete challenges to accrue points – through northern Italy, you'll channel your inner alter ego "I am a participant on Race Across the world or Amazing race" while being dumbfounded by rugged Italian beauty and spending very large chunks of time getting wonderfully lost down idyllic country lanes.
Simply delicious… This is a country of culture: Pavarotti, mozzarella, gelato, Michelangelo, fashion, the Mafia, vineyards, the Roman history, pizza, etc. And while Vespas might be the two-wheeled vehicle of choice in this fine and very delicious nation, there is a superior way to get around. That's right, Ferraris tuk-tuks.On this fabulous journey you'll be forgoing most of the "classic" tourist sites in favour of everyday spots and experiences: that restaurant run by your friends aunts second cousins grandma who makes the best handmade linguine on the planet and who crushes her own grapes barefoot to create the finest wine known to man. You will stay in the most marvelous of locally-run guesthouses and hotels that you'd never find on your lonesome and of course, the kind of backroads and lesser-known routes that never make it into the guidebooks.
Though naturally little more laid-back than our Sri Lankan, Cambodian and Indian offerings, the Italy tuk-tuk adventure will still test your wits, endurance, navigational skills and grasp of the Italian language to the absolute maxxx (yes, three x's). What else is there to say? As far as we're concerned, there are two ways to see Italy: in a tuk-tuk, or not in a tuk-tuk. And we're going with one. Who's coming?
Locations visited/nearby
Italy, Europe
2 testimonials about this trip
Reviewer:

Mark

located in

UK

As a Tuk Tuk 'virgin' but an Italy 'veteran' I was really excited to join the inaugural Italy Tuk Tuk Adventure….and I was definitely not disappointed. From magnificent countryside to the mayhem of Milan, through the Barolo wine country and along the Mediterranean coast we had a blast! Fantastic hotels and wonderful food and wine (and the company was pretty good, too) we spent 8 days in this beautiful country amusing the locals and impressing even the most hardened Italian bikers in our 7 horsepower steeds. I'll definitely be back….and I can't wait.

5

Reviewer:

Dave

Went on the inaugural Italy adventure and it was great. A previous customer from Sri Lanka and Cambodia so doing a convenient week long European trip was perfect for maximal holiday time. This trip was a great chance to enjoy Western niceties whilst still having the fun of the tuktuks. The locals loved them, weather was great, as were the food and drink and the views and sites too. A great first timers option – take the plunge for something different!

5
Reviewer:

Warut Phanomphaitoon

located in

Bangkok

,

Thailand

Who needs a tour guide when you can make your own way around Sri Lanka? Lanka Challenge was a fun-filling-10-day-trip with Amazing People from all over the world. LC is definitively one of the world's most adventurous activities. It's not only about winning the Challenge but also about helping the kind people of Sri Lanka. It offers you a chance to absorb the Lankan culture and eventually turn into one of them for a while.
Believe me when I say that Large Minority's people will make you do things Lankan style. LM has done it this time and I am sure they will do it again... Two thumbs up for the good people at Large Minority and those who participated in the event in 2009.



5

Reviewer:

Tim Hartford

located in

Dubai

,

UAE

Who else can claim they have circumnavigated Sri Lanka and Cambodia driving a Rickshaw? Or bought fuel in a coke bottle whilst wearing pyjamas? I truly believe there is no better way to see a complete country and get down with the local culture. You just can't do this on a tour. Make no mistake, this is a mentally and physically challenging adventure that will test you in many ways.
The social side plays the biggest part - we made a great group of friends and every night was a party. Large Minority gave us an expertly planned fully-inclusive holiday which would be nearly impossible to organise on your own, all for a great price and still supporting local charities. Bring on the next location!



5

Reviewer:

Jamie Raskin

located in

Tokyo

,

Japan

People keep asking me about the Cambo Challenge and I think I've nailed what makes it so incomparable for me, it's all about the human interactions. The group were fun, switched on, non-competitive and from all over the map. The challenges got us past our barriers and into authentic Cambodian communities and interactions.
The LM team were smart, creative, playful and good times. Traveling by tuk tuk was crazy, liberating and totally engaging with your surroundings, and Cambodia itself...half confronting, half embracing and incomparable throughout. We loved it.



5
Comments from Facebook
Itinerary
Day 1 - Milan
Welcome to the Italy Tuk Tuk Adventure. The day has finally arrived, you landed safely in Milan and are ready for a challenge.
Meet the other teams before we head out for a delicious Italian meal and welcome briefing.
Accommodation: Enterprise
Day 2 - Milan
Today you will learn the ins and outs of driving a tuk-tuk and get loads of time to practice before we are off for a driving tour of Milan before lunch.
Accommodation: Enterprise Hotel
Day 3 - Bellagio
Are you ready to take your Tuk Tuk to the road?
Today you are off to make your way from Milan to the famous lake Como.
Accommodation: Hotel Bellagio
Day 4 - Angera
Take in the beautiful sights and reach the town of Angera at the end of the day.
Accommodation: Belvadere Ranco
Day 5 - Barolo
Epic scenery and an amazing drive ends at a old vineyard.
Accommodation: Hotel Il Gioco dell'oca
Day 6 - Arenzano
Today is all about getting to the coast. Find your way to Arenzano.
Accommodation: The Grand Hotel Arenzano
Day 7 - Bobbio
Today we are heading for the hills. Drive your Tuk Tuk all the way to Bobbio.
Accommodation: Relais Sant'Ambrogio
Day 8 - Milan
On your last driving day we are heading back to Milan. Be sure to have enough energy for the big farewell party and awards ceremony.
Accommodation: Hotel Enterprise
Day 9 - Departure
It is time to say good-bye.
*** Please note route and hotels for reference only & subject to change
More information from Large Minority - Adventure Holidays & Tuk Tuk Challenges: