Large Minority - Adventure Holidays & Tuk Tuk Challenges - vacations and travel
Philippines Sailing Adventure
"In 2016 we were part of the pioneer pirates to sail the Philippines in the first edition of the Philippines Sailing Challenge, which… "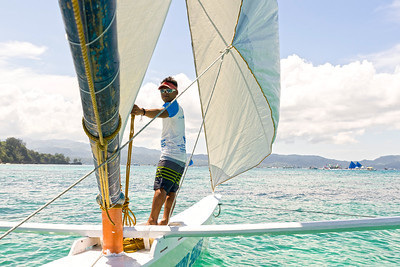 Philippines
Active & Adventure trips
Welcome to the Philippines Challenge, the sailing adventure holiday for non-sailors. Aboard a locally skippered 'paraw' tri-maran you'll embark on a voyage over the turquoise oceans and across pristine, uninhabited islands around Boracay. If you can sail, great, but if not, your skipper and crew will take care of the navigational stuff for you. It's just up to you to make sure they're going the right way. There will be challenges in the Philippines Sailing Challenge – think fishing for your dinner, climbing coconut trees and generally using your cunning and resourcefulness to outsmart the other teams – and there will be chaos. It's Castaway, minus Tom Hanks. BYO Wilson.
The challenge is split into several legs, each slightly more awesome than the last and there will be a combination of sea based and Island based challenges. You'll be challenged physically, mentally and sailingly (that's a new word), but a little slice of island paradise will never be far away. And the whole thing is designed to make meaningful contributions to the communities and cultures you'll visit along the way, so you can rest assured that your epic adventure has impacted the Philippines positively. So grab a team of 2 or 3, sign on the dotted line, and join us for the Philippines Sailing Challenge. It's chaos on the high seas. And it's all you ever dreamed of!
Locations visited/nearby
Philippines, Asia, Southeast Asia
2 testimonials about this trip
Reviewer:

Christophe Beaumont

located in

Netherlands

In 2016 we were part of the pioneer pirates to sail the Philippines in the first edition of the Philippines Sailing Challenge, which was another great success! An extra added value on this adventure is that you get to hang out with your own local crew for the whole week. It's a very cool way to attain some perspective on the destination, its culture and it's people. We




absolutely loved it!

5

Reviewer:

Laura Davis

located in

UK

The Philippines Sailing Challenge was unlike any other we'd been on. From the stunning surroundings to the friendly people, we couldn't recommend the experience more highly. The sailing was ideal for beginners, with a fantastic group of Filipino guys forming the huge crew – and you'll meet a great mix of people from around the world in the other teams too, all up for the experience. The ethical aspect of Large Minority was also a huge draw for us. Giving back to, and getting to know the local community was an important part of the experience. It's exhausting, but in a good way… don't think the organisation would in any way hinder your adventure – the planning massively improves it. Perfect for anyone who likes a challenge.

5
Reviewer:

Warut Phanomphaitoon

located in

Bangkok

,

Thailand

Who needs a tour guide when you can make your own way around Sri Lanka? Lanka Challenge was a fun-filling-10-day-trip with Amazing People from all over the world. LC is definitively one of the world's most adventurous activities. It's not only about winning the Challenge but also about helping the kind people of Sri Lanka. It offers you a chance to absorb the Lankan culture and eventually turn into one of them for a while.
Believe me when I say that Large Minority's people will make you do things Lankan style. LM has done it this time and I am sure they will do it again... Two thumbs up for the good people at Large Minority and those who participated in the event in 2009.



5

Reviewer:

Tim Hartford

located in

Dubai

,

UAE

Who else can claim they have circumnavigated Sri Lanka and Cambodia driving a Rickshaw? Or bought fuel in a coke bottle whilst wearing pyjamas? I truly believe there is no better way to see a complete country and get down with the local culture. You just can't do this on a tour. Make no mistake, this is a mentally and physically challenging adventure that will test you in many ways.
The social side plays the biggest part - we made a great group of friends and every night was a party. Large Minority gave us an expertly planned fully-inclusive holiday which would be nearly impossible to organise on your own, all for a great price and still supporting local charities. Bring on the next location!



5

Reviewer:

Jamie Raskin

located in

Tokyo

,

Japan

People keep asking me about the Cambo Challenge and I think I've nailed what makes it so incomparable for me, it's all about the human interactions. The group were fun, switched on, non-competitive and from all over the map. The challenges got us past our barriers and into authentic Cambodian communities and interactions.
The LM team were smart, creative, playful and good times. Traveling by tuk tuk was crazy, liberating and totally engaging with your surroundings, and Cambodia itself...half confronting, half embracing and incomparable throughout. We loved it.



5
Comments from Facebook
Itinerary
Day 1 - Boracay, Malay
Get ready for an exciting week packed with fun, adventure and challenges.
Today is all about getting to know your 'paraw' tri-marant.
You will meet the other teams at 8pm during the welcome gathering. The official Philippines Sailing Challenge kick-off dinner will be at 8.30pm in the main hotel restaurant.
Accommodation: Amihan Home
Day 2 - Carabao Island, San José
After breakfast, luggage handover (at the parking lot) and the route briefing you are off 13 Nm to Carabao Island.
Accommodation: Nipahauz Resort
Day 3 - Santa Fe
16 Nm on the boat and several challenges to complete on the way.
Accommodation: Hammocks
Day 4 - Binucot Beach Resort, Ferrol, Romblon
After a night sleeping in hammocks you are off for another 12 Nm to Ferrol. Don't forget to tick off those challenges.
Accommodation: Binocut Beach Resort
Day 5 - Binucot Beach Resort
After several days on sea with many challenges to complete, you deserve a relaxing day at the beach.
Accommodation: Binocut Beach Resort
Day 6 - Argao, Cebú
And you are back on your boat 25 Nm towards Argao.
Accommodation: Homestay
Day 7 - Buruanga, Aklan
Only 14 km to sail today. But there are still several challenges to tick off your list.
Accommodation: Hammocks
Day 8 - Boracay, Malay
Last day with your 'paraw' tri-maran and last change to complete the challenges.
It's time to say goodbye to Old Faithful. Your noble steed. After you arrive at the Finish Line.
The last night together and the much awaiting award ceremony and farewell party will start at XXX in XXX.
Accommodation: Amihan House
Day 9 - Borocay, Malay
It is time to say good-bye and see you next time. Maybe on another challenge in a different part of the world?
More information from Large Minority - Adventure Holidays & Tuk Tuk Challenges: