Asia Transpacific Journeys - vacations and travel
China: Beyond the Wall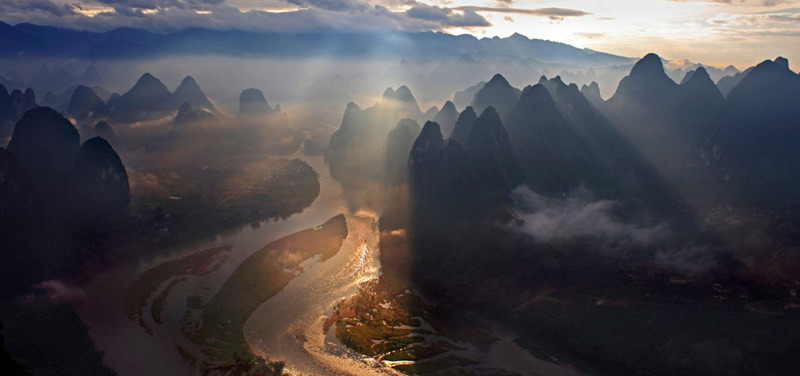 from $8,395* per person
15 Days
April, October
Luxury accommodations

Exertion level: 3

Operator:

Asia Transpacific Journeys

18 people max
Beijing airport, china
Culture & Nature trips
This journey is a pioneering mix of the classic and the remote, fully capturing China in all its complexity. Visit China and its pulsating cities and essential ancient treasures, then journey far into the countryside to meet tribal peoples in remote villages practicing their traditional ways of life. Explore world-class museums and see unusual cultural performances beloved by locals.
CHINA GROUP TRIP HIGHLIGHTS

Tour leadership by an expert on Chinese culture
Unusual features such as private taichi lessons and traditional foot massage
Lovely and culturally authentic accommodations
Peking duck banquet
Make dumplings with local family
See a mind-boggling Chinese acrobatic show
Bamboo raft ride on Ping River
Explore tribal villages and stunning sculpted rice terraces
Experience an epic cultural performance choreographed by Zhang Yimou, director of the film Hero and of the 2008 Olympic opening ceremonies.


Locations visited/nearby
China, Asia
0 testimonials about this trip.
Reviewer:

A. Urban

We had a superb time and it couldn't have gone more smoothly. We had excellent guides everywhere-they met us on schedule, they took great care of us and showed us the personality of their own counries. Thanks again for putting together a trip that gave us a lot of people contact. It was truly memorable!

5
Comments from Facebook
Itinerary
Day 1-2 En Route/Beijing
Fly U.S. west coast to Beijing. Cross the
International Dateline and arrive on day two.
Arrive Beijing. Transfer to our hotel, located in
downtown Beijing. Built in the 1900s, Raffles
Beijing Hotel has long stood as an icon of
Beijing's historic heritage, epitomizing the luxury
of the Orient. Evening is free to rest after your
flight. Overnight Raffles Hotel, Beijing

Day 3 Beijing
This morning after breakfast we will have a
welcome and orientation talk by our Tour Leader,
followed by a visit to Tiananmen Square, the
heart of Beijing and the largest public square
in the world. Then, under Mao's watchful eye,
walk through the Gate of Heavenly Peace and
enter the Forbidden City—the seat of power for
emperors of the Ming and Qing dynasties. We'll
view its imperial gardens, expansive architecture,
and museums filled with antiques and
treasures. We'll then share lunch with a local
family in their home and learn how to make
Chinese dumplings. After lunch visit hutongs
by trishaws to get a glimpse into the local life
of the old city area of Beijing. Hutongs
are ancient city alleys or lanes that
make up old Beijing. Also stop at the
Drum Tower, which affords a bird's eye
view of the old city. After a delectable
welcome Peking duck banquet, the
evening will be free to wander along
bustling Wangfujing Road. Overnight
Raffles Hotel (B,L,D)

Day 4 Beijing
This morning, visit the Temple of
Heaven, where former emperors prayed
for good harvests. The centerpiece of
the temple complex, the Hall of Prayer
for Good Harvests, is a masterpiece of
Ming architecture. A tai chi (traditional
Chinese mind-body relaxation exercise
consisting of 108 intricate exercise
sequences) lesson will be arranged
with a Taiji Master, followed by a tea
ceremony that will provide insight into
the Chinese way to be healthy, wealthy and wise.
Then travel to the Summer Palace, located in the
western hills of Beijing. On our way back into
Beijing, we'll focus on some of its new architecture,
including a drive by the National Stadium
(Bird's Nest), the National Aquatic Center (The
Cube), Grand Theatre (The Egg). Dinner will be
on your own tonight, offering
opportunities to explore or relax
at our hotel. Overnight Raffles
Hotel (B,L)

Day 5 Beijing
Depart this morning for a fullday
excursion to the less crowded
Mutanyu section of the Great
Wall. The original plan for the
Great Wall and some of its construction
dates back to the Qin
Dynasty (221-207 BC). Spend the
day hiking along the wall, enjoying
the superb natural beauty
of the area, amazed at how the
wall climbs across the mountains
as far as the eye can see.
Enjoy a relaxing foot massage
this evening. Ancient Chinese
beliefs involve the concept of
"energy flow" or "life force"
and are commonly known as Qi
(pronounced chi). Traditional foot
massage attempts to increase
the healthy flow of energy by
invigorating acupuncture points
on the feet. We'll have dinner at a favorite
restaurant, The Source, to enjoy its wonderful
imperial atmosphere, and authentic Sichuanese
specialties. Overnight Raffles Hotel (B,L,D)

Day 6 Beijing/Xi'an
This morning we will transfer to the airport for
our flight to Xi'an. Upon arrival, explore Xi'an's
ancient city walls, which date back to the Tang
Dynasty (618-907). For lunch, enjoy a dumpling
banquet, where over 20 types of traditional
dumplings are served. This afternoon, continue
exploring the Great Mosque and Muslim area of
the city, a vestige of Xi'an's central role in the
Silk Road trade. This evening, we'll dine at a
favorite local restaurant, with the evening free
afterwards to relax. Our newly built 5-star hotel
is the most luxurious property in the region. It is
located within the grounds of Renmin Square in
the heart of the city, and offers extensive facilities.
Overnight Sofitel on Renmin Square (B,L,D)

Day 7 Xi'an
Prepare to be floored: early this morning visit the
Terracotta Warriors, found in the tomb of China's
first emperor, Qinshihuang (221-207 BC). This
stunning archeological find was unearthed in
1974 by a farmer digging a well. To date, over
8,000 warriors have been uncovered in three
separate vaults. However, archeologists believe
that they are merely one part of a vast army
that surrounds the entire burial mound of the
emperor, yet to be excavated. This afternoon we
visit one of China's best museums, the Shaanxi
Provincial Museum, commissioned by Premier
Zhou Enlai of Nixon-goes-to-China fame.
Shaanxi was the capital through 13 successive
dynasties, and the museum houses a treasure
trove of art and artifacts revealing China's complex
and amazing histroy.
Dinner will be on your own tonight. Perhaps try
a local specialty called yangrou paomo, a traditional
Muslim dish of hearty lamb broth into
which unleavened bread is broken. Overnight
Sofitel on Renmin Square (B,L)

Day 8 Xi'an/Guilin/Yangshuo
We will transfer to the airport in time for our
flight to Guilin. On arrival enjoy lunch at the
Yiyuan Restaurant before our transfer to our
hotel in the small town of Yangshuo, by the
picturesque Li River. The rest of the afternoon
is for your own exploration. Dinner will be on
your own tonight before we reconvene and enjoy
VIP seats at Impressions, a fascinating performance
with over 500 cast members, based on a
Chinese musical movie made in 1961. The story
is about a legendary woman named Liu Sanjie
who worked in the fields, and was famous for
the magical quality of her singing voice. The
epic performance was designed and directed by
Zhang Yimou, director of the film Hero and of
the 2008 Olympic opening ceremonies. It takes
place on the water, an unusual and stunning set
design, where the towers of Yangshuo provide
the backdrop. Our hotel is a modern, comfortable
property ideally located in Ding'e Square
in Yangshuo. Its proximity to the Lijiang River,
Bilian Mountain, and Shutong Hill make it an
ideal choice. Dinner will be on your own tonight,
offering opportunities to relax and explore.
Overnight Green Lotus Hotel (B,L)

Day 9 Yangshuo
This morning, we have
arranged a private cooking
class with a visit to a local
market to explore the world
of Chinese vegetables,
spices, fish and meats.
Enjoy your creations fresh
off the wok for lunch. This
afternoon, take a gentle
bamboo raft trip on the
Ping River. Float on the
river past beautiful, lush
scenery and savor the
peace, quiet and coolness
of the river. The guides are
able boatmen and poll these sturdy craft at a
gentle pace. Try your hand at polling, or sit back
on the small bamboo seat and enjoy the passing
scene. This evening watch the fishermen as
they use cormorant birds to pluck fish out of the
river. Dinner will be on your own tonight, offering
opportunities to explore. Overnight Green Lotus
Hotel (B,L)

Days 10-11 Yangshuo/Ping An
After further exploration of the markets and
alleys of Yangshuo, we will depart for Ping An,
a quaint mountainside village near Longsheng,
enjoying lunch in Guilin along the way. This
three-hour drive will be one of the most scenic
of the trip. The rice terraces of Longsheng, in
particular the area known as the Dragon's Spine
Rice Terrace, are truly one of the marvels of the
world. The verdant paddies are built into steep
2,500-foot mountains. Stripe by stripe, the narrow
water-filled paddies wrap around the mountains
from the peaks to the valleys below where
they spiral out into individual pools. The Zhuang
and Yao peoples, who still wear traditional clothing
and maintain most aspects of their ancient
culture, live and farm on these terraces. We will
spend time talking with locals, hiking and photographing
this amazing area, then return to our
lodging. Perched on top of a mountain, bordering
a local village and overlooking magnificent
rice terraces, Li-An Lodge is an entirely wood
structure implementing the Chinese traditional
building technique of tongue and groove without
a single nail. The owner is a renowned photographer
and painter; it took him 8 years to design
and finish this newly built, one-of-a-kind lodge,
where Chinese tradition meets modern luxury.
It's an as-yet undiscovered treasure. Be sure to
pack only what you need for the next two nights
(one bag per person), as there are no vehicles
allowed in tranquil Ping An, and we will walk
from the area where our driver will drop us off.
Overnight Li-An Lodge (B,L,D)

Day 12 Guilin/Shanghai
We'll enjoy an early breakfast at the Li-An Lodge
before we make our way back through the striking
mountainous terrain to the Guilin airport,
to board our flight to Shanghai, China's most
vibrant city. (Note: Our October 2010 departure
will incorporate some World Fair activities in
Shanghai.)Transfer to the hotel, located on The
Bund. When the Qing Dynasty was defeated in
the Opium War, the Chinese empire was compelled
to open many of its cities to the outside
world. Shanghai was on top of this list. As a
result, many countries including Britain, the
U.S. and France demanded concessions in these
cities where they could have total autonomy. By
the turn of the 20th century The Bund housed
banking and trading centers for all the major
European powers.
The waterfront
of this area has
become remarkably
fashionable
and charming in
recent years. Our
fabulous hotel is
located in a prime
spot on The Bund.
The Peninsula
Shanghai's Art-
Deco style recalls
the luxurious
Golden Age of the
1930s, when the
city was known
as the Paris of the East. Overnight Peninsula
Shanghai (B,L)

Day 13 Shanghai
Today we begin exploring Shanghai with the
fantastic Yuyuan Garden and City God Temple
Bazaar. More of a market and meeting place
than a tranquil garden, it gives one the feel of
Shanghai's vibrancy and dense population. Visit
the Bridge of Nine Turnings (zigzagging because
demons cannot turn corners) to the Huxinting
Teahouse, said to be the
model for willow pattern
plates. We'll visit the
Oriental Pearl TV Tower,
then take a fascinating
visit to the Shanghai
History Museum located
in the Tower. At dusk
we'll head to the Bund
for a join-in cruise on
the Huangpu River,
one of the best ways to
see both old and new
Shanghai. As you sail
down the river towards
the East Sea enjoy the
views that take in the
full sweep of The Bund
and the 21st century
cityscape of Pudong.
The Bund was originally
the city's financial
center and a bustling
harbor. Over a century
later, the district—better
known to locals as
Waitan—seems an outof-
place colonial relic.
The area's collection of old buildings in various
architectural styles, including French, German
and British Colonial, helped win the district its
reputation as a "living museum of architecture."
Dinner will be on our own tonight before enjoying
a mind-boggling acrobatic show. Overnight
Peninsula Shanghai (B,L)

Day 14 Shanghai/ Zhujiajiao
Today, we'll take an optional half-day trip to
Zhujiajiao, known as a "water town" because
of the use of canals and waterways to transport
people and goods. This quaint little hamlet
has weathered the test of time, and is still very
inviting at 900 years old. Stone bridges span the
waterways, providing convenient passage for the
local people. We'll take a sampan ride along the
water to explore this lovely area by boat, admiring
the waterways, bridges and homes. For those
choosing to stay in Shanghai for the morning,
explore on your own. Lunch is on your own today.
This afternoon visit the Shanghai Museum, one
of China's finest institutions, housing precious
relics from imperial dynasties and colonial
times. The collection of over 120,000 pieces is
famed the world over for its treasures of bronzes,
ceramics, paintings and calligraphy. Tonight
reconvene for a farewell banquet at Shanghai's
most prestigious address, Three on the Bund, to
say goodbye to this magnificent country at Laris,
the latest brainchild of internationally renowned
chef David Laris. The New York Times calls it
"superb." Overnight Peninsula Shanghai (B,D)

Day 15 Shanghai/Home or Extend
This morning is free at your leisure. Depart
Shanghai for your flight home, or begin a private
extension to other great destinations in Asia.
More information from Asia Transpacific Journeys: