Asia Transpacific Journeys - vacations and travel
Mongolia: In the Path of the Nomad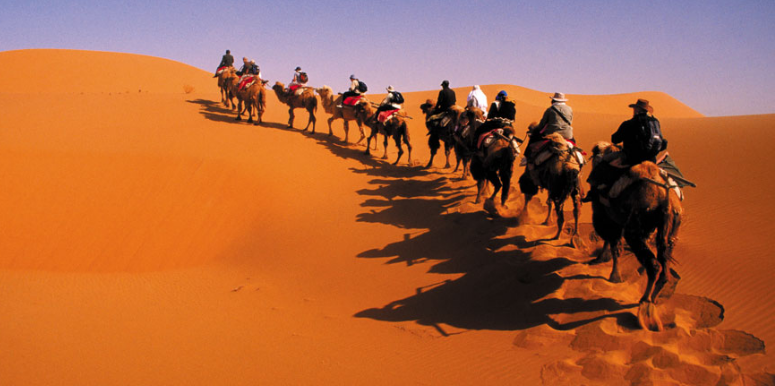 Ulaanbaatar airport, mongolia
Culture & Nature trips
On this Mongolia trip we follow in the path of the herders who traverse the inhospitable Gobi down south, through steppes and pastureland, and into the lush, rolling forestland to the north. We'll travel Mongolia and experience amazing wildlife, and the outlook of its nomadic people. We'll immerse ourselves in the culture and in the pace of an era long forgotten by Western civilization.
MONGOLIA GROUP TRIP HIGHLIGHTS

Superb tour leadership by an expert on Inner Asian culture
Explore the diversity of Mongolia, from desert to steppes to forests and mountains
Explore Genghis Khan's ancient capital
Camel safari in the Gobi Desert
Traditional Mongolian feasts with nomads
Mongolian singing and folk dance performances
Stay in a comfortable, furnished ger, the traditional collapsible yurt of the nomad


Locations visited/nearby
Mongolia, Asia
0 testimonials about this trip.
Reviewer:

A. Urban

We had a superb time and it couldn't have gone more smoothly. We had excellent guides everywhere-they met us on schedule, they took great care of us and showed us the personality of their own counries. Thanks again for putting together a trip that gave us a lot of people contact. It was truly memorable!

5
Comments from Facebook
Itinerary
Day 1 Arrive Mongolia
Welcome to Mongolia. We will be met by our tour
leader, then transferred to our hotel in the heart
of the city. Overnight Chinggis Khan Hotel.

Day 2 Ulaanbaatar
Today enjoy a full day of sight seeing in the
country's capital, beginning with the Ganden
Khiid (monastery). Although Buddhism was hit
hard in the Stalinist purges of the 1930s—most
monasteries were destroyed, the mangled metal
sent to Leningrad for bullet production—what
remains of the Ganden Monastery is well worth
a visit. It is Mongolia's most important religious
structure, focal point of a resurgent Buddhism,
and houses a recently rebuilt 75-foot copper
and gold statue covered in precious stones. The
statue is called Migjid Janraisig which means
"The Lord Who Looks in Every Direction" and was
consecrated by the Dalai Lama, replacing the
original statue that was destroyed by the communists
in 1937. After lunch, visit the Museum
of Natural History for its unique displays of dinosaur
fossils and indigenous flora and fauna. The
rest of the afternoon is free to relax or explore
independently. This evening we reconvene for our
welcome dinner. Overnight Chinggis Khan Hotel
(B,L,D)

Day 3 Khovsgol National Park
Enjoy a relaxed morning before our to flight to
Moron. On arrival, transfer by 4WD to the remote
ger camp at Lake Khovsgol, about five hours
away. The drive, though long, showcases the
vast landscape, and is in
itself a classic feature of
travel in this land: a bird's
eye view would reveal a
small speck chasing some
endless horizon. The vast,
crystal clear Lake Khovsgol
is surrounded by lush
meadows, alpine forest and
snow-capped peaks. The
gorgeous physical beauty
surprises many a visitor,
who expects not much more
than a wind-blown steppe. Overnight Alagstar
Ger Camp (B,L,D)
Note: Gers (pronounced "gairs") are the traditional
dwellings of the Mongolian nomad. Most
Mongolians still live in gers today. These large,
round white tents are usually made of felt or
canvas and have a collapsible wood frame.
Although they can be packed up in only an hour
or two, they are quite sturdy and able to withstand
the fierce Mongolian elements. A stove
provides heat and a cooking facility. The gers we
stay in are spacious with western-style beds.

Day 4 Khovsgol National Park
We'll explore the rich eco-system of the lake.
Its waters teem with fish, and its shores are
surrounded by dense forest, home to reindeer,
yaks, horses, bears, moose and ibex. There
will be time for hiking in the surrounding hills,
swimming (be forewarned—the water is frigid!)
or kayaking in the lake. The remoteness of the
area lends itself to simply gazing out over the
expanse of blue water, reflecting upon those
things for which our own harried culture affords
precious little time. Overnight Alagstar Ger
Camp (B,L,D)

Day 5 Khovsgol /Ulaanbaatar
We'll have an early
morning transfer to the
airport. Fly Moron to
Ulaanbaatar. On arrival,
enjoy the rest of the
day free. Dinner will be
on your own tonight,
offering opportunities to
explore independently.
Ulaanbaatar is quite cosmopolitan
and interesting.
Overnight Chinggis
Khan Hotel (B,L)

Day 6 Khustai
National Park
This morning we'll travel by 4WD to Khustai
National Park via the Khongno Khan Mountain
ranges. This national park is perched along
rolling steppes with small mountains and large
patches of birch and aspen forests. Visible
remains of Neolithic graves dot the slopes.
Roaming the park are populations of elk and
wolf, as well as Mongolian gazelle. Tonight we
will feast near the banks of Tuul River, followed
by an evening game drive to see Przewalskii
horses. This is an ancient wild horse species
that was nearly extinct but is now being
reintroduced into the wild. It has 66 pairs of
chromosomes, just like zebras (unlike domestic
horses that have 64 pairs). Overnight Khustai
Ger Camp. (B,L,D)

Day 7 Khustai National Park/
Karakorum
After a relaxed breakfast we will continue on
to Karakorum. This city was for 30 years the
ancient capital of the Mongolia Empire under
Genghis Khan, the largest empire the world has
ever seen. At it's height in 1279 it covered nearly
all of Asia and Europe (his grandson Kublai
Khan moved the capital to Beijing). This area is
part of a UNESCO World Heritage site. There is
little left of the former capital these days, but
the walls of the massive Erdenezuu Monastery,
built in the 1586, still stand. Other temples
suffered damage under the communist purges
of the 20th century, as they attempted to eradicate
the 60 temples that housed nearly 10,000
Buddhist monks. We will drive to a nearby ger
camp this afternoon. Overnight Dreamland
Karakorum. (B,L,D)

Day 8 Karakorum
Today continue to explore the historically significant
Karakorum and Erdenezuu area. Overnight
Dreamland Karakorum (B,L,D)

Day 9 Ulaanbaatar
After breakfast drive back to Ulaanbaatar. Enjoy
a picnic lunch on the way. Arrive in Ulaanbaatar,
to join the exuberant festivities at Mongolia's
biggest festival in the year, the Naadam. This
national festival honors the nomads of the
Mongol armies and features parades, wrestling,
archery and horse racing. Get insightful interpretation
and meet with the locals in the midst
of their celebrations. Dinner will be on your own
tonight, offering opportunities to explore or relax
and rest at our hotel. Overnight Chinggis Khan
Hotel (B,L)

Days 10 Nadaam Festival
An exciting day awaits as we join the festivities,
viewing the famous attractions as well as some
lesser-known events. We'll see ancient skills on
display at the wrestling and archery competitions,
where charged up competitors compete for
national glory. Both men and women compete
in the archery games, using the traditional
Mongolian compound bow that terrorized Europe
when Genghis Khan and his Golden Horde moved
their empire west. Then we'll ride to the city's
outskirts, part of the joyful throng watching the
horse races. Jockeys are young children, ensuring
the winning horse gains fame through its
own talents. The wrestling championship is to
Mongolians the Super Bowl and World Series
combined: the winner enjoys instant national
fame. In the evening savor dinner at a local
restaurant, and a traditional dance performance.
Overnight Chinggis Khan Hotel (B,L,D)

Day 11 Ulaanbaatar/Gobi Desert
Fly to the Gobi Desert. We'll begin our exploration
of this great arid region at Eagle Valley, a
beautiful area with a long spur of ice skirting the
southern Altai Mountains. Look for wild sheep
and goats grazing high on the cliff walls, and
soaring eagles hunting for prey. The Natural
History Museum here displays information about
the animals in the area, as well as dinosaur
eggs and bones. Overnight Gobi Mirage Ger
Camp. (B,L,D)

Day 12 Gobi Desert/Sand Dunes
This morning embark on a four-hour drive to the
Khongoryn Els, Mongolia's largest sand dunes,
enjoying a picnic lunch along the way. This classic
desert feature embodies, for many, the quintessential
Mongolian landscape. Geology becomes
the Zeitgeist, and time seems to melt away as
past and future lose their meaning in the empty
expanse of sand. This afternoon we'll ride by
camel to explore the massive dunes. While camels
may lack the elegant, endearing qualities
of the horse—frankly they're scruffy and cantankerous—
you've got to try it! The experience
affords exceptional insight into a way of life that
has endured for centuries in Central Asia. The
hardy, two-humped Bactrian camels are comfortable
to ride as they gently saunter through
this timeless scene. Overnight Gobi Discovery Ger
Camp. (B,L,D)

Day 13
Gobi Desert/
Flaming Cliffs
Drive to Bayanzag,
the "Flaming
Cliffs," an area of
red cliffs formed by
the erosion of the
sand and rock. It is
the site of several
significant dinosaur
excavations since
the 1920s; evidence
of a flourishing Late
Cretaceous Age may be experienced first hand. It
is considered by many paleontologists to be the
"Mecca" of the fossil world. The area was the
scene of several expeditions by American paleontologist
Roy Chapman Andrews, a swashbuckling
scientist whose adventures formed the basis
for Spielberg's Indiana Jones character. It was
at this site that Andrews first proved dinosaurs
came from eggs. Overnight Three Camels Lodge.
(B,L,D)

Day 14 Gobi/Ulaanbaatar
Transfer to the desert airstrip and fly to
Ulaanbaatar. Transfer to the hotel. In the afternoon,
visit the Fine Arts Museum, to see its carvings
and paintings. The painting entitled "A Day
in Life" is an epic mural depicting many scenes
from Mongolian daily life that is dearly beloved
by the Mongolians. Then visit the Bogd Khan
Palace, a series of beautiful traditional buildings
in which the last king of Mongolia resided.
A rather bizarre collection of stuffed wildlife
evidences the eccentric monarch's penchant for
taxidermy. Enjoy a farewell dinner tonight at a
favorite restaurant. Overnight Chinggis Khan
Hotel. (B,L,D)

Day 15 Home/Extend
Fly Ulaanbataar to U.S. or extend to other great
destinations in Asia.

More information from Asia Transpacific Journeys: