Costa Rica Expeditions - vacations and travel
San Jose, Arenal, Monteverde Cloud Forest & Tamarindo
"We truly had a wonderful vacation in Costa Rica. Our guides, Alvaro and Diego, were professional, courteous, enthusiastic and great… "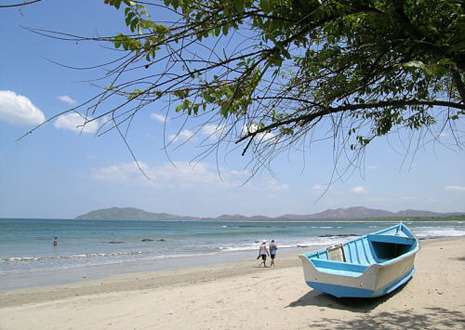 from $2,310* per person
11 Days
Year-round
Comfort accommodations

Exertion level: 5

Operator:

Costa Rica Expeditions

14 people max
San jose airport, san jose, costa rica
Active & Adventure trips
Start with a tour of Costa Rica's capital city, San Jose. Then head to the highlands for a glimpse of the active Arenal Volcano. After a walk on the Hanging Bridges trails, your family will soak in a hot springs in the shadow of the volcano. Next, head to the Monteverde Cloud Forest Reserve to walk in the forest and enjoy a sunset horseback ride. Leaving the highlands, head to Tamarindo Beach for two days. Here, activities for all ages can be enjoyed (at additional cost).
Locations visited/nearby
Costa Rica, Central America
2 testimonials about this trip
Reviewer:

Mr. and Mrs. Tourigny

located in

USA

"We truly had a wonderful vacation in Costa Rica. Our guides, Alvaro and Diego, were professional, courteous, enthusiastic and great fun. Their attention to detail was greatly appreciated. We were very sorry to have our vacation end. Alberto was a great driver. We knew we were in good hands with him behind the wheel. The tour was amazing. We loved the cycling, snorkeling, hiking and, of course, the rafting. Buenazo, mae. The only part of the tour that we would change, would be the zip line. We thought that another day's rafting would be better for us - spend a bit more time on that fabulous river rather than flying like a toucan. Our only goal now is to figure how quickly we can return to your wonderful country!"

5

Reviewer:

M. Petrandis

located in

FL

USA

"I want to let you know what a fabulous trip Costa Rica Expeditions planned for us. It was exceptional. Everything was just perfect. The people in Costa Rica are so very friendly and helpful. I felt very welcome everywhere we went. Our driver, Ramon was wonderful. He was the icing on the cake to a perfect trip. He was so helpful and cheerful. He is a good man with a big heart. It was a pleasure spending 5 days with him. If I return to Costa Rica, which I hope to in the near future. I would absolutely use Costa Rica Expeditions to plan my trip. You have a very professional business and you care about your clients. Thanks again for a wonderful trip."

5
Reviewer:

John and Barbara Donahue

located in

USA

"We were very well satisfied with Costa Rica Expeditions, from the pick-up at San Jose Airport - including welcome help in getting through customs - to the conclusion of our trip. We liked the hotels you recommended: Bougainvillea near San Jose and Villa Blanca. The drivers we had on all transfers were helpful and spoke enough English for us to communicate. We liked your country and would like to return and when we do we will use your services."

5

Reviewer:

Chuck and Tia Ramsey

located in

NC

USA

"Back in cold western North Carolina after one of our best vacations ever, we'd like to thank you and all the Costa Rica Expeditions staff for making our Costa Rica vacation a great experiencea Each trip component, starting with our arrival at the airport and ending with a drop-off at a car rental agency, included caring CRE staff ensuring that we were in the right place at the right time.Every part of your package was wonderful - the facilities were nice, the food was great, and the staff were outstanding. We'll certainly advise friends to consider Costa Rica Expeditions in their travel plans, and hope that we, too, can again use your services some day."

5
Comments from Facebook
Special information
This is a custom departure, meaning this trip is offered on dates that you arrange privately with the provider. Additionally, you need to form your own private group for this trip. The itinerary and price here is just a sample. Contact the provider for detailed pricing, minimum group size, and scheduling information. For most providers, the larger the group you are traveling with, the lower the per-person cost will be.
Itinerary
Day 1: Arrival Costa Rica (No meals.)
Arrive at San Jose's Juan Santamaria International Airport. After passing through Immigration you will be met by a Costa Rica Expeditions representative who will give you a sticker that will facilitate you clearing customs. When you leave the building, look for a sign that says, "Costa Rica Expeditions" with your name on it. A Costa Rica Expeditions guide wearing an orange shirt is holding the sign. He or she will take you to your hotel. Overnight at Grano de Oro Hotel.
Day 2: San Jose City Tour (No meals.)
Morning city tour. You will visit the Pre-Columbian Gold Museum and the National Theater, a classic 19th Century opera house, The Pre-Columbian Gold Museum includes a collection of gold objects that reflect the world-view, social structure and gold working techniques of the Pre-Columbian people of Costa Rica. The exhibition showcases the use and function of the pieces, the technology of their fabrication, as well as their relationship to the natural world and the daily lives of these societies. The collection consists of 1,600 pieces of Pre-Columbian gold work that date from 500 to 1500 AD. You will also visit the University of Costa Rica, the city of Moravia (known for leather souvenirs), Metropolitan Park, Legislative Assembly, and other places of general interest. Overnight at Grano de Oro.
Day 3: San Jose / Arenal Volcano** (No meals.)
Morning pick up in your hotel lobby by a Costa Rica Expeditions van and Spanish-speaking driver for departure to Arenal (approx. 3-1/2 hours). Afternoon free. Overnight at Arenal Manoa Hotel.
Day 4: Arenal Hanging Bridges Trails (B,D)
Full day in Arenal. Morning visit to Arenal Hanging Bridges, a project that consists of eight fixed bridges, ranging in length between 8 and 22 meters, and six hanging bridges, built with the latest techniques and designed with an eye for both beauty and safety. The bridges and trails, which cover a distance of almost two miles (3 kms.), were designed to blend with the natural environment, leaving the forest virtually intact. As you walk, you will be able to appreciate the great diversity of flowers and wildlife that are typical of the rainforest, along with the imposing views (weather permitting) of Arenal Volcano.
Afternoon visit to the Hidalgo Family Hot Springs, the ideal alternative to the overcrowded hot springs in the Arenal area. When we first met the Hidalgo family in 2000, they were reluctant to open up their family farm to visitors. Finally they agreed to try it by appointment only on a trial basis. They found, perhaps to their surprise, that they enjoyed having foreign guests on this basis and have now put in changing rooms and a restaurant. The springs consist of five free-flowing pools set in a natural river gorge. Water temperature ranges from 100ºF (38ºC) to 109ºF (43ºC) depending on the pool. A Costa Rican home-style meal in the restaurant, modeled after the first house that Don Manuel and Dona Hortemida Hidalgo built when they settled on the farm in 1940, is included. Overnight at Arenal Manoa.
Day 5: Arenal / Monteverde (B,L,D)
Meet your driver in the hotel lobby for the drive to Arenal Lake. Here you will board a boat for the 30-min. ride to Rio Chiquito, where land transportation will be waiting to take you to Monteverde (2-1/2 hour drive). Monteverde is a peaceful community made up of dairy farmers, naturalists and tourism service providers who have joined together to create a model for sustainable development and protection of the environment that is becoming known throughout the world. Founded in 1954 by a group of Quakers searching for a peaceful place to live, it is the home of the Monteverde Cloud Forest Reserve, the Children's Eternal Rain Forest, and the Santa Elena Reserve. Rest of the day free. Overnight at Monteverde Lodge & Gardens.
Day 6: Monteverde Cloud Forest / Sunset Horseback Ride (B,L,D)
Join morning excursion (of up to 10 people) to Monteverde Cloud Forest Reserve accompanied by a Monteverde Guide from the Reserve. Originally just 4,000 acres, the Monteverde Reserve now protects an area of approximately 25,000 acres, comprising six different life zones. So many habitats in such a small area, along with extensive trail improvements, allow visitors to enjoy a rich diversity of flora and fauna with relatively little and easy walking. Return to your hotel at mid-day. Sunset horseback ride in the evening, accompanied by a Spanish-speaking guide. Ride through coffee and banana plantations and end up with a view of the Gulf of Nicoya and the sunset. Overnight at Monteverde Lodge.
Day 7: Monteverde / Tamarindo Beach (B)
After breakfast depart for Tamarindo Beach (5 hours). Afternoon free. Overnight at Capitan Suizo Hotel.
Days 8-9: Tamarindo (B)
Two days at Tamarindo Beach. Activites and optional tours (at additional cost) include: sport fishing, surfing, golf, ATV tours, turtle watching, diving, horseback riding, canopy tours, boat rides and spa treatments. Overnight at Capitan Suizo Hotel.
Day 10: Tamarindo / San Jose (B)
You will be met in the hotel lobby by your Costa Rica Expeditions Spanish-speaking driver, who will take you back to San Jose (about 5 hours). Overnight at Grano de Oro Hotel.
Day 11: Departure (No meals.)
Transfer to the international airport, arriving at least 2-3 hours prior to your flight's scheduled departure.
More information from Costa Rica Expeditions: