Costa Rica Expeditions - vacations and travel
Costa Rica Multisport
"Thanks for your email message following our wonderful trip to Costa Rica. Once again, your company continued to surprise me… "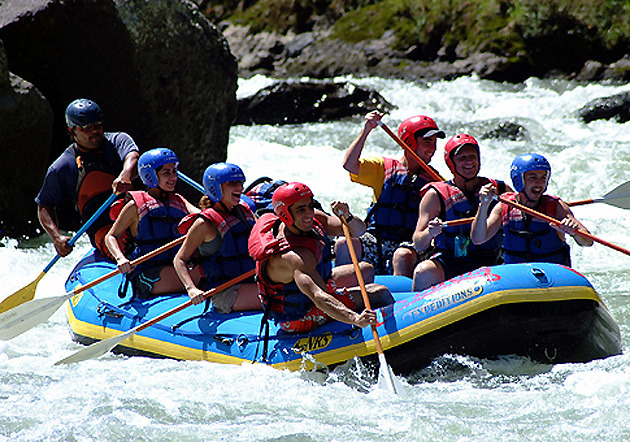 from $1,898* per person
7 Days
November-April, June-September
Comfort accommodations

Exertion level: 5

Operator:

Costa Rica Expeditions

24 people max
San jose, costa rica
Active & Adventure trips
Bike near Arenal Volcano, rappel four waterfalls, kayak the creeks of Tortuguero National Park and raft the Pacuare River.

From US$ 1,898 per person in double occupancy. Minimum age: 12 years.

To see a customized version of this trip, which runs on the date you choose, see Private Costa Rica Multisport

Featuring bike rides on the flanks of the Arenal Volcano, four waterfall rappels, and an evening soak in a natural hot springs. Then kayak the remote waterways of Tortuguero National Park end up on a one-day Connoisseur White Water rafting trip down the Pacuare River (Class III-IV. Min. age 12 years).

Locations visited/nearby
river , national parks , volcano , mountain, Costa Rica, Central America
2 testimonials about this trip
Reviewer:

C. Weeden

located in

USA

Thanks for your email message following our wonderful trip to Costa Rica. Once again, your company continued to surprise me with your excellent customer service! Marco Madrigal was the first one who impressed me. He took what looked like a disastrous vacation (I had a flight, but my tour and hotel had gotten messed up by a Canadian tour company), and turned it into our dream vacation overnight. He managed to squeeze us into the Multisport tour, asked a few questions about what we like to do, and within 24 hours had booked a vacation that appeared as if he'd known us for years. This after I'd talked to many Costa Rican tour companies who simply said that all hotels were full and it would be impossible to book us anywhere during the Christmas season on such short notice. Marco's service continued to be excellent through the trip. As was that of our favourite guide, Frederico - Frederico managed to bring together our multisport group into a great team and helped us build friendships that will last a long time. Frederico has the excellent balance of service, spirit, and education that make him an excellent guide. Our last trip to Costa Rica we booked with Swiss Travel - we had a wonderful experience with them; however, their service looked to be very basic when compared with your 5-star service. Our pickups were always double-confirmed by your team, and the driver (we love Fabio!) was always on time and very accommodating. I'd also like to make a recommendation for Javier who was there at the airport to greet us, and to take us home. I hope I haven't missed anyone, because everyone was so wonderful, but Marco, Frederico, Fabio, and Javier stand out most in mind. Please pass my thanks onto all of them for giving us our best vacation ever. I hope you enjoy some of the photos that I have attached. I especially like the photo of the Quetzel... it was waiting outside our room at Savegre with his mate on the morning of our final day at Savregre. We aren't birdwatchers, but might change our minds after seeing such a beautiful bird. We also appreciated the monkeys that woke us up at 6:30 every morning at Tulemar by running across at roof and then eating their breakfast in the palm tree outside our windows as they watched US like we were in the zoo. You have a great company. I've recommended it already to both Carlson Wagonlit here in Toronto and friends that are visiting in September. I look forward to coming back to Costa Rica in a couple of years as we plan to book a special adventure trip for members of our mountain biking club. Once we have the dates firmed up, I'll be sure to call Marco for his excellent planning.

5

Reviewer:

Harriman family

located in

USA

"To summarize, our trip was everything we hoped for plus more! Costa Rica is such an incredible country which includes such wonderful people! We were very impressed and grateful for the exceptional service we received. Most important, we must have had one your best guides you employ with our small group, Alvaro Farias. He made the trip an experience that we will always remember. His enthusiasm for what he does, the love of his country and its nature to always caring that everything was going well for each of us was so appreciated. It was also special that he was knowledgeable in all areas of our Multisport adventure including the rafting at the end. Now that will be a Christmas that will be hard to top. In addition, Rebeca Zuniga was such a pleasure to work with setting up the trip and having all the details worked out for us! Our driver, Ricardo Coto Acuna, for part of the adventure was also such a pleasure!"

5
Reviewer:

John and Barbara Donahue

located in

USA

"We were very well satisfied with Costa Rica Expeditions, from the pick-up at San Jose Airport - including welcome help in getting through customs - to the conclusion of our trip. We liked the hotels you recommended: Bougainvillea near San Jose and Villa Blanca. The drivers we had on all transfers were helpful and spoke enough English for us to communicate. We liked your country and would like to return and when we do we will use your services."

5

Reviewer:

Chuck and Tia Ramsey

located in

NC

USA

"Back in cold western North Carolina after one of our best vacations ever, we'd like to thank you and all the Costa Rica Expeditions staff for making our Costa Rica vacation a great experiencea Each trip component, starting with our arrival at the airport and ending with a drop-off at a car rental agency, included caring CRE staff ensuring that we were in the right place at the right time.Every part of your package was wonderful - the facilities were nice, the food was great, and the staff were outstanding. We'll certainly advise friends to consider Costa Rica Expeditions in their travel plans, and hope that we, too, can again use your services some day."

5
Comments from Facebook
Special information
You need to form your own private group for this trip. It will be scheduled for a date you arrange with the provider. The itinerary here is just a sample.
Centered around activities for grandparents and their grandchildren.
Offers some solo-only/singles departures.
Itinerary
Day 1: Arrival San Jose (No meals.)
Arrive at the Juan Santamaria International Airport. After passing through Immigration you will be met by a Costa Rica Expeditions representative who will give you a sticker to facilitate clearing customs. When you are exiting the building, look for a Costa Rica Expeditions guide in an orange shirt holding a sign with your name on it. He or she will take you to your hotel. Overnight Hotel Presidente.
Day 2: San Jose / Tilajari Resort Hotel (B,L,D)
This morning you will meet your Multisport Guide and the rest of the group for an early breakfast. This is your opportunity to get to know everyone and resolve any questions you still might have about the trip, drive to Tilajari Resort (4 hours). After settling in and lunch, you will go out for your first bike ride. The area around Tilajari and Arenal Volcano is recognized for having some of the best conditions for biking in Costa Rica.
This afternoon's 10.4-mile ride goes through flat-to-easy rolling countryside. From the hotel pedal 1.8 miles on a lightly travelled, paved highway before turning off the pavement for 2.2 miles of easy dirt roads through cane and dairy farms. At the end of the dirt road, you will cross two hanging footbridges over the Peñas Blancas River. This means that you will be without the support vehicle for a few miles, while it goes around to meet you on the other side. You meet up with the paved road 6.4 miles from the lodge and pedal back for a well-deserved dip in the pool. Overnight at Tilajari Resort.
Day 3: Tilajari Resort / Arenal Volcano (B,L,D)
Your last day of biking takes you from the base of Arenal Volcano, 1,625 feet above sea level, back down to 211 feet above sea level. Although you will need to climb (or ride in the van) up a few steep hills, this ride is characterized by its exhilarating down hills. You start out on this 17.5-mile ride with 7.5 miles of dirt roads. There will be stops on this section to take in the views of Lake Arenal. You reach the pavement at the Arenal Dam and start a series of steep down hills and two short, steep; uphill stretches over the next four miles. For the next six miles, the terrain becomes more gently rolling. If you are lucky enough to catch Arenal out of the clouds, the views of the Volcano are spectacular on this stretch.
Having pedaled 17.5 miles in all, you will end your bike ride at the Operations Center for your canyoning tour this afternoon. After changing your cloths sit down for a typical Costa Rican Casado (rice, beans, fried sweet plantains, salad and your choice of fish, chicken or beef) for lunch. After lunch, drive 30 minutes to El Bosque where you will begin your canyoning tour. Hike into the canyon where your first rappel is over a waterfall, from there you will have another 3 waterfall rappels and one rock wall rappel. Hike back to your 4x4's and drive to El Ceibo Hot Springs for a soak in the hot springs before dinner. Your hosts will prepare a typical Costa Rican dinner in the tradition of Costa Rican hospitality. After dinner, drive back to your hotel. Overnight Tilajari Resort.
Day 4: Tilajari/Tortuguero (B,L,D)
This day is the least active because we will travel from Arenal to the North Atlantic Coast. After an early breakfast drive for about five hours to the Caño Blanco dock near Siquirres, passing through banana plantations and coffee fields. In Caño Blanco, you will meet the boat and Tortuguero Guide for the 1 1?2-hour ride to the village of Tortuguero, stretch your legs exploring the village of Tortuguero with your guide, then power walk (2 hours) down the beach to the mouth of the Tortuguero River where a boat will be waiting to drive you the lodge, a 5 minute boat ride. You will arrive at Tortuga Lodge in time for a dip in the award-winning pool before dinner. Overnight at Tortuga Lodge & Gardens.
Day 5: Tortuguero (B,L,D)
Today, leave the lodge by boat with your Tortuguero Guide and your kayaks to the entrance of Caño Chiquero or Caño Mora. These creeks are designated for non-motorized boats only, your guide will unload the kayaks and help you get your life jacket and your kayak seat adjusted so that you can paddle the back water creeks and lagoons of Tortuguero National Park in safety and comfort. Kayaking gives you a whole new perspective of the rainforest, from this position you become the river, look up to see what the rainforest canopy looks like if you're a river otter swimming in the creek, scan the understory of the forest and imagine foraging for seeds that are hidden there. Close your eyes and listen to the sun dried seed pod of the Gavilan tree burst making a gunshot sound and dispersing its seeds, the call of the Chestnut Mandibled toucan in the distance and the sound of Spider monkeys crashing through the trees. After two hours of paddling, you and your guide will pack up your gear and return to the lodge. There is no need to have previous kayaking experience, your Tortuguero Guide will give you a full safety briefing and paddling instruction before your tour begins.
Tortuguero National Park was originally created to protect an important nesting beach of the Atlantic Green Sea Turtle. The Park is now 51,870 acres and is one of the last large areas of tropical rainforest in Central America. The Park is home to the endangered Great Green Macaw, White-faced, Howler and Spider Monkeys, Chestnut-mandibled Toucan, the Slatey-tailed Trogon, and many more species, which you will have the opportunity to observe.
After lunch and a siesta, leave the dock by motorized boat with your Tortuguero Guide and your fellow guests for your afternoon expedition into the creeks of Tortuguero National Park.
Early afternoon the foraging can be quite intense, but as the afternoon sun starts to go down, many creatures begin to think about bedding down for the night and others are just beginning their night time activity. If you're lucky you might even get to see a mixed flock of Egrets coming into their rookery for the night or a pair of Tiger herons having a discussion about whose turn it is to sit on the nest. The White Faced Capuchins, ever mischievous may be the last to bed down, but as the afternoon light dims, the cacophony of the forest comes to a climax and then as if on cue… quiet. This tour is a three hour trip into the back water lagoons and creeks of Tortuguero National Park. Your boat is equipped with an ice chest with water and if you'd like to have additional beverages in the boat you can ask your guide to stock the ice chest with your favorite drinks (at additional cost).
Be sure to bring your binoculars (we highly recommend water proof 8 x 32) and your bird book. Two of the most important things to bring to Costa Rica are a pair of BINOCULARS and a field guide (we recommend Birds of Costa Rica). They are a must for getting a closer look at wildlife and are not available for rent in Costa Rica.
Return to the lodge in time for Bocas (Costa Rican hours devours) at the Bar.Overnight at Tortuga Lodge.
Day 6: Tortuguero / Pacuare River Class III-IV (B,L,D)
After an early breakfast, depart from Tortuga Lodge for a 1 1?2-hour boat ride to Puerto Caño Blanco. Here your Spanish speaking driver will be waiting to take you by van to the put-in on the Pacuare River (2-hour drive). After a safety talk and paddling instruction, you will raft the most beautiful river canyon in the tropics. Over 20 Class III and IV rapids, primary rainforest miraculously clinging to 100-foot-high vertical canyon walls, and waterfalls plunging from the canyon rim into the river will bewitch the beginner and the experienced rafter alike. Half way down the river, your guides suddenly become chefs and prepare and serve lunch on the riverbank. Finally, after more great rapids and scenery, you arrive at the take-out by mid afternoon. Return to San José (2-hour drive) for farewell dinner and overnight.
Day 7: Departure (No meals.)
Transfer to the International Airport, arriving at least 2-3 hours before your flight's scheduled departure time.
More information from Costa Rica Expeditions: