Deeper Africa - vacations and travel
Big Cats of the Maasai Mara Safari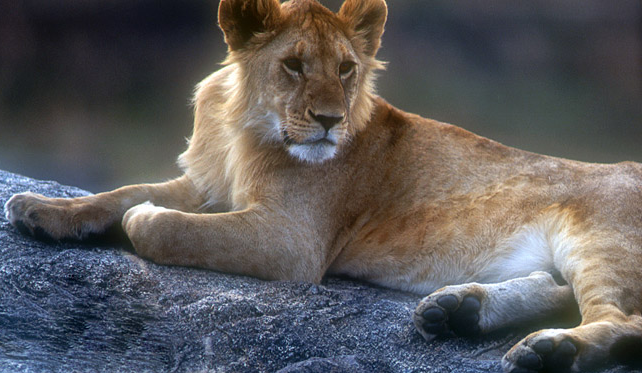 from $5,599* per person
10 Days
June-March
Comfort accommodations

Exertion level: 3

Operator:

Deeper Africa

8 people max
Nairobi, kenya
Active & Adventure trips
This safari allows you to take an in-depth look into the life of the big cats of the Maasai Mara. Set your schedule with your Deeper Africa naturalist so you can move to the cats, at the right time and at the right place. Keen observation teaches you how the big cats hunt, mark territorial boundaries, raise their young, and coexist in this remarkable landscape.

Deeper Africa's Natural Learning program teaches you to identify wildlife species and spot and track game in Lake Nakuru National Park. Nakuru is a small park with an abundance of wildlife. No patience is required as the park is full of animals. Your guide holds a silver certificate with the Kenyan Professional Safari Guide Association, making him one of the top fifty safari guides in Kenya. The educational grounding you receive in Nakuru assists in helping you track and scout the big cats in the Mara.

Locations visited/nearby
Kenya
Comments from Facebook
Special information
This is a custom departure, meaning this trip is offered on dates that you arrange privately with the provider. Additionally, you need to form your own private group for this trip. The itinerary and price here is just a sample. Contact the provider for detailed pricing, minimum group size, and scheduling information. For most providers, the larger the group you are traveling with, the lower the per-person cost will be.
Itinerary
Day 1
Travel day
International flight
Day 2
House of Waine
Nairobi
Pickup at Jomo Kenyatta Airport by Deeper Africa guide after clearing
customs. He will have a sign with your name on it. Your guide will transport
you to House of Waine for an evening dinner and overnight.
Day 3
Mbweha Camp
Lake Nakuru National Park
Breakfast at Mbweha Camp. Begin the drive out after breakfast for Lake
Nakuru National Park. Arrive at camp about lunch time, with
check-in and time for lunch. Afternoon wildlife viewing in Lake Nakuru
National Park. While wildlife viewing you'll have a cool box in your Land
Cruiser stocked with water and your favorite sodas.
Your next seven days will provide you with in-depth opportunities to learn
animal identification, wildlife tracking, and wildlife spotting in the East African
landscape in the company of your Deeper Africa naturalist. You'll begin your
Natural Learning program focusing first on animal identification and learning
to distinguish animal species. As well, your guide will begin to introduce you
to conservation issues including human wildlife conflicts, poaching controls
and conflicts, and community involvement in wildlife conservation.
Nakuru is a small, beautiful park with ecosystems that include an acacia forest,
woodlands, and a famous soda lake that draws flocks of greater and lesser
flamingos and over 4oo species of birds, including many white pelicans. Up to
four million flamingoes roam the Rift Valley lakes in great flocks throughout
the year, searching for the best feeding and bathing conditions. Each day a
substantial number of these flamingoes settle on Lake Nakuru producing a
fascinating fusion of sights and sounds. Nakuru is full of wildlife and you have
the opportunity for sightings of giraffe, rhino, buffalo, zebra, and many
antelope species including waterbuck, eland, reedbuck, dik dik, impala, as well
as Thompson and Grant gazelles, as well as numerous warthogs.
Dinner and overnight at Mbweha Camp.
Day 4
Mbweha Camp
Lake Nakuru National Park
Breakfast at Mbweha Camp. Set your wildlife viewing schedule with your
guide. In the 1990's a number of species were introduced into this park by
Kenyan Wildlife Service ("KWS"). Both black rhino and white rhino were
relocated into the park and their populations continue to grow steadily. The
Rothschild's giraffe herd now numbers between 60 and 70 members. With
only a small population of lions and leopards to check population growth, the
antelope populations are large and well habituated. There are no elephants in
Nakuru.
Historically, Nakuru was a remote wildlife park, but development and urban
sprawl have brought many people to this remote area. Human and wildlife
conflicts were a constant problem. As a solution Kenya Wildlife Service built
an electric fence around this small park. Funds for the fence were provided by
the World Wide Fund for the purpose of maintaining a large population of
rhino in one well-protected zone, secure from poachers. Security costs per
year for this rhino sanctuary top $7,500(US) per rhino. The fence solved the
conflict problems and it allows you the opportunity for viewing wildlife in this
small geographic area.
Dinner and overnight at Mbweha Camp.
Day 5
Mara Intrepids
Maasai Mara Game Reserve
Breakfast at Mbweha Camp. Morning drive westward into the Maasai Narok
District. As you drive west, you will see the landscape change to drier
savannah grasslands and begin to note many herds of cattle tended by local
Maasai herdsmen. Today is a longer drive with a picnic lunch along the way.
You will begin wildlife viewing as soon as you enter the Mara, traveling the
distance to Mara Intrepids. You'll arrive at Mara Intrepids in the late
afternoon for sundowners (drinks at sundown) and a luscious dinner.
The Maasai Mara is the northern section of the Serengeti ecosystem. This vast
savannah grassland extends south for over five thousand square miles into
Tanzania, forming one of the world's largest wildlife refuges. This land is as it
was in the beginning: no fences, no settlements, just a perennial migration of
wildlife. In a journey that reaches back through time, these herds of animals
(currently estimated at 1.25 million) follow the seasonal rains traveling from
the Serengeti into the Mara instinctually moving with the seasonal rainfalls,
sometimes migrating as much as 300 miles a year. Wildlife is allowed to roam
freely across the Kenyan and Tanzanian borders, uniting the two parks into a
single ecological unit that supports the largest concentration of large mammals
on the planet.
You'll have daily wildlife viewing from 6:00 am to 6:00 pm with the flexibility
to schedule each day as you choose with your guide. A wide array of habitats
is represented in the Mara, each with a unique complement of flora and fauna.
The variety of ecosystems makes the Mara superb place to hone your tracking
and spotting skills - allowing you continued opportunities to increase your
wildlife knowledge. Acacia woodlands attract giraffes, while hippos occupy
the deeper river pools. The eastern and western Mara, as well as the Mara
River, are all accessible to you by Land Cruiser.
Dinner and overnight at Mara Intrepids.
Day 6
Mara Intrepids
Maasai Mara Game Reserve
Breakfast at Mara Intrepids. Wildlife viewing from 6:00 am to 6:00 pm as you
schedule with your guide.
The annual migration is what makes the Mara famous. The herds gather in the
hundreds of thousands on the plains of the Mara during July, August,
September, October, and into November. The herds are drawn into the
northern Serengeti region by areas of greater rainfall because the grasses grow
taller and stay greener longer. The migration includes vast herds of wildebeest,
but also zebra and Thomson's gazelle. Those herds remain in the Mara for up
to four months - chomping and trampling the grass, grunting, and stampeding
across the Mara River in search of fresh grass for grazing. The onset of the
"short rains" sometime in November or early December sends the herds south
into the Serengeti for fresh grass. Wildebeest are well-suited to harvest the
short grasses that cover the semiarid plains of the Serengeti. The soils of this
region have an underlying hardpan covered by a fertile layer of volcanic soil.
Grass growing in this soil is highly nutritious taking up nutrients trapped by
the hard pan.
It is the superabundance of prey that accounts for the Mara's big predator
populations. At last count there were 22 lion prides in the Mara. Females
within a lion pride are related to each other. Daughters, mothers,
grandmothers, aunts, and nieces live together for up to 15 years - the typical
lifespan of a lioness. Males are forced to leave the pride at between two to
three years of age. When not attached to a pride, lions are nomadic,
occasionally banding together with other male cousins or brothers. The
majority of prides in the Mara have two or three adult males, but the males in
power can form larger alliances. Nomadic males are a constant territorial
threat to the pride males.
Ask your guide about the better pride viewing opportunities for your safari
season. He will consider taking you near Musiara Marsh, near the Governors
Camp area of the Mara, which is prime territory for the Marsh lion pride.
Other pride territories are near Rhino Ridge, near Paradise Plain, and near
Kichwa Tembo. Each of these pride territories vary in size. The controlling
factors tend to be habitat and the availability of food. Some Mara prides can
do quite well with small amounts of territory, while other prides require
substantially larger amounts of ground. While pride members defend their
territories they can never keep an exclusive lock on all of their territory.
Overlaps at the edges of the territories find young nomadic males creating
confrontations whenever possible. During migration season, the lions prosper
with sufficient food to feed all of the pride members. But once the herds
migrate south into Tanzania, the resident wildlife becomes the prime target.
Territory and hunting skills become the means of survival.
Dinner and overnight at Mara Intrepids.
Day 7
Mara Intrepids
Maasai Mara Game Reserve
Breakfast at Mara Intrepids. Set your wildlife viewing schedule with your
guide.Mara Intrepids is located in a large wedge of rolling savannah between the
Talek and Ntiakitak Rivers. The rivers make it difficult to access from the
west, hence, more private wilderness and wildlife for you. The resident lion
pride in the area is known as the Ol Kiombo pride, and they are very active.
You will have a good chance of sightings. Dusk and dawn are particularly
good times for lion hunting. Darkness favors the nocturnal eyes of the
predators and the advantages to grouping with other animals in a herd
diminishes. Leopards favor the thickets near Leopard Gorge and Fig Tree
Ridge.
Dinner and overnight at Mara Intrepids.
Day 8
Mara Intrepids
Maasai Mara Game Reserve
Breakfast at Mara Intrepids. Mara Intrepids is located at the eastern edge of
the Maasai Mara Game Reserve. It provides you with the opportunity to
observe human wildlife conflicts and to study some of the greatest challenges
facing the stability of the Serengeti migratory herds. In most other areas of
Africa, major wildebeest herds have died out due to ever-expanding human
populations which demand water resources as well as land for agriculture and
domestic livestock. Humans' need for land at the edges of the Mara and their
need for water resources threaten to reduce both the migration range and
access to water resources. It is land available for grazing and access to water
that determine the size of the Serengeti wildebeest population. The herd's
population varies yearly depending on rainfall and availability of grassland.
When there is not enough food or water, the weakest members of the
population starve. In the absence of severe drought, most of the culling will
occur late in the dry season, just before the "short rains" begin.
The Mara savannahs with their open country and grasslands support a healthy
cheetah population. Cheetahs face increasing pressure from humans and land
encroachment, with between 9,000 to 12,000 left in the world. You'll be
scouting for cheetah in one of the two remaining cheetah strongholds in the
world: the Mara/Serengeti ecosystem. (The other significant cheetah
population is in Namibia and Botswana.)
The Mara cheetah population is threatened by a lack of genetic variation,
making them susceptible to disease and decreasing reproduction. Still there
have been a number of cub births in the Mara cheetah population over the
past five years. Cheetahs live in small groups or singly, not in prides. The
famous BBC documentary "Big Cats Diary" has filmed quite a number of
Mara cheetah mothers with their cubs in the past few seasons. Look carefully
around the termite mounds as they are popular hiding places for the Mara
cheetahs.
Dinner and overnight at Mara Intrepids.
Day 9
Nairobi Breakfast at Mara Intrepids. Morning for wildlife viewing. Late lunch at Mara
Intrepids. Your guide will have your plane ticket for you. He will make sure
you are checked in and that your luggage is loaded on your bush plane. Say
goodbye to your Deeper Africa guide at the airstrip, as he needs to drive the
Land Cruiser back to Arusha.
Bush Flight
Departs Mara bush strip @ approximately 11:00 am
Arrives Nairobi Wilson @ approximately 12:15 pm
Pickup by Deeper Africa guide and transfer to a relaxing dinner at one of
Nairobi's fine restaurants. There are many choices for cuisine. Depart the
restaurant with your Deeper Africa guide for evening transport to Jomo
Kenyatta International Airport for your international flight.
Late evening International Flight.
Day 10 Travel day International flight
More information from Deeper Africa: