Deeper Africa - vacations and travel
Wild Tanzania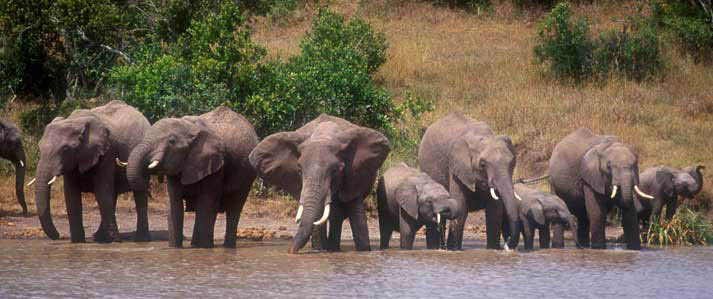 from $8,399* per person
15 Days
June-April
Luxury accommodations

Exertion level: 3

Operator:

Deeper Africa

8 people max
Kilimanjaro international airport, kilimanjaro, tanzania
Culture & Nature trips
Bush plane routes allow you to link together the best game parks of Tanzania's Northern Circuit with the more remote reserves of southern Tanzania. The Northern Circuit brings you the Serengeti migration and the famous Ngorongoro Crater, two of Africa's top game reserves. Traveling by low-flying bush plane into remote camps in southern Tanzania you visit two of the country's largest, most pristine and most remote game reserves. This is the country that Teddy Roosevelt loved, the last of old Africa.

The remote setting of Ruaha National Park allows you to experience the real African bush. Ruaha is an ancient place in the Rift Valley, filled with massive baobabs, some over a thousand years old and red earth, bleached by the sun. Plus, in Ruaha, park permits will allow you to do walking safaris with a park ranger so you can deepen your understanding of animal behavior and habitat.

The Rufiji River in the northern part of Selous Game Reserve is a unique ecosystem containing lagoons, sand banks, and lakes with dense, thick forests and open woodlands. Selous Game Reserve is an area greater than the size of Switzerland and one of the largest areas in the world set aside for wildlife preservation. Access to the southern regions of the reserve are strictly prohibited. Selous' remoteness means there is no mass tourism so our guests are ensured a wilderness experience. Move slowly down the Rufiji River delta in an aluminum motor launch to view grunting hippos, crocodiles, a healthy population of elephants, and plains game needing water.
Locations visited/nearby
Tanzania
Comments from Facebook
Special information
This is a custom departure, meaning this trip is offered on dates that you arrange privately with the provider. Additionally, you need to form your own private group for this trip. The itinerary and price here is just a sample. Contact the provider for detailed pricing, minimum group size, and scheduling information. For most providers, the larger the group you are traveling with, the lower the per-person cost will be.
Itinerary
Day 1 Travel day International flight
Day 2
Onsea House
Arusha
Pickup at Kilimanjaro Airport by Deeper Africa guide after clearing customs. He will
have a sign with your name on it. Your guide will transport you to Onsea House for
an evening dinner and overnight. You'll have a short briefing to review your safari
itinerary.
Dinner and overnight at Onsea House.
Day 3
Olakira Camp
Serengeti National Park
Breakfast at Onsea House. This morning a Deeper Africa guide will pick you up at the front desk of Onsea House and transport you to the Arusha Airport for your bush flight to the Serengeti.
Bush Flight
Departs Arusha @ 7:55 am
Arrives Serengeti @ 9:30 am
Your Deeper Africa naturalist will be waiting for you at the bush strip upon arrival. Once you enter the Serengeti you will begin wildlife viewing traveling the distance to Olakira Camp. Your next five days will include in-depth opportunities to learn animal identification, wildlife tracking, and spotting wildlife in the landscape in the company of a Deeper Africa naturalist. As well, your Deeper Africa guide will begin to introduce you to conservation issues including human wildlife conflicts, poaching controls and conflicts, and community involvement in wildlife conservation. You focus first on animal identification and learn to distinguish herd species.
In the Maasai language, the word 'Serengeti' means endless plain. This vast savannah grass land extends northward into the Maasai Mara in Kenya for over five thousand square miles of land, forming one of the world's largest wildlife refuges. This is land as it was in the beginning: no fences, no settlements, just a perennial migration of wildlife. In a journey that reaches back through time, the Serengeti herds (currently estimated at 1.25 million) follow the seasonal rains, traveling from the Serengeti into the Mara instinctually moving with the seasonal rainfalls, sometimes migrating as much as 300 miles a year. Wildlife is allowed to roam freely across the Kenyan and Tanzanian borders, uniting the two parks into a single ecological unit that supports the largest concentration of large mammals on the planet. While wildlife viewing, you'll have a cool box in your Land Cruiser stocked with water and your favorite sodas.
Dinner and overnight at Olakira Camp
Day 4
Olakira Camp
Serengeti National Park
Breakfast at Olakira Camp. Wildlife populations in this area double during the migration season, but if you are staying in this part of the Mara when it is not migration season that still means that resident wildlife populations are some of the most dense on the African continent and include populations of plains game, with buffalo, giraffe, and warthog, as well as a wide range of antelope species, including dik dik, eland, impala, and topi.
Unlike the migration herds, predators are territorial, remaining in their home territory all year long so you will have many opportunities for predator viewing. Females within a lion pride are related to each other. Daughters, mothers, grandmothers, aunts, and nieces live together for up to 15 years - the typical lifespan of a lioness. Males are forced to leave the pride at between two to three years of age. When not attached to a pride, lions are nomadic, occasionally banding together with other male cousins or brothers. The majority of prides in the Serengeti have two or three adult males, but the males-in-power can form larger alliances. Nomadic males are a constant territorial threat to the pride males. Some prides require substantially larger amounts of ground to feed their members, while other prides can subsist on smaller territories. While pride members defend their territories they can never keep an exclusive lock on all of their territory. Overlaps at the edges of the territories find young nomadic males creating confrontations whenever possible. During migration season, the lions prosper with sufficient food to feed all of the pride members. But once the herds migrate north into Kenya, the resident wildlife becomes the prime target; and territory and hunting skills become the means of survival.
You'll have daily wildlife viewing from 6:00 am to 6:00 pm with the flexibility to schedule each day as you choose with your guide. Picnic lunches or lunch at camp. Your guide is your mentor and advisor and he will have lots of suggestions about the best areas for wildlife viewing.
Wildlife viewing choices include:
Morning wildlife viewing and afternoon wildlife viewing with lunch at camp.
All day wildlife viewing with picnic lunch.
Wildlife viewing out before sunrise with return for brunch and afternoon wildlife viewing.
Dinner and overnight at Olakira Camp.
Day 5
Olakira Camp
Serengeti National Park
Breakfast at Olakira Camp. The Serengeti savannahs with their open country and grasslands support a healthy cheetah population. Cheetahs face increasing pressure from humans and land encroachment - with between 9,000 to 12,000 left in the world. You'll be scouting for cheetah in one of the two remaining cheetah strongholds in the world: the Mara/Serengeti ecosystem. (The other significant cheetah population is in Namibia and Botswana.)
The Serengeti cheetah population is threatened by a lack of genetic variation, making them susceptible to disease and decreasing reproduction. Still there have been a number of cub births in the Serengeti cheetah population over the past five years. Cheetahs live in small groups or singly, not in prides. Look carefully around the termite mounds as they are popular hiding places for the Mara cheetahs.
Dinner and overnight at Olakira Camp.
Day 6
Plantation Lodge
Lake Manyara National Park
Breakfast at Olakira Camp with morning wildlife viewing.
Bush Flight
Depart Kogatende strip @ 10:50 am
Arrive Manyara strip @ 12:20 pm
Pickup at Manyara strip by your Deeper Africa guide and drive to Plantation Lodge with check in and lunch.
Afternoon game drive in Lake Manyara National Park. Sitting against the Rift escarpment is Manyara's evergreen groundwater forest. While it looks like a rainforest, not enough rainfall occurs to sustain this forest. Rather, mineral springs seeping through porous volcanic soil provide most of the water for the huge mahogany, tamarind, wild date palms, croton, sausage trees, and strangling figs. In additional to the evergreen groundwater forest, the park also contains a variety of ecosystems including acacia woodland, grassy plains, a swampy fan delta, and, of course, the lake. This variety attracts a wide variety of mammal, bird, and wildlife species. Flocks of flamingos are attracted to the large amounts of algae in the lake's soda environment while the forest areas attract large flocks of pelicans, storks, herons, ibis, and egrets. Bird watching is spectacular at Manyara, with over 380 bird species recorded. As well, the primate viewing which includes blue monkeys, vervet monkeys, and very active baboon troops is quite enjoyable.
Elephant, buffalo, impala, bushbuck, waterbuck, hippos, and lots of elephants roam near the lake. There are sightings of klipspringers on the rocky escarpments on the southern side of the rift wall.
Dinner and overnight at Plantation Lodge.
Day 7
Plantation Lodge
Ngorongoro Conservation Area
Breakfast at Plantation Lodge. Get ready for a full day of wildlife viewing in the Crater. The vast Ngorongoro Crater is home to large and permanent animal populations. In fact, between 20,000 to 30,000 animals wander the floor of the Crater. Look for rare rhinos and large prides of lions. The Crater ecosystem is an astonishing microcosm of East African wildlife environments containing grassland, swamp, acacia forest, and soda lake environments with beautiful flocks of flamingos at the right time of day.
Dinner and overnight at Plantation Lodge.
Day 8
Ruaha River Lodge
Ruaha National Park
Breakfast at Plantation Lodge. Morning transport to the Manyara airstrip for your Coastal Airlines flight to Ruaha National Park. Say good bye to your Deeper Africa guide at the airstrip as he needs to drive the Land Cruiser back to Arusha. Your guide will have your plane ticket for you. The pilot will assist you in getting checked in and getting your luggage boarded on the plane.
Coastal Airlines Flight
Depart Manyara bush strip @ approximately 11:25 am
Arrive Ruaha Msembe bush strip @ 15:40
As you leave the Manyara bush strip you fly south toward Ruaha into southern Tanzania, a world where few safari travelers go. While you are in southern Tanzania you'll be the guest of Ruaha River Lodge and Mivumo River Lodge, two remote lodges with guides who have expertise and knowledge of the wildlife in these remote areas. After a week in the African wilderness you may feel that your senses have sharpened and that you'll notice things you might have missed when you first landed at Kilimanjaro.
Pickup at Msembe bush strip by Ruaha River Lodge staff. Check in to your river cottage, have lunch, and get acquainted with the lodge. Meet up with your host, Peter Fox. You'll join one of Ruaha's trackers and guides for an afternoon game drive into this vast national park and begin noting the variations in game species and ecosystems of southern Tanzania. Be sure to check the river for the elephant clans that come down to drink.
Dinner and overnight at Ruaha River Lodge.
Day 9
Ruaha River Lodge
Ruaha National Park
Breakfast at Ruaha River Lodge. The savannah and bush landscape of Ruaha National Park holds one of the largest elephant populations in all of Africa. The combination of both northern and southern game opens a new chapter in your safari – one you can enjoy even more as it is built on what you have learned in northern Tanzania. Get your species checklists ready for possible sightings of greater and lesser kudu, sable and roan antelope, bushbuck, and African wild dog. Both morning and afternoon game drives available.
Dinner and overnight at Ruaha River Lodge.
Day 10
Ruaha River Lodge
Ruaha National Park
Breakfast at Ruaha River Lodge. Poaching was a serious problem in Ruaha and the park elephant populations decreased from 22,000 (1967) to 4,000 (1987). Recent census places the elephant population at more than 12,000. Still, the poaching has left its effects. There are few mature elephants at full size and at an age of over 60 years. It is rare to see bull elephants with tusks the size of the bulls in Ngorongoro Crater. It is much more common to see tuskless and small-tusked elephants. Research is being done in Ruaha into whether future generations will breed small tusked elephants, or whether the large tusk gene will dominate the Ruaha elephant herds it did in the past.
Full day of wildlife viewing.
Lunch, dinner, and overnight at Ruaha River Lodge.
Day 11
Mivumo River Lodge
Selous Game Reserve
Breakfast at Ruaha River Lodge. Arise early for an early morning game drive or spend the morning packing and getting ready for your flight to Selous. Transport to Ruaha's Msembe bush strip.
Coastal Airlines Flight
Depart Ruaha Msembe bush strip @ 11:45 am
Arrive Selous bush strip @ 13:05
Pick up by Mivumo River Lodge staff with transport to Mivumo River Lodge for lunch and check in. You'll be able to get in an afternoon of wildlife viewing or a river game viewing safari so you can begin to enjoy the Reserve. In Selous you can do what you want, when you want. Each day you can choose from river safaris, walking safaris, wildlife viewing from a vehicle, or just relaxing around the lodge.
The vast area within the boundaries of Selous Game Reserve represent five percent of the land mass of Tanzania. The remote nature of the reserve ensures a wilderness experience. Only the northern section of Selous, north of the Rufiji River, is developed for tourism, but even this area is huge and wild. Teddy Roosevelt's account of his 1909 safari in Selous, led by Frederick Courtney Selous, is recorded in his book, African Game Trails.
Dinner and overnight at Mivumo River Lodge.
Day 12
Mivumo River Lodge
Selous Game Reserve
Breakfast at Mivumo River Lodge. Selous' ecological environments contain open woodlands, plains, and dense thick forests. But the highlight of Selous for most people is the Rufiji River ecosystem with its meandering streams, swamp lands, and ox-bow lakes. Boat safaris on the Rufiji take you through pods of hippo and more crocodiles than you ever thought possible. Buffalo, waterbuck, impala, and other herd animals are frequently sighted in the water edge meadows. Birding is spectacular along the Rufiji with an abundance of water birds including kingfishers, goliath herons, fish eagles, storks, and several varieties of egret.
Mivumo River Lodge will provide river guides and trackers, as well as land guides and trackers. Schedule your game viewing on the river or on land as you choose with the staff at Mivumo River Lodge. Safaris away from the river allow viewing of an uncommon range of animals including antelope, wildebeest, elephant, lion, giraffe, hyena, eland, kudu, and African wild dog. You may encounter either of the two resident species of wildebeest, the black bearded gnu or the southern species, nyasa wildebeest.
Dinner and overnight at Mivumo River Lodge.
Day 13
Mivumo River Lodge
Selous Game Reserve
Breakfast at Mivumo River Lodge. Visitors to Selous have the freedom to take walking safaris and boating safaris, in addition to traditional game viewing. Set your schedule of these activities as you choose with the staff at Mivumo River Lodge. All activities are available to you each day.
Selous accounts for almost half of all of the elephant in Tanzania. Selous' elephant population suffered greatly in the 1980s when oil prospectors cut roads into the bush and inadvertently allowed poachers easy access into the bush with vehicles. Selous' elephant population continues to recover from these devastating effects, with many young calves being born. The woodland and dense forest environments require more patience for elephant viewing than in the plains ecosystems of Ruaha.
Dinner and overnight at Mivumo River Lodge.
Day 14 Southern Sun
Day Room
Dar es Salaam
Breakfast at Mivumo River Lodge. For a deeper understanding of the impacts of the conflict and struggle that history has played out in Selous ask your guide to tell you about the Hehe role in the Maji Maji Rebellion or the German schutztruppe and British fusiliers who fought in Selous in World War I. Lunch at the lodge and time for packing before your flight.
Coastal Airlines Flight
Depart Selous bush strip @ 9:45 am
Arrive in Dar es Salaam @ 10:20 am
Pickup by Deeper Africa guide and transport to the Southern Sun for day room check in, lunch, and dinner. You'll have a room available through the evening so you have time to shower and pack for your international flight.
Arrange your pickup time with your Deeper Africa guide for transport to the Dar es Salaam International Airport.
Day 15 Travel day International flight
More information from Deeper Africa: