Deeper Africa - vacations and travel
Backcountry Explorer Safari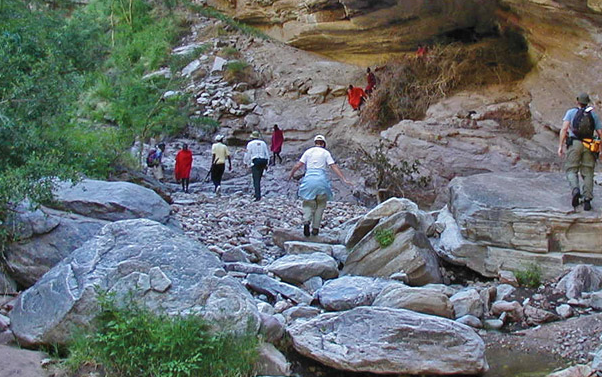 from $5,499* per person
11 Days
June-March
Comfort accommodations

Exertion level: 3

Operator:

Deeper Africa

8 people max
Kilimanjaro international airport, kilimanjaro, tanzania
Active & Adventure trips
This journey takes you into the back country of the Ngorongoro Conservation Area. Walking at a comfortable pace (plenty of time to stop, rest, snack, and enjoy) you move from campsite to campsite through a remarkable landscape of extinct volcanoes, mist-shrouded forests, and grasslands teaming with wildlife. You carry just what you need for the day: binoculars, camera, water bottle. Everything else is carried in the Land Cruiser, which shadows you during the day, in case you change your mind and need a lift.

Our English speaking Maasai guide acts as a diplomat and interpreter allowing deeper insights into the ancient Maasai culture. Experiences range from hiking through traditional lands under the protective watch of local Maasai warriors, visiting traditional homesteads to learn about the pastoral lifestyle of the Maasai, and visiting the tribal school.

Accommodations vary with habitat. On hiking journeys you will have rugged yet comfortable wilderness camps with all the "necessities" including dome tents, warm beds, a dining tent, a shower tent, and a wholesome dinner and breakfast.

Traditional Land Cruiser wildlife viewing in Ngorongoro Crater and the Serengeti allow you up-close with the big five and so much more. Your time in the Serengeti allows you to view the vast migration herds as they move in a rhythm that is a millennium old.
Locations visited/nearby
Tanzania
Comments from Facebook
Special information
This is a custom departure, meaning this trip is offered on dates that you arrange privately with the provider. Additionally, you need to form your own private group for this trip. The itinerary and price here is just a sample. Contact the provider for detailed pricing, minimum group size, and scheduling information. For most providers, the larger the group you are traveling with, the lower the per-person cost will be.
Itinerary
Day 1 Travel day International flight
Day 2
Arusha Hotel
Arusha
Pickup at Kilimanjaro Airport by Deeper Africa guide after clearing customs. He will have a sign with your name on it. Your guide will transport you to Arusha Hotel for an evening dinner and overnight. You'll have a short briefing to review your safari itinerary.
Dinner and overnight at Arusha Hotel.
Day 3
Ngorongoro Bush Camp
Ngorongoro Conservation Area
Breakfast at Arusha Hotel. After breakfast you'll begin the drive into the Ngorongoro Highlands. You'll arrive by lunch time at our Tented Camp set in the Misigio area of the Ngorongoro Conservation Area. You'll meet up with Sanguyan Kimani Ole Dorop ("Ole Dorop"), your Maasai guide and a regional clan leader. Lunch will be ready for you once you arrive.
You will be concentrating your hiking and visits with the Maasai in this remarkable landscape of extinct volcanoes, mist shrouded forests, and wildlife filled grasslands for the next few days of your safari. During your time in the Highlands you'll have the unique opportunity to visit and understand the Maasai through Ole Dorop, his family, and village. Ole Dorop has spent his whole life here on the slopes of Mount Lemagrut, where the Maasai and wildlife share its gentle slopes, covered with a mixture of grassland and mountain forest vegetation. The Maasai water their herds at Lemagrut's hidden springs, and the view from its summit over the Serengeti is breathtaking.
Your camp near Misigio will be a traditional safari camp with beds, showers, and toilets all inside your own tent. You'll have a beautiful dining tent set up for you and you'll be able to enjoy candlelight dinners in the bush along with sundowners ('drinks at sundown") around your camp fire.
After you get settled in camp Ole Dorop will walk with you to show you his boma ("homestead") which is nearby. You'll meet his family, learn about village life, the ways of the warriors, and many other aspects of these proud and traditional people. Ole Dorop will bring you inside the family dwellings so that you can learn how daily life unfolds for a Maasai. The Maasai are pastoralists so you will have the opportunity to meet the cattle and goats owned by the family as they come in from grazing and into the enkang ("enclosure") for safety at night. As well, Ole Dorop will share with you the cultural and political challenges facing traditional Maasai in the Conservation Area. You'll walk back to your camp with Ole Dorop and some of the village warriors for dinner prepared by your camp chef.
The Maasai are the only people allowed to live in the Conservation Area. Their traditional ways, which include an aversion to hunting, have a minimal impact on the local habitat. Their warrior skills suit them as guardians of the land and they are the eyes and ears of the conservation service.
Dinner and overnight at Ngorongoro Bush Camp.
Day 4
Ngorongoro Bush Camp
Ngorongoro Conservation Area
Breakfast at Ngorongoro Bush Camp followed by wildlife viewing in Ngorongoro Crater. Morning is a special time in the natural world with daylight bringing lots of activity and movement. The vast Ngorongoro Crater is an expansive environment inside an extinct volcano. Between 20,000 and 30,000 animals wander the floor of the Crater. The Crater ecosystem is an astonishing microcosm of East African wildlife environments containing grasslands, wetlands, acacia forest, and soda lake environments with beautiful flocks of flamingos at the right time of day. Zebra, wildebeest, and gazelle mingle together, while herds of buffalo graze the long grass areas. Bull elephants and rhino are often seen feeding in green marshes and there are plenty of hyenas. The lakes and marshes are home to exotic water fowl. Hippos lounge in the water holes and it is not uncommon to see lions.
Dinner and overnight at Ngorongoro Bush Camp.
Day 5
Elwai Bush Camp
Ngorongoro Conservation Area
Breakfast at Ngorongoro Bush Camp. Today you'll begin Deeper Africa's unique system of camp to camp hiking as you make steady progress across the Ngorongoro Conservation Area. After breakfast, start on out foot and begin the long gradual descent eastward toward Oludpai Gorge and the Serengeti Plains. Your hike begins through the scattered Maasai bomas on the high grasslands, but this gradually gives way to the acacia woodland of the lower slopes of the Crater Highlands. Have a picnic lunch on the trail and meet up with your camp in the Crater Highlands near the Elwai boma.
You'll be walking at a comfortable pace (plenty of time to stop, rest, snack, and enjoy) as you move from campsite to campsite. Plan on up to four hours of walking. You carry just what you need for the day: binoculars, camera, and water bottle. Everything else is carried in the Land Cruiser, which shadows you during the day, in case you change your mind and need a lift.
Your camp will be a lighter and a bit more rugged, yet a comfortable wilderness bush camp with all the "necessities" including dome tents, warm beds, a dining tent, shower tent, and toilet tent. Your chef travels with you so your meals are hot and nutritious.
Dinner and overnight at Elwai Bush Camp.
Day 6
Kobe Kopje Bush Camp
Ngorongoro Conservation Area
Breakfast at Elwai Bush Camp. Today's walking journey takes you through a shallow gorge as it cut its way towards the plains. As you crest a final ridge, the dry streambed opens out onto the edge of the Serengeti plains. Your hike takes you across the edge of the plains and on to your camp which has been set up for you around a small rock outcropping or kopje just above Oldupai Gorge. Wildlife should be plentiful and your camp will be ready for your afternoon arrival. Remember your guide can always call on the radio for the Land Cruiser if you tire.
Dinner and overnight at Kobe Kopje Bush Camp.
Day 7
Kati Kati Camp
Serengeti National Park
Breakfast at Kobe Bush Camp. There is time this morning for a short hike into Oldupai Gorge where you can meet up with the Land Cruiser and begin the drive across the Serengeti plains into the National Park. Oldupai Gorge and the Rift Valley are home to the first humans and the place where the Leakey family successfully excavated some of the oldest humanoid skeletons ever discovered. Once you enter Serengeti National Park you'll begin wildlife viewing, traveling the distance to your private tented camp.
Serengeti means endless plain. This vast savannah grass land extends northward into the Maasai Mara in Kenya for over five thousand square miles of land, forming one of the world's largest wildlife refuges. This is land as it was in the beginning: no fences, no settlements, just a perennial migration of wildlife. In a journey that reaches back through time, these herds of animals follow the seasonal rains traveling from the Serengeti into the Mara instinctually moving with the seasonal rainfalls. Wildlife is allowed to roam freely across the Kenyan and Tanzanian borders, uniting the two parks into a single ecological unit that supports the largest concentration of large mammals on the planet.
Today you will move from your wilderness bush camp back into a proper tented camp. Sundowners, dinner, and overnight at Kati Kati Camp.
Day 8
Kati Kati Camp
Serengeti National Park
Breakfast at Kati Kati Camp. Full day of wildlife viewing with picnic
lunch. The annual migration is what makes the Serengeti famous. The herds gather on the Tanzanian side of the ecosystem from sometime in November or December through early July. The migration includes vast herds of wildebeest, but also zebra and Thomson's gazelle. The herds steadily move southward through April or May when the seasonal rains cause them to turn and begin the journey back northward toward the Maasai Mara. Wildebeest are well suited to harvest the short grasses that cover the semiarid plains of the Serengeti. The soils of this region have an underlying hard pan covered by a fertile layer of volcanic soil. Grass growing in this soil is highly nutritious taking up nutrients trapped by the hard pan. In addition to the migration herds there are large numbers of resident game in several different areas of the Serengeti. We locate our camps in areas where there are opportunities to view significant populations of resident wildlife.
Unlike the migration herds, predators are territorial, remaining in their home territory all year long. Different lion prides hold territory throughout the Serengeti. Females within a lion pride are related to each other. Daughters mothers, grandmothers, aunts, and nieces live together for up to 15 years – the typical lifespan of a lioness. Males are forced to leave the pride at between two to three years of age. When not attached to a pride, lions are nomadic, occasionally banding together with other male cousins or brothers. The majority or prides in the Serengeti have two or three adult males, but the males in power can form larger alliances. Nomadic males are a constant territorial threat to the pride males. Pride territories vary in size. The controlling factors tend to be habitat and availability of food. Some Serengeti prides can do quite well with small amounts of territory, while other prides require substantially larger amounts of ground. While pride members defend their territories they can never keep an exclusive lock on all of their territory. Overlaps at the edges of the territories find young nomadic males creating confrontations whenever possible. During migration season, the lions prosper with sufficient food to feed all of the pride members. But once the herds migrate north into the Maasai Mara, the resident wildlife becomes the price target; and territory and hunting skills become the means of survival.
The Serengeti savannahs with their open country and grasslands support a healthy cheetah population. Cheetahs face increasing pressure from humans and land encroachment – with between 9,000 to 12,000 left in the world. You'll be scouting for cheetah in one of the two remaining cheetah strongholds in the world: the Mara/Serengeti ecosystem. (The other significant cheetah population is in Namibia and Botswana.) The Serengeti cheetah population is threatened by a lack of genetic variation, making them susceptible to disease and decreasing reproduction. Still, there have been many cub births in the Serengeti cheetah populations. Look carefully around the termite mounts as they are popular hiding places for the Mara cheetah.
Wildlife populations double during the migration season, but that still means that resident wildlife populations are some of the most dense on the African continent and include substantial populations of plains game, including buffalo, giraffe, and warthog, as well as a wide range of antelope species, including dik dik, bushbuck, waterbuck, eland, impala, and topi.
Sundowners, dinner, and overnight at Kati Kati Camp.
Day 9
Ngorongoro Farm House
Ngorongoro Conservation Area
Breakfast at Kati Kati Camp. This morning we will drive eastward back toward Ngorongoro Conservation Area with a late afternoon arrival at Ngorongoro Farm House. Note the changes in vegetation as you begin the climb up the slopes of the Ngorongoro Crater. The savannahs disappear into lush, more tropical vegetation, including coffee plantations.
Relaxing in the late afternoon while you enjoy activities at Ngorongoro Farm House as you choose. Let your guide know your preference and he will make arrangements for you with Ngorongoro Farm House for:
Village Walk
Watching Farm Chores
Afternoon Tea
Coffee Roasting
Investigating Medicinal Plants
Watching Makonde Wood Carving
Dinner and overnight at Ngorongoro Farm House.
Day 10
Arumeru River Lodge
Arusha
Breakfast at Ngorongoro Farm House. Begin your journey back to Arusha arriving in the early afternoon for lunch at Shanga River House. Learn more about the great work being done by Shanga Project @ www.shanga.org. Check in to a day room at Arumeru River Lodge followed by shopping for craft items or sightseeing in Arusha town. Perhaps you would just like to relax, swim, shower, and pack for your international flight. Dinner at Arumeru Lodge. Pick up for transport to your international flight at Kilimanjaro Airport.
Day 11 Travel day International flight
More information from Deeper Africa: