Deeper Africa - vacations and travel
Kenya Explorer Safari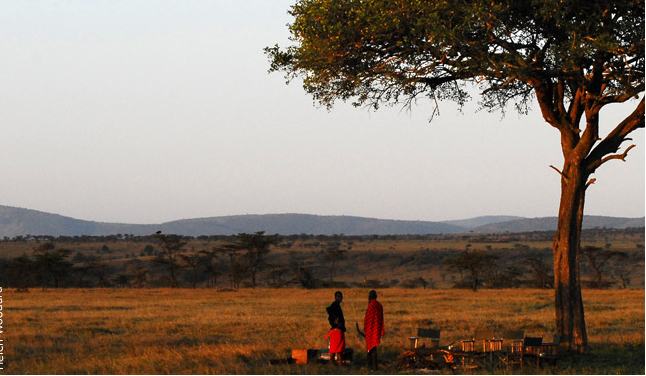 from $6,399* per person
11 Days
December-March, May-October
Comfort accommodations

Exertion level: 3

Operator:

Deeper Africa

8 people max
Nairobi, kenya
Culture & Nature trips
Our Kenyan Explorer safari focuses in two of Kenya's most spectacular safari lands: the Laikipia Plains and the Maasai Mara. These two wilderness areas offer the rare combination of spectacular wildlife viewing along with walking safaris and the more human pursuit of interaction with other humans.
Ol Pejeta Bush Camp is located on conservancy land, while Offbeat Mara is located on tribal land. Both integrate wildlife conservation with interaction in local communities. Every Deeper Africa safari offers spectacular wildlife viewing in the company of one of East Africa's best guides. But, our Kenya Explorer safari has another layer of depth.
On our Kenya Explorer safari you set your daily schedule as you choose:
Traditional Land Cruiser wildlife viewing with both day and night game drives available;
Guided walking safaris on the open plains or along the river;
Visiting local communities and the local school;
Tracking rhinos with the Ol Pejeta rangers;
Monitoring elephants and other wildlife with the rangers and researchers;
Observeing Boran and Ankole cattle pastoral care including herding and spraying; and
Enjoying a bush breakfast on the savannah
Explore the African bush by day with your creature comforts attended to at night. Luxurious tents, good food, and safe surroundings while enjoying the night sounds of the African bush.
Locations visited/nearby
Kenya
Comments from Facebook
Special information
This is a custom departure, meaning this trip is offered on dates that you arrange privately with the provider. Additionally, you need to form your own private group for this trip. The itinerary and price here is just a sample. Contact the provider for detailed pricing, minimum group size, and scheduling information. For most providers, the larger the group you are traveling with, the lower the per-person cost will be.
Itinerary
Day 1 Travel Day International Flight
Day 2
Safari Park Hotel
Nairobi
Pickup at Jomo Kenyattta International Airport by Deeper Africa guide after clearing customs. He will have a sign with your name on it. Your guide will transport you to the Safari Park Hotel. Dinner after arrival at Café Kigwa.
Overnight at Safari Park Hotel.
Day 3
Ol Pejeta Bush Camp
Laikipia Plains
Breakfast at Safari Park Hotel. Depart early in the morning with your guide for the drive to the foothills of Mount Kenya and onto the Laikipia Plateau. Sited to the northwest of Mount Kenya and east of the Great Rift Valley lakes of Baringo and Bogoria, Laikipia is formed from an ancient lava-plain. Lunch at the ranch house after you check in. Afternoon wildlife viewing in the conservancy.
The Ol Pejeta Conservancy is a 90,000 acre wildlife reserve. Because of conservation efforts wildlife populations through out the Laikipia area have increased and profit is being derived from wildlife tourism with reinvestment into local community development. Ol Pejeta Conservancy has some of the highest wildlife densities in Kenya. Ol Pejeta boasts an astounding variety of animals including the non-indigenous chimpanzees and the big 5 – the endangered black rhino, leopard, elephant, buffalo, and lion. The combination of wildlife and stunning views across the open plains of Ol Pejeta guarantees an unforgettable safari experience.
Dinner and overnight at Ol Pejeta Bush Camp. Swimming pool available.
Day 4
Ol Pejeta Bush Camp
Laikipia Plains
Breakfast at Ol Pejeta Bush Camp. As a guest at Ol Pejeta you have the opportunity to craft each day as you and your guide choose from the following activities:
Game viewing on Ol Pejeta's vast savannah for viewing of the "Big Five";
Guided bush walks to explore the savannah on foot;
Game view from established hides and blinds which are dotted around Ol Pejeta;
Bird watching of well over 500 recorded species;
Night game drives; and
Visit local community projects to observe the tangible social benefits Ol Pejeta has created for its community partners.
As a guest at Ol Pejeta you will have the opportunity to observe special activities such as animal capture/release should those activities be going on during your time in the conservancy. If you are interested we can also arrange for you to visit the white rhinos during feeding time; visit the chimpanzees at Goodall's Sweetwaters Chimpanzee Sanctuary; work with Ol Pejeta predator researchers who are tracking radio collared lions to monitor home ranges and movements; or meet with resident rangers and researchers who monitor elephants moving on the Lakipia plains.
Dinner and overnight at Ol Pejeta Bush Camp.
Day 5
Ol Pejeta Bush Camp
Laikipia Plains
Breakfast at Ol Pejeta Bush Camp. During the colonial era, the Laikipia Plateau was utilized as an extensive cattle ranching area. Lacking the rainfall required to successfully cultivate crops, cattle ranching was seen as the next best way to utilize the land. In those days, wildlife was perceived as having little or no value to landowners. Over time, cattle ranching became less and less profitable. Elephant populations that previously used the ranch as a transit area from the north to Mount Kenya and the Aberdares were forced to take up permanent residence on the property. As a result, the fences required to maximize cattle productivity were destroyed, becoming impossible to effectively maintain cost. Consequently, in the face of declining wildlife populations elsewhere and as a means to effectively utilize the land, there is now an emphasis upon wildlife conservation.
Dinner and overnight at Ol Pejeta Bush Camp
Day 6
Ol Pejeta Bush Camp
Laikipia Plains
Breakfast at Ol Pejeta Bush Camp. Predator populations on Ol Pejeta are significant with 40 lion, 20 cheetah, 30 leopard, and 60 spotted hyena in the conservancy. There are also chances of seeing some of the smaller predators including jackal, caracal, and bat-eared fox. Some of the lions on the Conservancy are collared as a means of monitoring their movements.
Ol Pejeta houses the largest black rhino sanctuary in East Africa. Ol Pejeta is home to 86 black rhinos after the single largest rhino translocation ever undertaken in East Africa. The translocation was a combined effort between Ol Pejeta, the Kenya Wildlife Service, and Lewa Wildlife Conservancy. The translocation helped to ensure that maximum breeding rates are achieved and adequate food resources maintained. Expansion of rhino into Ol Pejeta opened up 75,000 acres of prime rhino habitat.
Dinner and overnight at Ol Pejeta Bush Camp
Day 7
Offbeat Mara Camp
Maasai Mara National Reserve
Breakfast at Ol Pejeta Bush Camp. Your guide will drive you to the Nanyuki airstrip for a flight to Maasai Mara. Say goodbye to your guide at the airstrip. Your flight will take you over the Great Rift Valley and onto the Maasai Mara National Reserve offering wonderful volcanic scenery, rolling grasslands, and plenty of big game.
Bush Flight
Departs Nanyuki @ 10:00 am
Arrives Maisa Mara 11:00 am
Pick up at the Mara bush strip by Offbeat Mara staff for lunch and an afternoon game drive. At Offbeat Mara you will have the pleasure of working with the camp's private guides. Their guide staff is all born and bred local Maasai warriors from the surrounding communities who have completed guide school, most of whom hold credentialed rankings with the Kenya Professional Safari Guides Association.
The Maasai Mara is probably the most famous reserve in Kenya. Its breathtaking views became familiar worldwide when the film Out of Africa was released, as much of it was filmed in the Mara. It is perhaps the only region left in Africa where the super-abundance of animals that existed a century ago can be viewed.
Offbeat Mara gives you a wonderful mix of comfortable and luxurious accommodations, great food, as well as a tourism enterprise that is in true partnership with the local Maasai community. The camp is on tribal land, a bed night fee is paid over to the community for every night that you stay at the camp, plus community members trained to internationally compettive standards make you feel welcome and comfortable. Offbeat Mara allows you to mix a spectacular wildlife safari with amazing cultural interactions. You are welcomed into the local Maasai village as an esteemed guest.
Dinner and overnight at Offbeat Mara.
Day 8
Offbeat Mara Camp
Maasai Mara National Reserve
Breakfast at Offbeat Mara. The Maasai Mara is the northern section of the Serengeti. Serengeti means endless plain. This vast savannah grass land extends southward into Tanzania for over 5,000 square miles of land, forming one of the world's largest wildlife refuges. This is land as it was in the beginning: no fences, no settlements, just a perennial migration of wildlife. In a journey that dates back through time, these herds of animals (currently estimated at 1.25 million) follow the seasonal rains, traveling north into the Mara from Tanzania and instinctually moving with the seasonal rainfalls. They sometimes migrate as much as 300 miles a year. Wildlife is allowed to roam freely across the Kenyan and Tanzanian borders, uniting the two parks into a single ecological unit which supports the largest concentration of large mammals on the planet.
Offbeat Mara is in the Mara North Conservancy. The Mara North is incredibly rich in wildlife and has one of the lowest densities of tourist visitors in the greater Mara ecosystem. Funds paid into the community benefit the 800 individual Maasai landowners who hold title to the Mara North Conservancy land. Guests at Offbeat Mara can enjoy full day game drives as well as evening drives, bush breakfasts, picnics, cultural and village activites, and the famous Kenyan sundowners. If you are interested you can drive or walk into the local village to observe rural Maasai village life. Many of your guides and staff grew up in this community so you have the opportunity to see first hand the stories of growing up Maasai.
Dinner and overnight at Offbeat Mara.
Day 9
Offbeat Mara Camp
Maasai Mara National Reserve
Breakfast at Offbeat Mara. Full day of game viewing or cultural activities.
Staying in the Mara North Conservancy offers profound insights into
human/wildlife conflicts and allows you to observe first hand the great challenges facing the stability of the Serengeti migratory herds. In most other areas of Africa, major wildebeest herds have died out due to ever-expanding human populations which demand water resources as well as land for agriculture and domestic livestock. Humans' need for land at the edges of the Mara and their need for water resources threaten to reduce both the migration range and access to water resources. It is land available for grazing and access to water that determine the size of the Serengeti wildebeest population.
The Mara North landholders have clearly taken a stand in support of wildlife conservation. Community leaders believe that the long term future for the community is in tourism. The aim is to create a best practice, world-class conservancy with long-term commitments to the environment, wildlife, and local communities. The Maasai community in the Mara North implement sound land management policies including controlled grazing, holistic management practices, low volume and low impact tourism, and community land-use plans.
Dinner and overnight at Offbeat Mara.
Day 10
Transit to Nairobi
Breakfast at Offbeat Mara. Morning activities, as you choose, by lunch. Packing and preparing for your return trip. Offbeat Mara staff will take you to the airstrip for your flight.
Afternoon Bush Flight:
Departs Mara bush strip@ 16:00
Arrives Nairobi @ 17:15
Airport pickup with dinner at the Carnivore Restaurant. Transfer to Jomo Kenyatta Airport for your evening international flight.
Day 11
Travel Day
International Flight
More information from Deeper Africa: