Deeper Africa - vacations and travel
Tanzania with Kids Safari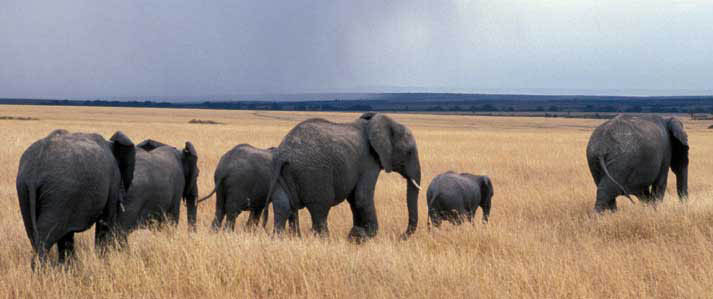 from $5,499* per person
13 Days
June-April
Comfort accommodations

Exertion level: 3

Operator:

Deeper Africa

8 people max
Kilimanjaro, tanzania
Culture & Nature trips
Of our two family safaris, this one is more rugged, offering a tented camp experience and a village visit. Visit Minjingu Village with the Mwangaza Children's Project. The village visit permits you to spend time with African children and families, not as a tourist but as guests and friends. For families interested in teaching children about the larger world, this is a special opportunity. The reception you receive will change your understanding about Africa.

Additionally, as with all our safaris, you will get in superb wildlife viewing. In the Serengeti, a chance to witness the last great mass migration in the world, with animals filling the plains as far as the eye can see. And lots of close-range wildlife observation, too. Game drives are by Land Cruiser for maximum convenience and safety. If you choose, you can also do a walking safari, a chance to get out of the Land Cruiser and see the land up close in a very safe area with an excellent guide.
Locations visited/nearby
Tanzania
Comments from Facebook
Special information
This is a custom departure, meaning this trip is offered on dates that you arrange privately with the provider. Additionally, you need to form your own private group for this trip. The itinerary and price here is just a sample. Contact the provider for detailed pricing, minimum group size, and scheduling information. For most providers, the larger the group you are traveling with, the lower the per-person cost will be.
Family oriented trip.
Itinerary
Day 1 Travel day International flight
Day 2 Mountain Village Lodge
Arusha
Pickup at Kilimanjaro Airport by Deeper Africa guide after clearing customs.
He will have a sign with your name on it. You guide will transport you to
Mountain Village Lodge for an evening dinner and overnight. You will have a
short briefing to review your safari itinerary.
Dinner and overnight at Mountain Village Lodge. Swimming pool available.
Day 3 Mountain Village Lodge
Arusha National Park
There is time today to adjust to the rhythms of life in Africa and life in the
natural world. Arise with the birds, or when you wish, and enjoy a nourishing
breakfast. Your guide is your familyís safari advisor. He will act as your
teacher, keep you safe and comfortable, and become a new Tanzanian friend to
your family.
Begin your wildlife viewing in Arusha National Park which contains both
savannah and forest ecosystems. Your game drive today can be as long as you
like. You set your wildlife viewing schedule with your guide to fit the pace that is
most comfortable for your family. Your guide will have a picnic lunch for you
so that you can stay out viewing wildlife over lunch. Arusha National Park is
rich in herd animals and interesting birds. You may even have sightings of the
rare colubus money in the forest ecosystem. Focus first on animal identification
and learning to distinguish herd species. While wildlife viewing, youíll have a
cool box in your Land Cruiser stocked with water and your favorite sodas.
Your next eleven days include in-depth opportunities to learn animal
identification, wildlife tracking, and spotting wildlife in the East African
landscape in the company of a Deeper Africa naturalist. Likewise, your Deeper
Africa guide will begin to introduce you to conservation issues including human
wildlife conflicts, poaching controls and conflicts, and community involvement
in wildlife conservation.
Dinner and overnight at Mountain Village Lodge. Even though your lodge is
well appointed and comfortable, note that it is built in traditional Tanzanian style
- with individual bomas (ďhomesteadsĒ) clustered together. Swimming pool
available.
Day 4 Oliverís Camp
Tarangire National Park
Breakfast at Mountain Village Lodge. Drive out after breakfast to Tarangire
National Park. Get ready to enter a wilderness full of elephants as you wildlife
view on your way to Oliverís Camp in the remote southeast section of Tarangire.
Youíll be the only visitors in this area of Tarangire, which makes it distinctly
different than wildlife viewing in the northern section of the park - where there
are several large lodges.
Tarangire is famous for elephants. It boasts one of the largest and most
conspicuous elephant populations in East Africa. There are large family groups
with many calves being born each year as the population continues to recover
from the devastating effects of poaching in the eighties. In your Land Cruiser,
youíll have the opportunity to get very close to some of the elephant families -
with observation of the young ones, the teenage males, and the older matriarchs.
Elephants live in close knit family groups and youíll be able to watch them as
long as you choose so you can learn as much as possible about their daily
activities. Enjoy watching the young ones play.
Oliverís Camp allows your family to experience real life in the bush with unique,
comfortable, and upscale accommodations. Your guide and our staff at
Oliverís Camp will welcome you into camp where you will find good food
prepared as your family prefers, and a special experience that your family will
remember long after you return home.
Dinner and overnight at Oliverís Camp.
Day 5 Oliverís Camp
Tarangire National Park
Breakfast at Oliverís Camp. Schedule your wildlife viewing today as you choose
with your guide. Now your learning opportunities shift to spotting and tracking
skills. While wildlife can never be scheduled, the marsh ecosystem along the
Tarangire River often attracts a variety of wildlife and many birds. Huge
numbers of zebras make up the majority of the herds in Tarangire. Wildebeests,
buffalos, and antelope are found in large numbers during the migration season in
this park.
Discuss with your guide whether or not your family wants to have an afternoon
or morning walking safari. Walking safaris are available for families with
children over 15 years old. Walking safaris are guided by experienced inresidence
walking guides. An armed ranger also accompanies the walks.
Animals are usually spotted on walking safaris, but the goal is to observe the
animalís undisturbed behavior, not to get as close as possible. Tracks and scat
identification are a fun part of any walking safari. You are very fortunate that the
area around Oliverís Camp is the only area permitted for walking in the entire
park. Welcome to this exclusive and rewarding family experience.
Your Land Cruiser is equipped with a set of reference books so that when you
identify a new animal, information and pictures are at your fingertips to
supplement your guideís insights. Your Land Cruiser also has a full set of maps.
During daily orientations your guide will use the maps to show you where youíre
going and where youíve been.
Dinner and overnight at Oliverís Camp.
Day 6 Tloma House Breakfast at Oliverís Camp. Today offers a unique opportunity to experience a
day of authentic Tanzania village life. Leave Oliverís Camp early and drive just
outside the park for your morning meeting with Paula Gremley of Mwangaza.
Step into real life in rural Tanzania as a guest of the village of Minjingu. The
children at Minjingu primary school have a special program planned for you
today. As well, youíll be able to visit traditional homes and the local womenís
group with Paula as your guide. Paula is from Chicago and has lived and worked
in this area of Tanzania for over ten years. She has the ability to interpret the
culture that will unfold around you and gain you entry into a world that few
tourists ever see - inside village homes and the local schools. Enjoy traditional
foods during lunch prepared for you by the Minjingu Womenís Group. Today is
a day that will change the way your children think about Africa and the
challenges that the children of Africa face.
At the end of the afternoon, travel to Tloma House for dinner and overnight.
Day 7 Serengeti Serena
Serengeti National Park
Breakfast at Tloma House and then head out for the drive to Serengeti National Park. Picnic lunch at Oldupai Gorge while you stop to visit the famous Leakey digs. The Rift Valley was home to the first humans and the Leakey family has successfully excavated some of the oldest humanoid skeletons ever discovered. Many people believe that Oldupai is the birth place of humanity. Youíll visit the onsite museum and hear a short lecture about the gorge from the resident anthropologist.
Once you enter the Serengeti you will begin wildlife viewing traveling the distance to your lodge. In the Maasai language, the word ĎSerengetií means endless plain. This vast savannah grassland extends northward into the Maasai Mara in Kenya for over five thousand square miles of land, forming one of the worldís largest wildlife refuges. This is land as it was in the beginning; no fences, no settlements, just a perennial migration of wildlife. In a journey that reaches back through time, these herds of animals (currently estimated at 1.25 million) follow the seasonal rains - traveling from the Serengeti into the Mara instinctually moving with the seasonal rainfalls, sometimes migrating as much as 300 miles a year. Wildlife is allowed to roam freely across the Kenyan and Tanzanian borders, uniting the two parks into a single ecological unit that supports the largest concentration of large mammals on the planet. Youíll arrive at Serengeti Serena near the end of the day.
Dinner and overnight at Serengeti Serena.
Day 8 Serengeti Serena
Serengeti National Park
Breakfast at Serengeti Serena. Your wildlife viewing schedule is set to your familyís needs each day with your guide with wildlife viewing available from 6 am to 6 pm. You can choose:
Morning wildlife viewing and afternoon wildlife viewing with lunch at the lodge;
All day wildlife viewing with picnic lunch; or
Wildlife viewing out before sunrise with return for brunch and afternoon wildlife viewing.
Your Deeper Africa learning program deepens each day with your guide making sure that each member of the family grows in their understanding of wildlife as well as learning animal identification, tracking skills, and spotting skills. This is individualized learning at a pace that is comfortable for your family. Your guide is your teacher, translator, tracker, and friend. For the children, it is an exciting opportunity to know someone from another country. Since we have only one guide for every four or five family members, youíll get to know each other well.
Amazing star watching at night including clear views of the Milky Way.
Breakfast, lunch, and dinner at Serengeti Serena.
Day 9 Serengeti Serena
Serengeti National Park
Breakfast at Serengeti Serena. Wildlife viewing as you choose with your guide. The annual migration is what makes the Serengeti famous. The herds gather on the Tanzanian side of the ecosystem from sometime in November or December through early July. The migration includes vast herds of wildebeest, but also zebra and Thomsonís gazelle. The herds steadily move southward through April or May when the seasonal rains cause them to turn and begin the journey back northward toward the Maasai Mara. Wildebeest are well suited to harvest the short grasses that cover the semiarid plains of the Serengeti. The soils of this region have an underlying hard pan covered by a fertile layer of volcanic soil. Grass growing in this soil is highly nutritious taking up nutrients trapped by the hard pan.
Unlike the migration herds, predators are territorial, remaining in their home territory all year long. Whether you are wildlife viewing in the Ndutu area or in the Seronera area there will be many opportunities for predator viewing. Wildlife populations double during the migration season, but that still means that resident wildlife populations are some of the most dense on the African continent and include substantial populations of plains game, including buffalo, giraffe, and warthog, as well as a wide range of antelope species, including dik dik, bushbuck, waterbuck, eland, impala, and topi.
Breakfast, lunch, and dinner at Serengeti Serena.
Day 10 Tloma House
Breakfast at Serengeti Serena. Pack up and begin the drive into the Ngoronogoro Conservation Area with your wildlife viewing continuing as you leave the Serengeti. Picnic lunch along the way. As you enter the Ngoronogoro Conservation Area you will begin to see Maasai enkangs (ďhomesteadsĒ). The Maasai enjoy special land use in the Conservation Area which allows them to live their traditional pastoral lifestyle, coexisting amongst the wildlife. There is substantial wildlife in the Conservation Area so your cultural views will be mixed with wildlife observation.
Note the changes in vegetation as you begin the climb up the slopes of the Ngorongoro Crater. The savannahs disappear into lush, more tropical vegetation, including vast coffee plantations. Ngoronogoro National Park begins on the Crater Rim and the vast exploded caldera is at the bottom of the Crater. Even though it is park land the Maasai are still allowed to graze their cattle in the Crater. You will often see young herders and their cattle moving in the morning and evening hours. The Crater is an expansive environment inside an extinct volcano. The view from the Crater Rim is spectacular so stop at one of the view points after you reach the Crater rim at 7,500 feet (2,286 meters).
Dinner and overnight at Tloma House.
Day 11 Tloma House
Breakfast at Tloma House followed by wildlife viewing in the Crater. The Crater floor is mostly grasslands, so wildlife visibility is excellent, providing a wonderful opportunity for photography. Zebra, wildebeest, and gazelle mingle together, while herds of buffalo graze the long grass areas. Bull elephants and rhino are often seen feeding in green marshes and there are plenty of hyena. Hippos lounge in the water holes and it is not uncommon to see lions.
Dinner and overnight at Tloma House.
Day 12 Mountain Village Lodge
Arusha Breakfast at the Tloma House. Begin your journey back to Arusha after breakfast. You will arrive in Arusha in the early afternoon for lunch at Mountain Village Lodge. Check in to a day room while shopping for craft items or sightseeing in Arusha town after lunch. Perhaps you would just like to relax, swim, shower, and pack for your international flight. Dinner at Mountain Village Lodge. Pick up for transport to your international flight at Kilimanjaro Airport.
Day 13 Travel day International flight
More information from Deeper Africa: