Deeper Africa - vacations and travel
Kenya with Kids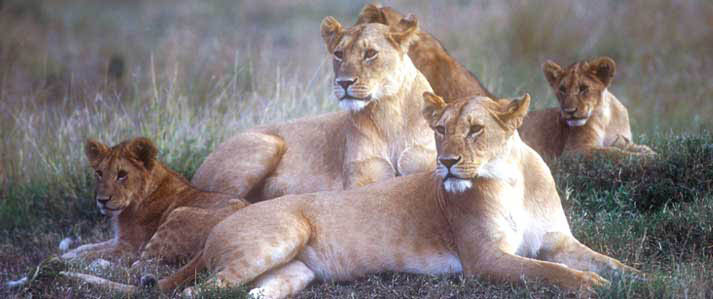 from $6,399* per person
13 Days
June-April
Comfort accommodations

Exertion level: 3

Operator:

Deeper Africa

8 people max
Nairobi, kenya
Culture & Nature trips
This family safari emphasizes activities and great wildlife viewing. It includes a walking safari, a night game drive, and a horseback excursion. The focus is wildlife, with many unique resources provided. If you take this trip in July, August, September, or October, you will be in the middle of the annual wildebeest migration into Kenya. Each year, tens of thousands of hoofed animals cross the Serengeti for the sweet oat grass of the Maasai Mara.

While on safari, you'll also visit Lewa Conservation Area. Lewa is a private Conservation Area which was previously owned by a Kenyan ranching family. The property includes the Ngare Sergoi Rhino Sanctuary, home to one of the largest rhino populations in Africa. Since rhinos are an endangered species, you'll be very lucky if you see them anywhere else. At Lewa you'll see rhino frequently.

You'll stay in traditional lodges - comfortable and familiar. You'll have one experience sleeping under canvas at Lewa Safari Camp. You'll experience a traditional tented safari while protected and safe.

Locations visited/nearby
Kenya
Comments from Facebook
Special information
This is a custom departure, meaning this trip is offered on dates that you arrange privately with the provider. Additionally, you need to form your own private group for this trip. The itinerary and price here is just a sample. Contact the provider for detailed pricing, minimum group size, and scheduling information. For most providers, the larger the group you are traveling with, the lower the per-person cost will be.
Family oriented trip.
Itinerary
Day 1 Travel Day International Travel.
Day 2
Fairview Hotel
Nairoibi
Pickup at Jomo Kenyattta International Airport by your Deeper Africa guide
after clearing customs. Your guide is a Kenyan parent and has lots of
experience with families on safari. He will have a sign with your name on it.
After making sure that all of your luggage is collected, he'll transport you to
Fairview Hotel where everyone can get a good night's sleep.
Dinner and overnight at the Fairview Hotel. Swimming pool available
Day 3
Samburu Intrepids Camp
Samburu, Shaba, and Buffalo
Springs Reserve
Breakfast at Fairview Hotel. Your guide will help you understand the
rhythm of life on safari - where you arise with the birds, or whenever you
choose. Start out after breakfast for safari country. Your journey northward
to Samburu, Shaba, and Buffalo Springs Reserve will take you through
traditional Kenyan farm lands and villages. Make sure you stop at the
equator while you travel north through Nanyuki and have your photos taken
at the equator sign. ("This sign is on the Equator.") There is an
entrepreneurial Kenyan at the equator sign who demonstrates the Coriolis
effect of the earth's rotation near the sign. In the northern hemisphere
water gurgles through a plug hole in an anticlockwise direction, whereas in
the southern hemisphere it flow's clockwise. The demonstration is free, but
a "certificate" comes for a fee.
Lunch is at Timau River Lodge at the base of Mount Kenya with views of its
twin peaks, Nelion and Batian. Your trout is caught fresh from the Timau
River which flows right past the lodge. After your drive from Nairobi, the
clear mountain air and the nearby waterfall feel refreshing.
You are headed toward a huge expanse of park land in north central Kenya
which includes the wilderness land of Shaba National Reserve, Samburu
National Reserve, and Buffalo Springs Reserve. Established just over 20
years ago in the arid lowlands to the north of Mount Kenya, these three
reserves stretch along the banks of the Ewaso Nyiro River. The river
attracts plentiful wildlife due to its permanent water supply and forest shade.
Of particular interest, besides the opportunities to see leopard, are certain
rare species well adapted to the drier climate in this part of Kenya. They
include: reticulated giraffe, beisa oryx, Grevy's Zebra, gerenuk, and Somali
Ostrich. Predators include most members of the cat family, and there is a
healthy elephant population which ranges throughout all of these reserves.
Dinner and overnight at Samburu Intrepids Camp.
Day 4
Samburu Intrepids
Samburu, Shaba, and Buffalo
Springs Reserve
Breakfast at Samburu Intrepids. Your next nine days will provide your
family with in-depth opportunities to learn animal identification, wildlife
tracking, and wildlife spotting in the East African landscape in the company
of your Deeper Africa guide. Your guide is your family safari advisor. He
will act as your teacher, keeping you safe and comfortable throughout your
safari. While wildlife viewing, you'll have a cool box in your Land Cruiser
stocked with water and your favorite sodas.
Your family's Natural Learning program unfolds at the pace the family
chooses with opportunities to learn animal identification, to distinguish herd
species, and to learn to spot and track wildlife. Your guide will be
particularly pleased to watch each member of your family develop an eye for
spotting wildlife in the distance and tracks on the ground.
Your wildlife viewing for today will be in Samburu National Park. You have
the flexibility to set your wildlife viewing schedule with your guide. Park
permits allow you wildlife viewing from 6:00 am until 6:00 pm. Consider
which of the following schedules best suits your family:
Morning and afternoon wildlife viewing with lunch at Intrepids Camp;
All day wildlife viewing with picnic lunch; or
Wildlife viewing out before sunrise with return for brunch and afternoon
wildlife viewing.
Samburu National Reserve offers shelter to 66 known elephant family
matriarchal groups and approximately 100 bulls, numbering 750 elephants in
total. Two thousand elephants undertake a seasonal migration from the
Laikipia plains northward into the rangelands of Samburu, Buffalo Springs,
and Shaba. Seven hundred and fifity of those elephants consider Samburu
their home range, with the remainder of the elephants spread out over the
other park lands. There are predator territories in Samburu so there are
ample opportunities to view lions and leopards.
Dinner and overnight at Samburu Intrepids.
Day 5
Lewa Downs Safari Camp
Lewa Downs Conservancy
Breakfast at Samburu Intrepids. Drive south to Lewa Safari Camp, have
your lunch, and get prepared for some of the best wildlife viewing in Africa.
Take a game drive for the afternoon and get acquainted with the
Conservancy Area. This afternoon your Deeper Africa guide will be ready
to continue your learning program and take you to a new level as you
observe and appreciate the more subtle scenes in the bush.
Lewa Downs has some unique species available for observation:
Grevy's Zebra
Rare Sitatunga Antelope
Rothschild's Giraffe
Black and White Rhino
The Conservancy area includes 62,000 acres. It supports over 20% of the
world's remaining Grevy's Zebra population and 10% of Kenya's black
rhino population. There are five extremely diverse ecosystems within the
Conservancy District including one of the three remaining habitats for
sitatunga antelope and ecosystems that support predator populations of lion,
leopard, hyena, and wild dogs. There are 70 mammal species residing in
Lewa Downs, with over 350 species of birds.
Enjoy sundowners ("drinks at sundown"), dinner and overnight at Lewa
Downs Safari Camp. Swimming pool available.
Day 6
Lewa Downs Safari Camp
Lewa Downs Conservancy
Breakfast at Lewa Downs Safari Camp. Lewa Downs Conservancy is not a
National Park, and land use of the Conservancy Trust allows you to have
some unique experiences not available in other places in East Africa. You
can participate in the following activities:
Safari game drives whenever you choose,
Night game drive,
Horseback ride, and
Walking safaris.
You set your personal safari schedule with your guide. Picnic lunches
available, as you choose.
Game is plentiful in the Lewa Downs Conservation Area and there is
potential to see elephants, giraffes, lions, lots of herd animals, and rhino.
The Craigs, an old British-Kenyan family, manage the Lewa Downs
Conservancy Area under a Trust with the Kenyan government: the Lewa
Wildlife Conservancy. Lewa Downs contains the Ngare Sergoi Rhino
Sanctuary. It holds the largest breeding rhino population on the African
continent. The rhino sanctuary was originally stocked with animals from
other reserves and with isolated rhinos from northern Kenya. The breeding
program has been one of the most successful programs in all of Africa and
rhino from Lewa Downs are beginning to be relocated into other Kenyan
reserves and parks. We'll make arrangements for you to visit the rhino
nursery to see any new calves.
Lewa employs 330 full time Kenyan employees, many from the local tribal
areas bordering the Conservancy District. The Conservancy operates a
health facility and mobile clinic that are open to local communities. It
manages a micro-enterprise lending program for local women. Likewise, it
supports eight local primary schools with infrastructure support, educational
materials, lunch programs, and scholarships. All profits generated by your
visit to Lewa are reinvested in the Conservancy's environmental, social,
educational, or health programs.
Sundowners, dinner, and overnight at Lewa Downs Safari Camp.
Day 7
Mbweha Lodge
Nakuru National Park
Breakfast at Lewa Downs Safari Camp. Continue driving south toward Lake Nakuru National Park. Nakuru is a small, beautiful park with ecosystems that include an acacia forest, woodlands, and a famous soda lake that draws flocks of greater and lesser flamingos and over 4oo species of birds, including many white pelicans. Up to four million flamingoes roam the Rift Valley lakes in great flocks throughout the year, searching for the best feeding and bathing conditions. On some days a substantial number of these flamingoes settle on Lake Nakuru producing an intriguing harmony of sights and sounds. Nakuru is full of wildlife and you have the opportunity for sightings of giraffe, rhino, buffalo, zebra, and many antelope species including waterbuck, eland, reedbuck, dik dik, impala, as well as Thomson and Grant gazelles. There is also an abundance of warthogs.
Dinner and overnight at Mbweha Lodge. Swimming pool available.
Day 8
Mbweha Lodge
Nakuru National Park
Breakfast at Mbweha Lodge. Set your wildlife viewing schedule with your guide. In the 1990's a number of species were introduced into this park by Kenyan Wildlife Service (KWS). Both black rhino and white rhino were relocated into the park and their populations continue to grow steadily. The Rothschild's giraffe herd now numbers between 60 and 70 members. With only a small population of lions and leopards to check population growth, the antelope populations are large and well habituated. There are no elephants in Nakuru.
Historically, Nakuru was a remote wildlife park, but development and urban sprawl have brought many people to this remote area. Human and wildlife conflicts were a constant problem. As a solution, Kenya Wildlife Service built an electric fence around this small park. Security costs per year for this rhino sanctuary top $7,500(US) per rhino. The fence solved the conflict problems and it allows you the opportunity for viewing substantial populations of wildlife in this small geographic area.
Your Land Cruiser is equipped with a set of reference books so that when you identify a new animal, information and pictures are at your fingertips to supplement your guide's insights. Your Land Cruiser also has a full set of maps. During daily orientations your guide will use the maps to show you where you're going and where you've been.
Dinner and overnight at Mbweha Lodge.
Day 9
Mara Sarova Camp
Maasai Mara Game Reserve
Breakfast at Mbweha Lodge. Morning drive westward into the Maasai Narok District. As you drive westward you will see the landscape change to drier savannah grasslands and begin to note many herds of cattle tented by local Maasai herdsmen. Today is a longer drive with a picnic lunch along the way. You'll begin your wildlife viewing as soon as you enter the Mara, traveling the distance to Mara Sarova, and arriving at your lodge in the late afternoon for sundowners and a luscious dinner.
The Maasai Mara is the northern section of the Serengeti ecosystem. This vast savannah grassland extends south for over five thousand square miles into Tanzania, forming one of the world's largest wildlife refuges. This land is as it was in the beginning: no fences, no settlements, just a perennial migration of wildlife. In a journey that reaches back through time, these herds of animals (currently estimated at 1.25 million) follow the seasonal rains traveling from the Serengeti into the Mara instinctually moving with the seasonal rainfalls, sometimes migrating as much as 300 miles a year. Wildlife is allowed to roam freely across the Kenyan and Tanzanian borders, uniting the two parks into a single ecological unit that supports the largest concentration of large mammals on the planet.
You'll have daily wildlife viewing available from 6:00 am to 6:00 pm with the flexibility to schedule each day as you choose with your guide. Wide arrays of habitats are represented in the Mara, each with a unique complement of flora and fauna. The variety of ecosystems makes the Mara a superb place to hone your tracking and spotting skills - allowing you continued opportunities to increase your wildlife knowledge. Acacia woodlands attract giraffes, while hippos occupy the deeper river pools. The eastern and western Mara, as well as the Mara River are accessible to you by Land Cruiser.
Dinner and overnight at Mara Sarova Camp. Swimming pool available.
Day 10
Mara Sarova Camp
Maasai Mara Game Reserve
Breakfast at Mara Sarova Camp. Mara Sarova is located in a large wedge of rolling savannah between the Talek and Ntiakitak Rivers. The rivers make it difficult to gain access from the west, hence more private wilderness and wildlife for you. The resident lion pride in the area is known as the Ol Kiombo pride, and they are very active. You will have a good chance of sightings. Dusk and dawn are particularly good times for lion hunting. Darkness favors the nocturnal eyes of the predators and the advantages to grouping with other animals in a herd diminishes. Wildlife viewing as you schedule with your guide.
The annual migration is what makes the Mara famous. The herds gather in the hundreds of thousands on the plains of the Mara during July, August, September, October, and into November. The herds are drawn into the northern Serengeti region by areas of greater rainfall because the grasses grow taller and stay greener longer. The migration includes vast herds of wildebeest, but also zebra and Thomson's gazelle. Those herds remain in the Mara for up to four months - chomping and trampling the grass, grunting, and stampeding across the Mara River in search of fresh grass for grazing. The onset of the "short rains" sometime in November or early December sends the herds south into the Serengeti for fresh grass. Wildebeest are well-suited to harvest the short grasses that cover the semiarid plains of the Serengeti. The soils of this region have an underlying hardpan covered by a fertile layer of volcanic soil. Grass growing in this soil is highly nutritious taking up nutrients trapped by the hard pan.
It is the superabundance of prey that accounts for the Mara's big predator populations. At last count there were 22 lion prides in the Mara. Females within a lion pride are related to each other. Daughters, mothers, grandmothers, aunts, and nieces live together for up to 15 years - the typical lifespan of a lioness. Males are forced to leave the pride at between two to three years of age. When not attached to a pride, lions are nomadic, occasionally banding together with other male cousins or brothers. The majority of prides in the Mara have two or three adult males, but the males-in-power can form larger alliances. Nomadic males are a constant territorial threat to the pride males.
Ask your guide about the better pride viewing opportunities for your safari season. He will consider taking you near Musiara Marsh, near the Governors Camp area of the Mara, which is prime territory for the Marsh lion pride. Other pride territories are near Rhino Ridge, near Paradise Plain, and near Kichwa Tembo. Each of these pride territories vary in size. The controlling factors tend to be habitat and the availability of food. Some Mara prides can do quite well with small amounts of territory, while other prides require substantially larger amounts of ground. While pride members defend their territories they can never keep an exclusive lock on all of their territory. Overlaps at the edges of the territories find young nomadic males creating confrontations whenever possible. During migration season, the lions prosper with sufficient food to feed all of the pride members. But once the herds migrate south into Tanzania, the resident wildlife becomes the prime target; and territory and hunting skills become the means of survival.
Dinner and overnight at Mara Sarova Camp.
Day 11
Mara Sarova Camp
Breakfast at Mara Sarova Camp. Wildlife viewing as you choose with your guide.
The Mara savannahs with their open country and grasslands support a healthy cheetah population. Cheetahs face increasing pressure from humans and land encroachment - with between 9,000 and 12,000 left in the world. You'll be scouting for cheetah in one of the two remaining cheetah strongholds in the world: the Mara/Serengeti ecosystem. (The other significant cheetah population is in Namibia and Botswana.)
The Mara cheetah population is threatened by a lack of genetic variation, making them susceptible to disease and decreasing reproduction. Still, there have been a number of cub births in the Mara cheetah population over the past five years. Cheetahs live alone or in small groups, not in prides. The famous BBC documentary "Big Cats Diary" has filmed quite a number of Mara cheetah mothers with their cubs in the past few seasons. Look carefully around the termite mounds as they are popular hiding places for the Mara cheetahs.
Dinner and overnight at Mara Sarova Camp.
Day 12
Ole Sereni
Day Room
Nairobi
Breakfast at Mara Sarova Camp. Drive out after breakfast for the return drive to Nairobi with picnic lunch. Arrive in Nairobi in the afternoon with check in at Ole Sereni for day room for packing, showering, and relaxing. Dinner at Ole Sereni or other Nairobi restaurant, as arranged.
Evening transport to your international flight at Jomo Kenyatta International Airport.
Day 13 Travel Day
International Travel.
More information from Deeper Africa: