Deeper Africa - vacations and travel
Gems of Tanzania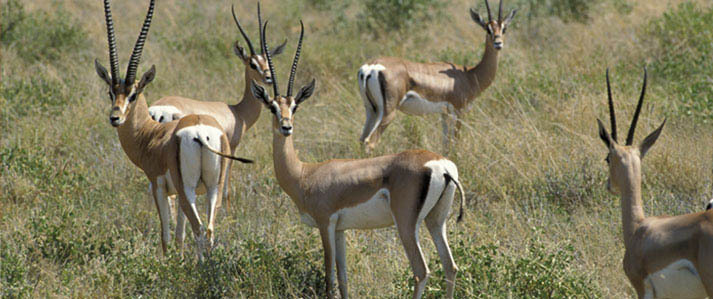 from $5,299* per person
12 Days
June-April
Comfort accommodations

Exertion level: 3

Operator:

Deeper Africa

8 people max
Kilimanjaro, tanzania
Culture & Nature trips
This Land Cruiser safari allows you to get up close and personal with Africa's best game while enjoying classic lodge accommodations with great food, African décor, and comfortable beds. You'll wildlife view in the best parks of Tanzania's Northern Circuit with one of our highly skilled naturalists and a private Land Cruiser.

Our experience with the Northern Circuit of Tanzania allows us to select great wildlife viewing locations and team them with simple, good value accommodations. You enjoy the best of Tanzania while watching your budget. Gems of Tanzania is a great value.
Locations visited/nearby
Tanzania
Comments from Facebook
Itinerary
Day 1 Travel day International flight
Day 2 Karama Lodge
Arusha
Pickup at Kilimanjaro Airport by Deeper Africa guide after clearing customs. He
will have a sign with your name on it. Your guide will transport you to the
comfortable and stylish Karama Lodge for an evening meal and overnight.
You'll have a short briefing to review your safari itinerary.
Dinner and overnight at Karama Lodge.
Day 3 Maramboi Tented Camp
Tarangire National Park
Breakfast at Karama Lodge. Drive out after breakfast for Tarangire National
Park, arriving at the park before lunch. Check in at Maramboi Tented Camp with
lunch. Full afternoon for wildlife viewing in Tarangire. Your next nine days
include in-depth opportunities to learn animal identification, wildlife tracking, and
spotting wildlife in the landscape in the company of a Deeper Africa naturalist. As
well, your Deeper Africa guide will begin to introduce you to East Africa
conservation issues including: human wildlife conflicts, poaching conflicts and
controls, as well as community involvement in wildlife conservation.
Tarangire is famous for elephants. It boasts one of the largest and most
conspicuous elephant populations in Africa. There are large family groups with
many calves being born each year as the population has shown remarkable
recovery from the devastating effects of poaching in the eighties. You will see
herds of elephants, and gain up-close contacts with matriarchs, babies, teenagers,
and bulls. Your close contact will help you in your understanding of these
incredible animals. Spend several hours surrounded by the herds, and you cannot
help but feel their wisdom. While wildlife viewing you'll have a cool box in your
Land Cruiser stocked with water and your favorite sodas.
Dinner and overnight at Maramboi Tented Camp.
Day 4 Maramboi Tented Camp
Tarangire National Park
Breakfast at Maramboi Tented Camp. Full day of wildlife viewing as scheduled
with your guide. Plan your day with your guide, but consider getting a picnic lunch
from the lodge and spending a full day out in the park.
Tarangire contains a range of ecosystems: from grassland and woodlands in the
north, to scrub and wetlands further south. The Tarangire River cuts through the
park and empties into Lake Burunge in the west. As water sources dry up in the
park after the end of the rainy season, animals migrate to the only permanent water
available - the Tarangire River and the Silale Swamp system. Huge numbers of
zebras make up the majority of the herds in Tarangire. Wildebeests, buffalos, and
antelope are found as well.
Dinner and overnight at Maramboi Tented Camp.
Day 5 Kirurumu Tented Camp
Lake Manyara National Park
Breakfast at Maramboi Tented Camp and then head out for the drive to Lake
Manyara National Park. Setting against the Rift escarpment is Manyara's evergreen
groundwater forest. While it looks like a rainforest, not enough rainfall occurs to
sustain this forest. Rather, mineral springs seeping through porous volcanic soil
provide most of the water for the huge mahogany, tamarind, wild date palms,
croton, sausage trees, and strangling figs. In additional to the evergreen
groundwater forest, the park also contains a variety of ecosystems including acacia
woodland, grassy plains, a swampy fan delta, and, of course, the lake. This variety
attracts a wide variety of mammal, bird, and wildlife species. Flocks of flamingos
are attracted to the large amounts of algae in the lake's soda environment while the
forest areas attract large flocks of pelicans, storks, herons, ibis, and egrets. Bird
watching is spectacular at Manyara, with over 380 bird species recorded. As well,
the primate viewing which includes blue monkeys, vervet monkeys, and very active
baboon troops is quite enjoyable.
Elephant, buffalo, impala, bushbuck, waterbuck, hippos, and lots of elephants
roam near the lake. There are sightings of klipspringers on the rocky escarpments
on the southern side of the rift wall.
Arrive at Kirurumu Camp in the afternoon for dinner and overnight.
Day 6 Dunia Camp
Serengeti National Park
Breakfast at Kirurumu Tented Camp. Head out after breakfast for the drive to
Serengeti National Park. Picnic lunch at Oldupai Gorge while you stop to visit the
famous Leakey digs. The Rift Valley was home to the first humans, and the
Leakey family has successfully excavated some of the oldest humanoid skeletons
ever discovered. Many people believe that Oldupai is the birth place of humanity.
You'll visit the onsite museum and hear a short lecture about the gorge from the
resident anthropologist. Picnic lunch once at Oldupai Gorge.
Once you enter the Serengeti you will begin wildlife viewing traveling the distance
to Dunia Camp. The word 'Serengeti' is derived from the Maasai language,
meaning endless plain. This vast savannah grass land extends northward into the
Maasai Mara in Kenya for over five thousand square miles of land, forming one of
the world's largest wildlife refuges. This is land as it was in the beginning: no
fences, no settlements, just a perennial migration of wildlife. In a journey that
reaches back through time, these herds of animals follow the seasonal rains,
traveling from the Serengeti into the Mara instinctually moving with the seasonal
rainfalls.
The annual migration is what makes the Serengeti famous. The herds gather on
the Tanzanian side of the ecosystem from sometime in November or December
through early July. The migration includes vast herds of wildebeest, but also zebra
and Thomson's gazelle. The herds steadily move southward through April or May
when the seasonal rains cause them to turn and begin the journey back northward
toward the Maasai Mara. Wildebeest are well suited to harvest the short grasses
that cover the semiarid plans of the Serengeti. The soils of this region have an
underlying hard pan covered by a fertile layer of volcanic soil. Grass growing in
this soil is highly nutritious taking up nutrients trapped by the hard pan.
Arrive at our Dunia Camp in the afternoon for Sundowners ("drinks at
sundown"), a luscious dinner, and overnight.
Day 7 Dunia Camp
Serengeti National Park
Set your wildlife viewing schedule as you choose with your guide. Park permits
allow you wildlife viewing from 6 am to 6 pm. Choices for wildlife viewing
include:
Morning and afternoon wildlife viewing with lunch at Dunia Camp;
All day wildlife viewing with picnic lunch; or
Wildlife viewing out before sunrise with return for brunch and afternoon wildlife
viewing.
In addition to the migration herds there are large numbers of resident game in
several different areas of the Serengeti.
Breakfast, lunch, and dinner at your tented camp.
Day 8 Dunia Camp
Serengeti National Park
Full day of wildlife viewing as scheduled with your guide. Unlike the migration
herds, predators are territorial, remaining in their home territory all year long.
Wildlife populations double during the migration season, but that still means that
resident wildlife populations are some of the densest on the African continent.
They include substantial populations of plain's game including buffalo, giraffe, and
warthog; as well as a wide range of antelope species including dik dik, bushbuck,
waterbuck, eland, impala, and topi.
Breakfast, lunch, and dinner at your tented camp.
Day 9 Ngorongoro Farm House
Ngorongoro Conservation Area
Breakfast at camp. Pack up and begin the drive into the Ngorongoro
Conservation Area with your wildlife viewing continuing as you leave the
Serengeti. Picnic lunch along the way. As you enter the Ngorongoro
Conservation Area you will begin to see Maasai enkangs ("homesteads"). The
Maasai enjoy special land use in the Conservation Area which allows them to live
their traditional pastoral lifestyle, coexisting amongst the wildlife. There is
substantial wildlife in the Conservation Area so your cultural views will be mixed
with wildlife observation.
Note the changes in vegetation as you begin the climb up the slopes of the
Ngorongoro Crater. The savannahs disappear into lush, more tropical vegetation,
including vast coffee plantations. Ngorongoro National Park begins on the Crater
Rim and the vast exploded caldera is at the bottom of the Crater. Even though it
is parkland the Maasai are still allowed to graze their cattle in the Crater. You will
often see young herders and their cattle moving in the morning and evening hours.
The Crater is an expansive environment inside an extinct volcano. The view from
the Crater Rim is spectacular so stop at one of the view points after you reach the
Crater rim at 7,500 feet (2286 meters).
Dinner and overnight at Ngorongoro Farm House.
Day 10 Ngorongoro Farm House
Ngorongoro Conservation Area
Breakfast at Ngorongoro Farm House followed by wildlife viewing in the Crater.
The Crater floor is mostly grasslands, so wildlife visibility is excellent, providing a
wonderful opportunity for photography. Zebra, wildebeest, and gazelle mingle
together, while herds of buffalo graze the long grass areas. Bull elephants and
rhino are often seen feeding in green marshes, and there are plenty of hyenas.
Hippos lounge in the water holes and it is not uncommon to see lions. Park
permits allow you six hours in the Crater for game viewing, either in the morning
or afternoon.
Afternoon for relaxing at Ngorongoro Farm House.
Dinner and overnight at the Ngorongoro Farm House.
Day 11 Kia Lodge
Near Kilimanjaro Airport
Breakfast at the Ngorongoro Farm House. Begin your journey back to Arusha
after breakfast. You will arrive in Arusha in the early afternoon for lunch at the
Shanga River House. Learn more about the great work being done by Shanga project at www.shanga.org. Shopping for craft items or sightseeing in Arusha town
after lunch.
Check in for a day room at Kia Lodge by mid-afternoon. The afternoon is for
packing, showering, and relaxing. Early dinner at Kia Lodge. Pickup for transport
to your international flight at Kilimanjaro Airport.
Day 12 Travel day International flight
More information from Deeper Africa: