Deeper Africa - vacations and travel
Gorillas of Parc' Nationales des Volcans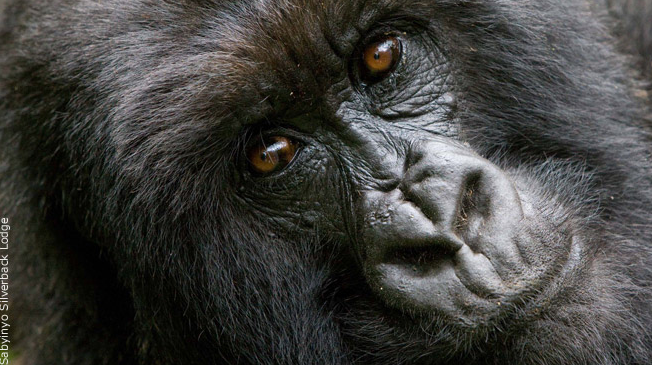 from $3,899* per person
4 Days
Year-round
Comfort accommodations

Exertion level: 5

Operator:

Deeper Africa

8 people max
Kigali, rwanda
Culture & Nature trips
Track gorillas in the famous "Gorillas in the Mist" Parc' Nationales des Volcans forest. Home to five habituated gorilla families, you will approach a different family group on two separate observation days. Close range viewing allows you a glimpse into individual personalities and group dynamics. You will watch the stately silverback, the playful young, and the grooming females.

Local trackers locate the gorilla family you'll be observing beforehand, so that you can move directly to the family as they roam through the lush slopes of bamboo forest. Accommodations at the lovely Gorilla Mountain View Lodge, or choose to upgrade to the upscale Sabyinyo Silverback Lodge.

Locations visited/nearby
Rwanda
Comments from Facebook
Special information
This is a custom departure, meaning this trip is offered on dates that you arrange privately with the provider. Additionally, you need to form your own private group for this trip. The itinerary and price here is just a sample. Contact the provider for detailed pricing, minimum group size, and scheduling information. For most providers, the larger the group you are traveling with, the lower the per-person cost will be.
Itinerary
Day 1
Mountain Gorilla View Lodge
Parc National des Volcans
Arrive in Kigali International Airport. Pickup by Deeper Africa guide after clearing customs. Your Deeper Africa guide will have a sign that has your name on it.
Set out for Kinigi as you move into Rwanda's Virunga Mountain Range. Parc National des Volcans takes its name from a string of free-standing volcanoes that stretch across the Rwanda section of the Virunga Mountains. This area was part of the first national park in Africa, created in 1925. You'll arrive in the late afternoon with time to get unpacked and prepared for your next two days of gorilla viewing.
The park boundaries and this "Land of a Thousand Hills" include six of the Virunga Volcanoes. Parc National is the area where Diane Fossey did her ground breaking gorilla research. She is buried at Karisoke, in the saddle between Bisoke and Karisimbi Volcanoes. The film "Gorillas in the Mist" was filmed in Parc National des Volcans.
Dinner and overnight at the Mountain Gorilla View Lodge
Day 2
Mountain Gorilla View Lodge
Parc National des Volcans
Breakfast at the Mountain Gorilla View Lodge. After breakfast you'll meet up with your Rwandan Park rangers from the Office Rwandaise du Tourisme et des Parcs Nationaux (ORTPN). You'll attend an introductory session at the park headquarters to learn about forest and gorilla trekking etiquette. ORTPN guides will be taking you into the rain forest and there will be guides in your party who work daily with the gorillas in Parc National. You'll hike to the point where the gorillas were seen the day before and track from that point. Trekking can range from 1 to 5 hours as you move into the gorilla's home range. The park service employs about 80 people as guides, trackers, and anti-poaching officers and they speak both English and French. Trek and climb through the shady bamboo forests on the lush forested slopes that are home to five habituated gorilla groups. Picnic lunch while you are in the park.
• No more than eight guests are allowed to view each of the three habituated gorilla families at any one time.
• You should maintain a distance of at least 7 meters from the gorillas. Do not touch the gorillas or try to make contact. The gorillas will break the rules occasionally. In such cases, don't increase the distance between you and them, but drop back as soon as you can without disturbing them.
• Do not use flash cameras.
• Do not eat or smoke.
• Do not do anything that may cause the gorillas stress or exhibit any behavior that they may see as a challenge. Respect their space, speak very quietly, and avoid unnecessary movement.
• Keep in a small group and never surround the gorillas.
• Leave nothing behind but footprints.
You'll return in the afternoon to Gorilla Mountain View Lodge for some relaxing. Afternoon activities at Gorilla Mountain View Lodge can include:
Relaxing at the lodge;
Driving trip into the local market town of Ruhingiri; and
Walks into the surrounding community areas.
Dinner and overnight at Mountain Gorilla View Lodge.
Day 3
Manor Hotel
Kigali
Breakfast at Mountain Gorilla View Lodge. Meet up with your Rwandan guide and trackers in the morning for your next day of gorilla viewing. Today you will track a different gorilla family, hoping to find them munching bamboo in the forest. Recent DNA research has shown that there are sufficient genetic differences between the Virunga and Bwindi Forest gorillas in Uganda to suggest that the populations breed in isolation, even though mid-altitude forests linked the two mountain ranges until 500 years ago. Picnic lunch while trekking.
Late afternoon departure from Parc National for return to Kigali.
Dinner and overnight at Manor Hotel.
Day 4 Transit through Kigali
Breakfast at Manor Hotel. If your international connections permit, you can stop at the Gisozi Genocide Museum built with funds from the Belgium, Swedish, and US based Clinton Foundation.
Transport to the Kigali International Airport.
More information from Deeper Africa: