Globe Aware - vacations and travel
Thailand volunteer vacations, voluntourism, environmental work and working vacations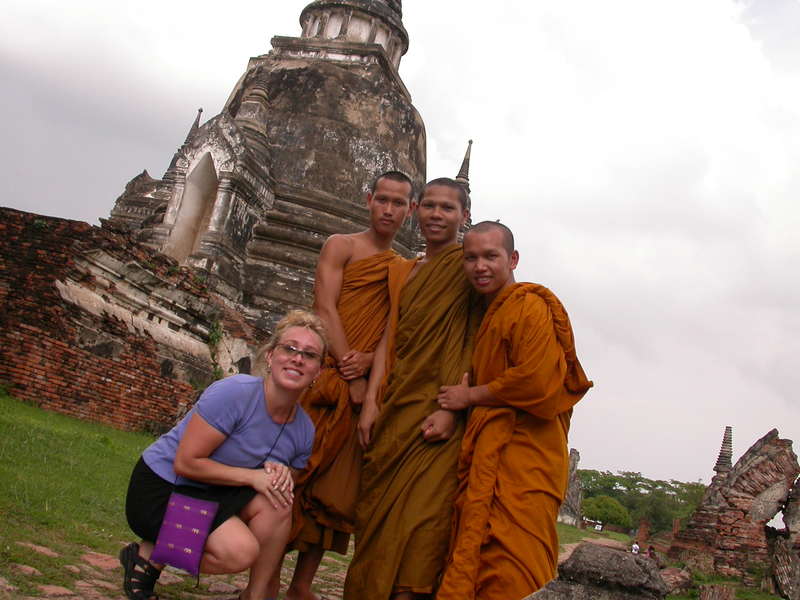 from $1,190* per person
8 Days
August-December
Basic accommodations

Exertion level: 3

Operator:

Globe Aware

10 people max
Bangkok airport bangkok thailand
Volunteer Vacations trips
A rare opportunity to live and breathe the beauty of Thailand beyond the mass media stereotype. Take a volunteer vacation and see and participate in how Thais really live and help to preserve Thailand's native elephant habitat. You will find yourself in one the most unique environments, working to build an ecologically sustainable reforested habitat to give elephants a home. With a volunteer vacation, you cab be a part of the solution and help change the fate of elephants in Thailand by creating ways for the people of Surin Province to promote sustainable elephant eco-tourism, preserve their natural habitat and provide an alternative to the current use of elephants as revenue in circuses and street begging operations.
Locations visited/nearby
volunteer vacation , Thailand , Global Volunteers , Habitat for HUmanity , Earthwatch , Red Cross , service vacations , volunteers, Thailand, Southeast Asia
Comments from Facebook
Itinerary
Work Project
Save the Asian elephant from extinction and give captive elephants a life worth living! This volunteer vacation program is geared toward the nature loving volunteer explorer and the majority of program projects involve work with locals of the Surin province to preserve the native Elephant habitat and includes working on such projects as planting food crops, such as bamboo and native grasses, and also the construction of shade shelters for these elephants. The work schedule varies from week to week depending on what needs to be done. The volunteers have built enclosures and platform, sun shelters for the elephants, make composts from elephant dung and cut elephant food. Volunteers plant elephant food and cut it; this process is a big part of the project. It really insight on what the life of a mahout is like because an elephant eats 500-600 lbs of food every day! In this province, where not much grows naturally, it is a fulltime job for the mahouts to find food for the elephants. They have to get up in the middle of the night to feed their elephants. Every night! Volunteers feed the elephants fruit, sugarcane and grass. They cut the sugarcane and grass and feed this to them as well. They bathe them and go for long walks down to the river with them. When elephant food is planted, the elephants are right there with the volunteers. There is also a night when the volunteers camp out, if they chose, by the river with the elephants. Most of the volunteers time is spent directly with the elephants.
The program is most appropriate for those over 18, though 16 to 18 year olds are admitted only with a parent or guardian participating as well. The work can be demanding and the climate is hot, so volunteers should be reasonably confident about their overall fitness level.
There are more than 300 elephants registered in the Surin Province and the majority of these are trapped in the unfortunate trade of street begging and circus shows. These activities reduce an elephant's life expectancy by at least 50% as elephants needs hundreds of kilos of fresh vegetables and water daily. Essentially, volunteers will be working at Thailand's only "elephant refugee camp".
Food and Lodging
Due to the nature of this special volunteer opportunity, this program runs from Monday to the following Sunday, unless volunteers arrange to add an additional week ahead of time. A Globe Aware staff member will meet you at Bangkok's Northern Bus Station (Mo Chit) at a specified pick up time. From there you will travel via bus (bus has a/c and is very comfortable, and takes 4 hours if no re-routing due to weather conditions) to reach the project location in Surin Province. Volunteers traveling from Chang Mai have a 7-8 hour bus ride). Volunteers are housed in pairs in newly constructed wooden house homestays in the project location. Each room has a mosquito net and fan. Western style bathrooms, though with bucket style showers, are available, as well as a laundry facility. Flavorful traditional Thai style meals are cooked fresh, with your help, throughout the day. Abundant, safe drinking water is always available in each home and throughout your working vacation.
Leisure Activities
This volunteer experience offers a truly immersive cultural experience. Life moves at a delightful, slower pace in the Thai community. The program begins with a traditional Thai welcoming ceremony led by a village Shaman, an event the average tourist would never experience. Every week there is a local evening market to attend, giving volunteers an opportunity to participate in life, Thai style and opportunities to spend time gaining knowledge with the village elders, which is a highlight of the trip. Cooking lessons with locals is also offered.
More information from Globe Aware: