Thomson Safaris - vacations and travel
Tanzania Family Safari
"Your guides are so great with kids; they have endless patience and seem to really enjoy them. "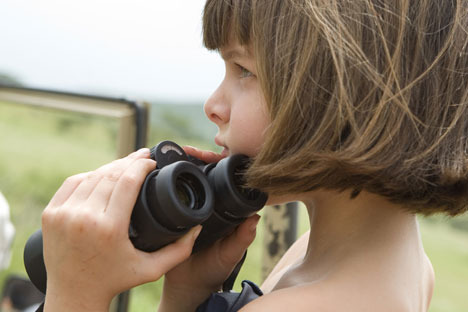 from $6,190* per person
13 Days
March, June-August, December
Boutique accommodations

Exertion level: 2

Operator:

Thomson Safaris

16 people max
Arusha airport, arusha, tanzania
Family & Friends trips
The best of everything: wildlife, exclusive camps, walking, cultural interactions, and creature comforts for families

Locations visited/nearby
Tanzania, Africa
2 testimonials about this trip
Reviewer:

P Robbins

located in

Elkton

,

MD

USA

Your guides are so great with kids; they have endless patience and seem to really enjoy them.

5

Reviewer:

T Lynch

located in

Seattle

,

WA

USA

It was apparent that Thomson has corner the market on dedicated family safaris. You could tell just by looking that other families we ran into were not having as much fun as our lot were. I don't know if it was the cookies in the back of the Land Rover or just the presence of other kids, but all the kids on our outing has a splendid time.

5
3 testimonials about the provider, Thomson Safaris:
Reviewer:

L Mullens

located in

Kihei

,

HI

USA

The Thomson Safari team is amazing. While lodging, food and the wildlife define safari, it is the people who make it memorable. From the porters, chefs, waiters, and guards to your PHENOMENAL guides, Thomson really has succeeded at creating an inspirational and life-transforming experience. You have given me memories and inspiration to fuel a life of true adventure!

5

Reviewer:

D Bleckner

located in

Kirkland

,

WA

USA

We could go on to enumerate all the superlatives about your operations in Tanzania: the accommodations, the food, the camp crews, the vehicles, the excursions & activities in between animal viewing, the schedule..... you've got it figured out perfectly. But we can't say enough about your guides and your team in Arusha that make sure every detail is taken care of so that we get the most out of our visit and safari experience. I can't imagine having made this trip without them.

5

Reviewer:

R Kuphal

located in

Norfolk

,

MA

USA

Nothing got us ready for the Thomson Safari way of doing things. First class all the way. From our accommodations, to food, to our transportation in the new and top shelf Land Rovers. The Nyumbas are splendid. I slept like a baby every night!

5
Comments from Facebook
Itinerary
Day 1-2
Depart U.S. / Arrive Arusha
Connect in Amsterdam with your flight to Kilimanjaro Airport, arriving late evening. You will be met by Thomson Safaris staff and transferred to your lodge. We can arrange your international flights, please call for competitive pricing and availability.
Overnight: Arusha Lodge
Day 3
Arusha National Park
Just outside of Arusha city, Arusha National Park is a special gem, offering lush mountain forests that are home to colobus monkey and 575 bird species. Here, you will head to the foothills and follow a gentle uphill trail to the Tulutuluisia Waterfall where you will have beautiful views of the park's diverse landscapes.
Wildlife viewing and waterfall walk at Arusha National Park
Overnight: Arusha Lodge
Day 4
Tarangire National Park
Make your way to Tarangire National Park, Tanzania's fourth largest, offering diverse scenery including dramatic baobab trees. In the evening, enjoy the campfire at your Nyumba with millions of stars overhead.
Wildlife viewing in Tarangire National Park
Overnight: Thomson Tarangire Nyumba
Day 5
Tarangire National Park
Enjoy a full day exploring Tarangire National Park, one of the best places to view elephant herds. Keep your eyes peeled near Tarangire's riverbanks looking for lion, leopard, giraffe, gerenuk, reedbuck, and even the rare fringe-eared oryx. The kids will enjoy cooling off at a swimming pool during the lunch break.
Wildlife viewing in Tarangire National Park
Swimming at Tarangire Safari Lodge
Overnight: Thomson Tarangire Nyumba
Day 6
Ngorongoro Highlands
Travel through the rolling hills and vibrant colors of the Great Rift Valley as you make your way to the Ngorongoro Highlands. After months of anticipation, meet your pen pals today! This visit to their school is often a highlight as the kids learn from each other's cultures and interact in activities, from soccer to arts and crafts. Gibb's Farm offers you and your family the perfect blend of relaxation and activities; choose from a variety of activities from biking to bird watching.
Meet your pen pals and visit their school (An alternate cultural component will be offered on Teen trips)
Optional afternoon activities include mountain biking, spa services, bird watching, coffee roasting, tea on the verandah, a visit to the artist in residence, and more! (additional fee applies for bike rental and spa services)
Overnight: Gibb's Farm
Day 7
Ngorongoro Crater
The Ngorongoro Crater is a geological marvel boasting several vegetation zones from lakes to forest to savannah. Despite its tiny size of only 10 miles across, the Crater is home to about 30,000 animals, including lion, hippo, the rare black rhino, hyena, wildebeest, zebra, African buffalo and much more.
Full day of wildlife viewing in Ngorongoro Crater
Overnight: Gibb's Farm
Day 8
Serengeti National Park
Make your way into the Serengeti, a pristine and unique sanctuary that will give you a glimpse into "the world as it was in the beginning."
Full day of wildlife viewing in Serengeti National Park
Overnight: Thomson Serengeti Nyumba
Day 9
Serengeti National Park
After wildlife viewing this morning, set out on foot to the local village where you can learn more about Tanzanian life. The people who inhabit this village, the Ikoma, are known for their drumming, dancing and storytelling. Relax at your Nyumba in the evening while the kids learn traditional Tanzanian games.
Wildlife viewing in Serengeti National Park
(if you have advance reservations, make an early departure for your hot-air balloon excursion today)
Walk and village visit
Overnight: Thomson Serengeti Nyumba
Day 10
Private Nature Refuge
After breakfast, take a brief, scenic flight to a private nature refuge, an exclusive area for Thomson guests in the Serengeti ecosystem. Your family will appreciate the opportunities to stretch their legs and explore the area on foot.
Wildlife viewing in the Eastern Serengeti ecosystem
Afternoon hike
Overnight: Thomson East Serengeti Nyumba
Day 11
Private Nature Refuge
This remote and pristine region is a private wilderness refuge - its unique geography, and its location outside the park make it a perfect destination for families who wish to enjoy a true wilderness and exploration experience. In the afternoon, you will learn more about the Maasai culture by visiting their homes and then later, they will visit you at your campfire.
Morning hike
Maasai boma visit
Gather around the campfire to listen to traditional folklore from a Maasai storyteller
Overnight: Thomson East Serengeti Nyumba
Day 12
Arusha / Depart
Depart on a scenic flight late this morning arriving in Arusha in time for a farewell lunch, some shopping and a dayroom to prepare for your flight home this evening.
Scenic flight to Arusha (33lbs baggage maximum)
Farewell lunch in Arusha
Shopping
Dayroom in Arusha
Transfer to the International Airport for your flight home
Day 13
Arrive North America
Connect in Amsterdam and arrive in North America. Please check your flight itinerary for arrival dates and flight details.
More information from Thomson Safaris: