MIR Corporation - vacations and travel
Essential Ukraine
"We cannot say enough good things about our experience. Thanks to the MIR Ukraine staff we were able to meet… "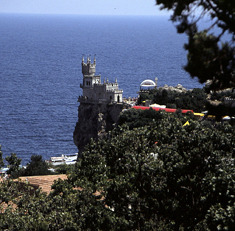 from $3,095* per person
8 Days
Year-round
Comfort accommodations

Exertion level: 3

Operator:

MIR Corporation

16 people max
Kiev international airport, kiev, ukraine
Active & Adventure trips
Ukraine is the new borderland between Europe and Russia. Explore this resilient region influenced by Polish princes, Cossack hetmen, Turkish khans, Russian communists and Ukrainian poets and nationalists.
Locations visited/nearby
Ukraine, Europe
1 testimonial about this trip
Reviewer:

B. Wright

located in

Seattle

,

WA

USA

"We cannot say enough good things about our experience. Thanks to the MIR Ukraine staff we were able to meet many people and see Ukraine in a very unique way. MIR embraced our needs and the guides were fantastic advocates, full of spontaneity."

5
3 testimonials about the provider, MIR Corporation:
Reviewer:

K. Knack

located in

Malibu

,

CA

USA

Every day I am grateful for this fabulous trip. The destinations you specialize in are of much more interest now that I know what a well-delivered service you provide.

MIR's tour manager made my trip more deeply meaningful and made sure that everyone on the train came away with a greater appreciation for this vast country. Thank you so much for your great itinerary, for the tremendous abilities of your staff... You can be certain I will recommend your company.





5

Reviewer:

The Tobys

located in

Rockville Center

,

NY

USA

…It is safe to say without the expertise of your superb cadre of guides in the country we never could have put it all together. In fact, we were totally dependent on them to benefit from the extraordinary experienced of visiting three regions of [Ukraine] within a two-week time period.

Clearly, MIR Corporation has a well-deserved reputation for superb customer service. We support that well-deserved reputation, which is possibly rooted in the fact that your associates like their jobs and that job satisfaction has been transferred to customer and client relations….

Honestly, we were duly impressed with each of the regional guides and the drivers who accompanied us. Their local knowledge of the unique features of their respective region was so evident, impressive, and unmatched by any we have encounters over our 40 years of visiting 140 countries.

I want to thank you for a most stupendous trip; 5 stars plus. Loved Ukraine, the people, the sites, the precision of our tour; the fine quality of the guides and drivers - how much they care, how much they know and how much they kept our interests foremost in their hearts and their minds. It was just stupendous.

It was so fabulous we cannot stop talking about it. Again, thank you very much. And I will certainly recommend MIR Corporation when it is appropriate for our friends & colleagues.

It was excellent beyond all expectations.




5

Reviewer:

The Repkos

located in

Princeton

,

NJ

USA

We don't know where to start – a perfect itinerary which satisfied all of our needs, excellent accommodations superbly located, flawless execution of all aspects including visas, vouchers, theatre tickets, etc., and last but certainly not least, truly outstanding and professional guides and drivers.

…We only wish that MIR provided tours everywhere, in which case we would never use another tour company again..

MIR Office in Seattle was outstanding…We have already told several friends about MIR and how wonderful they are! You all put together a trip for us that was perfect to our budget, time frame and interests. Russia is a fabulous destination – wonderful history, magnificent sites we can't say enough about MIR and Russia.



5
Comments from Facebook
Special information
This is a custom departure, meaning this trip is offered on dates that you arrange privately with the provider. Additionally, you need to form your own private group for this trip. The itinerary and price here is just a sample. Contact the provider for detailed pricing, minimum group size, and scheduling information. For most providers, the larger the group you are traveling with, the lower the per-person cost will be.
May accommodate certain types of disabilities. Contact the operator for more information.
Itinerary
Days 1-3: Kiev
In the capital, Kiev, visit 11th century St. Sophia and the Caves Monastery, admiring the golden domes and underground tunnels lined with mummified monks. Stroll and shop in one of the city's most charming areas, the cobbled descent down Andreevsky Street.
Days 4-6: Simferopol, Yalta, Sevastopol
In the resort city of Yalta, tour Anton Chekhov's house, where he wrote The Cherry Orchard and <="" em="">, and the distinguished Livadia Palace, where Churchill, Roosevelt and Stalin met during World War II. Near Sevastopol, explore the ruins of Chersonesus, an ancient Greek fortress, and the vestiges of the Crimean Tatar khan's palace in Bakhchysaray .
Days 7-8: Odessa
In Odessa, Catherine the Great's naval base and strategic fort, explore the World War II partisan catacombs and the famous Potemkin steps on the waterfront.
More information from MIR Corporation: