Boundless Journeys - vacations and travel
Spain: Vintage Rioja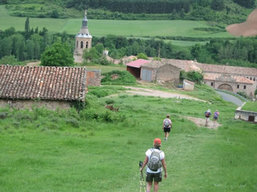 from $4,395* per person
7 Days
April, May, September, October
Comfort accommodations

Exertion level: 3

Operator:

Boundless Journeys

16 people max
Bilbao airport, spain
Active & Adventure trips

The beauty and charms of the La Rioja region of Spain are secrets still known mainly to the Spaniards. In La Rioja, a land of tranquility and abundance, everybody is welcomed with a glass of wine, and the traditional, slow pace of life is ideally experienced by walking and hiking its trails. Birthplace of the first native Spanish saint and the Spanish language, traversed by the Camino de Santiago pilgrimage route, and producer of world-renowned Rioja wines, La Rioja is irresistible to discriminating visitors. We walk through beautiful countryside and villages, hike along quiet back roads and local trails, and discover rich Riojan history and culture. Our days of inn-to-inn walking and hiking are rewarded with relaxed evenings in beautifully restored inns enjoying the fruits of the region – cuisine combining the traditional and the nouveau, and wines crafted by artisans.
Locations visited/nearby
Rioja , Guggenheim , Ezcaray , Haro , San Millan , Camino de Santiago , Santo Domingo , Yuso, Spain, Europe
0 testimonials about this trip.
Reviewer:

S. Schantz

located in

Ponte Vedra Beach

,

FL

USA

"My praise for the experience I had on my Boundless Journeys adventure in the Canadian Rockies is¦well, boundless! The trip was meticulously planned and implemented with the utmost professionalism. The guides were truly superb and every facet of the trip was outstanding. I expect to be on another Boundless Journeys trip very soon!!"

5

Reviewer:

M. Thompson

located in

El Paso

,

TX

USA

"One of the best managed and most enjoyable trips I've ever taken!"

5

Reviewer:

G. Gehr

located in

Andover

,

MA

USA

"The trip was everything we hoped...beautifully planned and even better than your advertisements! Nicky herself is an absolute jewel! She is simply amazing in her knowledge of the natural world, as a tour leader and as a group leader. She is simply superb in every way! One of the most memorable human beings I have ever met."

5
Comments from Facebook
Itinerary
DAY 1
Ezcaray to Santo Domingo de la Calzada
Walking – easy, about 4 hours.
Upon meeting our guides in Bilbao, we transfer to the village of Ezcaray, where we start our walk to the town of Santo Domingo de la Calzada. This beautiful walk on smooth, rolling dirt trails follows the Rio Oja, a tributary of the Ebro River, the main artery of the Rioja wine-producing region. This afternoon, we visit the cathedral of Santo Domingo de la Calzada and the surrounding old town, a key stopping point on the Camino de Santiago (the "Way of St. James"). The town is named for an 11th-century saint who worked miracles for pilgrims on their way to Santiago de Compostela, constructing a road, a bridge, and a hospital which now houses our four-star hotel.
Tonight we enjoy a fine welcome dinner and our first taste of the famed Rioja wines at our favorite local restaurant.
Parador de Santo Domingo de la Calzada, Santo Domingo de la Calzada, Spain
DAY 2
Santo Domingo de la Calzada to San Millán de la Cogolla
Hiking – moderate to strenuous, 6-6 ½ hours, with approximate elevation gain of 2,050' and loss of 1,775'.
Today we hike "inn-to-inn" – from our parador in Santo Domingo de la Calzada to our monastery hotel in San Millán de la Cogolla. The hike starts on the Camino through grain fields. Once beyond the village of Manzanares de La Rioja, our trail climbs to a high point for a picnic lunch, and we enjoy a an assortment of fresh local specialties – cheeses, sausages, fresh bread, vine-ripened tomatoes, and the like – with views south to the dramatic 7,500' peaks of the Sierra de la Demanda.
Upon our arrival in San Millán de la Cogolla, we check into our fine hotel, occupying a wing of the Yuso Monastery. We spend the next two nights at this UNESCO World Heritage site, exploring the monastery and indulging in excellent food and Rioja wines.
Hostería del Monasterio de San Millán, San Millán de la Cogolla, Spain
DAY 3
Yuso Monastery
Hiking – moderate, 5-6 hours, with approximate elevation gain and loss of 1,200'.
We begin the day with an early visit to the monastery of Yuso. Gonzalo de Berceo, the first Spanish poet, was born nearby in the late 12th century. The monastery houses an important collection of paintings, two chests decorated with precious stones and outstanding ivory carvings, and a fine library containing many early codices and an unusual archive of documents dating from the 11th to the 16th centuries.
Later this morning, we walk from San Millán de la Cogolla. The trail is rocky in places, but well worth the effort for the fine views of the monastery dominating the tiny village in its beautiful valley. This afternoon we return to our hotel and have time to relax before another sumptuous dinner.
Hostería del Monasterio de San Millán, San Millán de la Cogolla, Spain
DAY 4
San Millán de la Cogolla to Ezcaray
Hiking – moderate to strenuous, about 6 hours, elevation gain of 1,900' and loss of 2,025'.
Again today we walk from inn-to-inn, from San Millán de la Cogolla to the village of Ezcaray. We walk up the valley of San Millán before climbing steadily west through oak and beech woods to the isolated village of Pazuengos. From here we climb again to a col, before dropping down through the tiny hamlet of Turza into the Rio Oja valley to reach our destination in Ezcaray.
Our hotel for the next two nights, located opposite the village church of Santa Maria, boasts one of the finest restaurants in Spain. Over the next two days we have the opportunity to taste traditional and modern Rioja dishes prepared by the hotel's talented chefs, Michelin-starred Francis Paniego, and his mother, Marisa Sánchez.
Hotel Echaurren, Ezcaray, Spain
DAY 5
Ezcaray
Hiking – moderate, 4-5 hours, elevation gain and loss of 1,275', or optional cooking class (at additional expense); optional afternoon walk – easy to moderate, 1-2 hours.
If you have reserved your place ahead of time, today begins with a cooking class and demonstrations by the well-respected owner-chef of our hotel, Francis Paniego, or one of his highly-skilled apprentices. You'll prepare a variety of classic Riojan dishes, using traditional techniques and ingredients, as well as signature Paniego creations. For lunch you'll enjoy a tasting menu include several dishes you've helped prepare. With your new-found skills, you will be able to relive your Spanish exploration over traditional dishes and fine Rioja wine when you return home. For those who choose not to participate in the cooking class, a scenic hike with views of the Rio Oja valley followed by a traditional farmhouse lunch will be offered.
This afternoon there is the option of an additional walk, or if you prefer, time to explore the town of Ezcaray independently. This evening you are free to dine on your own, either at our hotel or at one of Ezcaray's excellent restaurants.
Hotel Echaurren, Ezcaray, Spain
DAY 6
Puerto de Peñacerrada to Labastida; Haro
Wine tasting; hiking – moderate, 6 hours, approximate elevation gain of 1,700' and loss of 2,700'.
After breakfast, we transfer to the Puerto de Peñacerrada, the start of our walk. We begin with a gentle climb through boxwood and beeches, skirting the massif of the Sierra de Cantabria on our left, to emerge into sub-alpine pastures on the south side of the ridge. We marvel at the ruined monastery of Toloño, and as we continue downhill, enjoy splendid views to the south of the Rioja. Our route ends in a vineyard with a traditional bodega lunch in one of the region's best-known wineries. A short bus ride after lunch brings us toa second bodega on the outskirts of Haro, the attractive 'wine capital' of La Rioja, for a wine-tasting, before we continue on foot to our final hotel in the center of town.
Hotel Los Agustinos, Haro
DAY 7
Guggenheim Museum
Walking – easy city walking, about 2 hours.
This morning we return to Bilbao, and visit the famed Guggenheim Museum. This fabulous building, designed by American architect Frank Gehry, has been a major stimulus to the urban renewal of Bilbao. The Guggenheim's permanent collection, now considered one of the world's most important collections of avant-garde art, includes works by some of the most significant artists of the second half of the twentieth century. If you have an afternoon flight planned, your guides will assist you with arranging a taxi to the Bilbao Airport. If you are staying on in Bilbao, your guides will be happy to recommend a charming place for lunch.
More information from Boundless Journeys: