Micato Safaris - vacations and travel
Botswana's Great Herds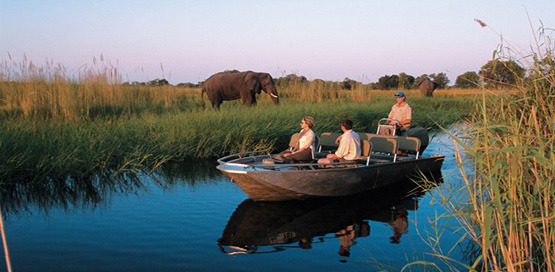 Contact provider for price
12 Days
Year-round
Luxury accommodations

Exertion level: 4

Operator:

Micato Safaris

12 people max
Johannesburg international airport, south africa
Culture & Nature trips
Botswana is one of the best-kept secrets in Africa—unspoiled and untamed, a wonderland of natural beauty and prodigious wildlife. The appeal of this safari in Botswana lies in its astonishing contrasts: the winding waterways and lush lagoons of the immense Okavango Delta, the parched landscape of Chobe National Park, the immense floodplains of Moremi Game Reserve, and the nearby gape-inducing grandeur of Victoria Falls. An astounding variety of species—from lions and elephants to zebras and hippos—combined with a government that is committed to protecting its natural treasures makes this an awe-inspiring safari destination. It is quintessential game-viewing country; where the "Big Five" are stars of the show, and yet only the beginning of the marvels we will see.
Locations visited/nearby
Botswana, Africa
Comments from Facebook
Special information
This is a custom departure, meaning this trip is offered on dates that you arrange privately with the provider. Additionally, you need to form your own private group for this trip. The itinerary and price here is just a sample. Contact the provider for detailed pricing, minimum group size, and scheduling information. For most providers, the larger the group you are traveling with, the lower the per-person cost will be.
Itinerary
Day 1 United States
We depart on our international flight bound for wondrous South Africa.
Day 2 Johannesburg
We touch down and transfer to the Westcliff Hotel, situated in the city's most exclusive residential suburb. The Westcliff's hillside setting with cascading, sculpted gardens and elegant accommodations evoke a bygone era of refinement in this renewed and vibrant city. Dinner will be served in the private home of our Micato hosts-the first taste of the personal attention we'll enjoy over the next two weeks.
Day 3 Okavango Delta
Today we fly to Eagle Island Camp, our home in the Delta and the only camp in Botswana to offer helicopter game viewing! Nestled on a tranquil island, it's a luxurious escape in a beguiling wilderness. Under a cooling canopy of Illala palms, we take in the winding waterways and expansive floodplains of this remote paradise under wide African skies. With our expert guides, we set off into the bush for a glimpse of the area's ample wildlife.
Day 4 Okavango Delta
Helicopter flightseeing awaits today as we explore from above on an included aerial game drive! In these postcard perfect surroundings, breathtaking moments are plentiful: watching crocodiles sunning themselves by the water or a pride of lions lounging in the shade of a baobab. We can also see wildlife by dugout canoe or motorboat; the delta is teeming with over 1100 species including giraffes, leopard, hippos and elephants among so many others. Later, a refreshing drink beckons at the Fish Eagle Bar, which The New York Times calls one of the world's most romantic bars.
Day 5 Chobe National Park
From Okavango, we'll take a quick flight to the semi-aridSavute region of Chobe National Park. Famous for elephants, Chobe also boasts a swath of other fascinating wildlife including buffalo, lion and a spate of exotic bird species. This is a chance to see the Kalahari Desert at its best: unique and abiding, a remarkable corner of the planet that is still governed by nature.We'll stay at Savute Elephant Camp, a lavish escape ideally located for exploration of these alluring wilds. With a waterhole only a few feet away, an impressive view of wildlife is available without even leaving camp.
Day 6 Chobe National Park
We are now at the centre of a classic big-game country and there is thrilling evidence all around us. Set unobtrusively on the banks of the now-dry Savute Channel, Savute Elephant Camp offers a fantastic base to explore this famed wilderness. Whether it's the hulking mass of a bull elephant herd or the exciting sight of a large pride of lion, we'll see what makes this region a wildlife-viewing Eden. We'll also come within close viewing range of impala, giraffe, wildebeest and zebra. One animal is master of the Savute,however—the elephant. The region is ideal for spotting Earth's largest land creatures in all of their imposing glory.
Day 7 Moremi Wildlife Reserve
We'll catch another short flight to one of Botswana's oldest safari lodges—Khwai River Lodge. This legendary camp, opened by the first president of independent Botswana, will make us feel pampered amidst the wild surroundings. The location is ideal for elephant, buffalo, lion, leopard and cheetah sightings—and the camp blends so well with the surrounding bushveld, it's not uncommon to see some of them from our private deck.
Day 8 Moremi Wildlife Reserve
Game viewing opportunities abound in the area around Khwai and no experience is more diverse and jaw-dropping than at nearby Moremi Wildlife Reserve. Here we are close to the core of timeless Africa; in the centre of a world that is immortally wild. Whether driving along a roaming zebra herd or watching baboons play along the riverbank, nearly every turn of the head seems to offer a spectacular menagerie of exotic animals. Returning to camp, lounge by the heated pool and perhaps glimpse a pod of hippo playing in the river. At night we lie under a star-speckled sky, basking in the calming cacophony of the African night.
Day 9 Victoria Falls
We'll be whisked away by flight to Livingstone, Zambia, where we'll enjoy a leisurely cruise along the legendary Zambezi River. Retiring to the five-star Royal Livingstone Hotel, our thoughts turn to the wonder that awaits us in the morning.
Day 10 Victoria Falls
This morning we visit the venerable Victoria Falls. Nothing will prepare us for the pure, humbling power of this regal sight. Continuing to the heli-pad for our "Flight of Angels," we'll get a bird's eye view of this colossal cascade in full perspective; an elephant-back trek is another option. The experience will inspire breathless awe and the stunning images will linger in our imagination for years to come.
Day 11 - Day 12 Johannesburg- United States
After breakfast, we fly to Johannesburg for international connecting flights home—where we can reflect on a true trip of a lifetime. We arrive home on Day 12.
More information from Micato Safaris: