Ker & Downey - vacations and travel
Wonders of India
Mumbai Airport, Mumbai, Maharashtra
Active & Adventure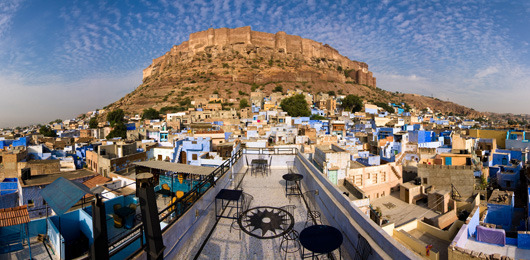 from $10,095* per person
14 Days
Year-round
Luxury accommodations

Exertion level: 3

Operator:

Ker & Downey

24 people max
Ker & Downey has been highly selective in choosing the national parks and accommodations included in this fantastic itinerary, ensuring that our guests enjoy only the very best safari experience available in India.

Begin your journey in Mumbai at the renowned Taj Mahal Palace & Tower with a tour of the fascinating financial capital of India. Visit museums, monuments, the hanging gardens, and the city's famous holy places.

Next, fly to Nagpur, and from there, you will drive to Pench to check in at Baghvan Jungle Lodge. The lodge's name translates to "Tiger Garden", and the lodge itself is located a mere five minutes from Pench National Park. Spend the next two days on safari in the hills, forests, and valleys of the park, discovering the amazing flora and fauna.

Drive to Kanha National Park and your accommodations at Banjaar Tola Kanha Tented Camp. Explore the national park, the inspiration for Rudyard Kipling's famous novel, The Jungle Book, and investigate the dense forest, bamboo thickets, and extensive grasslands, watching for amazing wildlife and over 200 bird species.

Continue on to Bandhavgarh and the luxurious Mahua Kothi Jungle Lodge, from where you can discover the wonders of Bandhavgarh National Park, before heading for Khajuraho for a night at Pashan Garh Panna Wilderness Lodge in Panna National Park and an exploration of the Khajuraho Temples, a UNESCO World Heritage Site.

The highlight of your stay at these four lodges is the morning elephant back tiger safari (subject to tiger sighting), during which you can briefly but unobtrusively observe the local wildlife from the lofty position of your saddled behemoth's back.

Head back to civilization and spend a few days of exploration in Delhi from your base at the Oberoi Hotel Delhi. Enjoy a spectacular tour of both Old and New Delhi before heading off to Agra for the last leg of your journey. Spend the night at the Oberoi Hotel Amarvilas, and get up early in the morning to tour the Taj Mahal at sunrise. Later, explore the city of Agra, and then fly back to Delhi for a relaxing evening at the Trident Gurgaon before your departing flight.
Loading map, please wait...
Locations visited/nearby
India, Asia
0 testimonials about this trip.
1 testimonial about the provider, Ker & Downey:
Reviewer:

T. Tannant

located in

Osoyoos

,

BC

Canada

We recently returned from taking the "South America Journey" trip arranged by Ker & Downey. This was our second trip with Ker & Downey, last year we enjoyed the thrilling "Classic Botswana Safari". South America has been on our list of "things to do", therefore with the excellent service provided by Ker & Downey last year, we decided to book the "South America Journey" which we saw on the Ker & Downey website. Ker & Downey were again able to design a custom trip which took us to Peru, Ecuador and the Galapagos Islands. From the moment we were met at the Jorge Chavez airport in Lima, Peru until we departed from the airport in Quito, Ecuador this journey was nothing short of clockwork precision. All our accommodation and tours were first class, excellent food and ALL our personal guides/drivers in Peru and Ecuador should be commended for their knowledge and professionalism and foremost their friendliness. Both Peru and Ecuador are beautiful, beautiful countries as are their people. The "Coral 1" and crew were no exception, they were terrific, as was the complete tour in the Galapagos Islands.We again would like to say a "BIG THANK YOU" to Ker & Downey, for putting together this enjoyable and exciting " South America Journey " one we will remember for a life time. The itinerary and trip could not have been any better! Thanks again and hopefully we will be able to book another exciting journey with Ker & Downey in the near future.

5
Comments from Facebook
Special information
This is a custom departure, meaning this trip is offered on dates that you arrange privately with the provider. Additionally, you need to form your own private group for this trip. The itinerary and price here is just a sample. Contact the provider for detailed pricing, minimum group size, and scheduling information. For most providers, the larger the group you are traveling with, the lower the per-person cost will be.
May accommodate certain types of disabilities. Contact the operator for more information.
Itinerary
Day 1: Arrive Mumbai / Taj Mahal Palace & Tower
Day 2: Mumbai / Taj Mahal Palace & Tower (B)
Day 3: Pench / Baghvan Jungle Lodge (B)
Day 4: Pench / Baghvan Jungle Lodge (B)
Day 5: Kanha / Banjaar Tola Kanha Tented Camp (B)
Day 6: Kanha / Banjaar Tola Kanha Tented Camp (B)
Day 7: Bandhavgarh / Mahua Kothi Jungle Lodge (B)
Day 8: Bandhavgarh / Mahua Kothi Jungle Lodge (B)
Day 9: Panna National Park / Pashan Garh Panna Wilderness Lodge (B)
Day 10: Delhi / Oberoi Hotel New Delhi (B)
Day 11: Delhi / Oberoi Hotel New Delhi (B)
Day 12: Agra / Oberoi Hotel Amarvilas (B)
Day 13: Delhi / Trident Gurgaon (B)
Day 14: Delhi / Departure (B)
More information from Ker & Downey: