Wildland Adventures - vacations and travel
Maasailand Safari: Living Among the Maasai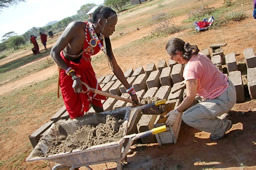 from $4,995* per person
10 Days
Year-round
Comfort accommodations

Exertion level: 3

Operator:

Wildland Adventures

14 people max
Jomo kenyatta international airport, nairobi, kenya
Active & Adventure trips
This community-based Maasai safari is an extraordinary opportunity to combine wildlife safaris in Amboseli and the Maasai Mara, with a profound cross-cultural experience that will change your perspective on life. It was selected by National Geographic Traveler magazine as one of ''50 Tours of a Lifetime'' for its truly authentic experiences that delve deep and provide uncommon access with indigenous people. Based from specially built guest bungalows in the Maasai village of Merrushi, we explore the African savanna on foot with Maasai warriors, share stories with elders, discuss world issues of common concern, learn about wildlife conservation and animal husbandry, women's issues, rites of passage, and discover the fine arts of beading, traditional healing, music and dance.

Locations visited/nearby
Kenya, Africa, Maasai Mara
0 testimonials about this trip.
Reviewer:

Kate Steinbacher

located in

Roanoke

,

VA

USA

You are the kind of tour operator the world needs more of...caring of your groups AND the beautiful places and people we get to experience!




5

Reviewer:

Ginger and Richard Lang

located in

Clyde

,

NC

USA

Congratulations on the kudos from National Geographic Adventure magazine. Our experiences in travel with Wildland underscore this commendation. We have loved traveling to Costa Rica and Southern Africa with you and are now involved in planning a trip to East Africa. Great job from a superb company! You are first in our minds!



5

Reviewer:

Libby Volckening

located in

Northfield

,

MA

USA

How can I begin to thank you for the most amazing, wonderful, incredible vacation of my life?!?!?!  Everything was better than I could have hoped.  So many precious memories.  Such wonderful chemistry of personalities.  It has been very hard to leave it all behind and get back to my real life...



5
Comments from Facebook
Special information
This is a custom departure, meaning this trip is offered on dates that you arrange privately with the provider. Additionally, you need to form your own private group for this trip. The itinerary and price here is just a sample. Contact the provider for detailed pricing, minimum group size, and scheduling information. For most providers, the larger the group you are traveling with, the lower the per-person cost will be.
Family oriented trip.
Itinerary
DAY 1 : NAIROBI
Arrive into the Jomo Kenyatta International Airport in Nairobi where we meet our drivers and trip leader. Relax overnight at the Pan Africa Hotel. [Meals on your own]
DAY 2 : GIRAFFE MANOR AND DAPHNE SHELDRICK
Settling into Africa, our morning begins with a short city orientation on our way to visit the Giraffe Center, an educational facility aimed toward educating Kenyan schoolchildren and visitors about conservation in Kenya, focusing primarily on the endangered Rothschild Giraffe. Watch giraffes and feed them from a raised platform, a great spot to take pictures. We also visit the David Sheldrick Animal Orphanage, adjacent to Nairobi National Park, which cares for orphaned elephants and rhinos who have been rescued from poachers or found abandoned. Every morning at 11 AM the elephant babies are bottle fed in an area open to visitors. You'll have the opportunity to learn about these huge infants up close and how they will one day be reintroduced to the wild. Free afternoon. Overnight at the Pan Africa Hotel. [BLD]
DAY 3 : MAASAI MARA
Shortly after breakfast well depart Nairobi on 4X4 Land Cruiser for Maasai Mara Game Reserve in southwestern Kenya. Well drive through Kenya highlands and stop midway to get a glimpse of the Great Rift Valley a magnificent natural trench stretching approximately 3,700 mi from Lebanon into Mozambique in East Africa. We will arrive to Maasai Mara in time for lunch. There will be an afternoon game drive starting at 4pm. Overnight Sarova Mara Tented Camp. [BLD]
DAYS 4-5 : MAASAI MARA
The Maasai Mara is made of vast open rolling plains, and grasslands with seasonal riverlets. The entire area of the park is situated within the enormous Great Rift Valley. The reserve is famous for its annual wildlife migration of over 1 million wildebeest and thousands of zebras crossing from the Serengeti plains in Tanzania from August through November. The reserve is home to hundreds of elephants, hippos, lions, hyenas, Cape buffalo and thousands of other hooves stocks. Over 500 species of birds including ostrich, larks, sunbirds, weavers as well as the lilac-breasted roller are abundant in the reserve. The Maasai Mara's altitude is 5.000 ft. above see level, which yields a milder and damper climate different from other parts of the country. Morning and afternoon game drives will be provided each day. Overnights Sarova Mara Tented Camp. [BLD]
Hot air ballooning is available to glide silently over the Mara with the rising sun (at additional cost).
DAY 6 : MERRUESHI VILLAGE
Shortly after breakfast well drive from Maasai Mara and arrive to Nairobi by noon in time for lunch. Depart Nairobi city after lunch and arrive to Merrueshi community (the Maasai Village) by 4pm. Well make stops along the way when we see something interesting. Upon our arrival, well meet our Maasai hosts and settle into the Maasai Simba Camp. The camp has permanent cabins/cottages made of volcanic rocks; they are spacious and enjoy total privacy. Overnight Maasai Simba Camp. [BLD]
DAYS 7-8 : MERRUESHI VILLAGE
While at the Merrueshi community we participate in various village activities depending the interests and abilities of guests. Our morning starts with a cup of tea and coffee, followed by a bush walk led by Maasai warriors. We learn how to track wildlife in the African savanna as Maasai do, as well as about wildlife conservation, poaching issues, and strategies for how humans and wildlife have survived and co-existed in this semi-arid habitat. The surrounding environment is a living pharmacy for natural medicine; traditional Maasai healers demystify this realm of ancient medicine by explaining their use of different plants and herbs to treat various illnesses. In addition, we have the opportunity to participate in bead-making facilitated by the Maasai Women Cooperative, storytelling sessions by elders around the bonfire, a visit to a local school, Maasai songs and dance, and a visit to the Maasai Associations development projects. Oftentimes there are ongoing projects you may want to volunteer to assist like adobe brick making, painting the school, or other optional activities. Overnights Maasai Simba Camp. [BLD]
DAYS 9-10 : AMBOSELI
Shortly after an early breakfast we will drive 30 minutes to Amboseli National Park, which covers 150 square miles in southern Kenya, not far from the Tanzanian border. Amboseli is at the foot of Mt. Kilimanjaro, the tallest mountain in Africa standing 19,340 feet above sea level. In addition to over 1000 elephants there are zebras, wildebeests, giraffes, impala, lions, hippos, antelope, warthogs, hyenas, cheetah, buffalos, and more than 400 species of birds all gather in the haven of the park. Overnights Ol Tukai Lodge. [BLD]
DAY 11 : DEPART
Leave Amboseli by 9:30am and arrive to Nairobi later in the afternoon. There will be enough time to wash up at a dayroom before transfer to the airport for your trip back home. [B]
More information from Wildland Adventures: