Adventure Life Voyages - vacations and travel
Antarctic Dream Expedition
"I've traveled in every continent and with many different tour agencies, seeking out adventures in extreme places. This is the… "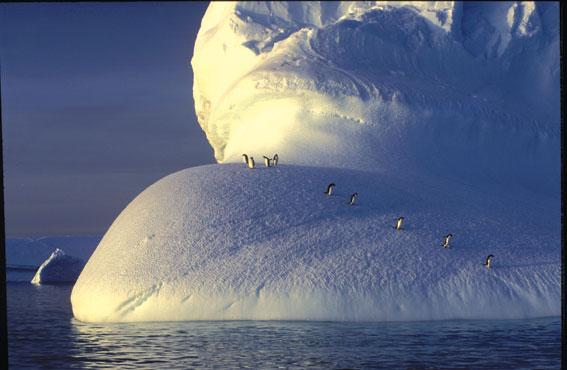 from $6,900* per person
11 Days
February, March, May, November
Luxury accommodations

Exertion level: 3

Operator:

Adventure Life Voyages

24 people max
Airport, near ushuaia, tierra del fuego, argentina
Boats, Barges & Small Ship Cruises trips
Antarctica travel reveals the dramatic extremes of a frozen continent. It holds the title of coldest, driest, windiest, and highest elevation on earth. A number of ships ply the Antarctic waters, from Russian icebreakers to luxury expedition ships with strengthened hulls. An Antarctica cruise departs from Ushuaia, though itineraries vary. Depending on your trip-length, spend time visiting the Antarctic Peninsula, Falkland Islands and the mountainous South Georgia. Antarctica cruises offer zodiac excursions for up-close encounters with wildlife and the blue icebergs that float quietly in the surrounding waters. Experience Antarctic kayaking or onshore camping. On Antarctica tours, onboard experts lecture on the region's natural history, weather, and captivating wildlife commonly seen during a cruise to the frozen continent.
Locations visited/nearby
Antarctica , Antarctic Peninsula, Antarctica
2 testimonials about this trip
Reviewer:

S. Carlson

located in

Wintergreen

,

VA

USA

I've traveled in every continent and with many different tour agencies, seeking out adventures in extreme places. This is the first time I've totally traveled independently and you never let me down - not once! Being in a new country and not knowing the language and traveling alone as a female is a bit daunting, even for a seasoned traveler. And here I was, trusting a travel agency that I had picked off the internet! You all are first class, all the way! The pre-departure support from the Adventure Life office was the best! Phone calls and e-mails were promptly returned and I was kept well informed. Even the smallest details were taken care of and the people I worked with were fun and enthusiastic. The ship far exceeded my expectations - totally competent crew, good food and excellent expedition leaders. The expedition leaders were enthusiastic, energetic, very bright and capable - they were all personable and caring. Even in the midst of a Category 10 storm that lasted for 2 days on the Drake Passage, I never felt worried. You've taught me to enjoy solo travel. Thank you for the adventure with the security of your company!

5

Reviewer:

A. Griffin

located in

Davie

,

FL

USA

I was very pleased with my accommodations throughout the tour. The friendliness and enthusiasm of the local guides was very much above my expectations. I was very impressed with their knowledge, experience, and helpfulness in all regards. The food on the ship was also above my expectations - with excellent variety, great presentation, and adequate portions. This was a great tour and I would rate it as a trip of a lifetime. Antarctica is something that has to be experienced, I cannot do it justice with words or pictures!

5
Reviewer:

S. Benson

located in

Las Cruces

,

NM

USA

This trip was the best, coolest, most exciting thing that I have ever done. It was more than I expected. I was undecided about a trip to Antarctica, mostly because of the price. I spoke several times with Adventure Life's staff and they were the reason I went. They took lots of time to explain that it's well worth the money - but after going, I have to disagree. It's worth a whole lot more! Bottom line: the people at Adventure Life treated me like a king, even before I signed up to go on my trip and that makes me a lifetime Adventure Life customer.

5

Reviewer:

J. Lund

located in

Hallowell

,

ME

USA

We enjoyed our trip immensely - even more than we anticipated. The boat, Archipel I, was perfect and spotless. More important, the staff was terrific - and it seemed genuine. They worked hard but obviously enjoyed themselves. They were as friendly and helpful as could be. The crew was concerned about our welfare, and we felt well cared for. The guide was very well informed, but he also let us just enjoy the animals and scenery. We never felt rushed or that the guide was impatient. He adapted our schedule for maximum pleasure - such as seeing the sunrise on top of Bartolome Island without having hordes of people around. We'd recommend this trip most enthusiastically!

5
Comments from Facebook
Special information
May accommodate certain types of disabilities. Contact the operator for more information.
Itinerary
Day 1 Ushuaia, Argentina
Passengers board the "Antarctic Dream" where you will be greeted by our Expedition Leader and staff and shown to your cabin. Our departure is scheduled for 7:00 pm. Check in begins at 2:30 pm.
Days 2-3 Drake Passage
Wandering albatrosses, storm petrels and other seabirds will escort the vessel as you sail south across this famous passage named after Sir Francis Drake, the 16th-century English navigator. We will continue towards the Antarctic Convergence, a biological barrier where cold polar waters sink beneath the warmer waters of the more temperate zone. In 1819, the British explorer William Smith described the South Shetland Islands as "barren and covered with snow, with seals in abundance". Yet, mosses and lichens thrive during the short summer at the low-lying peninsulas of these rugged islands located directly adjacent to the Antarctic Peninsula.
Day 4 Aitcho Island
Aitcho Island will give us an early taste of what the Antarctic really is. It is the biggest island of the South Shetlands, where we will disembark in Potter Bay. In the afternoon we will disembark at Aitcho Island which is in between Greenwich and Robert Islands. We will continue with the crossing of the Bransfield and Gerlache Straits to enter Andvord Bay where we find Neko Bay.
Day 5 Antarctic Peninsula & Neko Bay
Besides the magnificent scenery of mountains, snow and ice, in Antarctica you can expect to see a wide variety of the native wildlife. Other birds to look out for are blue-eyed shags, gulls, cape petrels, skuas, snowy sheathbills and Antarctic terns. Marine mammals that you are likely to see include Weddell crab-eaters and leopard seals while orcas, humpback and mink whales may be spotted at close range. The program includes your first landing on the White Continent (Neko Bay) and another on Port Lockroy (Gaudier Island). Neko Bay was discovered by Adrian de Gerlache, a Belgian explorer. Port Lockroy is close to Wiencke Island in the Antarctic Peninsula and was the principle base of the 1944 Tabarin Operation - the scientific research included the Antarctic's first ionosphere measurements and also the first recording of an atmospheric whistle.
Day 6 Paradise Bay – Cuverville Island
At this point of our program we will begin our return voyage. During the morning and, stressing again that (if weather permits, we will disembark or use our zodiacs in Paradise Bay. This is one of the most striking places of the whole Antartctic Peninsula. Here glaciers tumble into the sea, icebergs break off and are later carved into wonderful shapes by the wind.
In the evening we will visit Cuverville Island. Beside its dramatic scenery it is home to a large colony of nearly 5,000 pairs of Gentoo Penguins and other breeding birds including Giant, Wilson, White and Painted petrels while on its beaches seals and sea wolves. This rocky island is on the north side of the Errera Channel, between Ronge Island and the Arctowski Peninsula. Most visitors find the viewing of such abundant wildlife is every bit as rewarding as the magnificent Antarctic scenery, and you will be enchanted by these waterways. Navigating and exploring these channels is certainly one of the highlights of a visit to the Peninsula. Unfortunately on some trips they may be choked with icebergs and pack ice.
Day 7 Pleneau - Petermann Island
We sail south through the narrow Lemaire Channel who's high, sheer cliffs suggest that no passage could be found. Once through the channel, known as one of the most beautiful places in the world, and provided climate and ice conditions are good enough, we will be able to visit Petermann Island which is the most southern land point of our expedition. Here we will disembark and will be able to see the most southern colony of Gentoo penguins which nest near our landing spot. On this island we will also be able to see a colony of beautiful Adelei penguins, skuas and blue-eyed shags. At Pleneau we should have the opportunity to take our zodiacs and visit impressive ice formations.
Day 8 Deception Island - Whaler`s Bay - Pendulum Cove
We continue sailing to Deception Island which is at the northwest side of the Peninsula. Deception Island is the largest active volcano in the area and one of the main sources of seismic and volcanic activity in the Antarctic.Sailing through the narrow passage into its huge flooded crater is a thrilling experience. Do not forget to bring your bathing suit as swimming in this water is a unique experience.
During the morning we will try to disembark in Whaler`s Bay and Pendulum Cove. In the afternoon and depending on weather conditions we will disembark at Livingstone Island (Hannah Point). This is one of the best places in the Antarctic to see fauna and we should see Chinstrap and Gentoo penguins, skuas and blue-eyed shags. With luck we should also see sea elephants.
Days 9-10 Drake Passage
Today, we will leave the Antarctic and head north back across the Drake Passage. Now is the chance to compare and revise notes and dwell on the adventures of the past week, to take in the final lectures and to enjoy the delicious gastronomy on board as you return to Ushuaia.
Day 11 Ushuaia, Argentina
After and early breakfast we will land at 9:00 am and bid farewell to our guests. Thus ends an incredible and unique expedition.
More information from Adventure Life Voyages: