Wildland Adventures - vacations and travel
Undiscovered Belize Adventure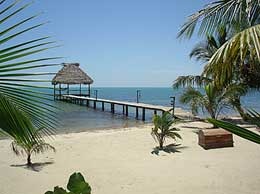 from $3,250* per person
9 Days
November-August
Comfort accommodations

Exertion level: 3

Operator:

Wildland Adventures

12 people max
Belize city
Family & Friends trips
Venture off the beaten path to experience the fascinating natural history, rich cultural heritage and active adventures in southern Belize. Travel to Belize offshore on a beautiful caye near the Belize Barrier Reef with its extraordinary snorkeling, diving dazzling array of marine life. We investigate the Lubaantun Maya ruins "Home of the Crystal Skull" with an expert, visit the workshop of a Maya harp player, visit an organic cacao plantation to learn about their farming and fair trade, and explore the dramatic Blue Creek Cave system. Celebrate the Garifuna culture with an East Indian dinner and drumming performance. Accommodations are comfortable, native style lodges like The Lodge at Big Falls and Turneffe Island Resort. This journey is perfect for adventurous souls who want to combine a visit to an unspoiled part of Belize not frequented by the average traveler with time spent exploring one of the world's premier barrier reefs.

Locations visited/nearby
Belize, Central America
0 testimonials about this trip.
Reviewer:

Kate Steinbacher

located in

Roanoke

,

VA

USA

You are the kind of tour operator the world needs more of...caring of your groups AND the beautiful places and people we get to experience!




5

Reviewer:

Ginger and Richard Lang

located in

Clyde

,

NC

USA

Congratulations on the kudos from National Geographic Adventure magazine. Our experiences in travel with Wildland underscore this commendation. We have loved traveling to Costa Rica and Southern Africa with you and are now involved in planning a trip to East Africa. Great job from a superb company! You are first in our minds!



5

Reviewer:

Libby Volckening

located in

Northfield

,

MA

USA

How can I begin to thank you for the most amazing, wonderful, incredible vacation of my life?!?!?!  Everything was better than I could have hoped.  So many precious memories.  Such wonderful chemistry of personalities.  It has been very hard to leave it all behind and get back to my real life...



5
Comments from Facebook
Special information
This is a custom departure, meaning this trip is offered on dates that you arrange privately with the provider. Additionally, you need to form your own private group for this trip. The itinerary and price here is just a sample. Contact the provider for detailed pricing, minimum group size, and scheduling information. For most providers, the larger the group you are traveling with, the lower the per-person cost will be.
Family oriented trip.
Itinerary
DAY 1 : ARRIVE IN BELIZE
Upon landing you'll be met by our representative and transferred to the boat dock at the Belize Tourism Village where you'll board a water taxi for the exhilarating 90 minute trip to the Turneffe Atoll. Boat over azure waters speckled with mangroves and coconut tree covered islands past the Belize Barrier Reef and to the western side of Turneffe Atoll. Check into your beach front room and take a refreshing swim in the tranquil waters of the Caribbean. Beachfront cabanas with Caribbean views offer immediate access to world class snorkeling and SCUBA diving for undersea enthusiasts. The cabanas have private porches with chairs, hammock, one king or two twin beds and a private bathroom with hot water showers. Meals are served family style prepared with a variety of fresh fish, meats, salads, fruits, vegetables, deserts, and other local specialties. Overnight at Turneffe Island Resort or Blackbird Caye. [D] Note: You must arrive by 2:20 pm to Belize City on your arrival day to make the transfer to the island. Other Caribbean beach-front accommodations may be confirmed for holiday departures. Transfers may be done by small plane or boat depending on weather conditions.
Note: Upgrade to a superior room for an extra $440 pp or a private cabin for $770 pp.
DAYS 2-3 : BELIZE BARRIER REEF
Spend your days snorkeling on one of the premier barrier reefs in the world. Snorkel from the beach in front of your cabana or join two guided excursions each day. A variety of excellent snorkel and dive sites offer the opportunity to view colorful fish, beautiful coral, stingrays, eagle rays, barracuda, nurse sharks and much more. When not in the water, enjoy activities for everyone including kayaks, hobie kats, and short birdwatching walks. Hire a fishing guide and try your luck fly fishing for bones, snook, or permit. Keep as busy as you wish, or slow down and relax in a hammock on the beautiful white sand beaches surrounding this primer Belize vacation resort. All snorkel activities are included, while dives can be purchased on site or in advance at an extra cost. All meals and overnights at Turneffe Island Resort or Blackbird Caye. [BLD]
Note: Snorkeling gear (fins, mask, snorkel) are available at the resort for $9 per day and wet suits for $14 per day.
DAY 4 : GREAT BLUE HOLE AND HALFMOON CAYE
An all day excursion by boat takes us to some of the most premier dive spots and barrier reef environments in all of Belize. Our first stop this morning is the Great Blue Hole, one of the most astounding dive sites to be found anywhere on earth. In the center of the Lighthouse Reef atoll, this large, circular sinkhole hole is approximately mile across and 480 ft deep creating the dark blue color. Experienced scuba divers descend into its depths to ancient caves among giant stalactites and stalagmites formed 15,000 years ago. The most lush and abundant marine life is found in the shallow waters surrounding the outer rim and among the many coral heads of the reef. Snorkeling is exceptional here with angelfish, butterfly fish, groupers and other fishes swimming among elkhorn, staghorn, and finger coral formations. We anchor-up to enjoy a Belizean style BBQ on the sandy shores of Half Moon Caye and visit the bird sanctuary to see Red-footed boobies and frigate birds, and land iguanas. En route back to the lodge we stop at another special snorkeling or dive location to see the frenzied feeding of yellow snapper and the impressive barrel sponges. Overnight at Turneffe Island Resort or Blackbird Caye. [BLD]
DAY 5 : TOLEDO DISTRICT
Transfer from the Turneffe Atoll to the Belize Municipal Airport and board a short flight to Punta Gorda, Belize's southern most town located on the Caribbean Coast. In Punta Gorda, receive a warm welcome and introduction to one of the centers of Maya culture, the undiscovered Toledo District. Drive 30 minutes inland to The Lodge at Big Falls, your home for the next four nights, which is situated on a meander of the Rio Grande. Arriving in time for a refreshing swim in the pool, enjoy a drink and brief orientation of the lodge before dinner is served in the softly lit thatched-roof restaurant. Overnight at The Lodge at Big Falls or similar. [BD]
DAY 6 : MAYA RUINS AND CULTURE
Join your local Mayan guide, Steven Choco, for an early morning birding walk. This is when the birds are most active and we'll investigate a variety of bird habitats, including riverside, orchard, meadow and forest. Species regularly seen include both keel billed and aracari toucans, blue crowned motmots, black & white owls, striped cuckoos, many tanagers (crimson collared, scarlet rumped and blue-grey) to name a few. After breakfast investigate the Lubaantun Maya ruins with the warden, Santiago Coc, who has more than 20 years experience at the site and has been involved in numerous excavations. Mr. Coc enjoys bringing the ancient temples, plazas and ball courts to life and relaying the story of the 1926 discovery of the Crystal Skull. Savor a picnic lunch in Rio Blanco National Park and a swim beneath the waterfall before exploring the natural history of the riverside with a local Maya guide. Visit the home of Florencio Mes, a Maya harp player who not only makes his own instruments from tropical cedar wood but has represented Belize at music festivals throughout the world. Overnight at The Lodge at Big Falls or similar. [BLD]
DAY 7 : EXPLORE THE BLUE CREEK CAVE SYSTEM
Grab your hiking shoes and bathing suit for an exploratory day investigating the Blue Creek Cave system. Swim upstream into the cave to a point where the river emerges as a waterfall from the cavern wall. Check out the interesting formations as you hike through a dry cave. Feeling really energetic? Climb 1,375 feet up the valley side to a peak and be rewarded with magnificent views over the rainforest to the sea. Another option includes learning about medicinal plants found in the rainforest and the cave system and a visit to your Mayan guides home. With the aid of your guide choose among the variety of activities in the Blue Creek area. Level of fitness, desire for adventure and season of the year influences the day's activities. At the end of the day return to the lodge to relax in a hammock, take a dip in the pool or play a game of ping pong. Overnight at The Lodge at Big Falls or similar. [BLD]
DAY 8 : KAYAKING AND CACAO
Hop in a kayak and travel downstream on the Rio Grande from San Miguel village. Watch for iguanas falling into the river from the overhanging branches and kingfishers, herons, cormorants, sungrebes and other riparian bird species. Keep on the lookout for river otters and turtles before paddling back to the lodge for lunch. Relax on the lodge grounds before driving to Silver Creek Village, to meet Miguel Choco who manages his own organic cacao plantation. It is a fifteen minute walk from the the road through area of steep hills, gullies and small creeks to get to the Chocos small farm. On entering Miguels plantation and climbing through his cacao grove youll be treated to magnificent views of the Port Honduras Marine Reserve. Learn about Miguel's organic farming methods, drying and fermenting techniques and how his beans are used to produce the signature Mayan Gold chocolate bars, the first Fair-trade product. See another side of Belize as you experience the Garifuna (Afro-Indian) culture with a special dinner in Punta Gorda. Feast on typical East Indian dishes while being entertained by a group of Garifuna drummers. Overnight at The Lodge at Big Falls or similar. [BLD]
Note: There must be a minimum of 6 travelers to confirm the Garifuna drummers.
DAY 9 : DEPART FOR HOME
Linger over breakfast, before your flight transfer from Punta Gorda back to the Belize International Airport. Board your international flight home with wonderful memories of relaxing beach time, invigorating adventures and fascinating cultural experiences. [B]
More information from Wildland Adventures: