Wildland Adventures - vacations and travel
Costa Rica Family Vacation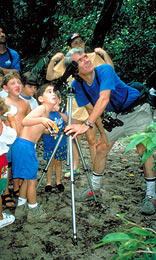 from $2,795* per person
8 Days
February, March, June-August, November, December
Boutique accommodations

Exertion level: 3

Operator:

Wildland Adventures

14 people max
San jose's international airport in costa rica
Family & Friends trips
Travel to Costa Rica with your family on one of our most in-depth, easy and exciting tropical adventures perfect for the kids! Designed for families with children of all ages, we watch wildlife from hanging bridges and fly on a zip-line through the forest canopy, explore nocturnal wildlife on jungle night walks, swim under waterfalls and soak in hot springs. On this Costa Rica family tour, witness the fiery cascade of lava from thundering Arenal Volcano, the mystical Los Angeles Cloud Forest, and then enjoy relaxing beach time and easy sea kayaking among the rainforests, wildlife, and white-sand beaches of Manuel Antonio National Park. Our expert naturalist guides will be with your family each step of the way. We meet and enjoy meals with several local Costa Rican families who take great pride in sharing typical Costa Rican life with us!

Locations visited/nearby
Costa Rica, Central America
0 testimonials about this trip.
Reviewer:

Kate Steinbacher

located in

Roanoke

,

VA

USA

You are the kind of tour operator the world needs more of...caring of your groups AND the beautiful places and people we get to experience!




5

Reviewer:

Ginger and Richard Lang

located in

Clyde

,

NC

USA

Congratulations on the kudos from National Geographic Adventure magazine. Our experiences in travel with Wildland underscore this commendation. We have loved traveling to Costa Rica and Southern Africa with you and are now involved in planning a trip to East Africa. Great job from a superb company! You are first in our minds!



5

Reviewer:

Libby Volckening

located in

Northfield

,

MA

USA

How can I begin to thank you for the most amazing, wonderful, incredible vacation of my life?!?!?!  Everything was better than I could have hoped.  So many precious memories.  Such wonderful chemistry of personalities.  It has been very hard to leave it all behind and get back to my real life...



5
Comments from Facebook
Special information
This is a custom departure, meaning this trip is offered on dates that you arrange privately with the provider. Additionally, you need to form your own private group for this trip. The itinerary and price here is just a sample. Contact the provider for detailed pricing, minimum group size, and scheduling information. For most providers, the larger the group you are traveling with, the lower the per-person cost will be.
Family oriented trip.
Itinerary
DAY 1 : ARRIVAL IN SAN JOSE
Receive a warm Costa Rican welcome and transfer to the Hotel Bougainvillea or similar.
DAY 2 : EL BOSQUE AND ARENAL
Our Costa Rica adventure tour begins with a scenic drive through the countryside, arriving at El Bosque, a small town near the Arenal Volcano. We visit Don Juan Bautista, a local farmer who takes great pride in teaching visitors about tropical farming and native and non-native plants, including their medicinal uses. He is especially proud of his bio-digester methane gas production system that uses cow manure as a fuel source to produce methane gas for cooking! We'll tour the fields picking produce, test our skills with a tortilla-making challenge and enjoy lunch prepared by Yamileth, Don Juan's wife, using our freshly picked fruits and vegetables from the farm.
Further into the Central Highlands, hike through a lush canyon for a refreshing swim under La Fortuna waterfall or take a rainforest walk searching for different species of monkeys and other wildlife. We arrive at Arenal Volcano Observatory Lodge in the late afternoon. With clear skies, the lodge has incredible views of the steaming volcano. At night from this safe distance, witness the fiery cascades of lava flowing down the sides of the volcano. Overnight at Arenal Observatory Lodge or similar [BLD]
DAY 3 : ARENAL VOLCANO
Bring your binoculars and water bottle as we head out to experience the rainforest canopy on a series of hanging bridges winding through the old growth forest. Over 250 species of birds and animals, including the White Hawk, Great Curassow, Rufous Motmot, Howler Monkey, Spider Monkey, Coatimundi, Sloth, and White-collared Peccary are easily seen here.
We are reminded of Earth's origins as we explore the Arenal Volcano and surrounding areas. The Arenal Volcano has an almost perfect cone, which soars 1,633 meters above sea level. The crater is 140 meters deep formed over an ancient caldera. From time to time loud explosions are heard and a mushroom cloud of gray, brown, orange or blue smoke billows out of the top.
After an exciting day touring the rainforest and lower slopes of Arenal Volcano, we relax in the nearby hot-springs locally owned by Dona Mireya and her family. There are five naturally-fed pools of different temperatures, one of which is always the perfect temperature for relaxing as the sun sets. Dinner is a wonderful home-style meal served in a rustic wooden ranch. Overnight at Arenal Observatory Lodge or similar [BLD]
DAY 4 : DANAUS ECOCENTER AND LOS ANGELES CLOUD FOREST
At the Danaus Ecocenter, witness Costa Rica's infamous Red Poison Arrow Frog along with an amazing diversity of mammals and reptiles, including sloths, marsupials, agoutis, coatis, caimans, and lizards in a natural tropical forest preserve. Traveling past lush farmlands and verdant forests, we reach the Los Angeles Cloud Forest in San Ramon, a small farming community in the heart of the Costa Rican Central Highlands.
From our tranquil hacienda featuring twenty cozy chalets with private baths and plenty of charm, we explore the adjacent Los Angeles Cloud Forest on trails that wind through lush tropical cloud-forests up to 6,000 feet. Listen for the calls of Howler monkeys and watch for Spider monkeys and capuchins. After dark, our guide takes us on a night walk in the forest to observe the variety of nocturnal insects and wildlife. Overnight at Hotel Villa Blanca or similar. [BLD]
DAY 5 : TRANSFER TO MANUEL ANTONIO
Wake up with an adrenaline rush as we fly through the forest canopy on a zip-line adventure (optional) - a truly exhilarating experience! We leave the highland cloud forest, and descend toward the Pacific coast and the stunning beaches of Manuel Antonio. En-route we make a short stop to view the huge American crocodiles basking in the sun at the Tarcoles River bridge. Lunch may be one of your most memorable highlights: an authentic homemade Costa Rican meal deliciously prepared with pride and served in the home of Dona Miriam and Don Urbano. Their home is the perfect setting to enjoy the ocean view while we savor Dona Miriam's delicious patacotes (fried plantains), hand-made tortillas, coconut cajetas (a sweet dessert treat) and Don Urbanos fresh catch of the day. Keep your binoculars handy as we have a good chance to see Scarlet Macaws feeding on the almond trees near the house. We arrive at Manuel Antonio in time to enjoy a refreshing swim before dinner. Our tropical hotel offers spacious rooms, private bath, comfortable beds and splendid views. Overnight at Hotel Villas Si Como No, El Parador or similar. [BL]
DAY 6 : MANUEL ANTONIO
Immerse yourself in the pristine beauty of Damas Island paddling single or double kayaks through the inland waterway as our guide points out wildlife and shares information about the mangrove habitat. Watch for sloths and monkeys gracefully navigating through the canopy. Listen for parrots and keep your eyes open for toucan and scarlet macaws. We will stop for either a typical lunch or dinner at a local restaurant. Note: A boat trip can be arranged for those who prefer not to kayak. Overnight at Hotel Villas Si Como No, Hotel EL Parador or similar. [BL]
DAY 7 : MANUEL ANTONIO FREE DAY
Enjoy a day to relax and explore on your own. Choose from a variety of Costa Rica adventures (cost not included). Optional activities available in Manuel Antonio include rafting, kayaking, sport fishing, surfing lessons, snorkeling, scuba diving, dolphin and sea turtle viewing, beachcombing, horseback riding, or hiking in the national park. Or, you may want to enjoy a quiet day relaxing at the beach or the hotel pool. Overnight at Hotel Villas Si Como No, Hotel EL Parador or similar. [B]
DAY 8 : TRANSFER TO SAN JOSE
Time permitting, enjoy a one final swim in the ocean or walk on the beach before transferring to the Quepos airstrip for our 30 minute flight to San Jose. A short transfer will take us to the Quepos airstrip where we board a twin engine charter flight (25 minutes) back to the San Jose International airport. Upon arrival, a driver will be waiting to take you to the terminal. Additional hotel nights in Manuel Antonio and extensions are available upon request. [B]
More information from Wildland Adventures: