Wildland Adventures - vacations and travel
Highlands of Guatemala Tour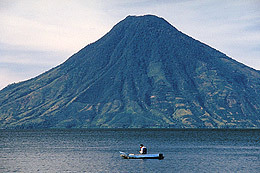 from $1,595* per person
9 Days
February-April, June, August, November, December
Comfort accommodations

Exertion level: 3

Operator:

Wildland Adventures

24 people max
Guatemala airport, guatemala city
Family & Friends trips
Enjoy our in-depth, highly personal, guided exploration of the dramatically scenic and culturally rich highlands of central Guatemala. Lush forests, farmlands of rich volcanic soil, crater lakes and volcanic peaks accent a land of ancient and contemporary Mayan life. Explore beyond the main village streets to witness ancient native rituals and cultural traditions. Visit ancient Maya and Spanish colonial cities, including the UNESCO World Heritage Site of Antigua, Guatemala and the Mayan sites of Takalik Abaj and Iximche. At Lake Atitlan we take time to experience the natural beauty of Guatemala's scenery and natural history. Immerse yourself in color, handicrafts and techniques passed on for generations by visiting famous craft markets and workshops of local artisans. Make real life connections with people as you walk their land and learn their day to day activities and intricacies of their resilient past.
Locations visited/nearby
Guatemala, Central America
0 testimonials about this trip.
Reviewer:

Kate Steinbacher

located in

Roanoke

,

VA

USA

You are the kind of tour operator the world needs more of...caring of your groups AND the beautiful places and people we get to experience!




5

Reviewer:

Ginger and Richard Lang

located in

Clyde

,

NC

USA

Congratulations on the kudos from National Geographic Adventure magazine. Our experiences in travel with Wildland underscore this commendation. We have loved traveling to Costa Rica and Southern Africa with you and are now involved in planning a trip to East Africa. Great job from a superb company! You are first in our minds!



5

Reviewer:

Libby Volckening

located in

Northfield

,

MA

USA

How can I begin to thank you for the most amazing, wonderful, incredible vacation of my life?!?!?!  Everything was better than I could have hoped.  So many precious memories.  Such wonderful chemistry of personalities.  It has been very hard to leave it all behind and get back to my real life...



5
Comments from Facebook
Special information
This is a custom departure, meaning this trip is offered on dates that you arrange privately with the provider. Additionally, you need to form your own private group for this trip. The itinerary and price here is just a sample. Contact the provider for detailed pricing, minimum group size, and scheduling information. For most providers, the larger the group you are traveling with, the lower the per-person cost will be.
Family oriented trip.
Itinerary
DAY 1 : ANTIGUA
Met and warmly received after your international flight touches down in Guatemala City by your guide, a 45 minute drive brings you to Antigua, Latin Americas premier colonial city. Designated a UNESCO World Heritage Site, this former capital of Guatemala is a strikingly beautiful city, rich in history. Visitors and locals alike casually congregate in the central plaza sitting and strolling, watching the world go by. Overnight at the centrally located Palacio de Dona Leonor or similar. [D]
DAY 2 : CHICHICASTENANGO
Arise early to visit the famous market of Chichicastenango where Kiche indigenous people gather to barter, buy and sell. Take ample time to stroll through the streets, browse and purchase native handicrafts, and observe ancient native rites of burning incense, spreading flower petals and burning candles in the Santo Toms Church. Although the rites are Mayan and not Catholic, the Catholic Church has allowed the Maya to practice religion in their own manner since the 17th century. After lunch depart for the shores of Lake Atitlan, a caldera lake whose crystal blue waters are flanked by three spectacular volcanoes, and take a short boat ride across the lake to your charming hotel near the Tzutujil Maya village of Santiago Atitlan on the scenic south shore. The Posada is surrounded by coffee trees and features individual volcanic stone cottages and suites which are perfect for families as well as a lakeside swimming pool, canoes and an excellent restaurant which emphasizes fresh food. Overnight at Hotel Posada de Santiago or similar. [BLD]
DAY 3 : LAKE ATITLAN
Options for the morning include either horseback riding or hiking. Choose to mount your horse for a morning ride in the nearby Mirador de Tepepul cloud forest. Under the guidance of an expert who knows the area intimately, follow a trail which takes you through corn and coffee fields before zigzagging up the mountain pass. On a clear day you can expect a great view of the lake and you may even be able to see the Pacific Ocean. No riding experience is necessary as horses are available for all levels of riders. The other option is to cross the lake by ferry to the village of San Pedro La Laguna and walk up through the forest to the lookout point to view the San Pedro volcano. The viewpoint gives you a new perspective and the chance to learn more about the complex of volcanoes surrounding Lake Atitlan and how the lake itself was formed by a collapsed volcano.
Following either morning option, return to the picturesque village of Santiago Atitlan and glimpse daily life as you explore the narrow streets encountering native women wearing their traditional huipiles (cloaks) and headwear. Stop by the Catholic Church founded over four centuries ago to see the saints draped in cloth. Visit the local Mayan-Catholic deity, Maximon and learn about the unusual gifts and rituals offered by local people in hopes of bringing good luck. Afternoon free time can be spent relaxing by the pool, soaking in the hot tub, biking near the lake, enjoying a siesta in a hammock, or canoeing on the lake. Overnight at Hotel Posada de Santiago or similar. [BLD]
DAY 4 : TOTONICAPAN
This highland city is nestled in a valley at 8,000 feet and boasts the highest concentration of Maya people in Guatemala, many of whom have retained their ancient traditions. Our full day walking tour includes visits to artisans workshops, homes, and a colorful non-tourist market. Learn from weavers about Mayan looms, explore a potters studio, and enjoy an informal lecture and colorful ceremonial demonstrations at the Morera, the center for traditional dance and costume making. Lunch is delicious home-cooked fare, served in a small, private courtyard, accompanied by a live marimba band. This afternoon enjoy spectacular views of the Sierra Madre volcanic chain as your private driver/guide follows the coastal route of the Pacific plains get to the Pre-classic Mayan site of Takalik Abaj. Overnight at the Takalik Maya Lodge or similar. [BLD]
DAY 5 : TAK'ALIK AB'AJ
This site is well preserved and plays a significant role in the archaeological record by bridging the intriguing gap between the Olmec and Maya Civilizations. Here you will have the opportunity to view the remnants of both cultures lying in the same surroundings. After a morning visit to the site view one of Guatemalas modern exports, coffee. Walk through fields in the lush costal atmosphere, feel the soil and see why this environment produces such rich and earthy beans that are enjoyed worldwide. This afternoon well transfer to overnight at the Los Tarrales Reserve or similar. [BLD]
Learn about recent discoveries
Note: Get a birds eye view of the stunning highland topography by taking a brief early morning flight to get to the Pre-classic Mayan site of Takalik Abaj. Ask the program director for upgrade details.
DAY 6 : LOS TARRALES RESERVE
This morning enjoy a walk through an exotic flower farm and coffee plantation. Many trails lead out from the plantation in to primary lowland forest and cloud forest that has been dutifully preserved along the volcanic steeps surrounding farm. This is an excellent area for spotting birds that are exclusive to the southern coastal such as the long-tailed manakin, cinnamon hummingbird, berylline hummingbird, azure-rumped tanager, and three types of parakeet. Continuing north well enter the Maya Cakchiquel region where the first Spanish capitol city of Guatemala was founded in 1524 to overnight at a local farm and ranch. Overnight at San Ricardo Farm and Lodge or similar. [BL]
DAY 7 : CAKCHIQUEL REGION
This morning visit the Maya Cakchiquel region and the pre-Columbian Mayan capitol city of Iximche. Continue on to the small town of Xenotox well be met by local representatives of the farming community, walk through the fields and discuss how their farming techniques relate to Mayan spirituality, their modern way of life, as well as the economics of small town subsistence. Visit in your hosts home to enjoy an authentic lunch and back-strap loom demonstration a textile tradition that has survived from the ancient Maya. Transfer to Antigua to overnight at Palacio de Dona Leonor or similar. [BL]
DAY 8 : ANTIGUA
Walk along the cobblestone streets among the monasteries, restored churches, and old haciendas of Antigua for a stunning and informative inside look at the former capital of Guatemala. Latin Americas premier colonial city, Antigua is a designated UNESCO World Heritage Site. Our guides will help make the most of a free afternoon to explore and shop on your own. Overnight in Antigua at Palacio de Dona Leonor or similar. [BL]
DAY 9 : RETURN HOME OR EXTENSION TO TIKAL OR COPAN
Transfer to the international airport for your return flight home or begin optional trip extension to Tikal or Copan, Honduras. [B]
More information from Wildland Adventures: