Wildland Adventures - vacations and travel
Beagle - Galapagos Vacation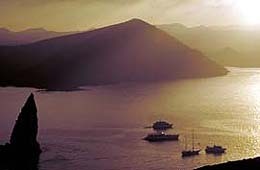 from $3,895* per person
11 Days
Year-round
Comfort accommodations

Exertion level: 3

Operator:

Wildland Adventures

24 people max
Airport, ecuador near quito, ecuador
Family & Friends trips
Explore the fascinating blend of Indian and Spanish culture in Quito, South America's oldest capital city and designated UN World Heritage Site, and voyage among the unique Galapagos Islands. Discover plants and animals unique to particular islands as you travel throughout the archipelago. Our expert naturalist guides explain how these species have evolved and adapted over time. During an 8 day cruise you will visit the major wildlife sites, including some of the more remote outer islands. Meet exotic and bizarre wildlife as you venture among cinder cones, lava flows, white and black sand beaches, and rocky cliffs and cool off snorkeling in clear equatorial waters.

Locations visited/nearby
Ecuador, South America, Galapagos
0 testimonials about this trip.
Reviewer:

Kate Steinbacher

located in

Roanoke

,

VA

USA

You are the kind of tour operator the world needs more of...caring of your groups AND the beautiful places and people we get to experience!




5

Reviewer:

Ginger and Richard Lang

located in

Clyde

,

NC

USA

Congratulations on the kudos from National Geographic Adventure magazine. Our experiences in travel with Wildland underscore this commendation. We have loved traveling to Costa Rica and Southern Africa with you and are now involved in planning a trip to East Africa. Great job from a superb company! You are first in our minds!



5

Reviewer:

Libby Volckening

located in

Northfield

,

MA

USA

How can I begin to thank you for the most amazing, wonderful, incredible vacation of my life?!?!?!  Everything was better than I could have hoped.  So many precious memories.  Such wonderful chemistry of personalities.  It has been very hard to leave it all behind and get back to my real life...



5
Comments from Facebook
Special information
This is a custom departure, meaning this trip is offered on dates that you arrange privately with the provider. Additionally, you need to form your own private group for this trip. The itinerary and price here is just a sample. Contact the provider for detailed pricing, minimum group size, and scheduling information. For most providers, the larger the group you are traveling with, the lower the per-person cost will be.
Family oriented trip.
Itinerary
DAY 1 : ARRIVE QUITO
Arrive in Quito and transfer to Patio Andaluz, a 4 star boutique hotel situated in the heart of the refurbished colonial center of Quito. Overnight Patio Andaluz or similar. [Meals on your own]
DAY 2 : QUITO
We begin our Ecuador vacation with a half-day city tour of colonial Quito, including the bustling Independence Plaza, the dazzling gold-leafed altars of La Compania Church, and the impressive San Francisco Church. Visit the Mitad del Mundo Equatorial marker and ethnographic village and museum. Afternoon and evening are free to explore this beautifully restored city with its busy pedestrian plazas, shops, coffee bars, pubs, and many excellent restaurants. Overnight Patio Andaluz or similar. [B]
DAY 3 : GALAPAGOS ISLANDS
Private transfer in the morning to the domestic airport for the 2 hour flight to the Galapagos. Upon arrival, meet your naturalist guide and transfer to the Beagle. The ship's crew will greet you on board, take care of your luggage, and run through safety drills. Enjoy fresh fruit drinks as the yacht makes her way to the first site visit. As the sun sets, enjoy a typical Ecuadorian meal, the nightly briefing, and a formal presentation of the captain and crew. During the rest of this week, you will leisurely voyage through the stunning Galapagos Islands, among a varied landscape of diverse flora and fauna. Overnight onboard. [BLD]
DAY 4 : GENOVESA & DARWIN BAY
Darwin Bay, at Genovesa Island, is all that remains of the caldera from a collapsed volcano with steep, soaring walls. Snorkeling in the submerged caldera is excellent, as the high nutrient content of the water attracts an abundance of sea life. Known as The Bird Island, Genovesa features a wealth of avian species including great frigate birds, herons, mockingbirds, boobies, swallow-tailed gulls, storm petrels, and Darwin's finches. This afternoon you might kayak or ride the dinghy below the steep cliffs to view birds nesting in the narrow rock crevices. Red-Billed Tropicbirds, as well as Masked and Red-Footed Boobies are usually seen on the hike up Prince Philips Steps to the high plateau. The path meanders through the Palo Santo forest before emerging on the other side of the island. Overnight on the Beagle. [BLD]
DAY 5 : SOUTH PLAZA & SANTA FE ISLANDS
South Plaza Island offers one of the best opportunities to see land iguanas and swallow-tail gulls, both endemic to Galapagos. Other avian species, which take advantage of the perfect bird habitat of the sheer cliffs on the island, are yellow-tailed mullets, Audubon shearwaters, red-billed tropicbirds, and brown pelicans. Look for the unusual vegetation on this island like the Opuntia cactus and Sesuvium plants that form a red carpet over the rocky landscape. This afternoon slip into the snorkeler's paradise at Santa Fe Island's deep turquoise bay protected by a long peninsula. Watch sea lions play in the crystalline waters. An afternoon hike will take you atop a cliff where you may see a species of land iguana unique to this island. Overnight on the Beagle. [BLD]
DAY 6 : SANTA CRUZ ISLAND & CHARLES DARWIN STATION
Visit the famous Charles Darwin Station on Santa Cruz Island and learn about current research and conservation initiatives including several breeding programs that hope to reintroduce specific tortoise species back onto the island of their origin. Meet Lonesome George, possibly the oldest resident of Galapagos and the last surviving individual giant tortoise of his Pinta Island sub-species. In the lush green highlands, explore lava tubes and pit craters, and look for wild giant tortoises. Enjoy a typical Ecuadorian lunch at a local restaurant. Overnight on the Beagle. [BLD]
DAY 7 : ESPANOLA ISLAND
Relax on the beach with the sea lions at Gardener Bay, Espanola. Snorkeling from shore here, you can find plenty of beautiful fish as well as harmless nurse sharks and gentle sea turtles. Due to its isolation, Espanola has a high number of endemic species found only on this island and you will visit the nesting site of over ten thousand pairs of Waved albatross. At one meter high with a two meter wing span, the Waved albatross is one of the most impressive and comical aerial acrobats in the world. Remarkably, they are found nowhere else on Earth. This afternoon you arrive at Punta Suarez for an outstanding opportunity to see more wildlife including five species of nesting seabirds like the Hood Island mockingbirds, Galapagos doves, and Galapagos hawks. Prehistoric-looking Marine iguanas and giant lava lizards roam the terrain. A short hike leads to the Blowhole, a fissure in the lava cliffs which blasts incoming breakers into geysers over 90 feet high. Overnight on the Beagle. [BLD]
DAY 8 : FLOREANA ISLAND & POST OFFICE BAY
Of all the islands in the Galapagos, Floreana has the most intriguing human history. Learn about the 18th century whalers who created the wooden barrel in Post Office Bay which is still used as a general mail distribution center, and the particularly eccentric self-proclaimed baroness who mysteriously disappeared one night. However, wildlife is still found here and the fine olivine and white sand beaches are common nesting areas for green sea turtles. A nearby lagoon is home to flamingos, pintail ducks, stilts, and other shorebirds. Visitors may also spot stingrays and white-tipped reef sharks swimming in the shallows of the bay. Overnight on the Beagle. [BLD]
DAY 9 : SANTIAGO & BARTOLOME ISLANDS
After landing this morning at the beautiful black sand beach of Puerto Egas, on Santiago, embark on a hike through the dry interior of the island. Keep your eyes out for hawks, doves, and finches before reaching the opposite coastline. Deep aquamarine colored grottos shelter sea lions and night herons, as well as invertebrates such as sea urchins, octopus, and starfish. This is one of the few places in the Galapagos to spot fur seals basking on the black lava rocks. In the afternoon visit Pinnacle Rock on Bartolome Island, where penguins are often spotted. Hike up to the summit of the island for spectacular views of the Rock, the white-sand beaches and the lush mangrove swamps below. Identify various volcanic formations like spatter and tuff cones with your guide, keeping an eye out for pelicans and Galapagos hawks. Overnight on the Beagle. [BLD]
DAY 10 : RETURN TO QUITO
Disembark in the morning. Your guide will accompany you to the Galapagos airport for your afternoon flight to the mainland. Transfer in from the Quito airport and stay overnight at Patio Andaluz or similar. [B]
DAY 11 : DEPART
Transfer to the airport for your return flight home or extend your trip to visit more of Ecuador's natural wonders. [B]
More information from Wildland Adventures: