Ciclismo Classico - vacations and travel
Tuscan Fantasy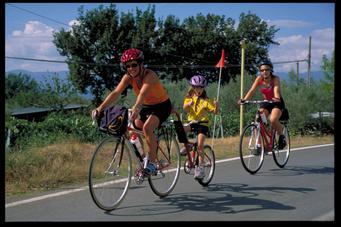 from $3,995* per person
8 Days
June-August
Boutique accommodations

Exertion level: 4

Operator:

Ciclismo Classico

24 people max
Florence, italy
Family & Friends trips
Varied program designed for active people of all ages—including children and beginners
Renovated Tuscan farmhouse with swimming pool, tennis courts and horseback riding
Overnights in charming apartments with kitchen, bath and living room
Cooking lesson with an expert Tuscan chef
Visits to the Renaissance Gems of Siena and Arezzo
Children's activities and cross cultural exchanges
Lectures on Tuscan history and art

The fascinating history, warm sun, breathtaking beauty and sumptuous cuisine of Tuscany converge in this enriching vacation for friends and family of all cycling levels. You'll stay in a 15th-c. farmhouse, view medieval castles and enjoy a host of special activities to ensure your Italian adventure is a memorable one!
Locations visited/nearby
family vacation in tuscany , tuscany vacation , italy bike tour, Italy, Europe
0 testimonials about this trip.
3 testimonials about the provider, Ciclismo Classico:
Reviewer:

Harvey S.

located in

San Diego

,

CA

"We never would have found such wonderful places off the beaten path on our own."

5

Reviewer:

Nancy A.

located in

Chicago

,

IL

"Leave the real world behind, cycle through Italy and refuel your soul."

5

Reviewer:

Bill M.

located in

San Jose

,

CA

"As with a first taste of any fine wine, your Assaggio Toscana has whetted my appetite for much more of your beautiful country. I'll cherish the memories of our dinners at the Fattoria, our climbs up those beautiful hills and most of all the small personal details along the way." Never has the word 'Classico' been more appropriate!"

5
Comments from Facebook
Special information
May accommodate certain types of disabilities. Contact the operator for more information.
Family oriented trip.
Itinerary
Day 1 – Welcome & Warm-up in San Donato
After a warm-up spin, relax by the pool on the grounds of your private apartment. Take it easy today... give yourself some time to get used to your bicycle and the gentle rhythm of the Tuscan landscape.
Day 2 – Loro Ciuffena
Loop along the panoramic Sette Ponti (Roman Road of Seven Bridges) to Loro Ciuffenna, where you'll enjoy a cooking lesson and hearty Tuscan lunch. After passing through Regello, we'll follow an ancient Etruscan road through the region. The rich history of this area has left behind beautiful architectural sights to view, as you wind through vineyards and olive groves. Once we get back to the hotel, you'll have plenty of time to take a dip in the pool and relax before dinner!
Day 3 – San Donato
Choose a countryside hike or a variety of child-friendly options, including tennis, horseback riding and a hike to visit an olive press. For parents, there's also an early morning "coffee ride" into Reggello, to relax and enjoy a real Italian espresso or cappuccino. An evening cooking lesson teaches how to make pizza, kid- and parent-friendly fare!
Day 4 – Figline & Greve
Cruise downhill to medieval Figline where we'll take a stroll through the market and buy some fresh produce for our afternoon picnic. We'll visit the Museo della Civilta Contadina, followed by an optional loop or relaxation by the pool.
Day 5 – Siena
Shuttle to Siena, Tuscany's medieval jewel, whose architectural treasures we'll explore on a walking tour. In the afternoon, you can choose your own activity; perhaps you'll climb the Torre del Mangia (the focal point of Siena's main piazza) or visit the Pinacoteca Museum (a collection of medieval paintings).
Day 6 – Vallombrosa
Cycle through a dense forest to the Vallombrosa abbey, one of history's grandest medieval Benedictine abbeys. You have the choice of two loops; the more challenging route takes you up Monte Secchieta, the highest point in the area at 4,550 ft!
Day 7 – Arezzo
Cycle to Arezzo, home of one of Europe's biggest jewelry industries and the setting of "Life is Beautiful" by Roberto Benigni. Here, we'll have a walking tour of Arezzo's many artistic treasures.
Day 8 – Arrivederci!
We will provide a group shuttle to Florence for travel connections. Want to visit other areas of Italy, or beyond? We're happy to assist you with travel plans!
More information from Ciclismo Classico: