Ciclismo Classico - vacations and travel
Mediterranean Island Hopping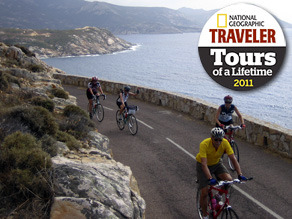 from $4,995* per room
11 Days
April, May, September
Boutique accommodations

Exertion level: 5

Operator:

Ciclismo Classico

24 people max
Alghero, italy
Active & Adventure trips

Catalan-inspired coastal town of Alghero
Rustic lunch at a typical Sardinian country farmhouse
Island-hopping boat excursion
Visit to the 5,000-year-old archaeological site of carved menhirs
Astonishing glittering red granite rock walls of Les Calanche
Daily dips in turquoise blue coves
French and Italian cultures back to back

Experience a fascinating contrast in cultures: Italian-influenced Sardinia with its prehistoric nuraghi towers (sculpted pink-rock formations) and the rugged, French-flavored island of Corsica. Whether you're an outdoor enthusiast, water lover, photographer or cyclist in search of the perfect ride, you'll be dazzled by this trip's dramatic beauty and historic treasures.
Locations visited/nearby
France, Italy, Europe
0 testimonials about this trip.
3 testimonials about the provider, Ciclismo Classico:
Reviewer:

Harvey S.

located in

San Diego

,

CA

"We never would have found such wonderful places off the beaten path on our own."

5

Reviewer:

Nancy A.

located in

Chicago

,

IL

"Leave the real world behind, cycle through Italy and refuel your soul."

5

Reviewer:

Bill M.

located in

San Jose

,

CA

"As with a first taste of any fine wine, your Assaggio Toscana has whetted my appetite for much more of your beautiful country. I'll cherish the memories of our dinners at the Fattoria, our climbs up those beautiful hills and most of all the small personal details along the way." Never has the word 'Classico' been more appropriate!"

5
Comments from Facebook
Special information
May accommodate certain types of disabilities. Contact the operator for more information.
Itinerary
Day 1 – Alghero
Warm up with a twisting ride along a magical Sardinian coastline.
Day 2 – Castelsardo
Today's ride gives you a taste of inland Sardinia- vast, sweeping fields of wheat, farmland, and distant villages framed by cactus, olive trees and maquis bush. We'll coast through quiet villages and enjoy the open sky.
Day 3 – Santa Teresa
A canyon-like landscape unfolds at La Costa Paradiso-literally Paradise Coast. In the morning you'll experience miles of maquis covered landscape; in the afternoon, a blue sea to your left and granite mountains to your right.
Day 4 – Santa Teresa1
Today enjoy our festive boat ride to remote stops along Sardinia's Costa Smeralda. This coast bares some of the most beautiful beaches on earth! Our captain will serve up a lunch of local specialties.
Day 5 – Bonifacio
Start the morning off with a short bike ride before our ferry to Corsica. You can spend the afternoon as you please. Bonifacio is full of boutiques and cute shops, and our guides will lead a tour along the cliffs or to secluded bays.
Day 6 – Bonifacio1
Enjoy a loop ride into Corsica's lush interior on quiet backroads, viewing distant peaks and ancient stone villages. You're also sure to see some mules and sheep dotting the countryside along the way!
Day 7 – Propriano
Pedal along the gorgeous route with views of the se and craggy coastline. We'll spin through a spectacular mix of vineyards, farmland and mountainscapes to the beautiful town of Sartene.
Day 8 – Ajaccio
Visit Filitosa, Corsica's most important prehistoric site, in a lovely setting of fields and olive groves. Then, bike along a winding road with unsurpassed views. We'll finish our ride in the quaint village Porticcio to enjoy an aperitif and a quick dip. Once we reach Ajaccio, the owner of the Capitellu museum will tell us the story of Napoleon's birth place. Enjoy a fantastic dinner at the best restaurant in town.
Day 9 – Porto
Today's ride has an incredible variety of scenery, including rugged mountains and white sandy beaches. Picnic in peaceful Cargese, then ride to Les Calanche, where red and pink granite spires soar above the sea. We'll then descend to Porto, a sleepy village with breathtaking sunsets.
Day 10 – Calvi
Today is perhaps the most scenic ride of our trip! We roll through lush forests and along quiet bays embraced by monumental peaks. Take your time to enjoy the dramatic and at times surreal landscape.
Day 11 – Au Revoir/ Arrivederci!
We'll provide you with a morning shuttle to Calvi's airport. We are happy to assist you with any further travel plans!
More information from Ciclismo Classico: