Adventure Life Journeys - vacations and travel
Inca Pathways - Inca Trail & Lake Titicaca
"We fell in love with Peru. It was the people, food and ruins . . . but having our guide's… "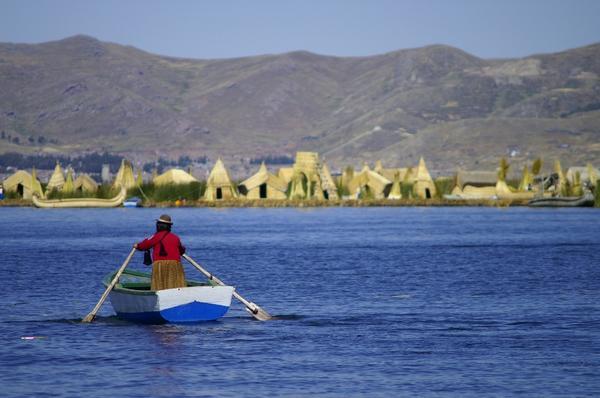 from $3,575* per person
14 Days
March-January
Comfort accommodations

Exertion level: 5

Operator:

Adventure Life Journeys

12 people max
Lima airport, lima, peru
Culture & Nature trips
Trekking on the Inca Trail, staying with families on Lake Titicaca, and exploring Andean markets make for an unforgettable journey. Combine this tour with an Amazon Extension to discover the great variety Peru has to offer. On this tour we hike the classic Inca Trail to Machu Picchu. We'll share dinner, smiles and laughs with our hosts on Amantaní Island; bargain at Cusco's colorful markets and with a few extra days, explore the Amazon jungle. This is one of our most popular journeys and for good reason--join us to discover the magic of Peru and hike the Inca Trail!
Locations visited/nearby
Lake Titicaca , Machu Picchu , Sacred Valley , Inca Trail , Cusco, Peru, South America
2 testimonials about this trip
Reviewer:

A. Kaplin

located in

Palatine

,

IL

Apr, 2006

We fell in love with Peru. It was the people, food and ruins . . . but having our guide's local experience and perspective was the icing on the cake. His spontaneity was key, too - we cooked our meals in a restaurant that we really liked, and we stopped to give local kids a ride on our way to some ruins. This experience gave us real insight into their lives. This was the best vacation we've ever had!!

5

Reviewer:

E. Petuskey

located in

Newcastle

,

CA

May, 2006

Everything went off like clockwork and everyone took great care of us. Our guide was great - knowledgeable, caring, competent, enthusiastic and good company. Puno, Cusco and the Inca Trail are like stepping back in time. Getting to know the people, the culture and the history was wonderful. To see the Sacred Valley of the Incas - a fertile farm area where everything is done by hand and the irrigation systems date back to the Incas - was quite amazing. The ruins are spectacular, but rubbing shoulders with people in the markets and in towns like Cusco, Puno and Aguas Calientes was the best part. Thank you for organizing such a wonderful and carefree adventure for me and my friends. We will talk about it for years to come!

5
Reviewer:

S. Cook

located in

Santa Barbara

,

CA

USA

Adventure Life is one of the few organizations in the world that get what matters most - customers. Your staff and services were excellent and of quality. It is clear that everyone at Adventure Life loves what they do and do what they love.

5
Comments from Facebook
Special information
This is a custom departure, meaning this trip is offered on dates that you arrange privately with the provider. Additionally, you need to form your own private group for this trip. The itinerary and price here is just a sample. Contact the provider for detailed pricing, minimum group size, and scheduling information. For most providers, the larger the group you are traveling with, the lower the per-person cost will be.
May accommodate certain types of disabilities. Contact the operator for more information.
Itinerary
Day 1 Arrive Lima lodge
Overnight.
Days 2-4 Lake Titicaca and its Floating Islands (3B,D) lodge
A late morning flight takes you to the shores of mystical Lake Titicaca. Legend has it that the first Inca rose out of its azure waters. On Day 3 you'll visit the floating islands of the Uros people and stop for the night on Amantaní Island. Here you'll split into small groups and overnight with local families. A night on Amantaní is a journey 500 years into the past. Residents till the dry soil by hand and weave all their clothing on small wooden looms. Share in the hospitality of the Aymara Indians and experience a short day in their lives. After breakfast with your families, you'll make your way back to Puno for night 4.
Day 5 Journey to Cusco (B,L) lodge
A spectacular bus ride to Cusco crosses the 14,403 feet La Raya pass. Grab a window seat and enjoy Peru's altiplano. Along the way, enjoy optional visits to the "Sistine Chapel" of Peru and a pre-Incan site, as well as a huge lunch featuring traditional Peruvian cuisine. Entrances to the sites are additional (around $10 per person), but the lunch is on us! Your final destination is the Navel of the World--Cusco, Peru!
Day 6 Explore Cusco (B) lodge
Andean history comes alive in Cusco. Quechua speaking descendents of the Incas fill the streets and markets, colonial churches sit atop bases of smooth stonework laid centuries before the Conquistadors, and campesinos in colorful dress move busily back and forth across the plazas. The morning is yours to wander Cusco's narrow streets. In the afternoon your tour leader takes you through Cusco's local market and explains a bit about what you'll find in the adjacent witches' market. You will also visit the Center for Traditional Textiles in Cusco, a local organization committed to preserving the region's weaving traditions. (If visiting the Sacred Valley on Sunday, you will visit their center in Chinchero instead). Watch weavers demonstrate their craft and learn about the history and processes of Peru's most well-known art form. This evening enjoy a folklore show at one of Cusco's typical restaurants.
Day 7 Journey to Sacred Valley (B) lodge
This morning you'll journey into one of the most beautiful areas of Peru. You'll test your bargaining skills with the locals while visiting one of the great textile markets in the area. You may hike to the inspiring ruins of Pisac, or take a short walk through the countryside to the seldom-visited town of Maras and its pre-Columbian salt mines (still in use today with salt being collected in traditional fashion) as well as the Inca agricultural terraces of Moray, thought to have been a nursery to experiment with and modify different varieties of crops. Eventually, you will make your way to the living Inca city of Ollantaytambo where you can relax for the night.
Days 8-10 Pilgrimage on the Inca Trail (3B,3L,3D) camp
Walk in the footsteps of the great Inca civilization as you journey along their ancient trail to the sacred city of 'Machu Picchu'. Andean history comes to life along this ancient route as each day you pass ever larger ruins. Scenery changes from snowcapped mountains to lush green cloudforest. The trek is made with pilgrims from all over the world, and your friendly crew of guides and porters will take great care of you along the way.
Trek Details
Day 8 - KM 82 TO HUAYLLABAMBA -- Trek length: 7.8 miles (5-7 hrs) Camp elevation: 9,691 ft
Day 9 - HUAYLLABAMBA TO PACAYMAYO -- Trek length: 5.1 miles (5-7 hrs) Camp elevation: 11,833 ft. Warmiwanusca pass (13,776 ft)
Day 10 - PACAYMAYO TO PHUYUPATAMARCA --Trek length: 4.5 miles (4-6 hrs); Camp elevation: 12,067 ft
Day 11 - PHUYUPATAMARCA TO MACHU PICCHU -- Trek length: 6.9 miles (5-7 hrs); Machu Picchu elevation: 7,875 ft
Some itineraries will hike farther on day three and camp at a closer location to Machu Picchu, making the hike on day four shorter. This will be up to the discretion of your Tour Leader and the Peruvian National Park Service. Your Tour Leader will notify you locally of your camping itinerary.
Day 11 Machu Picchu (B) lodge
The group descends 3,000 feet from their campsite at Phuyapatamarca to reach spectacular Machu Picchu in the afternoon. Explore the ruins and continue to the village of Machu Picchu Pueblo (formerly called Aguas Calientes) below the ruins.
Day 12 Machu Picchu - Cusco (B) lodge
Explore the great city at your own pace today. Climb the pinnacle mountain of Huayna Picchu for one of the most spectacular views of Machu Picchu or wander through the cloudforest on a recently discovered Inca pathway to the seldom visited Temple of the Moon. In the afternoon, you'll return to Cusco by train.
Day 13 Cusco (B) lodge
Today is yours to relax with your guide or on your own. The travel Mecca of South America bursts with all sorts of activity. You can shop or people watch from the bustling cafes that line the Plaza de Armas, or you can explore the enormous Incan ruins of Sacsayhuamán, the "Puma's Head" of the city. For the adventuresome, rafting, biking, and horseback riding can be arranged. At night, travelers from all over the world fill Cusco's restaurants, pubs and dance clubs, providing the most vibrant and unique nightlife on the continent. Dance with Chileans, Germans, Finns, Americans, Colombians, French, English... the list goes on! Then toast to your Cusqueño hosts!
Day 14 Fly Lima and Return Home (B)
More information from Adventure Life Journeys: