Adventure Life Journeys - vacations and travel
Galapagos Multisport
"The local guide, Miguel, was amazing. He led the group well, answered everyone's questions, was full of knowledge, was reliable… "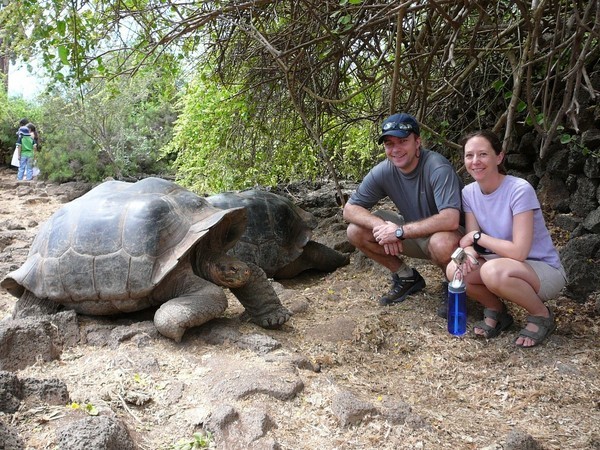 from $3,590* per person
9 Days
Year-round
Comfort accommodations

Exertion level: 5

Operator:

Adventure Life Journeys

16 people max
Airport, ecuador near quito, ecuador
Active & Adventure trips
There are travelers that prefer nothing more than a large beach blanket and a deck chair...and then there are the travelers that prefer the Galapagos Multisport Tour! Perfect for active families and athletic groups of four or more, this itinerary allows you to explore the Galapagos Gladiator-style. Hiking, kayaking, biking, snorkeling...what else can you squeeze into this adrenaline-packed Galapagos tour itinerary? Only the most eye-popping wildlife in the world -- sea lions, dolphins, turtles and bountiful birdlife swoop around you while you paddle and play. A truly unique and invigorating way to view this enchanted archipelago, the Galapagos Multisport will leave you breathless!
Locations visited/nearby
San Cristobal , Santa Cruz , Isla Lobos , Leon Dormido , Isabela , Snorkeling , Island Hiking , Kayaking, Ecuador, South America
2 testimonials about this trip
Reviewer:

J. Duberstein

located in

New York

,

NY

June, 2006

The local guide, Miguel, was amazing. He led the group well, answered everyone's questions, was full of knowledge, was reliable and hardworking. He made the trip great--he even went running with me into the highlands and on beaches! This trip was a perfect adventure. I experienced this special world in every way--swam with sea lions, biked in the mountains (and had to stop for a "turtle crossing"), came within inches of giant tortoises, hiked a volcano (after a horseback trek) . . . Every day was its own journey of fun, activity, and challenge. This was a life experience I'm so happy I didn't miss out on. I can't wait to go on another Adventure Life trip! Thank you!

5

Reviewer:

D. Pachota

located in

Venice

,

FL

Aug, 2006

I would definitely travel with Adventure Life again. They were very helpful. Marissa, DarAnne, and our local guides Alfredo and Valentin were so knowledgeable and professional, yet fun. They assessed our group and the other group that toured tandem with us (alternating activities) and tailored everything to our two different groups. The other group consisted primarily of 20 and 30 year old couples-while our group consisted of three couples in their 50's. The guides knew what activities to scale up or down and what we could do together and yet all have fun. We had a blast!

5
Reviewer:

S. Cook

located in

Santa Barbara

,

CA

USA

Adventure Life is one of the few organizations in the world that get what matters most - customers. Your staff and services were excellent and of quality. It is clear that everyone at Adventure Life loves what they do and do what they love.

5
Comments from Facebook
Special information
This is a custom departure, meaning this trip is offered on dates that you arrange privately with the provider. Additionally, you need to form your own private group for this trip. The itinerary and price here is just a sample. Contact the provider for detailed pricing, minimum group size, and scheduling information. For most providers, the larger the group you are traveling with, the lower the per-person cost will be.
May accommodate certain types of disabilities. Contact the operator for more information.
Itinerary
Day 1 Arrive Quito lodge
Overnight.
Day 2 Fly Galapagos and Hike San Cristobal (B,L,D) lodge
Catch an early flight to San Cristobal Island to begin your action-packed Galapagos tour. After lunch at a local restaurant, start your adventure with a visit to the San Cristobal Interpretation Center, to learn about the fascinating natural history, island formations, species and how it all relates to Darwin's evolution. You'll explore the dry forest, dotted with cacti, as you hike towards Frigate Hill along trails of lava rock. Splendid views of the coastline and the cheerful town of Puerto Baquerizo Moreno accompany us on our walk. This will be a good time to enjoy your first encounters with local wildlife such as magnificent frigate birds, blue footed boobies, brown pelicans, gulls, herons and Darwin's famous finches. On the way back to town, we stop for a refreshing swim in the ocean.
Day 3 Hike San Cristobal Highlands & Kayak and Snorkel Darwin Bay (B,L,D) lodge
We drive up to El Junco Lagoon, a freshwater lake located in a collapsed caldera at 2,300 feet (700 meters) of altitude on the San Cristobal Island highlands. The lake and its surroundings comprise a beautiful Miconia forest landscape, where we will find frigate birds washing off salt from their wings, Darwin's finches, and mocking birds. We continue on to La Galapaguera in Cerro Colorado, a new facility operated by the National Park to breed and protect the subspecies of giant turtles endemic to San Cristobal (Geochelone chathamensis). On our way back, we visit El Cafetal, a historic hacienda that harvests a special class of coffee bean named Bourbon since 1875, since soil and weather conditions here are ideal for this product.
This afternoon, we slip into our ocean kayaks and spend the morning paddling along the coast, past Playa Carola, exploring the coast line to Darwin Bay, the site of the first landing of the HMS Beagle. We will explore and snorkel in Darwin Bay which is home to sea lions, marine turtles, blue-footed boobies, and frigate birds.
Day 4 Snorkeling at Isla Lobos, Leon Dormido and Cerro Brujo (B,L,D) lodge
A morning boat ride along the northern coast of San Cristobal Island takes us to Isla Lobos, a small island that creates a narrow stretch of calm turquoise waters and provides a fantastic snorkeling site where you can swim and enjoy the best sea lion encounters in the entire archipelago. Afterward, we'll continue on and reach Leon Dormido, the jagged remains of an old tuff cone whose flanks are home to thousands of sea birds. At Leon Dormido, we will enjoy excellent snorkeling. There is a good chance of seeing Galápagos sharks, eagle and golden rays, as well as dozens of species of tropical fish, clams, starfish, and marine invertebrates. If we are lucky, we may spot hammerhead and white-tipped sharks as well. From here, we go to Cerro Brujo.
Cerro Brujo is an eroded tuff cone in several parts and is composed of cooled lava. It is formed by low-viscosity lava that contains little gas and breaks while solidifying and is pushed by lava still flowing from the rear. In this fascinating landscape of lava we can observe boobies, gulls and pelicans. The sheltered bay is popular for young sea turtles and rays and there are excellent opportunities for swimming and snorkeling. After this full day northern coast excursion we return to port where we enjoy dinner and our last evening on San Cristobal Island.
Day 5 Fly Isabela and Mountain Bike (B,L,D) lodge
After breakfast, we take a small, private plane from San Cristobal to Isabela Island. Isabela is the largest island in the archipelago, formed by 5 shield volcanoes: Alcedo, Cerro Azul, Darwin, Sierra Negra, and Wolf. All of these volcanoes (except for one) remain active, making this island one of the most volcanically active places on Earth. Here, we visit the Galápagos Tortoise Rearing Center, to learn about tortoise development and conservation. We explore the bay for wildlife and follow a trail along the coastline to observe dramatic lava formations and meet a large colony of sea lions. In the afternoon we prepare our gear for a mountain bike ride to El Muro de las Lágrimas (Wall of Tears). We ride along the coast with spectacular views as we ride through mangroves and salty lagoons that are home to the mangrove finch, endemic to Isabela. We can also spot American oyster catchers, herons, flamingos, and many other shore birds. We reach the Wall of Tears, a historic site that dates back between 1946 and 1959 when Isabela was a penal colony. On our way back we ride by and relax on exotic white sand beaches. The evening is spent in the tranquil port town of Puerto Villamil.
Day 6 Volcano Hike in the Isabela Highlands (B,L,D) lodge
From Puerto Villamil, we journey to the highlands for a 6 mile (9 km) hike near the rim of the Sierra Negra Volcano. Sierra Negra is an active volcano which last erupted into a blazing show in October 2005. From this altitude, you will enjoy a fantastic view of the 5 mile-wide crater, and the Perry Isthmus and the other volcanoes beyond. From here you will continue to Chico Volcano, with its puffing fumaroles and striking lava formations. Isabela offers an out-of-this-world environment and exemplifies the dramatic geological events that have forged the Galapagos Islands. In the afternoon, return to Puerto Villamil for dinner.
Day 7 Hike in the Santa Cruz Highlands and Sea Kayak in Divine Bay (B,L,D) lodge
After an early breakfast, we travel by boat from Isabela to Santa Cruz Island (two hour boat trip). Once we arrive we travel to El Chato, the natural habitat of the largest tortoise in the Galapagos. As you seek these lumbering giants, you'll also come across pintail ducks, egrets, flycatchers, finches and frigate birds bathing in fresh water lakes. Lunch is served at a traditional highland hacienda where you can also explore lava caves with incredible volcanic formations. After lunch, we pick up our kayaks to travel around Divine Bay and Punta Estrada, paddling through multiple lava channels of calm, turquoise waters. Within the channels, white tipped sharks and rays swim beneath the waves, while colonies of blue footed-boobies, tropic birds, herons and marine iguanas perch along the jagged cliffs. Once in Puerto Ayora, prepare for your farewell dinner. Later in the evening you are free to explore nightlife alternatives in the Galapagos' most populous town.
Day 8 Charles Darwin Research Station (B) lodge
In the morning, we visit the Charles Darwin Research Station to learn about conservation and management projects in the archipelago. The research station is also home to Lonesome George, the very last tortoise of his species. Transfer by bus to Baltra Island to board your flight back to the continent. Overnight in Quito.
Day 9 Return Home (B)
More information from Adventure Life Journeys: