Alaska Wildland Adventures - vacations and travel
Alaska Multi-Sport Adventure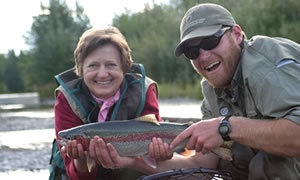 Airport near anchorage, ak, united states
Active & Adventure trips
This special 2010 departure features a unique combination of exciting outdoor activities, such as sea kayaking in Kenai Fjords National Park, a helicopter landing on glacial snowpack for a real Alaskan dogsled ride, "how to" fly fishing techniques and instruction on the world famous Kenai River, taking a truly Alaskan mode of transportation--the floatplane--to a remote mountain lake for a wilderness hike, and more. The blend of outdoor activities and unique Alaska lodges makes for an absolutely outstanding experience complemented by delicious food, hot showers, private bathrooms and a comfy bed--a perfect vacation to the Great Land of wild Alaska.

Top 5 Reasons to Choose the Alaska Multi-Sport Adventure

1. For a different perspective of the path less traveled, board a floatplane and fly to a nearby lake; hike back to civilization along a gentle forest trail that winds along a lake, stream, and through the stunning temperate mixed rainforest.

2. Whether novice or a more experienced fisher, this program will enable you to skillfully use fishing equipment and techniques and to wet a line in the world-famous Kenai River. Learn to cast to silver salmon heading for their spawning grounds, and the technique of placing a tiny salmon egg imitation to tempt a hungry rainbow trout. We'll teach you knot tying, leader construction, wading, and, perhaps most important, casting both off and on the river. You actually fish, and catch!

3. Bundle up in actual Iditarod racing gear and fly to a mountaintop to take a dog team for a run; you can drive the sled or ride in the sled. There's nothing like the exuberance of sled dogs as they easily pull your sled over glacial snow and ice.

4. Embark on a small boat marine wildlife and glacier tour. Paddle a sea kayak among glaciers in Kenai Fjords National Park with your group. Take in the breathtaking scenery; witness the quiet you can only find by surrounding yourself in wilderness.

5. With only eight travelers in this group, there's sure to be a bigger experience for all, especially when surrounded by other like-minded adventurers seeking a similar Alaska adventure.

Locations visited/nearby
Kenai Peninsula & Denali National Park, Alaska, United States
Comments from Facebook
Itinerary
Arrival: Plan to arrive in Alaska by at least the day before your trip begins and plan to overnight in Anchorage. On the first day of your trip, meet your Trip Leader and fellow travelers at 8 a.m. in the hotel lobby(meeting location confirmed at time of reservation).

Day 1: Meet your Trip Leader and fellow travelers at 8:00 a.m. in the hotel lobby. Travel from Anchorage along the scenic Turnagain Arm to the small mountain community of Girdwood. Today's adventure is an air excursion to one of the surrounding glaciers to try our hand at the famous Alaskan sport of dog mushing. High on the snow-pack, drive the sled yourself or, if you prefer, ride in the sled as you enjoy the dramatic scenery. Afterward, bundle yourself up in actual Iditarod racing gear - including an original bib-number - for a once in a lifetime photo opportunity. Late afternoon we will continue south to the Kenai Riverside Lodge, located along the banks of the Kenai River. Settle into your cabin, and enjoy appetizers and dinner in the main lodge. (B, L, D)

Day 2: Today's focus: an Introduction to Flyfishing, where you will become familiar with the equipment and techniques for casting along the banks of the Kenai River. We will break-up into groups of three or four for this full day of fishing. This is a fantastic time of year for giant rainbow trout and Dolly Varden. Salmon are also in the river, providing a chance to try out both heavy and light weight fly rods. Our guides row drift boats, and pull over along the riverside for flyfishing and a gourmet picnic lunch. This evening, dinner and overnight at the Kenai Riverside Lodge. (B, L, D)

Day 3: After breakfast, travel to the town of Moose Pass, where float planes await for the marvelous flight to Russian Lake. From here, a casual hike leads back to civilization. The flight will take us in view of stunning mountain scenery and a distant glacier. Our hike this afternoon is a gentle forest trail that winds along a lake and stream through a mixed temperate rainforest. Enjoy a picnic lunch en route, and be back at the Kenai Riverside Lodge for dinner. (B,L,D)

Day 4: Following breakfast, bid farewell to Cooper Landing and the Kenai Riverside Lodge, as we travel through the Chugach National Forest to the picturesque seacoast town of Seward, situated at the head of Resurrection Bay. Board a custom catamaran bound for Kenai Fjords National Park, home to an array of glaciers and marine wildlife such as whales, Steller sea lions, sea otters, puffins and more! A four-hour cruise allows time to explore the dramatic coastlines. Enjoy lunch in front of a tidewater glacier before arriving at our exclusive lodge destination: Kenai Fjords Glacier Lodge.

Nestled in a protected tidal lagoon area, the Glacier Lodge offers miles of pristine beachfront for combing and views of the stunning Pederson Glacier. This afternoon, meet your lodge guides for a tour of the lodge and property and settle into your private cabins. Enjoy dinner and evening presentations. Overnight at Kenai Fjords Glacier Lodge. (B, L, D)

Day 5: After breakfast in the main lodge, choose from an array of activities to match your interest and energy level. Guided options include interpretive nature walks, canoeing, sea kayaking, and coastal explorations; or, relax at the lodge and peruse our natural history library, or take a leisurely stroll along the beachfront. Overnight at Kenai Fjords Glacier Lodge. (B, L, D)

Day 6: This morning allows another opportunity to canoe, kayak, or explore the area in the morning before bidding farewell to Kenai Fjords Glacier Lodge. before the return wildlife cruise to Seward. Midday, we'll embark on a return coastal wildlife cruise back to Seward and from there, board the historic Alaska Railroad for a scenic backcountry rail tour back to Anchorage. Dinner and transfers not included. Dinner is available for purchase on the train. (B,L)

Departure: You will arrive at the Anchorage train station by 10:15 p.m. on the last day of your journey. See the "Alaska Travel Information" section of your Trip Planning Booklet for recommended lodging. If you choose to fly home this night, we suggest you book a flight that departs after 12:00 a.m. midnight, in case of possible transportation delays.

More information from Alaska Wildland Adventures: