Alaska Wildland Adventures - vacations and travel
Alaska Life List Adventure with Alaska Wildland Adventures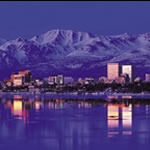 from $7,695* per person
10 Days
Year-round
Comfort accommodations

Exertion level: 4

Operator:

Alaska Wildland Adventures

8 people max
Airport near anchorage, ak, united states
Family & Friends trips

Break away from the ordinary and experience the legendary with our Alaska Life List Adventure, an Alaska trip like no other with an amazing sequence of unusual yet attainable adventures. Each day presents an experience likely to find its way onto many an adventure traveler's life list; and we link it all together on this ten day adventure. No experience is necessary and while truly a legendary expedition by day, each night we return to authentic Alaskan lodging with plenty of comfort and wilderness fine dining.

Our adventure begins in Anchorage and ventures on to Seward, gateway to Kenai Fjords National Park. We travel onward to Homer, then to Wrangell-St. Elias National Park, the largest national park in America. At the end of this trip, you will have had the opportunity to try your hand at bear viewing, dog mushing, sea-kayaking, flightseeing, glacier hiking and whitewater rafting in some of America's most beautiful and wild places.

Top 5 Reasons to Choose the Alaska Life List Adventure with Alaska Wildland Adventures

Spend a day with brown bears (at a comfortable distance!) as they converge at a wilderness stream looking for a meal of spawning salmon.

Paddle a sea kayak among icebergs in Pedersen Lagoon; surround yourself in the wilderness of stunning Kenai Fjords National Park.

Always wanted to try dog mushing? Fly to a mountaintop and take a dog team for a run. There is nothing like the exuberance of sled dogs as they easily pull your sled over glacial snow and ice.

Spend two days in the spectacular yet lightly visited Wrangell-St. Elias National Park, the largest National Park in America. Strap on a pair of crampons for light glacier hiking, gear up for a spirited raft rip through the Nizina Canyon then segue to the coastal town of Valdez.

Each day is an adventure, and each night is spent at unique lodges and inns, including a boat-in only Lodge, a waterfront Inn, and a Lodge overlooking a gigantic glacier.


Locations visited/nearby
Kenai Peninsula , Lake Clark Pass , Seward , Kenai Fjords National Park , Wrangell - St. Elias National Park , McCarthy , Kennicott , Anchorage , Chitna , Girdwood , Valdez , Alaska Marine Highway System, Alaska, United States
Comments from Facebook
Special information
This is a custom departure, meaning this trip is offered on dates that you arrange privately with the provider. Additionally, you need to form your own private group for this trip. The itinerary and price here is just a sample. Contact the provider for detailed pricing, minimum group size, and scheduling information. For most providers, the larger the group you are traveling with, the lower the per-person cost will be.
Family oriented trip.
Itinerary
Alaska Life List Adventure | Arrival: Plan to arrive in Alaska by at least the morning your trip begins. Your Trip Leader will pick you up promptly at 1:00 p.m. at the Anchorage International Airport or at your Anchorage-based hotel. Ask our reservations staff for assistance with arranging pre-night hotels in Anchorage.
Alaska Life List Adventure | Day 1: Meet your Trip Leader at 1:00 p.m. in front of the Alaska Airlines Baggage Claim at the Ted Stevens International Airport in Anchorage or in the lobby of your Anchorage-based hotel.
This afternoon, we begin our first "Life List" adventure: dog mushing on local snow-pack! After a scenic drive along the Turnagain Arm to Girdwood, board a helicopter to fly high into the mountains, landing near a glacier. Meet authentic sleddogs and drive (or ride) in a dogsled. This evening, relax in the small mountain-town of Girdwood (AWA's hometown!), with dinner at a favorite "locals" restaurant. Opt for a casual stroll near mountain meadows, take the tram to the top of Mount Alyeska or relax at the top-rated Hotel Alyeska. Overnight Hotel Alyeska. (D)
Alaska Life List Adventure | Day 2: After breakfast, travel along the awe-inspiring Seward Highway through the Chugach National Forest to Seward, a picturesque seacoast town situated at the head of Resurrection Bay. Board a small boat bound for Kenai Fjords National Park, home to an array of glaciers and marine wildlife such as whales, Steller sea lions, sea otters, puffins and more! A four-hour cruise allows time to explore the dramatic coastline. Enjoy lunch in front of a tidewater glacier before arriving at our exclusive lodge destination: Kenai Fjords Glacier Lodge.
Nestled in a protected tidal lagoon area, the Glacier Lodge offers miles of pristine beachfront for combing and views of the stunning Pedersen Glacier. This afternoon, meet your guides for a tour of the lodge and property and settle into your private cabins. Enjoy dinner and evening presentations. Overnight at Kenai Fjords Glacier Lodge. (B,L,D)
Alaska Life List Adventure | Day 3: After breakfast in the main lodge, choose from an array of activities to match your interests and energy level. Guided options include interpretive nature walks, sea kayaking, and coastal explorations; or relax at the lodge, peruse the natural history library or take a leisurely stroll along the beachfront. Overnight at Kenai Fjords Glacier Lodge. (B,L,D)
Alaska Life List Adventure | Day 4: Enjoy another half-day of wild delights at Kenai Fjords Glacier Lodge. A return marine wildlife cruise will bring us back to Seward, where we'll enjoy dinner at a local restaurant and spend the evening on the waterfront. Visit local shops, galleries and Seward attractions. Overnight Seward Saltwater Safari Lodge. (B,L,D)
Alaska Life List Adventure | Day 5: Our next destination is the quaint seacoast village of Homer. Along the way, hear stories of cultural highlights in the area inspired from Russian Orthodox history. Once in Homer, board a truly Alaskan mode of transport - water taxi - and boat across glacially-fed Kachemak Bay to the artist community of Halibut Cove. Arrive to the newly crafted, Alaskan-styled Ridgewood Wilderness Lodge, and enjoy an evening of warm home cooked meals and frontier hospitality. Learn about our hosts' unique Alaskan experiences, including their talents as some of the best oyster farmers in the state! (B,L,D)
Alaska Life List Adventure | Day 6: Today, enjoy a full day of bear viewing inside Katmai National Park on a custom voyage via float plane. Take to the skies over the Land of 10,000 Smokes where, weather permitting, fantastic views of volcanoes lie below. Land in the heart of prime bear territory near a river running with salmon. Suit up with hip boots for a short half-mile hike to the bear viewing habitat, and then sit back and enjoy amazing views of wild Alaskan brown bears. Return to Ridgewood Wilderness Lodge tonight for a cozy meal and great conversation, recounting the day's adventures. (B,L,D)
Alaska Life List Adventure | Day 7: Today, venture well off the beaten path and travel to our nation's largest National Park, Wrangell-St. Elias. After a short flight from Homer to Anchorage, travel by van through scenic wilderness, and then board small planes from the tiny town of Chitna to access the even smaller town of McCarthy. Our extended plane ride will include dramatic flightseeing of stunning glacial canyons in the Wrangell-St. Elias Mountains. At our ultimate destination, McCarthy, land on a gravel strip in view of a colossal glacier. Until recently, McCarthy was only accessible by hand-tram across a raging river but a new pedestrian walkway allows us to visit this rustic and unusual town (population: 42 year-round residents). The community is flanked by two different mountain ranges and in direct view of two cascading glaciers separated by a 6700-foot granite peak.
This evening, settle into comfortable accommodations at the renowned Kennicott Glacier Lodge, perched high above the icy blue Root Glacier. Each guest room has spectacular views of the surrounding glaciers and peaks. Dinner and overnight at Kennicott Glacier Lodge. (B,L,D)
Alaska Life List Adventure | Day 8: Spend a full day in the McCarthy-Kennicott area taking in the sights and activities. The towns are nostalgic, and make it easy to imagine what life was like in a small bush community at the turn of the century. Late morning, strap on crampons and take an easy walk over the blue ice of the Root Glacier. Our guides explain glacial natural history as you explore unusual formations of ice and snow, and safely gaze down crevasses flowing with deep blue streams and pools of water. This afternoon, enjoy a visit of Alaska's largest ghost town on a private tour of a 14 story gold mill built in 1900. Dinner and overnight at the Kennicott Glacier Lodge. (B,L,D)
Alaska Life List Adventure | Day 9: Gear up for an amazing and unforgettable day of rafting! From our put-in on the Kennicott River, the current is splashy and fast and you are treated to spectacular views of the 5,000 ft. tall Stairway Icefall. After a hearty lunch, the river flows into the mighty Nizina Canyon. At the end of the canyon there is time for a short hike near the banks of the Chitina River before crossing it to meet a bush plane. After your flight back to Chitina, we will take a scenic drive over the stunning and scenic Thompson Pass. Conclude the day's adventure in the coastal town of Valdez, with dinner and relaxing at our waterfront hotel. (B,L,D)
Alaska Life List Adventure | Day 10: On the final day of the Alaska Life List Adventure, join your Trip Leader at a local bakery for breakfast. Stroll about the Valdez harbor and shops before heading out for one last close up experience with a river of ice; today's journey: Valdez Glacier. A short hike leads to a lake where ice caves and other spectacular features give you one more chance at those rare Alaskan photographs of towering blue ice sculptures. Your guides will pack in inflatable kayaks, allowing you to explore the glacier by paddling across turquoise waters for a closer investigation of its secret nooks and crannies. At the end of the day a scenic flight with views of the sprawling Chugach Range will take you back to Anchorage. Once in Anchorage, continue exploring Alaska on your own or connect with flights home. Dinner and Anchorage transfers not included. (B,L)
Alaska Life List Adventure | Departure: Arrive at the Anchorage International Airport late afternoon. Due to the array of special activities on the Alaska Life List Adventure and the slight possibility of weather delays or activity cancellations, we recommend that guests overnight in Anchorage and schedule return flights the following day in the late afternoon (after 4 p.m.). If weather delays/cancellations occur, AWA will make all efforts to arrange replacement activities on the day following your tour.
More information from Alaska Wildland Adventures: