Alaska Wildland Adventures - vacations and travel
Kenai Wilderness Sampler
"Outstanding! Everyone has been gracious, welcoming, and personable. I loved how many choices were offered but we guests were permitted… "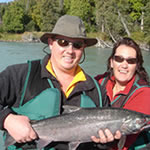 from $2,025* per person
5 Days
May-September
Comfort accommodations

Exertion level: 4

Operator:

Alaska Wildland Adventures

18 people max
Airport near anchorage, ak, united states
Family & Friends trips
Top 5 Reasons to Choose the Kenai Wilderness Sampler


Begins and ends in Anchorage, keeping logistics and planning to a minimum, yet visits two unique and different lodges: the Kenai Riverside Lodge nestled along the banks of the salmon-rich Kenai River and our remote Kenai Backcountry Lodge, situated on the shores of a turquoise blue glacier-carved lake.

This perfect journey minimizes travel time and offers a mix of independent and guided travel on the Kenai Peninsula. Experience "off the beaten path" natural beauty and the wonder of Alaska without the driving time required to get from place to place.

Be as active or casual as you like: take a "stop and smell the wildflowers" approach to your hiking one day and the next go for elevation gain and hike to the alpine tundra. You choose the pace! Enjoy rafting on the Kenai River, fishing for salmon & trout (add-on), a marine wildlife and glacier boat tour, kayak under the midnight sun...or choose to kick back and read a book in what we think is one of the most beautiful spots in Alaska: Kenai Backcountry Lodge.

Flexibility of choosing your trip dates, June through mid-September, anywhere from five days or more depending on the activities and options you select. Space for this itinerary is limited so be sure to book early.

All transportation, guided activities, unique accommodations, and all but one meal are included in price. With all the details of your individual itinerary arranged, you can simply be on vacation and leave the details to us. We've got you covered.


Locations visited/nearby
Kenai Peninsula , Cooper Landing , Seward , Kenai Fjords National Park , Kenai National Wildlife Refuge , Skilak Lake , Kenai River, Alaska, United States
1 testimonial about this trip
Reviewer:

Susan H.

located in

USA

Outstanding! Everyone has been gracious, welcoming, and personable. I loved how many choices were offered but we guests were permitted to set the pace

5
Comments from Facebook
Itinerary
Kenai Wilderness Sampler | Day 1: Meet your Alaska Wildland Adventures' representative at your downtown hotel between 2:00 p.m. and 2:30 p.m., or at the Anchorage Airport at 3:00 p.m. Shuttle by passenger van along Turnagain Arm to Cooper Landing, home of our Kenai Riverside Lodge. Upon arrival, settle into your cabin, enjoy dinner in the lodge, and talk with one of our Lodge managers about your upcoming activity days. Overnight at Kenai Riverside Lodge. (D)
Kenai Wilderness Sampler | Day 2: Raft the Kenai River Canyon and look for moose, eagles, bears and more. Hear the stories behind the sights from your knowledgeable and friendly raft guide. Continue traveling by raft through the Kenai National Wildlife Refuge to our unique boat-in-only Kenai Backcountry Lodge. Located on the shore of a glacier-carved lake, this award-winning eco-lodge offers the ultimate Alaska experience. For two nights, you will be surrounded by one million acres of designated wilderness and the hypnotic sounds of the lake lapping at the pebble beach. Enjoy dinner then relax in the lodge or opt to experience a real wood-fired sauna and a dip in the lake! Overnight at Kenai Backcountry Lodge. (B,L,D)
Kenai Wilderness Sampler | Day 3: Grab your hiking boots and stretch your legs! This is the day to join a guided hike up to alpine tundra for spectacular views of the lake and the Kenai River Valley. Or, opt for a motorized skiff exploration of the lake and its surrounding coves. Your guides will share their knowledge of the area and introduce you to the fascinating lifestyles of the early explorers of the Kenai. In the evening, if weather permits, meander along the rugged lakeshore from a sturdy double touring kayak (no experience necessary!). Overnight at Kenai Backcountry Lodge. (B, L, D)
Kenai Wilderness Sampler | Day 4: Savor your last morning at Kenai Backcountry Lodge. After breakfast, depart by motorized skiff across the lake. Van shuttle back to Kenai Riverside Lodge. Enjoy a casual afternoon hike on a trail in the Chugach National Forest or Kenai National Wildlife Refuge. Dinner and overnight at Kenai Riverside Lodge. (B,L,D)
Kenai Wilderness Sampler | Day 5 (for longer trips): Another day of hiking or relaxing, or, for an additional cost, add one day of guided fishing for salmon or trout. Whether you're an avid angler or a novice who can't come to Alaska without at least trying to catch a salmon, you'll have an unforgettable experience with our expert guides! Dinner and overnight at Kenai Riverside Lodge. (B,L,D)
Kenai Wilderness Sampler | Last Day: Bid farewell to the Kenai Riverside Lodge after breakfast and travel by van to Seward. Embark on a marine wildlife and glacier cruise. This is your opportunity to see whales, puffins, glaciers, sea otters, sea lions, and more! Return to the small boat harbor then hop on a shuttle to the Alaska Railroad depot and journey north to Anchorage on the train. Relax and take in the spectacular scenery. You'll arrive at the downtown Anchorage depot by 10:15 p.m. Dinner and Anchorage transfers not included. Dinner is available for purchase on the train. (B,L)
If you'd like to extend your vacation, please ask about adding a stay at Kenai Fjords Glacier Lodge, our seacoast lodge located within the boundaries of Kenai Fjords National Park. We can easily delay your marine wildlife and glacier tour and/or your Railroad reservation to accommodate your vacation. Or add an exciting Denali Adventure Package to complement your Kenai Wilderness Sampler. We can also arrange for pre and post trip bear viewing excursions at a rustic fly-in lodge where, in the company of trained guides, you may observe brown (grizzly) bears exploring their natural habitat. Visit our website or call us for details.
Choose from 5 to 6 days or more, depending on options selected. This trip is partially guided with some independent travel.
Kenai Wilderness Sampler | Departure: You will arrive at the Anchorage train depot by approximately 10:15 p.m. on the last day of your trip. We recommend you spend this night in Anchorage. If you must fly home this night, we suggest you book a flight that departs after 1:00 a.m. (the next day), in case of possible transportation delays.
More information from Alaska Wildland Adventures: