Alaska Wildland Adventures - vacations and travel
Alaska Photo Safari
"I had such a wonderful time; from the people I met to the scenery to the wildlife, the trip was… "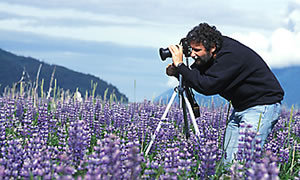 Airport near fairbanks, ak, united states
Active & Adventure trips
With only one departure in 2012 we encourage early commitments on this very popular trip! Learn the art of capturing Alaska's most magnificent scenery at a pace as active or relaxed as you choose; visit unique wilderness lodges along the way; and experience the best of the Kenai Peninsula including Kenai Fjords National Park, Denali National Park and all the highlights in between on your Alaska Photo Safari.

This eight day trip is open to photographers of all skill levels - novice to advanced - and is limited to 10 guests. Note: This special departure begins in Fairbanks and ends in Anchorage.

Top 5 Reasons to Choose the Alaska Photo Safari

Explore Alaska at a relaxed pace ~ take in the natural beauty, search for Alaska's famed wildlife and learn the stories behind the sights as you travel through some of the state's most stunning wilderness: Chugach National Forest, Kenai Fjords National Park, Kenai National Wildlife Refuge and Denali National Park.

Learn how to best capture Alaska's magnificent scenery with a seasoned professional Alaskan photographer who will share the best techniques for the most memorable pictures ~ capture wildflowers, unusual trees, flora, fauna, inspiring landscapes and seek out that awe-inspiring wildlife moment, all on film.

Spend a day exploring Kenai Fjords National Park via small boat on a marine wildlife and glacier cruise. Enjoy ample time for capturing great shots of glaciers, whales, otters and birdlife and time and personalized attention discovering the wonders of this stunning coastal area and how to capture the moment.

Enjoy two nights at our newest endeavor, Kenai Fjords Glacier Lodge, with full views of Pedersen Glacier; keep an eye out for harbor seals, sea and river otters, mountain goats, black bears and a myriad of birdlife who call Kenai Fjords National Park home.

Travel deep into the interior of Denali National park, home to grizzly bears, moose, Dall sheep and wolves.


Locations visited/nearby
Kenai Peninsula , Denali National Park , Chugach National Forest , Cooper Landing , Kenai River , Talkeetna , Russian River , Kenai Fjords National Park, Alaska, United States
1 testimonial about this trip
Reviewer:

Sara W.

located in

Sudbury

,

MA

USA

I had such a wonderful time; from the people I met to the scenery to the wildlife, the trip was so well put together. The guides were excellent, especially Josh. I would love to come back and do it over again. Thank you for such a wonderful vacation.

5
Comments from Facebook
Itinerary
Alaska Photo Safari | Arrival: Plan to arrive in Alaska at least the day before your trip begins and overnight in Fairbanks. On the first day of your trip, meet your Trip Leader at 2:30 p.m. in the lobby of Pike's Waterfront Lodge in downtown Fairbanks.
Alaska Photo Safari | Day 1 Alaska Photo Safari | Day 1: Independent arrival into Fairbanks, Alaska. This afternoon meet your Trip Leader and the rest of the group in the hotel lobby at 2:30 p.m. for introductions. We'll visit several Fairbanks attractions including the Museum of the North and Large Animal Research Center to photograph northern animals (caribou, musk ox and more) from a safe distance. Weather depending, enjoy outdoor visits to nature meadows and fields in search of Alaska's migrating birds. Share stories (and photos) from the day during a Welcome Dinner, followed by a visit to the famous Alaska Pipeline. Overnight in Fairbanks at Pike's Waterfront Lodge. (D)
Alaska Photo Safari | Day 2 Alaska Photo Safari | Day 2: After breakfast, continue traveling south to Denali National Park and stop for lunch at the Denali Park entrance. After lunch, embark on a 5-6 hour Denali wildlife drive through the park on the private Kantishna Roadhouse bus. Watch for caribou, moose, Dall sheep, grizzly bears and resident and migratory birds and, if weather permits, gaze upon the splendor of Denali (Mt. McKinley)! Upon arrival at the Kantishna Roadhouse, enjoy dinner and settle into your cabin accommodations. (B,L,D)
Alaska Photo Safari | Day 3 Alaska Photo Safari | Day 3: Enjoy a full day of exploration and hiking in the Kantishna region of Denali National Park. The activities available at the Kantishna Roadhouse include guided hiking, natural history programs, gold panning and a dog sled demonstration. Optional add-on flightseeing tours will be offered during your stay at the lodge. Overnight at Kantishna Roadhouse. (B,L,D)
Alaska Photo Safari | Day 4: Following an early breakfast, embark on a return Denali scenic drive and watch for wildlife while heading for the entrance of the park. Today's journey brings us south to Anchorage, Alaska's largest city. We'll break for a delicious picnic lunch and casual nature walk in the afternoon. Dinner will be enjoyed in Anchorage. Overnight in downtown Anchorage. (B,L,D)
Alaska Photo Safari | Day 5: This morning, we'll board a small boat bound for Kenai Fjords National Park - home to an array of glaciers and marine wildlife such as whales, Steller sea lions, sea otters, puffins and more! A four-hour marine wildlife cruise allows time to explore the rugged coastlines. Enjoy lunch in front of a tidewater glacier before arriving at our exclusive lodge destination: Kenai Fjords Glacier Lodge.
Nestled in a protected tidal lagoon area, the Glacier Lodge offers miles of pristine beachfront for combing and views of the stunning Pederson Glacier. This afternoon, meet your guides for a tour of the lodge and property and settle into your private cabins. Enjoy dinner and evening presentations. Overnight at Kenai Fjords Glacier Lodge. (B,L,D)
Alaska Photo Safari | Days 6 & 7:
For the next two days, explore the wild delights of Kenai Fjords National Park. After breakfast in the main lodge, choose from a wide array of activities best suited to your energy level and interest. Guided options include naturalist walks, sea kayaking, group canoe paddles and more.
In the spirit of adventure and to take advantage of tidal and weather patterns, guides will discuss specific nature outings and options with our group this morning. All activities are suitable for beginners and require no previous experience.
For those seeking a more relaxed approach, the main lodge offers ideal comfort with direct views of nature. Curious sea otters and seals frequent the lagoon, just steps from the main lodge deck. In a nearby meadow, we can sometimes glimpse bears and other wildlife from a safe distance. Our natural history library offers amazing resources and interesting reads - cozy up with a good book and let your worries drift out with the tide!
Upon return to the main lodge, share stories from your day's adventure with other guests and join an evening natural history presentation, given by local expert guides or guest speakers. Overnight Kenai Fjords Glacier Lodge. (B,L,D)
Alaska Photo Safari | Day 8: This morning allows another opportunity to kayak, hike or beachcomb for a half-day before boarding our boat for the return wildlife cruise to Seward. Board the historic Alaska Railroad for a scenic backcountry rail tour back to Anchorage. Dinner and transfers not included. Meals are available for purchase on the train. (B,L)
Alaska Photo Safari | Departure: You will arrive at the Anchorage train station by 10:30 p.m. on the last day of your journey. See the "Alaska Travel Information" section of your Trip Planning Booklet for recommended lodging. If you choose to fly home this night, we suggest you book a flight that departs after 12:00 a.m. midnight in case of possible transportation delays.
More information from Alaska Wildland Adventures: