ROW International - vacations and travel
Yachting in Greece - Exploring the Aegean Sea
"The crew was fantastic and everything was expertly executed. "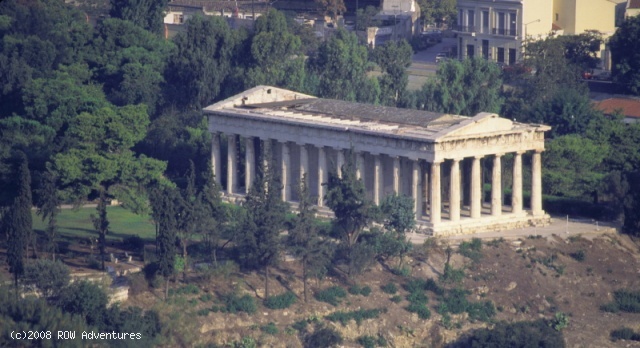 from $2,150* per person
10 Days
May-October
Comfort accommodations

Exertion level: 5

Operator:

ROW International

24 people max
Athens airport, athens, greece, europe
Boats, Barges & Small Ship Cruises trips
ROW Founder, Peter Grubb, and partner, Betsy Bowen, led ROW's first yacht trip to Greece in 1984. Since then ROW has taken hundreds of guests on yacht charters to Greece. We work directly with the owners and captains of our contracted yachts, and have meticulously organized our Greek yachting trips to show you the beauty, history, culture and fun of this beautiful Mediterranean country.

We are pleased to make available weekly departures aboard the 24-passenger Aegean Lady II and the 40 passenger H&B II. Yacht tours of Greece are available to singles, couples and small groups, and ROW can arrange private charters for larger groups.

Greece is a land of mountains and gorges scattered over the gorgeous blue sea. Throughout time, its civilization has been carried far and wide. Greek temples can be found throughout the Mediterranean and its statues in London, Paris and America. The country is the birthplace of democracy and has a tumultuous history of Roman, Byzantine and Ottoman influence.

A people of shepherds, traders and warriors, Greek philosophy, politics, poetry and theater are the very essence of Western civilization. Greece is the birthplace of the Olympic Games and modern drama and its mythology has inspired two thousand years of Western art.

While the Islands of Greece are popular among travelers the world over, it is still possible to find a secluded shore. Even today the Greek Islands have retained the enchantment that inspired Homer and Byron to write about the wine dark sea, the transcendentally brilliant light, the scent of lemon blossom and jasmine at twilight and nights alive with shooting stars. The ancient Greeks made the islands sacred to the gods, and they have yet to surrender them entirely.
Locations visited/nearby
Greece , Athens , Santorini , Naxos , Paros , Tinos , Rafina , Cyclades , Islands , Greece Cruising , Greece Yachting , Mediterranean , Plaka District , Acroplis , Lavrion , Marina zeas , Serifos , Delos , Mykonos , Kea , Peloponnese , Crete, Greece, Europe
2 testimonials about this trip
Reviewer:

K. Lichten

located in

San Francisco

,

CA

USA

"The crew was fantastic and everything was expertly executed."

5

Reviewer:

P. Moynihan

located in

Atlanta

,

GA

USA

"It was always a dream of mine to sail in Greece and the trip was all I'd hoped for and more."

5
0 testimonials about the provider, ROW International:
Comments from Facebook
Special information
This is a custom departure, meaning this trip is offered on dates that you arrange privately with the provider. Additionally, you need to form your own private group for this trip. The itinerary and price here is just a sample. Contact the provider for detailed pricing, minimum group size, and scheduling information. For most providers, the larger the group you are traveling with, the lower the per-person cost will be.
Itinerary
Day 1 - Wednesday - Depart home for Greece.
Day 2 - Thursday –We recommend arriving in Athens a day early and staying a hotel in the Plaka District near the Acropolis.
Day 3 - Friday - Athens – Lavrion or Marina zeas - Serifos - Enjoy an early morning self-guided tour of the Acropolis or a visit to the outstanding National Archaeological museum. Transfer in the late morning to Lavrion or Marina zeas for embarkation between 2-3pm. Enjoy a swimming stop at Kolona (Kythnos) and overnight on the yacht at Serifos. L
Day 4 - Saturday – Seifos - Santorini – Early morning departure with breakfast enroute. The volcanic island of Santorini is the highlight for many. An optional tour around the island is offered, including a visit to Akrotiri, an archaeological dig of a Minoan outpost. Archaeologists have revealed a Bronze-age society that is wonderful and strange where you can walk among houses up to three stories high. Weather permitting, the yacht remains at Santorini for the night. Dinner aboard. B, D.
Day 5 - Sunday – Santorini – Naxos – Begin today's sail after breakfast and enjoy a swimming stop at Ios. Enjoy lunch onboard. After lunch – we visit Naxos, the largest and most mountainous of the Cyclades (its highest point is 3295'). You may enjoy an optional island tour with visits to the villages, churches and various ruins. Evidence of the island's ancient Byzantine and Venetian past abounds. Nikos Kazanzakis went to school here for two years. (You must read at least one of his books before visiting Greece! Zorba is a good choice.) Most of the west coast is one uninterrupted beach where you may opt to absorb some rays. Dinner on your own in town. B, L.
Day 6 - Monday – Naxos - Paros - Morning sail to Paros, one of the larger and more fertile Cyclades. A quarry here produces some of the finest and most translucent marble in the world, coveted by classical architects and sculptors. After lunch enjoy an self-guided optional tour of the island, including a famous Byzantine cathedral, the Ekatontapyliani. Designed by Ignatius, an apprentice of the master architect of the Agia Sofia in Istanbul, the shadowy atmosphere inside is jewel-like. You will enjoy visits to several other sites and have time to swim from the soft, sandy beaches. Dinner in town on your own. B, L.
Day 7 - Tuesday – Paros - Delos - Mykonos- Early morning sail to Delos, the sacred island of Apollo. Delos was a major free port in Hellenistic and Roman times that controlled much of the east-west trade in the Mediterranean. Today it is deserted except for a guardian of the ruins and a small hotel. Enjoy a leisurely ramble through the multitude of temples, shrines, agora and theaters, dating from the 6th century BC to the 2nd century AD. After a swim at Rinia and lunch proceed to the Mykonos Marina. Be prepared for a different atmosphere here than on the other islands, as Mykonos has long found favor among trendy travelers the world over. The most popular island in the Cyclades, Mykonos is dry and barren. The port town is charming and its beaches are exquisite. Shoppers will find plenty to empty their wallets and everyone will enjoy walking through the winding streets lined with immaculately gleaming whitewashed houses with brightly painted wooden trim. Dinner on your own in town. B, L.
Day 8 - Wednesday – Mykonos – Tinos – Enjoy a leisurely morning sail to Tinos and breakfast onboard. Sometimes called the Lourdes of the Aegean, Tinos is a center of Orthodox pilgrimage. On two principal feast days of the Virgin, Evangelistra Street becomes a solid mass of pilgrims ascending to the neo-Classical church of Panayia Evangelistra. An optional afternoon tour of the island is offered. Dinner on your own in town. B, L.
Day 9 - Thursday – Tinos - Kea – Early morning sail to Syros or Giaros where we enjoy a light lunch. We spend the evening at Kea (Korissia) and kick up our heels at the Captain's Party (Greek Night)! B,L, D.
Day 10 - Friday – Kea – Lavrion - Athens - After breakfast, we continue to Sounion and on to Lavrion were we disembark the Aegean Lady II and transfer by bus to Athens, arriving around 3 PM. B.
More information from ROW International: