ROW International - vacations and travel
Alaska Small Ship Adventure Cruises
"Whales, birds, icebergs and lovely evenings of camaraderie made this a perfect trip. "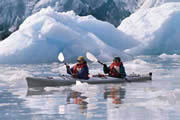 from $3,850* per person
7 Days
May-September
Simple accommodations

Exertion level: 4

Operator:

ROW International

12 people max
Airport near juneau, ak, united states
Boats, Barges & Small Ship Cruises trips
ROW Adventures is pleased to offer you a choice of Alaska adventure cruise options that explore southeast Alaska's Inside Passage. Thousands of islands and the imposing coastline form a natural wonderland that's woven together by an intricate network of waterways. Our small yacht tours allow intimate exploration of the many coves and inlets unreachable by traditional cruise ships.

Rather than merely gazing upon the scenery from the rail of a large commercial cruise ship, ROW's adventure cruises drop anchor often to explore the Alaskan coastline and glaciers. Cruising only three to four hours each day leaves plenty of time for walking secluded beaches, exploring dramatic ice fields, wandering through old growth rain forests, and paddling sea-kayaks through misty fjords where jagged peaks tower above.

Whether your interest is wildlife, sea kayaking, active exploration or relaxing on the deck of the "mothership" and watching for whales, you'll find this adventure cruise a life-enriching experience. Wildlife, weather, tides and your group's interests all play a part in the making of an Alaska adventure cruise. We follow general itineraries, but each trip is unique.

Alaska cruise Itineraries by ROW vary. Some of the yachts cruise in the Frederick Sound area while others travel further west near Sitka. We also offer trips in Glacier Bay - a beautiful wilderness which allows guests to be immersed in the isolation of this vast State. However, each trip takes you to a different part of Alaska's awe-inspiring Inside Passage. No roads intrude this isolated wilderness. It's one of the few places in North America that remains largely unpopulated and unspoiled.

The sea teems with a rich variety of life. Humpback and Orca whales abound. Playful Dall porpoises commonly visit our adventure cruise ships. Sea lions are as common as sparrows and the highest density of brown bears and bald eagles in the world is found here. Wolves, beavers, foxes, martens and moose also make this area their home.

Inaccessible to most, the wonders of this vast wilderness are experienced first-hand aboard the yacht of your choice. Accommodating four to twelve guests, life onboard an adventure cruise ship includes comfortable private cabins with shared bathrooms, a large and roomy deck and fresh gourmet meals prepared for you in the galley. ROW's adventure cruises are joined by an expert naturalist guide who will share knowledge of the local flora and fauna, and the natural and cultural history of this remarkable place.
Locations visited/nearby
Alaska , Juneau , Petersburg , Frederick Sound , Sitka , White Sulfur Hot Springs , Yacobi Island , Tracy Arm , Glaciers , The Narrows , Southeast Alaska , Brady Glacier , Admiralty Island , Ford's Terror , Stephens Passage , Endicott Arm , Sumdum Glacier , Holkom Bay, Alaska, United States
2 testimonials about this trip
Reviewer:

P. Brown

located in

Phoenix

,

AZ

USA

"Whales, birds, icebergs and lovely evenings of camaraderie made this a perfect trip."

5

Reviewer:

B. Casper

located in

Chicago

,

IL

USA

"The crew and naturalist guide were capable, friendly and wonderfully informative."

5
0 testimonials about the provider, ROW International:
Comments from Facebook
Special information
This is a custom departure, meaning this trip is offered on dates that you arrange privately with the provider. Additionally, you need to form your own private group for this trip. The itinerary and price here is just a sample. Contact the provider for detailed pricing, minimum group size, and scheduling information. For most providers, the larger the group you are traveling with, the lower the per-person cost will be.
Itinerary
ROW offers multiple Alaskan adventure cruise itineraries on multiple small group ships. Below are adventure cruise ship details. Please request a full itinerary for more detail about our individual Alaskan adventures.
M/V Catalyst:
The Catalyst is a classic wooden cruiser that was built in 1932 as a University of Washington research vessel. It's been completely updated and has a warm and casual ambiance. Its trip itinerary has less actual cruising time so there's plenty of time for hiking, sea kayaking or just relaxing onboard. Options are Juneau to Petersburg or vice versa; Ketchikan to Sitka; Bella Bella to Ketchikan; or Friday Harbor. Trip length is 7 days / 6 nights. Catalyst details:
74 feet long
6 cabins/ 4 heads
Sleeps up to 12
Trip Highlights: Sea kayaking Ford's Terror, cruising near Dawes Glacier, sea lion haul out near Brother's Islands. Has both double and single kayaks, and enough for all passengers to paddle at same time.
Other Tenders: Rowing skiff, motorized inflatable dinghy.
Availability: Whole boat charters and cabin rentals are available. Call for current availability.
Alaskan Song / Alaskan Story:
Flexible itineraries: 7 days/6 nights. Ship details:
90 feet long
4 cabins / 5 heads
Sleeps up to 10
Sea Kayaks: 2 doubles and 2 singles.
Other Tenders: Two 15' Aluminum skiffs
Availability: Weekly departures.
M/V Sea Wolf:
Built in 1941 as a U.S. Navy Harbor Minesweeper, refitted as a charter vessel in 2003. Itineraries include: Routes in Glacier Bay, Alaska and the British Columbia's Great Bear Rainforest & Inside Passage from Port McNeill to the San Juan Islands. The Inside Passage cruise offers a visit to the oldest community on North Vancouver Island - Alert Bay. Then continue on to Johnstone Strait where you will visit the ecological reserve at Robson Bight. Trip Length: 6-10 days. Sea Wolf details:
97 feet long
6 cabins with private heads
Sleeps up to 12.
Highlights: Alaska's Glacier Bay itinerary follows the fastest glacial retreat in history where you will have the opportunity to see bears, whales, and more! In British Columbia's Great Bear Rainforest you will visit the home of the 'Spirit Bear' as well as ancient forests, orcas, bald eagles, whale and dolphin sightings and immeasurable natural beauty.
Sea Kayaks: 6 doubles.
Other Tenders: 2 skiffs - a 21' skiff with a drop down bow for easy beach access and one inflatable.Availability: Weekly departures.
More information from ROW International: